Jarno Trulli Profile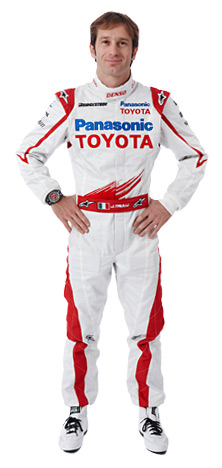 | | |
| --- | --- |
| Nationality | Italian |
| Born | 13 July 1974 - Pescara, Italy |
| Marital Status | married to Barbara, 2 sons (Enzo and Marco) |
| Height | 1.73m |
| Weight | 60kg |
In 2008, Jarno Trulli enjoyed one of his best seasons in Formula 1, playing a pivotal role in returning Panasonic Toyota Racing to the battle at the front.
The statistics tell their own story: his third place in France was the team's first podium in over two years while in Brazil he put a Toyota on the front row of the grid for the first time in over three years. He scored points on 10 occasions on his way to a total of 31; the third highest for a Panasonic Toyota Racing driver since the team's debut in 2002.
At 34, he is one of the most experienced drivers in Formula 1 today but his 12 seasons at the top have done nothing to dim his motivation. If anything, the 2009 vintage Jarno has even more to give, with his never–ending enthusiasm adding to an ever–increasing bank of knowledge.
Jarno's motivation has always been sky high, as a quick look through his CV makes clear. As with most of his contemporaries, he started his career in karts and won three CIK–FIA world championships. But it was not just the success which Jarno enjoyed which marked him out as a young driver to watch; his passion and dedication were clear from the very start. "In the end I don't believe I chose to race a kart – I believe I was chosen because I was born with that passion," he says.
Sometimes, success in karting does not translate into single-seaters but there was no danger of Jarno failing to make the grade and he won the 1996 German Formula 3 Championship in his first year of car racing. That opened a door to Formula 1, with the small Minardi team, for 1997.
"My career before Formula 1 was quick and cheap because I had no money or anyone to back me financially," Jarno jokes. "It happened quickly; I had the chance and took it. Instead of entering by the main door, I came in by the back door and I had to really work hard to make my way up through the field and get a good car."
Jarno repaid Minardi's faith immediately, showing impressive pace in a team which struggled at the back of the grid. He moved to Prost halfway through the 1997 and was, incredibly, fighting for victory in Austria until an engine failure robbed him. "If you look back at my career, my first victory could have come in Austria in my first year but I was unlucky," he says. "I took another path, starting from the bottom and slowly reaching the top."
By the end of that season, it was clear Jarno was a genuine Formula 1 talent and in subsequent seasons he fought gallantly at Prost, Jordan and then Renault before finally getting a car worthy of his talents. Despite never enjoying the fastest cars on the grid, Jarno earned respect by claiming front–row starting positions and podiums; generally over–achieving considering the machinery available to him.
In 2004 he was given a more competitive Renault and duly delivered his first win with a sublime drive from pole in Monaco. He adds: "It's a dream for any driver to win his first Grand Prix and the way I won, dominating both qualifying and the race, gave me a lot of satisfaction."
But before the end of the season, he left Renault to join Panasonic Toyota Racing, beginning his longest stay with a team in Formula 1. As usual, in 2005 he quickly repaid his new team's faith, delivering Toyota's first–ever Formula 1 podium finishes and inspiring the team to a best-ever fourth place in the Constructors'Championship.
Though 2006 and 2007 were difficult for the team, 2008 proved to be a breakthrough for everyone at Panasonic Toyota Racing. Jarno formed a formidable partnership with Timo Glock and fired the team back into the fight for podiums. This season will be Jarno's fifth full season with Toyota and the foundations have been well and truly laid for future success.
-Jarno Trulli's F1 Career at a Glance-
*As of end of 2008
| | |
| --- | --- |
| GP debut | Australia 1997 |
| GPs started | 199 |
| Wins | 1 |
| Podiums | 8 |
| Pole positions | 3 |
| Points | 214 |
| Best championship result: | 6th (2004) |
| | |
| --- | --- |
| 1997 | Minardi Hart/Prost Mugen: 15th (3pts) |
| 1998 | Prost Peugeot: 15th (1pt) |
| 1999 | Prost Peugeot: 11th (7pts) |
| 2000 | Jordan Mugen: 10th (6pts) |
| 2001 | Jordan Honda: 9th (12pts) |
| 2002 | Renault: 8th (9pts) |
| 2003 | Renault: 8th (33pts) |
| 2004 | Renault/Panasonic Toyota Racing: 6th (46pts) |
| 2005 | Panasonic Toyota Racing: 7th (43pts) |
| 2006 | Panasonic Toyota Racing: 12th (15pts) |
| 2007 | Panasonic Toyota Racing: 13th (8pts) |
| 2008 | Panasonic Toyota Racing: 9th (31pts) |