Who will capture crowning glory in springtime Brazil?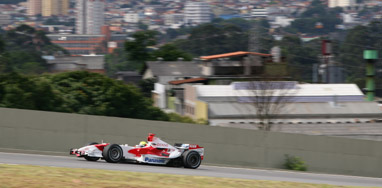 The Brazilian Grand Prix is the only F1 race held in South America. The Autodromo Carlos Pace is the setting for this race, located in Interlagos, just outside of Sao Paolo. In the past, the Brazilian Grand Prix had been known as the opening race of the F1 World Championship season, but it has been the closing race since 2004. This counterclockwise circuit features major elevation changes, and is extremely tough on both machine and driver. The track surface has been repaired numerous times, but is still as bumpy as ever.

Brazilian Grand Prix - Preview
15.10.07
Panasonic Toyota Racing comes to the end of a difficult season at Interlagos this weekend with the Brazilian Grand Prix, the 17th and final race of 2007. more..

Brazilian Grand Prix Technical Preview - Pascal Vasselon Q+A
16.10.07
What are the main characteristics of Interlagos? more..

2007 race schedule
2006 grand prix
The Brazilian GP was the 18th race of the 2006 season, held on October 22. Jarno started the race from P3, with Ralf starting from P7. Jarno defended P3 during the initial stage of the race, and even challenged for P2 after the safety car came out. Unfortunately, a piece of his rear suspension broke without warning, resulting in Jarno having to drop out of the race. As for Ralf, falling tire pressure lowered his car's clearance, forcing him to drive while skimming the track surface. With nothing to be done, Ralf also retired from the race.
Race
| | | |
| --- | --- | --- |
| pos. | Driver | Team |
| 1 | F. Massa | Scuderia Ferrari Marlboro |
| 2 | F. Alonso | Mild Seven Renault F1 Team |
| 3 | J. Button | Lucky Strike Honda Racing F1 Team |
| DNF | J. Trulli | Panasonic Toyota Racing |
| DNF | R. Schumacher | Panasonic Toyota Racing |
fastest lap : M. Schumacher (1:12.162)
Qualifying
| | | |
| --- | --- | --- |
| pos. | Driver | Team |
| 1 | F. Massa | Scuderia Ferrari Marlboro |
| 2 | K. Raikkonen | Team McLaren Mercedes |
| 3 | J. Trulli | Panasonic Toyota Racing |
| 7 | R. Schumacher | Panasonic Toyota Racing |
track information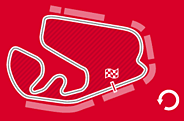 Autodromo Carlos Pace
www.gpbrasil.com.br/
address
:
Av. Teotonio Vilela, 267 Interlagos, Sao Paulo, Brasil
tel
:
(+5511) 3329 4686
fax
:
(+5511) 3812 4079
lap
distance
:
4.309 km
race distance
:
305.909 km
number of laps
:
71