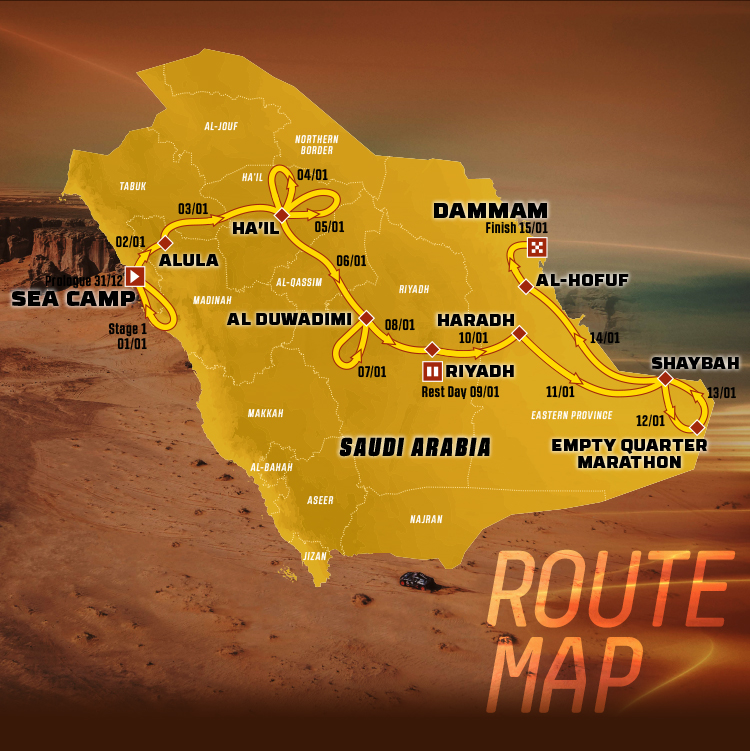 THE 2023 RALLY
Dakar 2023 is set to start on 31 December, 2022 on the North Western coast of Saudi Arabia, before traveling inland towards the city of Ha'il. From there, the route continues in a South-easterly direction, bisecting the feared Empty Quarter, before finally swinging northwards towards the finish at Dammam, on 15 January, 2023.
SCHEDULE
PROLOGUE11 km | 11 km
stage
1SEA CAMP > SEA CAMP602.56 km | SS:367 km
stage
2SEA CAMP > ALULA589.07 km | SS:430 km
stage
3ALULA > HA'IL669.15 km | SS:447 km
stage
4HA'IL > HA'IL574.01 km | SS:425 km
stage
5HA'IL > HA'IL645.04 km | SS:373 km
stage
6HA'IL > AL DUWADIMI876.24 km | SS:465 km
stage
7AL DUWADIMI > AL DUWADIMI641.46 km | SS:472 km
stage
8AL DUWADIMI > RIYADH713.85 km | SS:398 km
rest

RIYADH
stage
9RIYADH > HARADH686 km | SS:358 km
stage
10HARADH > SHAYBAH623.94 km | SS:113 km
stage
11SHAYBAH > EMPTY QUARTER MARATHON428.27 km | SS:275 km
stage
12EMPTY QUARTER MARATHON > SHAYBAH374.86 km | SS:183 km
stage
13SHAYBAH > AL-HOFUF675.6 km | SS:154 km
stage
14AL-HOFUF > DAMMAM417.3 km | SS:136 km
It may be subject to change. Please see detail schedule in the Dakar Rally official site.
VEHICLE CATEGORIES
Various vehicles take part and compete in the rally, with the majority of competitors being divided into 6 categories:
CATEGORY
GROUP (Division)
CLASS

Car

4-wheeled vehicles that are split into two groups:

Super Production

converted commercial gasoline, diesel, racing vehicles and prototypes
The Hilux of TGR team belongs to T1+ class in this category.

Production

non-converted commercial gasoline or diesel vehicles

Trucks

Large production-based and prototype trucks
-
-

Bike

2-wheeled vehicles and motorcycles
-
-

Quad

-wheeled ATVs
-
-

LWV

Light Weight Prototype
-
-

SSV

Side-by-side UTV, experimental sidecars
-
-
TOYOTA GAZOO Racing IS SUPPORTED BY FOLLOWING PARTNERS: