Development of the GR Super Sport Concept began with a desire to give the world a super sports car that channeled the appeal of the TS050 HYBRID as directly as possible by giving shape to the significance of Toyota's participation in the WEC while simultaneously making the vehicle easy to handle. The effort represented a new challenge for Toyota, one in which we sought not to turn a sport car into a race car by upgrading it, but rather to build a sports car from a race car that remains in active competition.
We took a V6 twin turbo engine and the Toyota Hybrid System-Racing (THS-R) which are forged through races and put them into a flowing and novel form.
Our goal is to create a next-generation super sports car that delivers ultimate power and environmental performance through the combination of a high-efficiency EV system and a lean-burn engine, and in the process, maintain thorough interest in cars for the next 100 years.
There's no doubt that cars will become more fun the day that a race car can be driven on public roads.

*Release date to be determined (Reservations not available now)
To Our Customers
Asking about this car, please fill your customer information in the questionnaire form below:
Questionnaire form
Image of the WEC racing version (for illustration purposes only).
Shigeki Tomoyama, GAZOO Racing Company President*
*Title at the time of comment announcement
"I am pleased to confirm that TOYOTA GAZOO Racing will continue its challenge in endurance racing beyond the current regulations. Thank you to the ACO and FIA for their hard work in finalising these regulations, which we hope will bring about a new golden age of endurance racing, with several manufacturers fighting for Le Mans and the FIA World Endurance Championship. For TOYOTA GAZOO Racing, this new era of competition is a fantastic opportunity to demonstrate our credentials not only as a race team against some of the best in the business, but also as a sportscar manufacturer. I am sure I join fans and competitors in welcoming the new regulations and looking forward to an exciting era of competition in WEC and at Le Mans."

Road Car Concept Model


GR Super Sport Concept

TOYOTA GAZOO Racing unveils the GR Super Sport Concept, a concept car that incorporates hybrid technology honed through participation in the FIA World Endurance Championship (WEC), along with its test car, to the world today at Tokyo Auto Salon 2018.
Fuel economy-enhancing technologies and other developments gained through such tough technological competitions are already being fed back into production vehicles. The newly revealed GR Super Sport Concept is composed of mostly the same main parts as the TS050 Hybrid race car that competes in the WEC.
Beneath the beautifully flowing and original form are a V6 twin turbocharger and a Toyota Hybrid System-Racing (THS-R) powertrain, which have been honed through actual racing. With its high-efficiency EV system and lean-burn engine, this next-generation super sports car is set to deliver both ultimate power and environmental performance.
SPEC
GR Super Sport Concept
Powertrain
Engine type
twin-turbo direct injection V6 engine
Engine capacity
2,400cc
Power
Combined power:735kW/1000ps
(Engine + Hybrid Motors)
Hybrid system
Toyota Hybrid System - Racing (THS-R)
Rims
Size F
18×13J
Size R
18×13J
タイヤ
Size F
330/710R18
Size R
330/710R18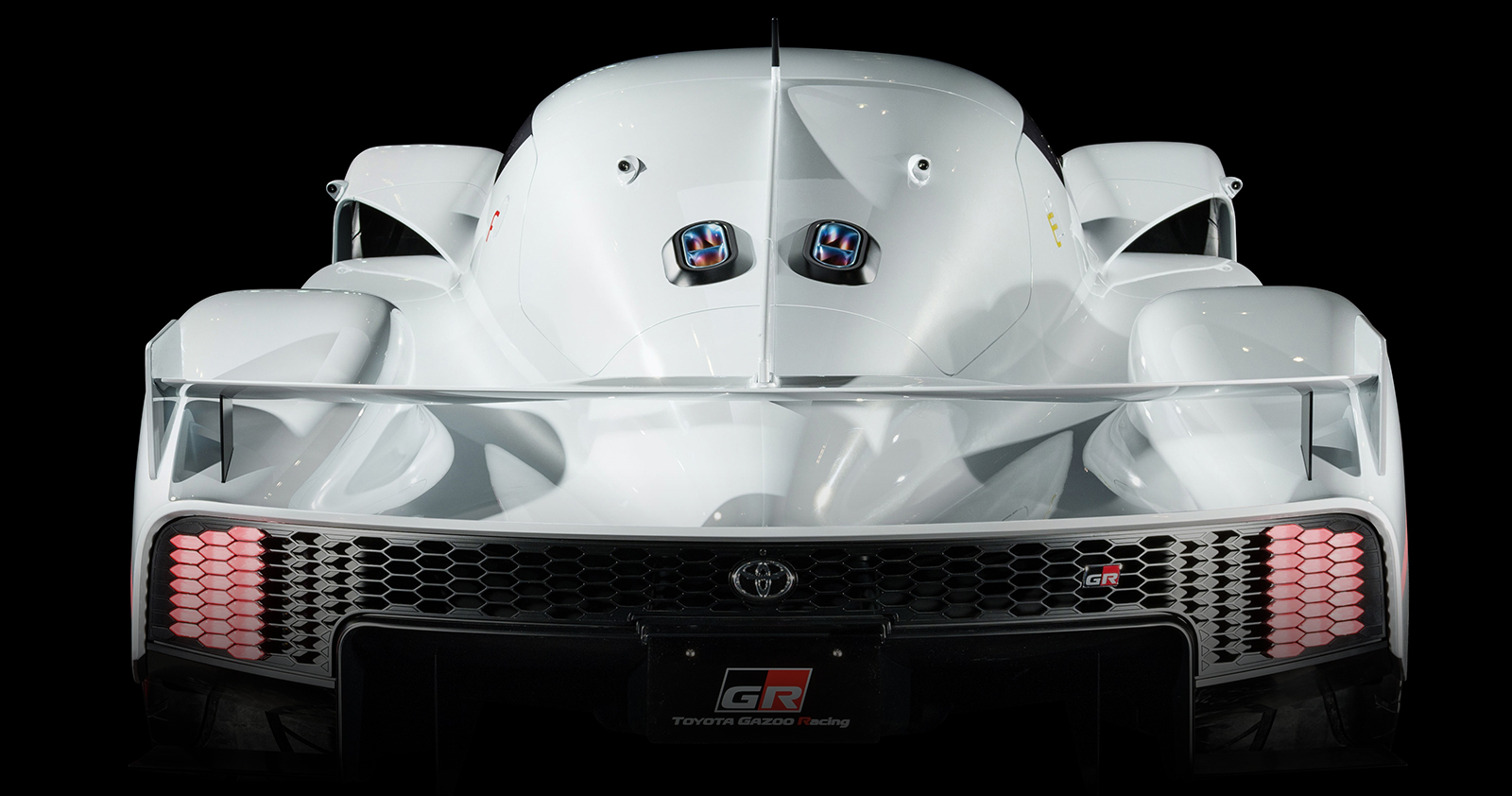 "Rather than developing production cars into sports cars, we aim to work out how to incorporate the know-how developed through races and rallies into production cars amid various restrictions, and this is how competing contributes to TOYOTA GAZOO Racing's efforts toward making ever-better cars. Thus, this is the starting point for Toyota's completely new challenge to develop sports cars from active race cars. Although it will be some time before you all have the opportunity to get behind the wheel, I hope that the GR Super Sport Concept will give you a taste of what we aim to achieve with our next-generation sports cars.
At the end of last year, following the announcement that Toyota would continue competing in the WEC, President Akio Toyoda commented that 'more than 100 years have passed since the birth of the automobile. As the industry approaches times of tremendous change, I am strongly determined to make sure that cars will be fun for the next 100 years.' At CES 2018, held in the United States at the beginning of the year, the e-Palette Concept was revealed as a new shared mobility model for communities. If the e-Palette Concept is the next generation of the horse-drawn carriage, the GR Super Sport Concept would be the polar opposite as the next-generation racehorse. Its appeal is more personal, like that of a much-loved horse to its owner. Despite the differences between the two concept models, both are electrified vehicles equipped with the latest IT technologies and are set to become safe and environmentally friendly connected cars.
Even as electrification and IT techonologies accelerate, the availability of different types of cars, including polar opposite models like the GR Super Sport Concept and the e-Palette Concept, means that they will never become a commodity. Furthermore, it is an unchanging fact that people want to travel freely, access distant places, and to get there quicker than everyone else in attractive vehicles. The feelings that one has for a car that can do all this are rich and heart-pounding.
Although our challenge to make 'cars that will be fun' for the next 100 years has just begun, TOYOTA GAZOO Racing aims to continue making exciting cars to bring smiles to our customers' faces and to contribute to the future of the automobile industry. We look forward to your continued support in achieving this aim."

Shigeki Tomoyama, GAZOO Racing Company President*
*Title at the time of comment announcement
To Our Customers
Asking about this car, please fill your customer information in the questionnaire form below:
Questionnaire form