Rally Australia: DAY2

Toyota Yaris WRC drivers move up the order in Australia

Heading into the final day of Rally Australia, Jari-Matti Latvala is runner-up with the chance to take full advantage of any opportunities that arise tomorrow, having powered his way up from fourth place this morning. Esapekka Lappi has also moved up into the points, despite the big handicap of running first on the road.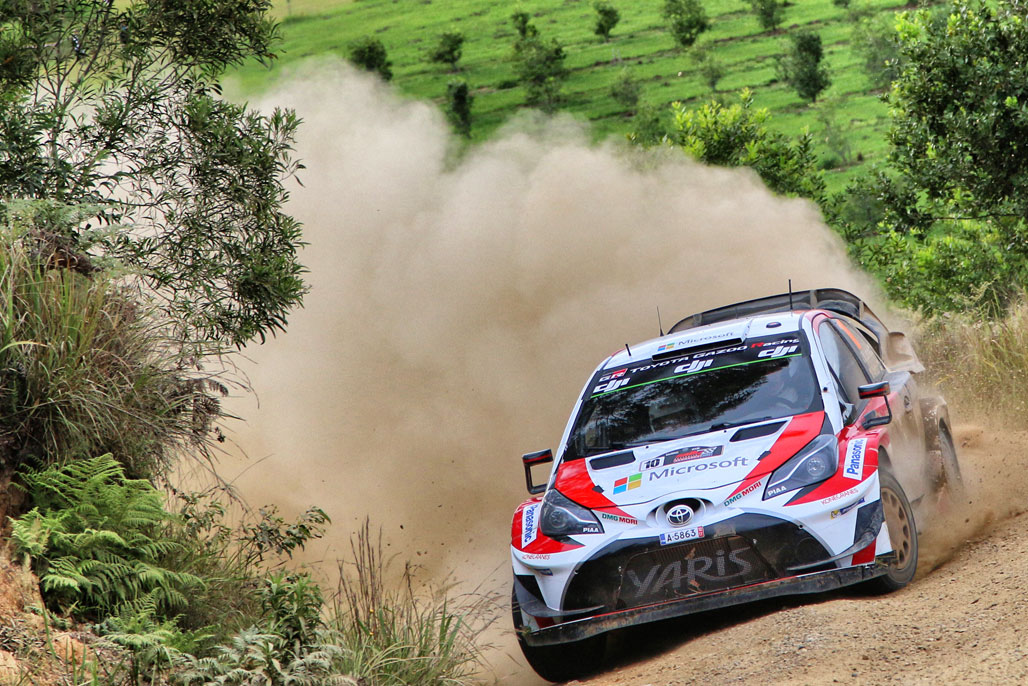 On a day characterised by intermittent rain that made judging grip extremely tricky, Latvala found the perfect compromise between speed and consistency to move up to second place by the end of the day, even with one stage cancelled in the afternoon. It was a good day for Esapekka Lappi as well, who is now ninth after a trouble-free run and is targeting a strong performance on the Power Stage tomorrow.
Quotes:
Tommi Mäkinen (Team Principal)
"Another good day for our team in tricky mixed conditions, with perfect reliability from both cars and drivers, who made no mistakes, and good information from our weather crews. A lot of teams have had issues today, so we can be happy with our performance. It was particularly challenging for Esapekka, who was first on the road today with not many repeated stages, which meant that he was always cleaning loose gravel. Not easy, but a good learning experience for him and he is back in the points now. Jari-Matti did another very good job as well to move up to second. Now he is in a perfect position to finish on the podium tomorrow if everything goes well, with the good chance of course to take advantage of any other opportunities that come his way."
Jari-Matti Latvala (Driver car 10)
"It was damp and even wet in some places this morning, so the soft tyre was definitely the correct choice. In the afternoon it was drying out, but just before leaving service we had some information that there were some showers as. Our plan was to go with full hard tyres, but as a result of this new information we decided to swap and take two softs. That information was absolutely correct: it was damp at the beginning and end of the long stage. I don't think I quite got the right feeling with the balance of the car, but it was still a good day and we're looking forward to tomorrow. My only regret is that we had one stage cancelled because of a damaged bridge, as I think that stage could have suited us."
Esapekka Lappi (Driver car 11)
"Today's been a tricky day with being first on the road: it's been really difficult to judge the grip, with the grip levels always changing. Getting the tyre choice right was one of the most crucial things today: we were definitely on the wrong tyres most of the time but there was a good reason for that as we didn't have any soft tyres left and I want to save the new ones for the Power Stage tomorrow. So that was a tactical decision and also a good learning experience, as we need to concentrate now on gaining as much experience as possible."
End of Day 2(Saturday):
1 Thierry Neuville/Nicolas Gilsoul (Hyundai i20 Coupe WRC) 2h05m11.6s
2 Jari-Matti Latvala/Miikka Anttila (Toyota Yaris WRC) +20.1s
3 Ott Tanak/Martin Jarveoja (Ford Fiesta WRC) +40.6s
4 Craig Breen/Scott Martin (Citroen C3 WRC): +1m05.2s
5 Hayden Paddon/Seb Marshall (Hyundai i20 Coupe WRC) +1m21.1s
6 Sebastien Ogier/Julien Ingrassia (Ford Fiesta WRC) +1m48.2s
7 Stephane Lefebvre/Gabin Moreau (Citroen C3 WRC): +3m00.2s
8 Elfyn Evans/Daniel Barritt (Ford Fiesta WRC) +3m25.3s
9 Esapekka Lappi/Janne Ferm (Toyota Yaris WRC) +4m20.3s
10 Nathan Quinn/Ben Searcy (Mitsubishi Lancer Evo IX) +17m35.2s
(Results as of 19:00 on Saturday, for the latest results please visit www.wrc.com)

Topics:
The most successful driver in Rally Australia history is Juha Kankkunen with four wins – and two of them came at the wheel of a Toyota Celica, in 1989 and 1993. Another driver to have scored two wins on Rally Australia is Tommi Mäkinen, who triumphed in 1996 and 1998. Japanese manufacturers have traditionally dominated Rally Australia, with 10 wins since the event was inaugurated in 1988. Next up is France, with five wins from French manufacturers.
What's next?
The final day of the rally tomorrow takes in five stages totalling 64.64 kilometres, including the 31.90-kilometre Bucca stage in the morning. The crews leave service at 06:40 for the first loop of three stages then return to service at 10:33. The short final loop concludes with the 6.44-kilometre Power Stage at 13:18 before the finish in Coffs Harbour.
PICTURES WILL BE UPLOADED HERE DURING THE EVENT
URL: https://www.tgrwrt.com/
<NOTE>
- The content is password protected only for media.
- To request access, please send an email to tgr_pr@rights-apartment.com(TOYOTA GAZOO Racing PR Office)
Follow us!
Follow TOYOTA GAZOO Racing WRT:
Facebook: https://www.facebook.com/TOYOTAGAZOORacingWRC
Twitter: https://www.twitter.com/TGR_WRC (@TGR_WRC)
Instagram: https://www.instagram.com/tgr_wrc/ (@TGR_WRC)
YouTube: https://www.youtube.com/channel/UCCtALHup92q5xIFb7n9UXVg