A win and a podium for TOYOTA GAZOO Racing Rally Challenge Program drivers in Portugal
The TOYOTA GAZOO Racing Rally Challenge Program has got its preparations for next month's FIA World Rally Championship event in Portugal off to the best possible start, with Hiroki Arai/Glenn Macneall claiming a win on the Rali de Mortágua – a Portuguese national championship event – and Takamoto Katsuta/Marko Salminen finishing third; each crew driving an R5 car.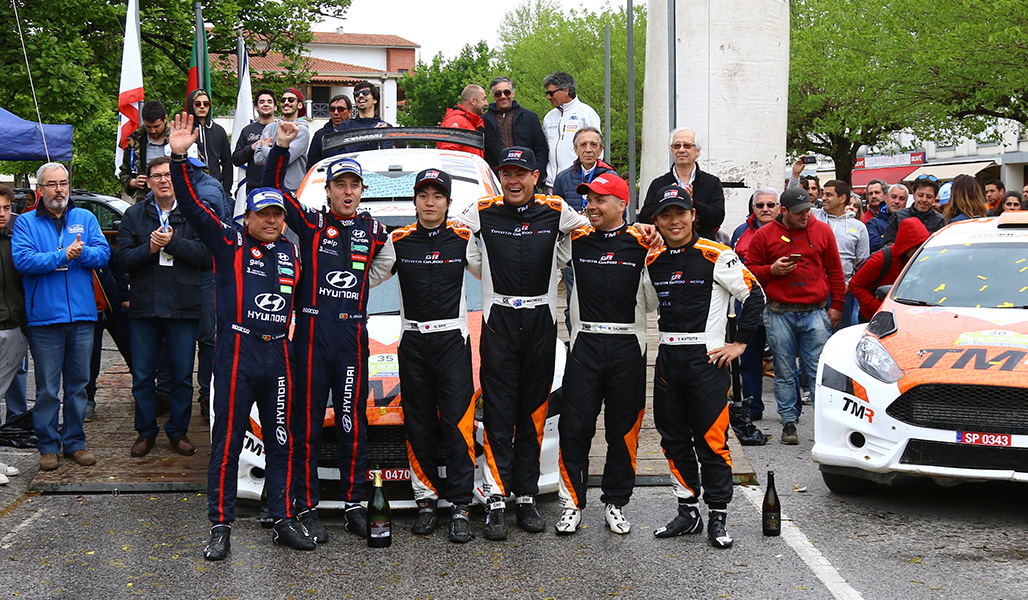 The event, which started off with three short super special stages on asphalt on Friday night before seven proper gravel stages on Saturday, contained similar terrain to the stages that the drivers will encounter on the Rally de Portugal next month, located just over an hour's drive north of Mortágua. The drivers also got to experience a wide variety of weather conditions, ranging from sunshine to heavy rain. Against a strong field of local experts and 16 R5 cars, the young Japanese drivers were able to get back into the rhythm of driving on gravel in competition for the first time since last year and test some things that will be useful as they resume their learning campaign on the World Rally Championship in the WRC2 class.
Hiroki Arai and Glenn Macneall won five stages en route to a victory that they claimed by more than a minute, with no real issues along the way. For two stages on Saturday afternoon, Arai had to manage his advantage in torrential rain, even though the loop started in completely dry conditions.
Although Takamoto Katsuta and Marko Salminen were able to set similar stage times to their team mates, they were unluckier as they hit a rock on SS5 and picked up a front-left puncture. Before this, they had been in second place overall, only 12.4 seconds behind. Nonetheless, they recovered to win a stage and make it a double podium for the TOYOTA GAZOO Racing Rally Challenge program in Portugal, benefitting from a very useful learning experience.
Quotes:
Takamoto Katsuta
"It was a shame that we had the puncture but I'm able to see a positive side to that too, as we were able to manage the problem and drive to the finish. Then on the following stage we set the fastest time. In the past, I might not have reacted so calmly, so I am learning to deal with these situations too. It was just a rock on the road that we couldn't avoid: the tyre went down straight away, and we had to drive for about five kilometres to the end of the stage like this. So, in the end I'm happy with the result and I'm even more happy that we had the experience of driving on this rally, which had lots of different surfaces and was really similar to the stages on Rally Portugal. I'm learning a lot about my driving style: on snow and asphalt I think I am quite good at feeling the rhythm and knowing what my pace is: now the same feeling is coming on gravel as well."
Hiroki Arai
"I'm really happy with this win. It wasn't easy, but I'm glad that the heavy rain came on the second loop of stages and we faced a few challenges with such slippery roads because this was very good practice for what we might find in Portugal. The street stages on Friday night were a bit tough, but as soon as we got to the gravel I felt quite confident straight away. Before the start of this rally we did a gravel test and I was able to sit in with Mikko Hirvonen, which taught me a lot. I also learned how to manage an advantage: when we got to the end of the first loop of stages I already had a lead of around 40 seconds, so then it was a question of looking after this until the finish."
Jouni Ampuja (TOYOTA GAZOO Racing Rally Challenge Program instructor)
"This was a good rally for us, where both our crews showed speed as well as maturity, and it was very good preparation for Rally de Portugal. As our drivers have not been on gravel for some time it was important to give them this experience and they stepped up to the challenge. With the rain and the asphalt city stages on a gravel set-up we were able to test absolutely everything in a mix of conditions, against local drivers who are really fast as they know the stages. We could not have asked for more – but of course we are still always looking for ways to improve."
Results:
1 Hiroki Arai/Glenn Macneall (Ford Fiesta R5) 1h13m31.2s
2 Armindo Araujo/Luis Ramalho (Hyundai I20 R5) +1m02.6s
3 Takamoto Katsuta/Marko Salminen (Ford Fiesta R5) +1m05.2s
4 Pedro Meireles/Mario Castro (Skoda Fabia R5) +1m06.1s
5 Carlos Vieira/Jorge Carvalho (Hyundai I20 R5) +1m44.8s
What's next?:
Coming up next for the TOYOTA GAZOO Racing Rally Challenge crews is the FIA World Rally Championship's Rally de Portugal from May 17-20. Based in Matosinhos, near Porto, it contains a varied mix of challenging gravel stages (as well as some asphalt city stages in Porto) that makes it one of the most popular events of the year, well-known for its huge crowds of passionate fans.
Pictures will be uploaded here during the event
URL<New!>: https://www.tgr-dam.com
*In order to access the new media site, please register your ID and password through above URL.
<NOTE>
- The content is password protected only for media.