Valuable experience in Portugal and a class win in Finland for TOYOTA GAZOO Racing Rally Challenge Program crews
More valuable experience was gained for Toyota's Rally Challenge crews at opposite ends of Europe last weekend: Hiroki Arai and Glenn Macneall finished fifth in WRC2 at Rally de Portugal, the latest round of the World Rally Championship. Arai's team mates, Takamoto Katsuta and Marko Salminen, finished 13th in WRC2 in Portugal after re-starting under the Rally 2 regulations, following two punctures on Friday. Over in Finland, Jarkko Nikara and Sayaka Adachi won the SM2 class (and were sixth overall) on the O.K. Auto-ralli: round four of the Finnish Championship.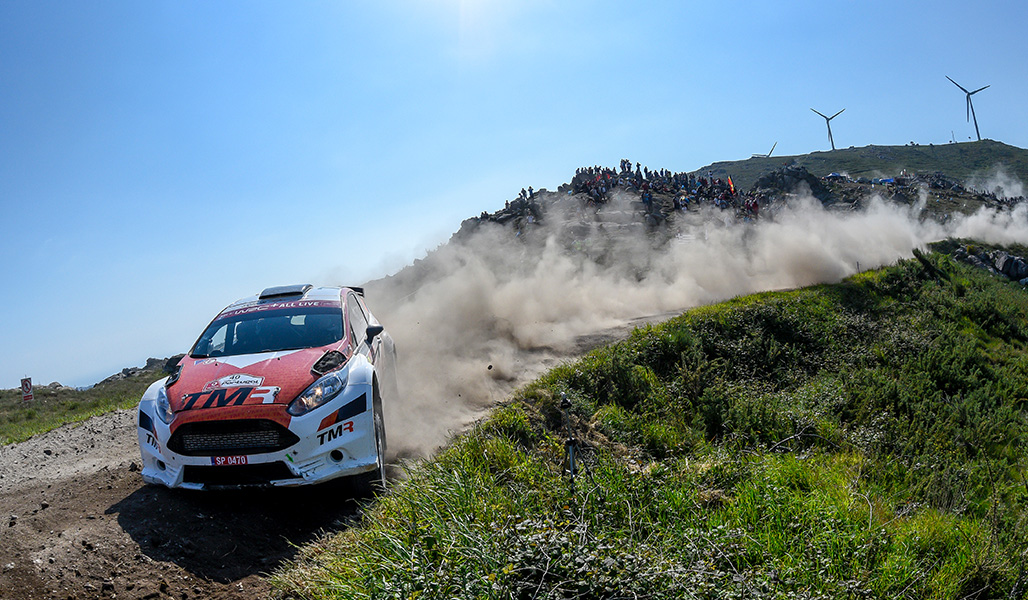 Rally de Portugal, round six of the World Rally Championship, proved to be an incredibly rough and demanding event, as recent rain made the stage surfaces looser than usual, meaning that they were especially cut up during the second passages in particular. Weather conditions ranged from rain to bright sunshine, giving the crews a variety of intense challenges to cope with.
Arai finished two places off the WRC2 podium, despite battling a gearbox sensor issue, an intermittent electrical problem, and a puncture on the opening day, which cost him time. He enjoyed a clean run during the rest of the event, setting some top three stage times and managing his pace perfectly to move up the order. Portugal was his final rally alongside co-driver Glenn Macneall, with the duo having jointly decided to pursue other opportunities.
Katsuta was one of many drivers who struggled with punctures in the rough conditions, having been forced to pull out of the rally on Friday afternoon after picking up two punctures and having only one spare wheel. They rejoined on Saturday morning and concentrated on adding to their experience of these rough conditions, as well as testing several items for the future.
The O.K. Auto-ralli in central Finland was held on fast gravel roads through forests: typically rapid and demanding Finnish stages. Nikara and Adachi were entered in the SM2 class, with a slightly smaller turbo restrictor on their car than on previous rounds. After an intense fight in which they won four out of the eight stages, Nikara and Adachi claimed the class win by just 2.4 seconds, with their car performing flawlessly throughout the 99.76 competitive kilometres.
Quotes:
Takamoto Katsuta
"This was a really difficult rally for me. Although I have been to Portugal before, I never remember the rally being this rough: the conditions were unbelievable. With two punctures and only one spare wheel we had to stop after SS5. From then on it was a question of just testing and adapting my driving style to different set-ups. So a tough weekend for us, but definitely a useful one."
Hiroki Arai
"After a tricky start on Friday when we had a lot of issues, the rally got better and better for us and we were able to learn a lot. Apart from another puncture on Saturday and hitting some rocks that caused a brake problem on Sunday, we had a clean run. Finally, I would like to thank Glenn for all the help he has given me over the years, he has been a very valuable part of my progress."
Sayaka Adachi
"We had a really exciting battle with Henrik Pietarinen: before the last stage we were ahead of him by only two seconds, so we had to try our best. In the morning there was a lot of loose gravel and it felt very slippery, but the roads were cleaner on the second run and I found a good rhythm to read my pace notes, also because we could feel better grip. It was a great experience for me."
Jarkko Nikara
"With our switch to SM2, it's easier to compare our performances to our direct rivals. The only mistake I made was going wide on one corner in SS3, which put us in the ditch for a few seconds. In the morning our tyres were a bit too hard for the conditions, but the feeling was better once it was warmer in the afternoon. The pace notes are coming very well now, and I could push hard."
Jouni Ampuja (TOYOTA GAZOO Racing Rally Challenge Program instructor)
"With the incredibly rough conditions, Portugal was an extremely educational rally for our crews, especially in view of the Rally Italia Sardegna, next on the schedule, which should be run in quite similar conditions. It was all about managing the pace and the tyres here to stay out of trouble. This was the last rally in which Glenn and Hiroki will be competing together, and I'd like to personally thank Glenn for everything he has done to help us reach this level. His contribution has been fantastic. Over in Finland, Sayaka did very well to meet the challenge of our move to the SM2 class, which is a fairer representation of the capabilities of our car. This means that the competition becomes much closer: and so the pressure when it comes to delivering accurate pace notes is even greater. Despite this, she guided Jarkko to an excellent class win."
WRC2 Results:
1 Pontus Tidemand/Jonas Andersson (Skoda Fabia R5) 4h03m57.4s
2 Lukasz Pieniazek/Przemyslaw Mazur (Skoda Fabia R5) +2m06.5s
3 Stephane Lefebvre/Gabin Moreau (Citroen C3 R5) +2m23.5s
4 Pierre-Louis Loubet/Vincent Landais (Hyundai i20 R5) +3m10.5s
5 Hiroki Arai/Glenn Macneall (Ford Fiesta R5) +5m31.6s
13 Takamoto Katsuta/Marko Salminen(Ford Fiesta R5) +35m25.2s
FRC Results (SM2 class):
1 Jarkko Nikara/Sayaka Adachi (Subaru Impreza WRX STI) 50m03.6s
2 Henrik Pietarinen/Juha Lummaa (Mitsubishi Lancer) +2.4s
3 Joonas Tokee/Jani Salo (Subaru Impreza WRX STI) +50.8s
4 Esa Ruotsalainen/Hannu Lamminen (Mitsubishi Lancer) +54.9s
5 Ville Hautamäki/Enni Malkonen (Subaru Impreza WRX STI) +1m23.0s
What's next?:
The next event for Katsuta and Arai will be the next round of the World Rally Championship: Rally Italia Sardegna on the island of Sardinia from June 7-10. From Rally Italia Sardegna onwards, Arai's new co-driver will be Jarmo Lehtinen. For Adachi, the next rally will be round five of the Finnish Championship: the Pohjanmaa Ralli in Seinajoki (in central west Finland) from June 15-16, just one week later.
Pictures will be uploaded here during the event
URL<New!>: https://www.tgr-dam.com
*In order to access the new media site, please register your ID and password through above URL.
<NOTE>
- The content is password protected only for media.