Sardinian promise unfulfilled for Katsuta and Arai
The TOYOTA GAZOO Racing Rally Challenge Program drivers showed potential in Sardinia but were prevented from turning it into a strong result on one of the toughest rounds of the FIA World Rally Championship. Hiroki Arai led WRC2 on Friday morning in his first event with his new co-driver Jarmo Lehtinen, but an accident forced him into an early retirement. Takamoto Katsuta was running in a podium position in the class when he suffered a puncture on Saturday's final stage, dropping him to seventh place before he then had to retire with driveshaft failure on Sunday.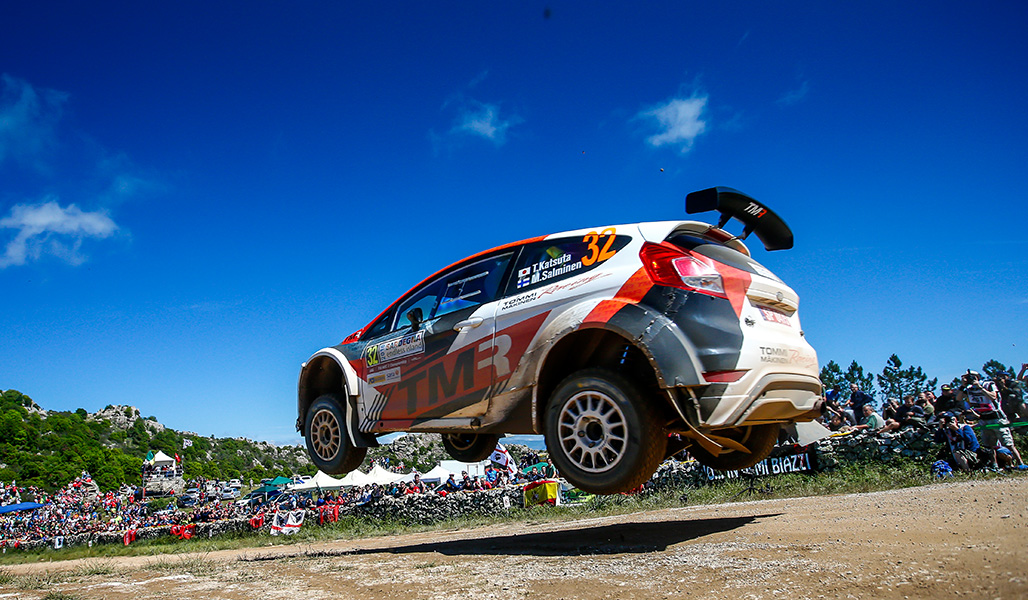 Rally Italia Sardinia, round seven of the World Rally Championship, is known for usually being one of the hottest rounds of the series, but this year the event was affected by rain that made road conditions very difficult during Friday. With the stages being fast but narrow and lined with rocks and trees, there was plenty to catch the drivers out.
Arai made a great start to his new partnership with Lehtinen when he claimed the lead of WRC2 with the fastest time on stage three. He was second on the stage and overall on stage four, before he went off the road on stage five due to broken steering caused by hitting a rock and had to retire. With the engine damaged on his Ford Fiesta R5, he was prevented from restarting on Saturday.
Katsuta gradually climbed the leaderboard during the rally, finishing Friday holding fifth position and then climbing up into third thanks to improved pace on Saturday. He continued to occupy the position until the last stage of the day, when a puncture cost him around two minutes and he lost four places. He was then forced to retire with a driveshaft issue following Sunday's first stage.
Quotes:
Takamoto Katsuta
"My stage times were not so good on Friday but I could see how I needed to improve. On Saturday, it was getting better with every stage, and after some changes at midday service I had a much better feeling with the setup of the car. I tried to improve my driving too, and the times were a lot better. We got a puncture right at the beginning of the last stage, so we had to stop and change it and we lost the chance to get the podium. I hoped to gain some more experience today and finish the rally but it wasn't possible. It is disappointing but I need to move on and focus on the next rally."
Hiroki Arai
"I am disappointed that our rally finished so early because we could have had a really good result. I cut the inside of one corner slightly too much and damaged the steering arm, and because of that we slowly went off into a ditch. Unfortunately, a massive rock damaged the engine and we couldn't continue. I was surprised at how good the stage times were before that, because they were my first competitive stages alongside Jarmo. I think we have both adjusted to each other really quickly. We just need a bit more fine-tuning with our pace-notes and then things will be really good. We were able to set a fastest time in WRC2 without taking any risks, so that is something really positive going forward."
Jouni Ampuja (TOYOTA GAZOO Racing Rally Challenge Program instructor)
"This was a hard rally with both drivers retiring before the finish, but once again both of them showed their speed. It was a difficult start for Takamoto, but he improved a lot and we were able to work a lot with him to help him find the best setup, while Hiroki's speed was very pleasing in his first event with Jarmo. It is disappointing that the incidents happened, but the progress from when we did Sardinia one year ago is clear to see. Now we need to focus on the upcoming events on our home roads in Finland, which will be very important."
WRC2 Results:
1 Jan Kopecky/Pavel Dresler (Skoda Fabia R5) 3h42m33.3s
2 Ole Christian Veiby/Stig Rune Skjaermoen (Skoda Fabia R5) +3m02.6s
3 Nicolas Ciamin/Thibault de la Haye (Hyundai i20 R5) +3m18.7s
4 Fabio Andolfi/Simone Scattolin (Skoda Fabia R5) +6m32.2s
5 Lukasz Pieniazek/Przemyslaw Mazur (Skoda Fabia R5) +7m11.3s
Retired Takamoto Katsuta/Marko Salminen (Ford Fiesta R5)
Retired Hiroki Arai/Jarmo Lehtinen (Ford Fiesta R5)
What's next?:
Katsuta and Arai will enter the AutoGlym Ralli in Finland on 12-14 July. Based in Sastamala, the event is used by many competitors to prepare for Rally Finland (which takes place two weeks later and is the next WRC outing for the two drivers) with similarly fast gravel stages.
Pictures will be uploaded here during the event
URL: https://www.tgr-dam.com
*In order to access the new media site, please register your ID and password through above URL.
<NOTE>
- The content is password protected only for media.