Rally Challenge Program drivers continue their development in a tough Rally Finland
Luck was against the TOYOTA GAZOO Racing Rally Challenge Program drivers on Rally Finland as they were continued their learning on the fastest event in the FIA World Rally Championship. Friday proved to be tough for the crews, with all three forced to retire from the first leg. Japanese driver Hiroki Arai was able to restart on Saturday and complete the event, finishing seventh in WRC2. Sayaka Adachi, co-driving for Jarkko Nikara, could also return to action and gain valuable experience. Unfortunately, Takamoto Katsuta was unable to restart as his car was too badly damaged in an accident.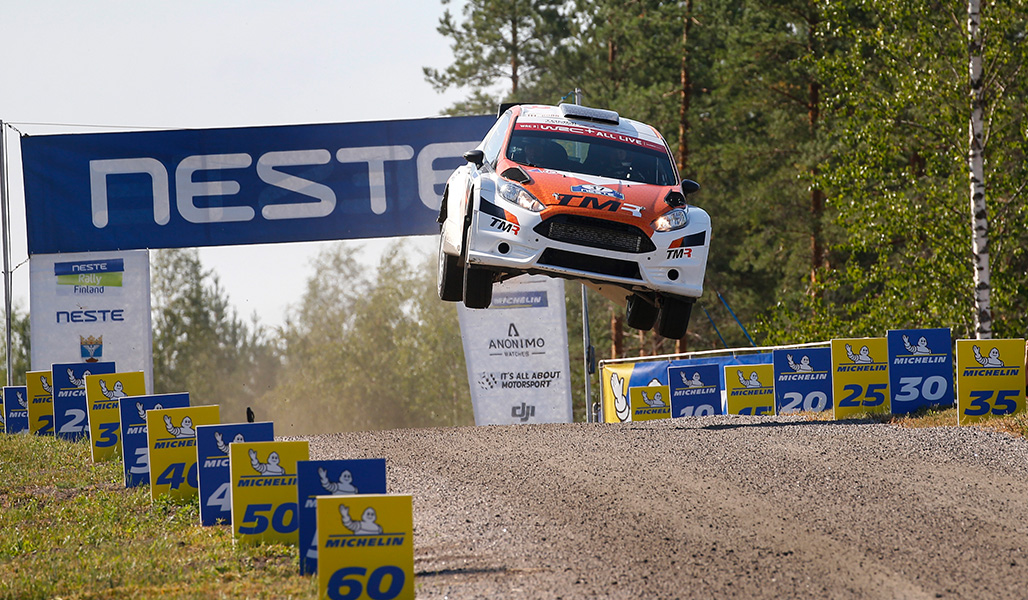 Rally Finland is famed for its smooth gravel roads through the forests with numerous jumps and crests. As much as 65 per cent of this year's route was different to 2017, with many narrower, more technical roads added. Arai and Katsuta were contesting the event for the third year in a row, while it was Adachi's Rally Finland debut and second start in the WRC.
Arai suffered from a number of issues during the event, rolling his car on Friday morning before he had to retire during the afternoon having suffered two punctures. He was then able to complete the full itinerary on Saturday and Sunday together with experienced Finnish co-driver Jarmo Lehtinen, although was hampered by a broken anti-roll bar and brake issues.
Nikara and Adachi went off the road on Friday's opening stage after a driving error, but the pair showed very competitively after they restarted on Saturday, setting three second-fastest stage times despite problems with the power steering and the turbo pop-off valve on their car.
Katsuta, co-driven by Marko Salminen, was sitting fifth in WRC2 and in contention for a podium position when he crashed heavily in SS8 – the result of a power steering failure upon landing from a jump – and could go no further.
Quotes:
Takamoto Katsuta
"To retire on Friday was very disappointing. Landing from a jump before a left-hand corner, the steering suddenly locked in the wrong direction and we went off to the right. I couldn't do anything: everything happened very quickly. Before that, it was going well and my driving was improving. In the morning, my plan was to push hard but I couldn't get a good rhythm. So I changed my driving style and it was getting better and the feeling was more natural. Even though our rally ended early, I think I could show my improvement from one year ago: my consistency was much better."
Hiroki Arai
"This has been a difficult event with many different problems. On Sunday we finally had a clean loop of stages, which was very good. We carried two spare tyres, so the car was quite heavy, but we still set some decent times, I think. That is a positive to take away and I am really looking forward to competing in the next round of the Finnish championship."
Sayaka Adachi
"It was a long and tough rally. On Friday it was hard to believe what happened, but our team did a great job to fix the car. On Saturday we put it out of our minds and just focused on getting the miles and experience. My pace-note reading was still a little bit late in a few places, but Jarkko has good experience here and it helped me a lot. Gradually I feel I am really improving my co-driver skills."
Jarkko Nikara
"I was very disappointed after the crash on Friday. In one corner I took too much speed, we went wide and we hit the bank and rolled. On Saturday I found my driving rhythm again and we set some good times, even though we had quite a few problems with the car. The communication with Sayaka was mainly working well. At such high speeds it was difficult to get the right rhythm with the pace-notes. I'm happy that we got two days together and a lot of kilometres."
Jouni Ampuja (TOYOTA GAZOO Racing Rally Challenge Program instructor)
"Friday was a really tough day for us. Hiroki and Jarkko paid for small mistakes, while Takamoto had a mechanical issue that caused him to go off and could not even restart on Saturday. Again, we can see positives in the speed, but we don't have the results we wanted. We will keep our heads up, analyse what happened and do better on the next event."
WRC2 Results:
1 Eerik Pietarinen/Juhanna Raitanen (Skoda Fabia R5) 2h45m18.4s
2 Jari Huttunen/Antti Linnaketo (Hyundai i20 R5) +1m06.8s
3 Gus Greensmith/Craig Parry (Ford Fiesta R5) +2m34.9s
4 Kalle Rovanperä/Jonne Halttunen (Skoda Fabia R5) +2m36.8s
5 Pierre-Louis Loubet/Vincent Landais (Hyundai i20 R5) +4m05.0s
- - - - - - - - - - - - - - - - - - - - - -
7 Hiroki Arai/Jarmo Lehtinen (Ford Fiesta R5) +21m25.3s
14 Jarkko Nikara/Sayaka Adachi (Ford Fiesta R5) +1h10m05.8s
Retired Takamoto Katsuta/Marko Salminen (Ford Fiesta R5)
What's next?:
The next event for all three crews will be the Enset Oy Ralli, the penultimate round of the Finnish Rally Championship, on August 31-September 1. While Katsuta and Arai will drive Ford Fiesta R5s for the event in Sastamala in western Finland, Adachi and Nikara will return to a Subaru Impreza WRX STI.
Pictures will be uploaded here during the event
URL: https://www.tgr-dam.com
*In order to access the new media site, please register your ID and password through above URL.
<NOTE>
- The content is password protected only for media.