THE 24 HOURS OF NÜRBURGRING 2018
TOYOTA GAZOO Racing's Lexus LC Places 1st in the SP-PRO Class and 96th Overall

Our challenge to make "ever-better cars" continues
TOYOTA GAZOO Racing entered the Lexus LC (car 56, driven by Takeshi Tsuchiya, Takamitsu Matsui, Naoya Gamo, and Yuichi Nakayama) in the 46th of the 24 Hours of Nürburgring endurance race, which was held at the Nürburgring, Germany, from May 10th to 13th, 2018. The Lexus LC finished in 1st place in the SP-PRO class, and 96th overall.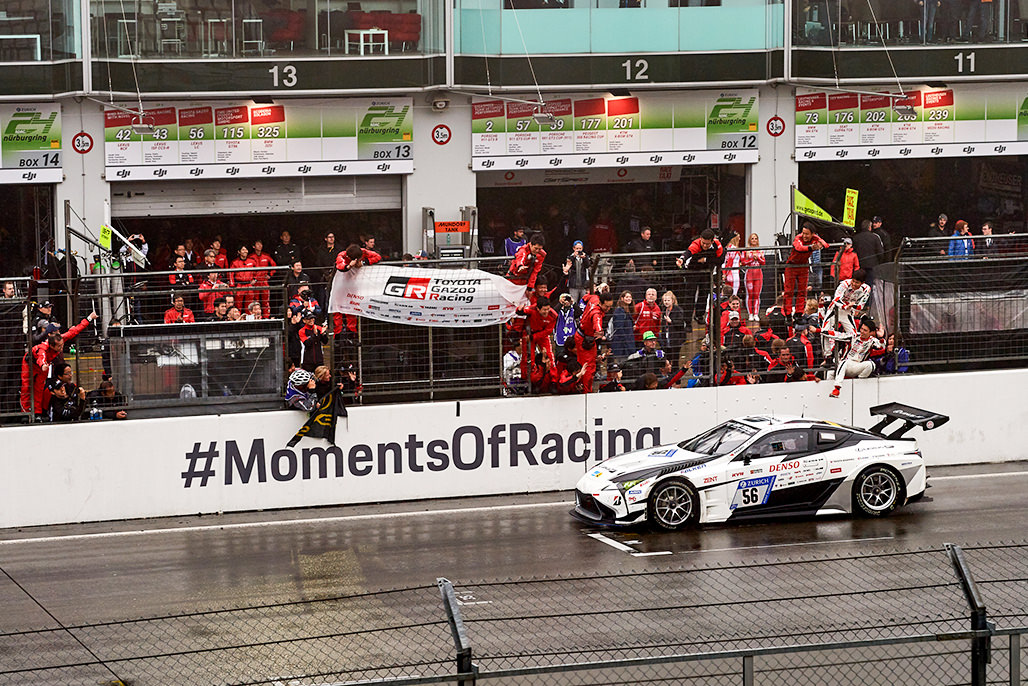 Having completed Qualifying Session 1 on Thursday May 10th, and Qualifying Session 2 on Friday May 11th, the Lexus LC recorded a time of 8'34.591, ultimately qualifying for the main race in 32nd position overall. The main race started at 15:30 local time on Saturday May 12th, with driver Matsui at the wheel of the Lexus LC among a total race field of 147 cars.
The Lexus LC contacted another car immediately after start and was worried about its damage to the vehicle. However, it didn't reach the emergency pit-in and the treatment was carried out with the pit-in of the routine.
Even after that, problems such as power train, brake, tires, electric system etc. occurred. However, each time the drivers, mechanics and engineers corresponded quickly and surely, returning the car to the course once more.
From 6:30 in the early morning on Sunday May 13th, the Lexus LC continued without any major issues, made laps, and even increased its position ranking. When the checkered flag was finally waved at 15:30, the LC took 1st place in the SP-PRO class and finished 96th overall.
This year's Nürburgring has presented TOYOTA GAZOO Racing with many challenges for the first time participating with the Lexus LC.
The team has encountered many unexpected problems that did not occur in the development test up to the main race. However, everyone in the team understood the purpose of the activities and returned the car to the course each time a problem arose, embracing shared values of "Never give up" and "We will run the car even longer, even for 1 more meter, even 1 more lap".
TOYOTA GAZOO Racing will make sure to utilize all of the experience, knowledge and thoughts gained through this effort to make "ever-better cars".
Shigeki Tomoyama: President, GAZOO Racing Company
Although TOYOTA GAZOO Racing's Lexus LC was forced to pit-in many times unexpectedly, we are delighted to complete the 24 hours and the whole race. The drivers, mechanics, engineers, and support staff all carried out their roles, and we made every effort to race the car without giving up until the very end. We would like to express our sincerest gratitude to all of our suppliers and partner companies who have helped to sustain these activities and, of course, to all of the fans who have continued to support us.
The knowledge and technologies refined here at the Nürburgring will not only be incorporated into models in the GR brand line-up, but also utilized in a variety of future Toyota production cars.
There is no end to Toyota's making "ever-better cars", and to its development of people (human resources). For this reason, Toyota will continue to challenge in the Nürburgring.
≪24 Hours of Nürburgring Endurance Race 2018: SP-PRO Class Results≫
Qualifying Result
| Position | No. | Team Name | Vehicle | Qualifying Time |
| --- | --- | --- | --- | --- |
| 32nd | 56 | TOYOTA GAZOO Racing | LEXUS LC | 8'34.591 |
Race Result
| Overall Position | No. | Team Name | Vehicle | Laps |
| --- | --- | --- | --- | --- |
| 96th overall | 56 | TOYOTA GAZOO Racing | LEXUS LC | 97 laps |
24 Hours of Nürburgring Endurance Race 2018: Team Organization
| | |
| --- | --- |
| Team | TOYOTA GAZOO Racing |
| No. | 56 |
| Class | SP-Pro |
| Vehicle | LEXUS LC |
| Specifications | Engine:2UR-GSE modified / Drive system: rear-wheel drive / Tires: Bridgestone |
| Drivers | Takeshi Tsuchiya / Takamitsu Matsui / Naoya Gamo / Yuichi Nakayama |
| Chief Mechanic | Toshiyuki Sekiya (*) |
| Lead Engineer | Kazuyoshi Ogata (*) |
(*) Employee of Toyota Motor Corporation
Pictures will be uploaded here during the event
URL: https://www.tgr-dam.com
*In order to access the new media site, please register your ID and password through above URL.
<NOTE>
- The content is password protected only for media.