2018-19 WEC Round 5 6 Hours of Shanghai: Qualify

TOYOTA GAZOO Racing ON TOP IN TIGHT QUALIFYING

TOYOTA GAZOO Racing overcame a strong challenge to earn pole position for the 6 Hours of Shanghai, the fifth round of the 2018-19 FIA World Endurance Championship (WEC).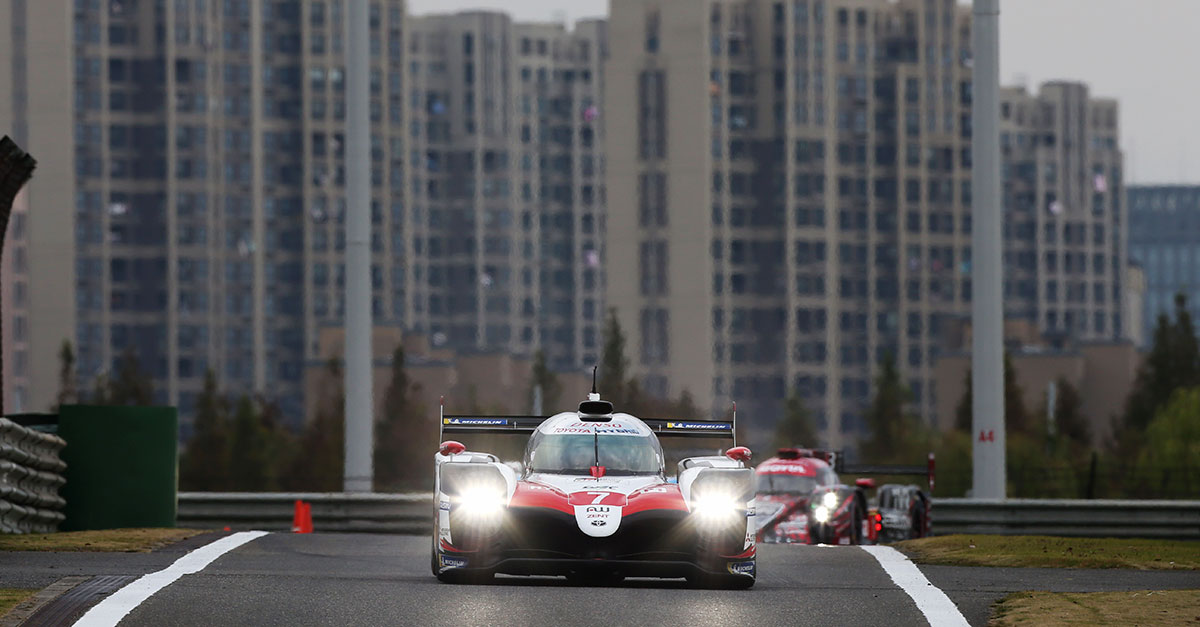 Mike Conway, Kamui Kobayashi and José María López, winners last time out at Fuji Speedway, took pole position in the #7 TS050 HYBRID in an exciting session which saw lap times constantly improving amid a three-way fight for top spot.
Just 0.228secs behind were World Championship leaders Sébastien Buemi, Kazuki Nakajima and Fernando Alonso in the #8 TS050 HYBRID, while a renewed challenge from the non-hybrid LMP1 cars saw the #1 Rebellion only 0.059secs away from the front row, in third place.
Rain on Friday meant this morning's one-hour final practice was the only opportunity to fine-tune dry weather set-ups, making qualifying an interesting challenge for all teams.
Kamui and Fernando began the session in their respective cars and immediately installed the Toyota's at the front. With rain forecast for the race, there was no incentive to restrict new tyre usage so Mike and Kazuki also got a fresh set of Michelin rubber for their flying laps.
Track conditions were improving rapidly, with a corresponding effect on lap times, so the team took the unusual step of asking Kamui and Fernando to return to the cockpit in the final minutes to take advantage and go even quicker, also on new tyres and using qualifying-specific hybrid boost settings.
That effectively set up a shoot-out for top spot, which Kamui marginally won as TOYOTA GAZOO Racing secured a 100% pole position record in 2018, although it was far from easy thanks to a strong challenge from the non-hybrid LMP1 cars. By the end of the session, the top four were separated by less than a second.
Mike Conway (TS050 HYBRID #7)
"It's great to get another pole position but it was tight because the track was getting quicker and quicker; every time we put on new tyres the lap times went down. We managed to stay ahead of the sister car and the Rebellion, which had been right with us throughout the session. It's always nice to start at the front and we will do our best to stay there in the race."
Kamui Kobayashi (TS050 HYBRID #7)
"Thanks to the team for giving us a great car in qualifying. The track was quite dusty in the morning but it improved all through qualifying; Mike did a strong lap then I jumped in again and it was even quicker. I'm pleased with my lap and happy to be starting from pole position but it will be a tough fight in the race I think."
Kazuki Nakajima (TS050 HYBRID #8)
"I was happy with the car and I did my best; the #7 was a little bit quicker. The interesting thing is that the non-hybrids were very fast. We were using our hybrid boost optimised for qualifying but they were still on the same pace. Without this boost we would have been behind, which is a little concerning for the race. So we need to be sharp on tyre selection and avoid making any mistakes."
Fernando Alonso (TS050 HYBRID #8)
"Overall it was a positive qualifying result for the team, to be first and second on the grid again. But the competition is getting very tight from the non-hybrid cars; as well as our qualifying boost we also needed to use new tyres for every run to stay ahead. So it will be a difficult race, especially as we are expecting rain."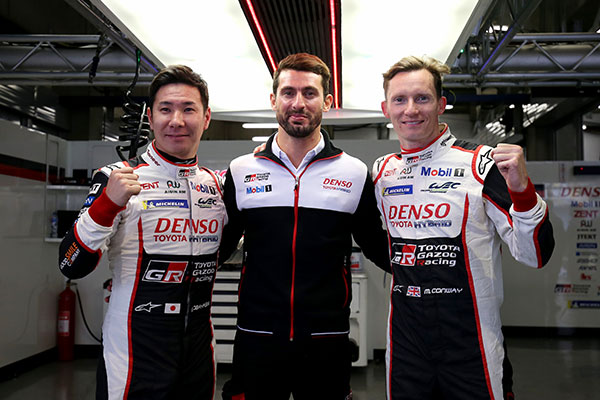 Free practice 3 results:
1st #1 Rebellion (Jani/Lotterer/Senna) 1min 45.137secs 27 laps
2nd #3 Rebellion (Beche/Laurent/Menezes) +0.019secs 27 laps
3rd #8 TOYOTA GAZOO Racing +0.027secs 26 laps
4th #7 TOYOTA GAZOO Racing +0.184secs 27 laps
5th #17 SMP (Sarrazin/Orudzhev/Isaakyan) +0.861secs 24 laps
6th #11 SMP (Aleshin/Petrov/Button) +0.926secs 22 laps
Qualifying results:
1st #7 TOYOTA GAZOO Racing 1min 42.931secs
2nd #8 TOYOTA GAZOO Racing +0.228secs
3rd #1 Rebellion (Jani/Lotterer/Senna) +0.287secs
4th #17 SMP (Sarrazin/Orudzhev/Isaakyan) +0.939secs
5th #3 Rebellion (Beche/Laurent/Menezes) +1.248.secs
6th #10 DragonSpeed (Allen/Hanley/van der Zande) +1.681secs
Pictures will be uploaded here during the event
URL: https://www.tgr-dam.com
*In order to access the new media site, please register your ID and password through above URL.
<NOTE>
- The content is password protected only for media.