Central Rally Aichi / Gifu2019
Takamoto Katsuta and Toyota Yaris WRC claim overall win
in WRC trial event held on the home soil
TOYOTA GAZOO Racing Rally Challenge Program driver Takamoto Katsuta co-driven by Daniel Barritt took the overall win in their Toyota Yaris WRC on Central Rally Aichi / Gifu 2019. The event took place from November 7 to 10 in Aichi and Gifu prefectures in Japan as a test event in preparation for hosting the final round of the FIA World Rally Championship (WRC) in 2020.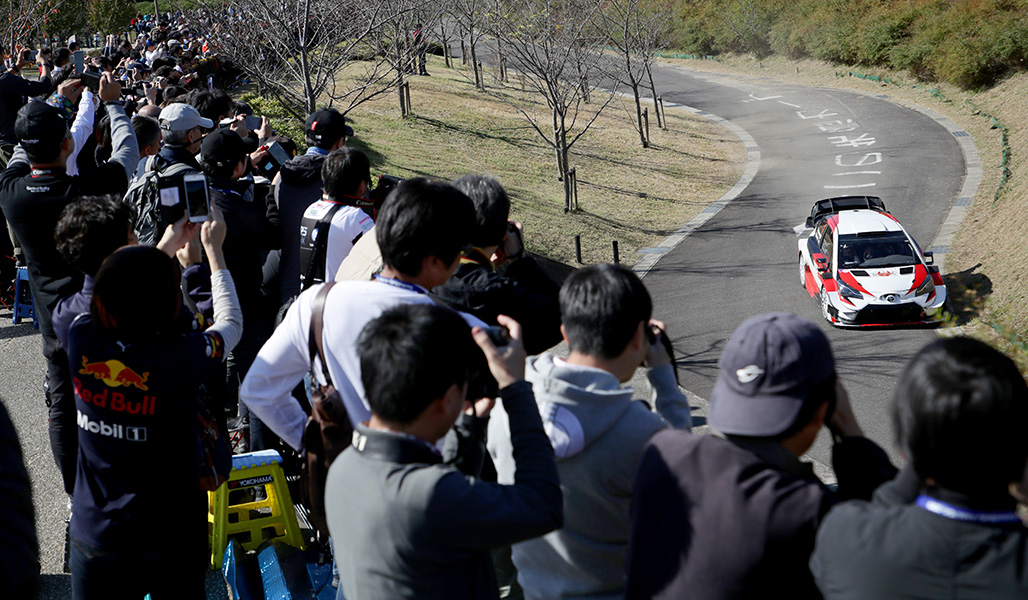 Upon the approval to host WRC Rally Japan in 2020 by the FIA (Federation Internationale de l'Automobile), this rally was held as a trial using some of the possible stages and facilities. Based in a service park located in the Expo Park (a.k.a. Morikoro Park) in Nagakute City, Aichi, the tarmac special stages were set in mountains between Aichi and Gifu prefectures in the Chubu region. The stages included various characteristics from twisty low-speed sections to high speed corners. The spectator areas attracted a number of visitors every day with talk sessions, demonstration runs and other events.
This was the first time that the Toyota Yaris WRC appeared in a competition in Japan.
The goal for Katsuta was to drive as much distance as possible to acquire data about the rally for the team for Rally Japan next year. Lots of fans had come to the rally and Katsuta was keen to show them a good performance.
As a number of fans flocked to the spectator areas and roadsides, Katsuta set the fastest time on all of the stages. Tackling with the narrow roads unique to Japan, he finished the first day leading the rally with an advantage of one minute and 30 seconds over the following driver. Continuing his driving at a stable pace, he was again fastest on all of the stages on the last day to achieve an overall win in Central Rally by 3 minutes 50 seconds. The Toyota Yaris WRC of Katsuta was the only WR car in the rally, while the next positions were taken by R5 cars.
Quotes:
Takamoto Katsuta (Driver):
"To be honest I was surprised to see so many fans and I'm really glad about that. I felt encouraged by so many of them cheering me on, not only on the stages but also on the road sections. I also feel relieved finishing the rally in front of the Japanese fans, new and old. There were many challenges in driving the Yaris WRC on the narrow and twisty forest roads unique to Japan, but now I've gained valuable experience for the future. I would like to do my best to show the attraction of rallying to many more people in WRC Rally Japan next year."
Tommi Mäkinen (Team Principal, TOYOTA GAZOO Racing World Rally Team):
"For our team, bringing a WRC round to Japan has been very important and it's been a long-term dream for us. I feel very positive knowing that Rally Japan will be included in the 2020 calendar and this test event finished successfully. There were so many fans everywhere, and the atmosphere was wonderful. Takamoto succeeded in what he was here for, driving the Yaris WRC in his home country. He was enjoying the rally and it was a great moment for him to win the event. I am looking forward to coming back here with our team next year."
Final Results, International Class, Central Rally Aichi / Gifu 2019:
1 Takamoto Katsuta/Daniel Barritt (Toyota Yaris WRC) 1:19:33.9
2 Hiroki Arai/Ilka Minor (Citroën C3 R5) +3:50.0
3 Osamu Fukunaga/Misako Saida (Škoda Fabia R5) +6:18.0
4 Heikki Kovalainen/Sae Kitagawa (Toyota GT86 CS-R3) +9:17.2
5 Hiroyuki Sakachi/Hisatsugu Okumura (Suzuki Swift Sport) +22:18.8
6 Yasunori Hagiwara/Moritoshi Nakazato (Subaru Impreza WRX STI) +3:53:38.6
* 7 cars started and 6 finished
Pictures will be uploaded here during the event
URL: https://www.tgr-dam.com
*In order to access the media site, please register your ID and password through above URL.
<NOTE>
- The content is password protected only for media.
TOYOTA GAZOO Racing World Rally Team is supported by the following partners.

TOYOTA GAZOO Racing Rally Challenge Program is supported by the following partners.