FERNANDO ALONSO ACHIEVES FIRST-EVER RALLY PODIUM WITH TOYOTA GAZOO Racing
Fernando Alonso achieved his first-ever rally raid podium with TOYOTA GAZOO Racing after a solid performance at the 2019 Al Ula-Neom Cross-Country Rally in Saudi Arabia on November 5-9. In just their third rally raid competition together, Fernando and navigator, Marc Coma, took home the third-place trophy for the first time since the Spanish duo started their preparations towards the 2020 Dakar Rally just over two months ago.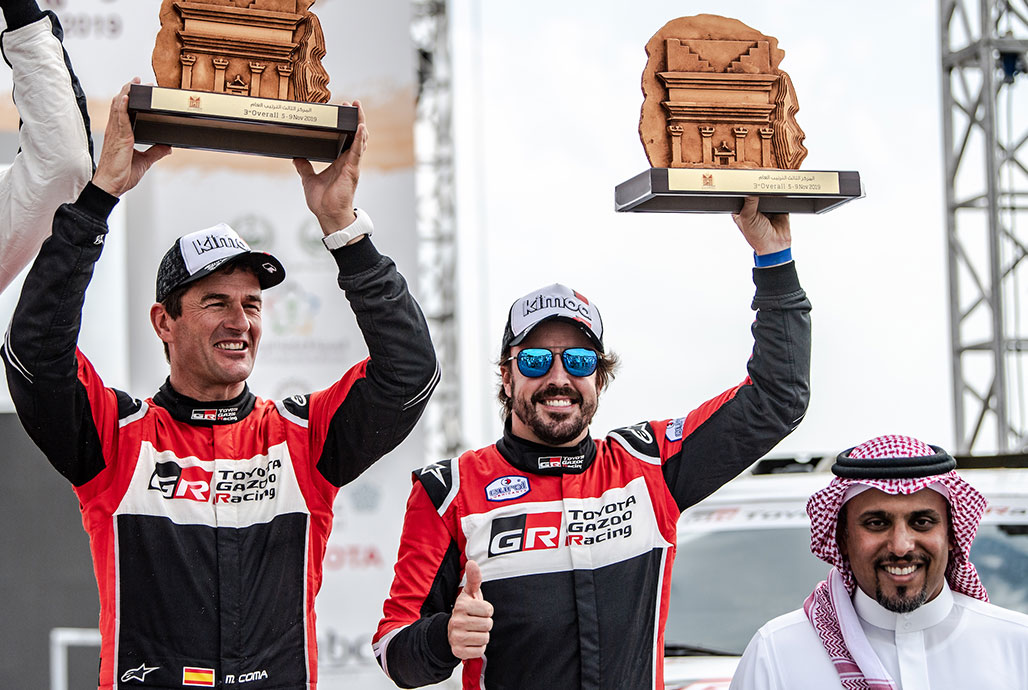 The first two of four stages took place near the north-western city of Al Ula which featured two loops of approximately 220 kilometres each day on mixed terrain of open desert, sand and stone strewn sections, and rocky paths. For Fernando and Marc, this event represented a new challenge of competing on unfamiliar terrain against a field of local rally raid specialists.
Nevertheless, the Spanish duo brought their brand-new Toyota Hilux home in fourth place after the first stage after negotiating through the dust kicked up by frontrunners, trailing the leader by just 7min 24sec. As their Hilux had only 20 kilometres on the clock when they arrived in Saudi Arabia, Fernando and Marc elected to take a zero risk approach during the opening stage.
After a largely clean run on a route similar to that of the previous day and as Fernando and Marc pushed to reduce the overall gap, they picked up a puncture towards the closing part of the stage which was made up of rocky paths. The pair lost approximately 2min 30sec to replace the flat tyre, which resulted in an additional 7min 35sec deficit to the leader while maintaining a solid fourth place overall.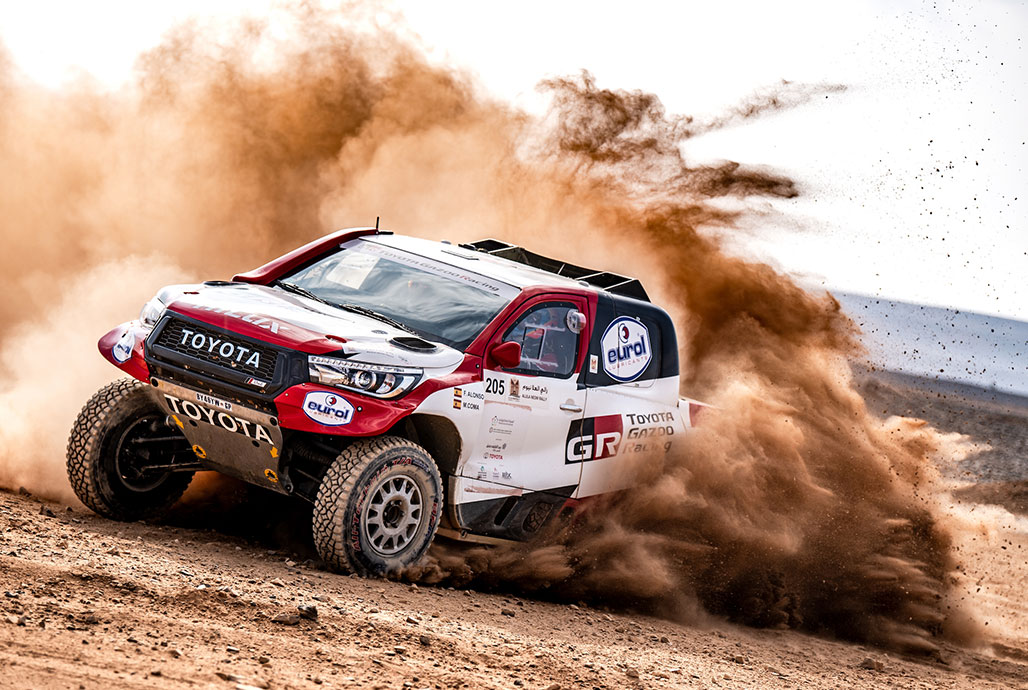 The final two stages of the event took place near the new city of Neom, on the coast of the Gulf of Aqaba and the Red Sea, approximately 460 kilometres north-west of Al Ula. This new and unfamiliar terrain and conditions included areas of tricky navigation which pushed competitors to their limits.
Despite the challenges, Fernando and Marc showed strong pace over the course of the penultimate stage to bring their Hilux back home third-fastest overall and losing just 17 seconds to the leader after some 180 kilometres of racing.
The Spanish duo started the final day in third place overall following a late retirement overnight and securing the final podium spot with consistent pace throughout the day despite some time loss due to inaccurate road books and tricky navigation. Their split times showed excellent speed, a clear indication that Fernando and Marc have already reached a highly competitive level in rally raid despite their relative lack of experience as they transition into new motorsport disciplines.
The 2019 Al Ula-Neom Cross-Country Rally is the last of three rally raid competitions for Fernando and Marc in their intensive training programme to prepare for the 2020 Dakar Rally. The Spanish pairing first entered, what turned out to be, an eventful Lichtenburg 400 in South Africa before tackling the formidable Rally of Morocco, persevering through a wide variety of challenges and learning invaluable lessons along the way. With under two months to go before the Dakar Rally, Fernando and Marc will continue private testing before joining their TOYOTA GAZOO Racing teammates in Saudi Arabia in January, 2020 for the Dakar Rally.
2019 Al Ula-Neom Cross-Country Rally Results:
1st #201 Yazeed Al Rajhi/Konstantin Zhiltsov (Toyota Hilux, Privateer), 6hrs 35min 52sec
3rd #205 Fernando Alonso/Marc Coma (Toyota Hilux, TOYOTA GAZOO Racing), 6hrs 52min 12sec (+16min 20sec)
Glyn Hall, Team Principal: "Fernando and Marc showed great pace this week, and I'm happy that they are progressing according to our plan. We had a strategy for this race, and it worked out perfectly for them. They raced a brand-new car here, which is earmarked for the Dakar Rally, so they had to balance their pace with the need to preserve the car. In the end, they achieved a maiden podium against local crews who know the terrain very well, which bodes well for January's Dakar Rally. It was also interesting for us to experience Saudi Arabia first-hand and gain some insight for the big race in the New Year."
Fernando Alonso: "The final stage was a difficult one, full of rocks and difficult navigation. But we had no real issues, and we finished third on the stage and third overall, which is quite a good result for us. This is our first even podium in rally raid, and I'm very happy with that. Overall we had four good days in Saudi Arabia."
Pictures will be uploaded here during the event
URL: https://www.tgr-dam.com
*In order to access the new media site, please register your ID and password through above URL.
<NOTE>
- The content is password protected only for media.