2018-2019 WEC Round 6 1000 Miles of Sebring: Practice

AMERICAN ADVENTURE CONTINUES FOR TOYOTA GAZOO Racing

TOYOTA GAZOO Racing's preparations for the 1000 Miles of Sebring stepped up a gear with the first official practice sessions for the sixth round of the 2018-2019 FIA World Endurance Championship (WEC).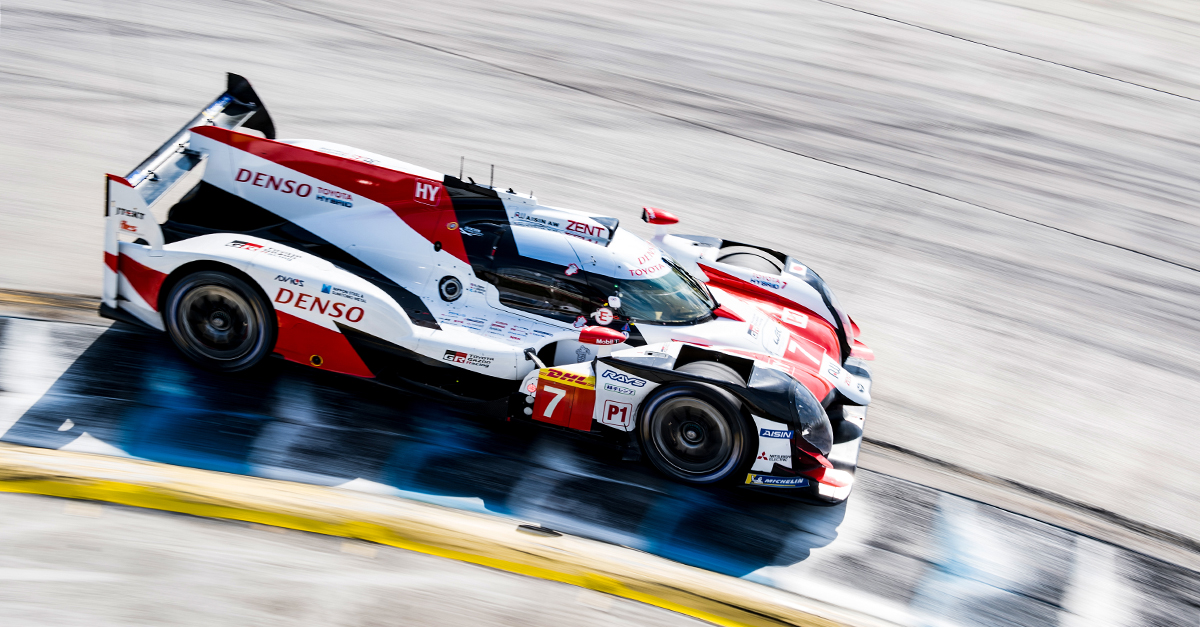 Sebring International Raceway has become very familiar to the team in recent weeks, with a three-day test in February plus a WEC collective test last Saturday and Sunday, but today marked the official beginning of the event, with two 90-minute practice sessions.
In front of an already-substantial crowd, the #7 TS050 HYBRID of Mike Conway, Kamui Kobayashi and José María López set the fastest lap time of 1min 41.730secs during second practice, with the #8 car of Sébastien Buemi, Kazuki Nakajima and Fernando Alonso in second, 0.532secs behind.
Although weather conditions were similar to the test weekend, hot and sunny, the track surface had evolved dramatically due to rubber put down during other race series' test sessions, with six-and-a-half hours of running already completed before the WEC field took to the track for first practice.
Along with stronger winds, track conditions forced both cars to adapt their set-ups accordingly and the lap times were slightly slower than during the weekend test as the team made further progress in fine-tuning the set-ups for race conditions.
Second practice began in twilight and soon the cars were circulating in darkness to prepare them for the conditions they will face in qualifying and the race. Another productive and trouble-free session took the total combined laps for both cars to 181 laps, 1,089km.
José's fastest lap today was faster than the existing qualifying lap record and a repeat of that on Thursday evening, when the starting grid for the 34-car field will be decided, would write Toyota's name in the Sebring official record books.
Mike Conway (TS050 HYBRID #7):
"It was okay today; we were adapting to the circuit conditions and getting the car dialled in during the night. It felt okay but there was a lot of traffic so I didn't get any clear laps. Still, that's all good learning for the race. It's more wild here at night because the circuit is quite narrow and when cars drop a wheel off the track there is so much dust. It will look good on the onboard camera!"
Kamui Kobayashi (TS050 HYBRID #7):
"We were well-prepared following our tests so the first day of practice went well. We faced different track conditions, with more cars out there and different categories running earlier in the day. So we need to adapt as the conditions change. It's a good start but we will be working hard to find more performance for the rest of the event."
José María López (TS050 HYBRID #7):
"It went well today. I am getting used to the track and I felt comfortable. There was more traffic today and the track is dirtier so it was nearly impossible to get clean laps. The circuit has changed a lot compared to a few weeks ago. I am trying to get a good feeling with the car and get prepared for the race, which is the most important thing."
Sébastien Buemi (TS050 HYBRID #8):
"I did a lot of laps today. I missed the weekend test so it was important to do a lot of running and I am happy with how it went. It's totally different to our test last month; there is so much more traffic. I got some night running which was important because here that is very difficult; it's very dark and therefore tricky to drive in the night. We will analyse the data and hopefully improve our set-up."
Kazuki Nakajima (TS050 HYBRID #8):
"It was difficult today because the conditions were quite different to our test at the weekend due to the wind direction change and other things. At least we had a productive day with two clean sessions. The most important point was the night session. You can never have enough running in this situation but we have some experience now for qualifying and the race."
Fernando Alonso (TS050 HYBRID #8):
"Obviously with a lot more cars on track the traffic was a lot heavier than during our test, and on top of that the track conditions were different so we worked on fine-tuning the set-up. It was another positive and trouble-free day; I am happy with that. Let's see how it goes tomorrow when the real competitive action starts."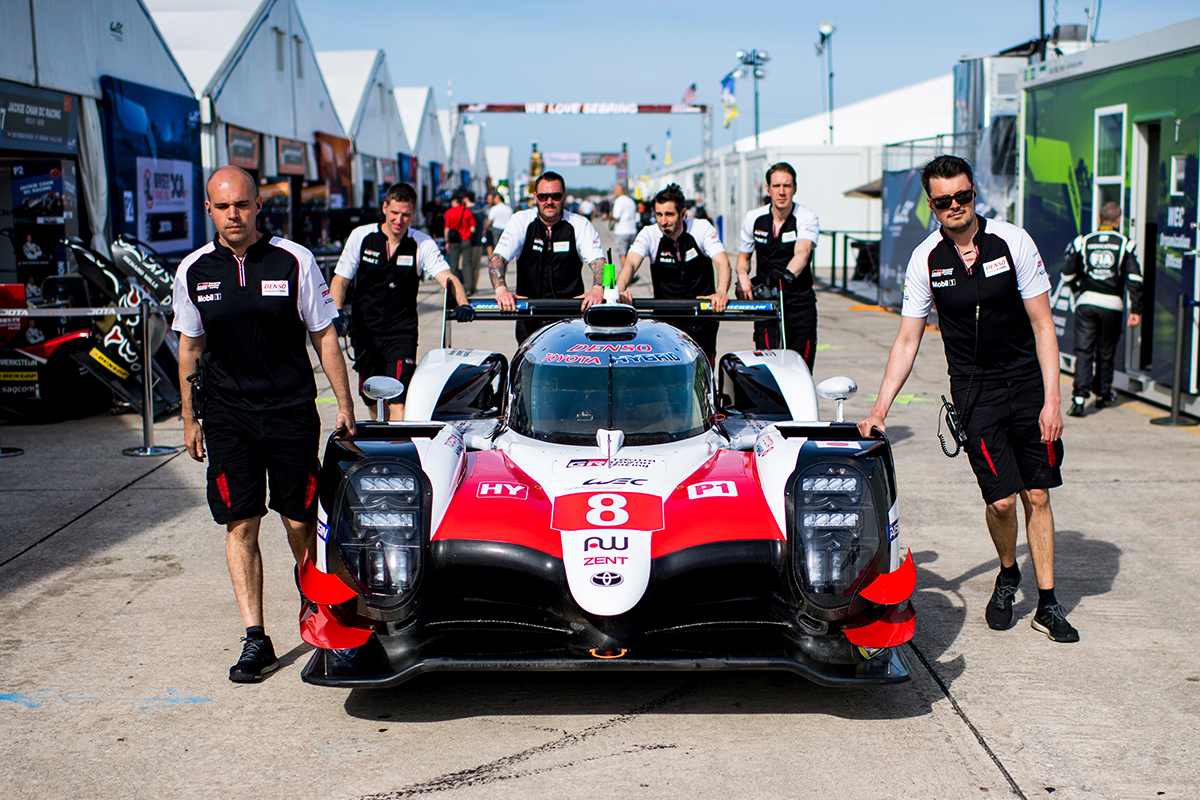 Free practice 1 results:
1st #8 TOYOTA GAZOO Racing1min 41.957secs41 laps
2nd #7 TOYOTA GAZOO Racing+0.549secs47 laps
3rd #1 Rebellion (Jani/Beche/Senna)+1.595secs21 laps
4th #3 Rebellion (Berthon/Laurent/Menezes)+1.707secs34 laps
5th #11 SMP (Aleshin/Petrov/Hartley)+1.886secs33 laps
6th #17 SMP (Sarrazin/Orudhzev/Isaakyan)+2.343secs33 laps
Free practice 2 results:
1st #7 TOYOTA GAZOO Racing1min 41.730secs45 laps
2nd #8 TOYOTA GAZOO Racing+0.532secs48 laps
3rd #17 SMP (Sarrazin/Orudhzev/Isaakyan)+1.279secs34 laps
4th #11 SMP (Aleshin/Petrov/Hartley)+1.289secs31 laps
5th #3 Rebellion (Berthon/Laurent/Menezes)+1.632secs36 laps
6th #1 Rebellion (Jani/Beche/Senna)+2.334secs40 laps
Pictures will be uploaded here during the event
URL: https://www.tgr-dam.com
*In order to access the new media site, please register your ID and password through above URL.
<NOTE>
- The content is password protected only for media.