Rally Italia Sardegna: Day 4

Late heartbreak for Tänak and TOYOTA GAZOO Racing

After a very strong performance throughout the weekend, TOYOTA GAZOO Racing World Rally Team driver Ott Tänak was on course for his third straight victory on Rally Italia Sardegna when he was slowed in the very last stage by a steering issue. He ultimately finished in fifth position overall and ahead of his championship rivals on the gruelling gravel event, moving into the lead of the standings.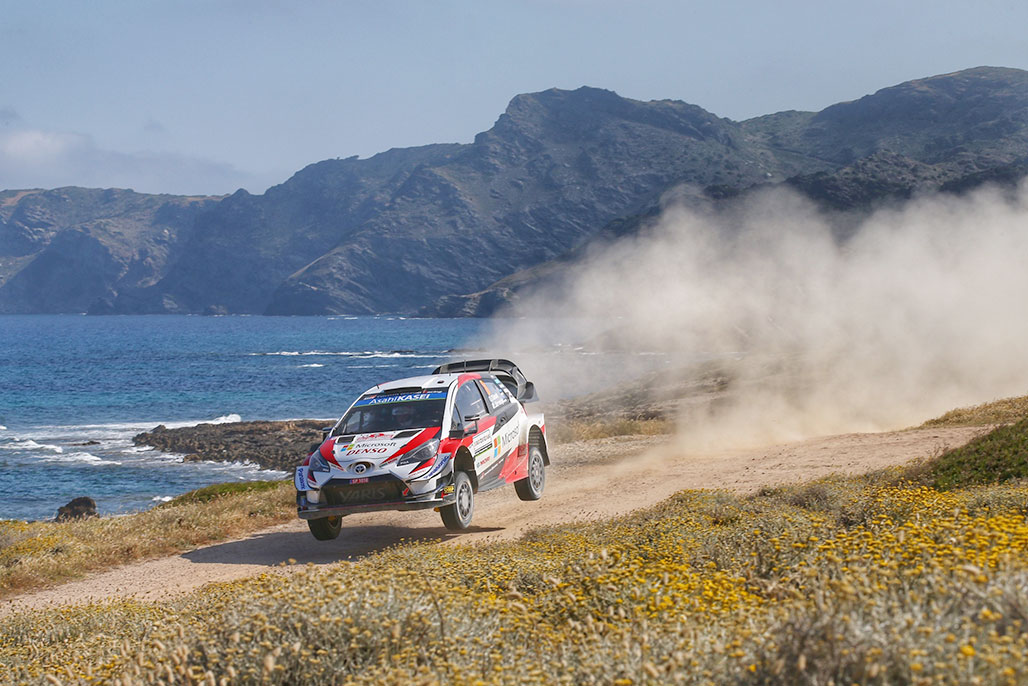 Tänak, his co-driver Martin Järveoja and the Toyota Yaris WRC had won every stage on Saturday as they moved into the rally lead and built a 25.9-second advantage that they took into Sunday's final four stages. He maintained that advantage through the opening three stages before the steering problem on the rally-ending Power Stage, causing him to lose over two minutes.
Delayed by having to change a wheel on Saturday's final test, Kris Meeke ended the rally in eighth position overall. Jari-Matti Latvala, who restarted yesterday following a retirement on the opening day, finished fourth in the Power Stage. Juho Hänninen, driving a fourth Yaris WRC entered privately by Tommi Mäkinen Racing, continued to gather useful testing data in the opening three stages before returning to service.
Quotes:
Akio Toyoda (Team Chairman)
"It was a heartbreaking ending to Rally Italia Sardegna.As I felt Ott and Martin's strong ambition to bring me to the podium again, I was lost for words when I saw their car slowing down in the final stage. But I think the disappointment is bigger for the driver and the co-driver than for anyone else.
I'm very sorry that we couldn't let the drivers drive through to the finish.I'm very sorry for all the fans who were watching the fight I have never before released any comment without a victory.But I want to convey my feelings via my own words this time.It was really important that I could see the competitions on site in Italy.
Takamoto said sorry to me after he retired from the rally.I don't think he needed to say sorry.I'm looking forward to seeing Takamoto standing on the podium with the Yaris WRC in the future.We need to convert the experience from this rally into strength for the days to come Kris said to me that the Yaris gives him a very good feeling to drive.I'm very happy to hear that, when he's driving the car at an exhilarating speed.I'm looking forward to seeing the outcome one day.
Jari-Matti said to me that he will definitely bring me a good result next time. Having seen Jari-Matti's struggling appearance many times, I am sure that good luck will come to him too.
And Ott…..I will never forget the regretful expression in his face when he got out of the car. He hugged with the mechanics one by one, facing the sadness with all of the team members. I was touched by this scene. I thought Ott and all the members of Car No. 8 must be the champion by any means from my heart.
What I can do is to make the Yaris the "even better car" and " much more reliable car to continue driving". I will carry out this goal together with Tommi by any means.
To all the fans, I wish for your continuous support for TOYOTA GAZOO Racing WRT
Postscript
Kazuki, I saw you commenting with the tears after the win.I was impressed your feeling towards your teammates, Thank you.I felt TGR WEC team has become a really amazing team Kamui, I'm sorry for making you disappointed again. I feel sorry just as it's my own affairs. Kazuki , Kamui, I firmly received both of your feelings, and swear to make an even stronger team and even better car.
Sébastien , Fernando and Kazuki; Mike, José and Kamui, All of you six guys are a really wonderful team.Great appreciation for winning Le Mans with a one-two finish and two consecutive wins in two years."
Tommi Mäkinen (Team Principal)
"Today was one of the hardest moments for our team. Throughout the weekend, the car had shown such great performance and reliability. And then suddenly something happened in the final stage. Of course, we are investigating what caused the problem. It is a big disappointment for everybody, and especially difficult for Ott and Martin. They are leading the championship now but it would have been much better to go into the summer break having won each of the last three rallies. It will be a difficult feeling for the next few days, but I am sure that we can bounce back from this."
Ott Tänak (Driver car 8)
"Very early in the final stage, something very strange happened with the steering and basically it was locked. We were stationary for some time, fighting to get the steering working. Somehow we managed to get going again, but there was a lot of time lost and so was the victory. I'm frustrated, but I also feel very sad for the team. Everybody put so much effort in for this event and in the end to lose it in this way is really a shame. I'm sure that the team will work hard to solve the problem, and we will keep fighting. It's been a tough season so far but the championship situation is much better than it was at the same time last year. Now it's time to have some rest and be away from rallying for a bit, and then it's back to business."
Jari-Matti Latvala (Driver car 10)
"Today the target for me was to score some points on the Power Stage. I wanted to get into a nice rhythm this morning and keep the speed up. Then, on the third stage, I was just saving the tyres. The Power Stage was always going to be hard with our road position, and I struggled a bit in the ruts, but we had a decent run and we were able to take some points away. Overall it has been a tough weekend for me after the positive start. It's not been the rally that we were hoping for. But we need to look forward and keep fighting."
Kris Meeke (Driver car 5)
"I was quite enjoying it yesterday afternoon: We were improving our rhythm and our speed. Then we had the issue in the final stage, and that meant that we didn't have much to fight for today: We were just focusing on bringing it home to score some points for the team. I knew this would be a tougher event for me, but we can take some positives from yesterday. Now I'm looking forward to Rally Finland and the rest of the year: I know that the team was really strong over the second half of the season and I think everyone's going to give everything from now until the end of the year."
PROVISIONAL FINAL CLASSIFICATION, RALLY ITALIA SARDEGNA
1 Dani Sordo/Carlos del Barrio (Hyundai i20 Coupe WRC) 3h32m27.2s
2 Teemu Suninen/Jarmo Lehtinen (Ford Fiesta WRC) +13.7s
3 Andreas Mikkelsen/Anders Jaeger-Amland (Hyundai i20 Coupe WRC) +32.6s
4 Elfyn Evans/Scott Martin (Ford Fiesta WRC) +33.5s
5 Ott Tänak/Martin Järveoja (Toyota Yaris WRC) +1m30.1s
6 Thierry Neuville/Nicolas Gilsoul (Hyundai i20 Coupe WRC) +2m16.7s
7 Esapekka Lappi/Janne Ferm (Citroën C3 WRC) +2m59.6s
8 Kris Meeke/Seb Marshall (Toyota Yaris WRC) +4m40.1s
9 Kalle Rovanperä/Jonne Halttunen (Skoda Fabia R5) +8m24.6s
10 Jan Kopecky/Pavel Dresler (Skoda Fabia R5) +8m49.2s
19 Jari-Matti Latvala/Miikka Anttila (Toyota Yaris WRC) +20m36.0s
(Results as of 14:00 on Sunday, for the latest results please visit www.wrc.com)

What's next?
There is a seven-week gap before Rally Finland on August 1-4. The event is the fastest rally on the calendar, run over smooth gravel roads containing many jumps. TOYOTA GAZOO Racing World Rally Team, which has its headquarters close to the service park in Jyväskylä, has won its 'home' rally in both 2017 and 2018.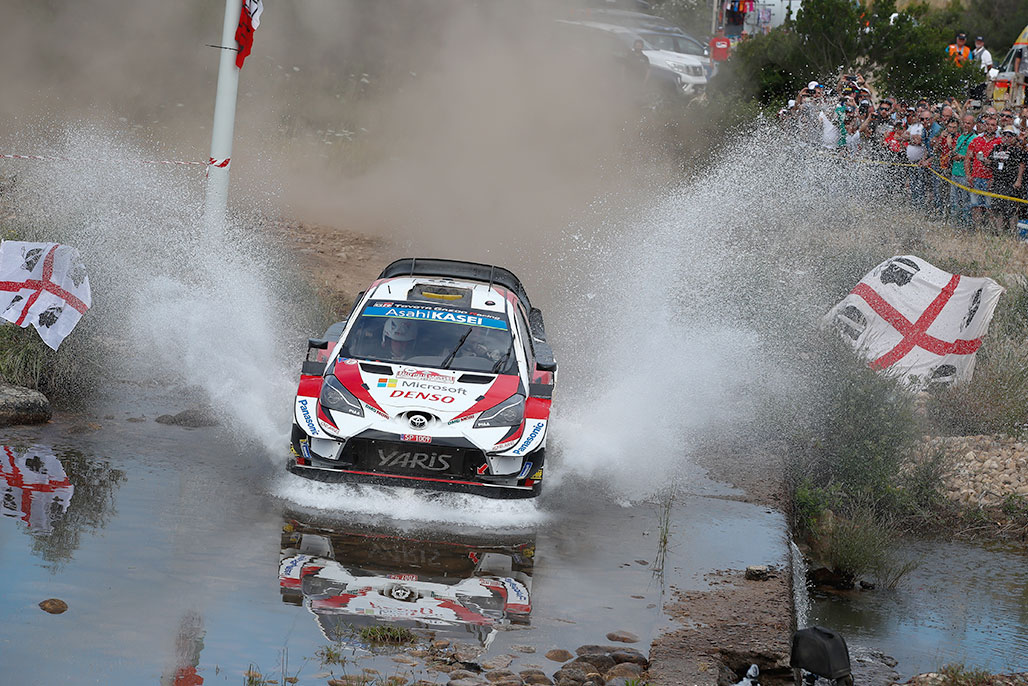 Pictures will be uploaded here during the event
URL: https://www.tgr-dam.com
*In order to access the new media site, please register your ID and password through above URL.
<NOTE>
- The content is password protected only for media.
Follow us!
Follow TOYOTA GAZOO Racing WRT:
Facebook: https://www.facebook.com/TOYOTAGAZOORacingWRC
Twitter: https://www.twitter.com/TGR_WRC (@TGR_WRC)
Instagram: https://www.instagram.com/tgr_wrc/ (@TGR_WRC)
YouTube: https://www.youtube.com/channel/UCCtALHup92q5xIFb7n9UXVg