FIFTH STAGE VICTORY FOR TOYOTA GAZOO Racing AT DAKAR 2021
Nasser Al-Attiyah and navigator Mathieu Baumel opened the taps to win their fourth stage at Dakar 2021. They initially traded places with their rivals but pulled ahead to reduce the lead gap to under five minutes after a gruelling Marathon Stage between Stages 7 and 8, which covered 828 competitive kilometres over varied terrain including sandy tracks and rocky traverses. Nasser is now looking to close the gap and challenge for a fourth overall Dakar victory, and a second Dakar title with TOYOTA GAZOO Racing.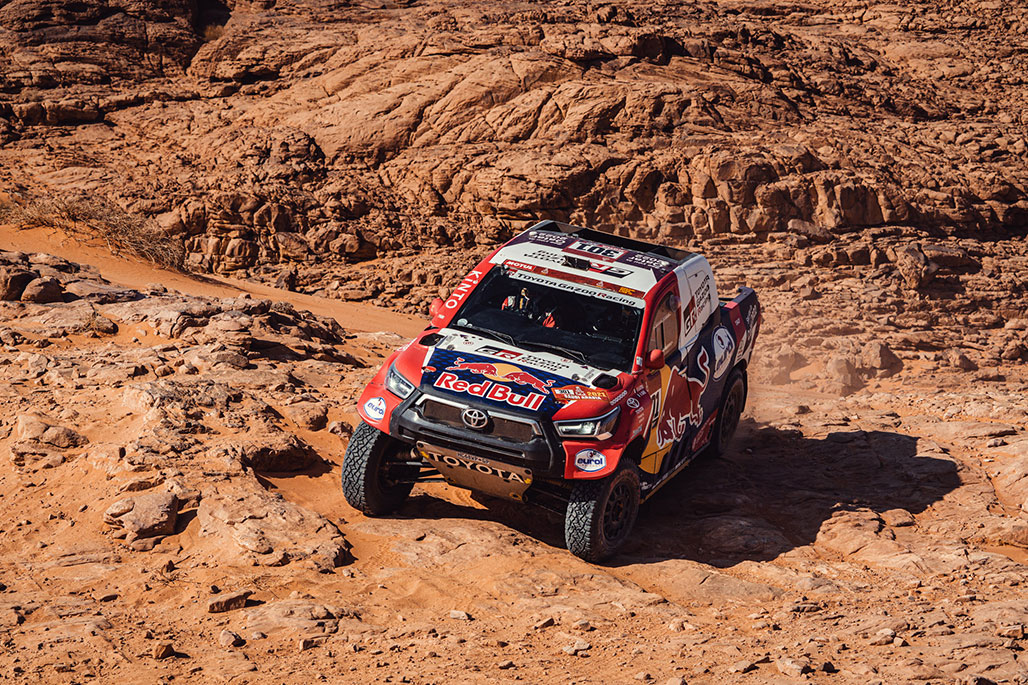 Four more punctures for Giniel de Villiers and Alex Haro negated any chance of a competitive stage time. They finished Stage 8 in 19th, and is now ninth in the overall standings. The pair has now suffered 18 punctures over the course of the rally with four stages to go.
Stage 8 brought another clean run for Shameer Variawa and Dennis Murphy, who came through the timed section puncture-free in their first Top 10 finish of the race. They finished seventh on the stage and have moved up into 28th in the overall standings after a series of solid stage results. They'll be looking for more of the same on Stage 9, which features a very technical special stage covering a distance of 465 kilometres, starting and ending in Neom.
Glyn Hall, Team Principal: "Stage 8 was another good one for us with Nasser and Mathieu winning the stage and taking some time off Stéphane Peterhansel's lead. They are still very much in the hunt with four stages to go. Shameer and Dennis had a blinder today and we're very pleased to see them post the 7th-fastest time. Giniel and Alex not only had four punctures, but lost more time at the end with a navigation issue. Their pace was good though and I'm very happy to have all three cars back safely after the Marathon Stage."
Nasser Al-Attiyah (No. 301): "I'm happy to have finished yesterday and today without any problems, other than two punctures – one yesterday and one today. But the game is not fair, if you compare our car to the buggies. We are the only four-wheel-drive to stay close to the lead, but we still have five days to go to the end of the race, so we'll continue to try our best."
Giniel de Villiers (No. 304): "It's really disappointing. We had four punctures again today and I had to drive the last 10 kilometres on the rim to get to the finish. It's just really difficult for us with the tyres at the moment, we don't seem to have a tyre that is strong enough. Four punctures yesterday and four more today. We've had 18 punctures since the start of the rally and we have four stages to go so I don't know where it's going to end. But it's really difficult to fight for a good position when it goes like this. The stage was really beautiful in the end with beautiful canyons. We just lost some more time looking for the waypoint near the finish, but with the tyre problems that doesn't really make a difference."
Shameer Variawa (No. 330): "We had a clean run today without any punctures. We had a bit of a worry after one of the fittings on the gearbox oil pump broke and we weren't sure if it would hold. But the Hilux is tough, and we made it to the finish. I'm not sure if the gearbox was damaged as a result, but we're happy to have posted a competitive stage time. We stopped for a few minutes with Yazeed Al Rajhi as he had run out of spare tyres, so we helped him out with one of ours. And then, right at the end of the stage, we lost a few minutes in one of the canyons hunting for a waypoint. I honestly don't even know where we are in the overall rankings right now. I'm just driving the car and trying to keep it clean. A lot of the guys have had many punctures, and a lot of guys have retired from the race. So, we just need to keep our heads straight for the rest of the race."
2021 Dakar Rally Stage 8 Results:
1st No. 301 Nasser Al-Attiyah/Mathieu Baumel, 2hr 56min 56sec
7th No. 330 Shameer Variawa/Dennis Murphy, +18min 51sec
19th No. 304 Giniel de Villiers/Alex Haro, +30min 17sec
2021 Dakar Rally Overall Results After Stage 8:
2nd No. 301 Nasser Al-Attiyah/Mathieu Baumel, +4min 50sec
9th No. 304 Giniel de Villiers/Alex Haro, +3hr 26min 50sec
28th No. 330 Shameer Variawa/Dennis Murphy, +7hr 21min 50sec
TOYOTA GAZOO Racing SAFELY THROUGH FIRST PART OF DAKAR 2021 MARATHON STAGE
A cautious approach to the critical Marathon Stage of Dakar 2021 saw 2019 winners Nasser Al-Attiyah and Mathieu Baumel concede just two minutes on Stage 7. The stage was contested over a timed section of 453km between Ha'il with Sakaka, and Nasser now trails the leader by just under eight minutes in the overall standings.
Four punctures caused Giniel de Villiers and Alex Haro to lose 48min and 12sec as they had to wait for a spare tyre from a fellow Toyota Hilux crew. The pair will now have to race the 375-kilometre Stage 8 from Sakaka to Neom, expected to be made up of sandy and stony tracks, using old tyres and will also have to complete any maintenance or repairs to their Toyota Hilux themselves, as outside assistance from the technical crews is forbidden during the Marathon Stage.
Shameer Variawa and Dennis Murphy continued their run of solid results, suffering a single puncture and posting the 15th-fastest time on the stage, only 38min 17sec behind stage winner Yazeed Al Rajhi, also in a Toyota Hilux. Shameer and Dennis have moved into 31st position as a result
Glyn Hall, Team Principal: "The Marathon Stage is always a nervous time for us, especially as it followed straight after the Rest Day. So, we have to trust that we got everything absolutely spot on during yesterday's service before sending the race crews off to complete a stage, stay over in a bivouac where the crews have to prepare their own cars for the next day, and then race another full stage to the next bivouac. Today's stage was strewn with rocks, and we were grateful for the Tyre Pressure Monitoring System (TPMS) that we adapted from the production Toyota GR Yaris for our race cars. The system has worked extremely well, and is invaluable on a terrain where slow punctures could go unnoticed by the crew. Overall, we are happy that Nasser and Mathieu managed to stay in touch with the lead, while Shameer and Dennis recorded yet another great result. Unfortunately, Giniel and Alex had four punctures, and lost a fair amount of time. Even so, they are still in the Top 10, which is good for us."
Nasser Al-Attiyah (No. 301): "The start of the Marathon really wasn't easy and we got a flat tyre early on. After that, we decided to take good care of the car for the rest of the stage. We arrived safely in the bivouac after losing only a small amount of time. This puts us in a good position for tomorrow's run to Neom and we're looking forward to Stage 8."
Giniel de Villiers (No. 304): "It was a day of punctures for us despite keeping things clean on the stage. We had four of them, but only three spares, which put us on the back foot for the entire day. We had to wait for another crew to give us a spare, which allowed us to cover the final 100 kilometres to the bivouac. This also means that we have to start tomorrow's stage on worn tyres, which is far from ideal."
Henk Lategan (No. 332): "We're learning quickly, but it's still not easy. We're still getting to grips with the navigation but Brett's doing an excellent job, and we're communicating much more in the car now to find the best way to get through the stage. Today's stage was a little bit easier, not quite as rough and hard on the body. But, it's important not to get comfortable with so many days of racing left. This is a massive race and the next few days are going to be tough ones, especially in two days' time when we have a really long stage coming up. We needs to keep our focus and stay calm, so we can carry on to the end."
Shameer Variawa (No. 330): "The stage was good, even though it felt quite long. This morning the sand was very soft, especially in the first section of the stage, but we just kept going. We had a small navigational error near the end of the stage which let two trucks past us. This caused major dust issues, so we decided to drop back a little and preserve our car for tomorrow. Overall, we're happy with our result today."
2021 Dakar Rally Day 7 Results:
4th No. 301 Nasser Al-Attiyah/Mathieu Baumel, +2min 48sec
15th No. 330 Shameer Variawa/Dennis Murphy, +38min 17sec
22nd No. 304 Giniel de Villiers/Alex Haro, +48min 12sec
Dakar Rally Overall Results After Stage 7:
2nd No. 301 Nasser Al-Attiyah/Mathieu Baumel, +7min 53sec
8th No. 304 Giniel de Villiers/Alex Haro, +2hr 59min 36sec
31st No. 330 Shameer Variawa/Dennis Murphy, +7hr 6min 02sec
Pictures will be uploaded here during the event
URL: https://www.tgr-dam.com
*In order to access the new media site, please register your ID and password through above URL.
<NOTE>
- The content is password protected only for media.
TOYOTA GAZOO Racing is supported by following partners: