TOYOTA Racing

2013 season
Early on in the 2013 season, TOYOTA utilized the TS030 HYBRID 2012 model that had caused so much anxiety for its competitors in 2012. At the season's highlight in the 24 Hours of Le Mans, TOYOTA finally introduced two 2013-spec TS030 HYBRID cars to complete a much-anticipated clean sweep.

At the race, the TS030 HYBRID, which had shown outstanding speed in 2012, underwent a complete transformation so that in the 2013 race its advantage lay in high fuel efficiency. The six drivers of TOYOTA Racing steadily built up laps against their competitors, who suffered a series of technical failures, but finally fell short of winning the race. Car No.8 finished on the podium in runner up, and car No.7 won 4th place.

TOYOTA Racing built up momentum towards the second half of the 2013 WEC season and surpassed its competitors in terms of both speed and fuel consumption. It won its first victory in the 6th round at Fuji, helped by stormy weather, and wrenched victory from its competitors again in the final round of the season with an undisputable performance.
RESULT
6 Hours of Silverstone

14 April 2013|Silverstone Circuit, Silverstone, Great Britain
No.
Driver
Race
Fastest lap
8
Anthony Davidson
Stéphane Sarrazin
Sébastien Buemi
3rd, 196 laps (+1 lap), 7 pit stops
1min 43.196secs
No.
Driver
Race
Fastest lap
7
Alex Wurz
Nicolas Lapierre
4th, 196 laps (+1 lap), 9 pit stops
1min 43.741secs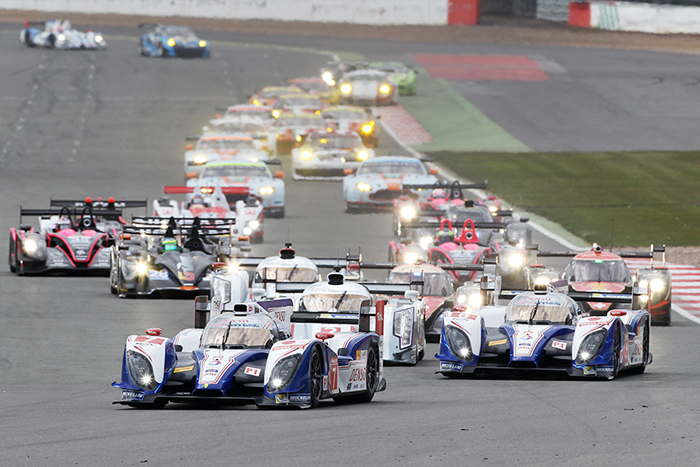 6 hours of Spa-Francorchamps

4 May 2013|Circuit de Spa-Francorchamps, Spa, Belgium
No.
Driver
Race
Fastest lap
8
Anthony Davidson
Stéphane Sarrazin
Sébastien Buemi
4th, 167 laps (+1 lap), 7 pit stops
2min 2.052secs
No.
Driver
Race
Fastest lap
7
Alex Wurz
Nicolas Lapierre
Kazuki Nakajima
Did Not Finish, 99 laps, 5 pit stops
2min 1.847secs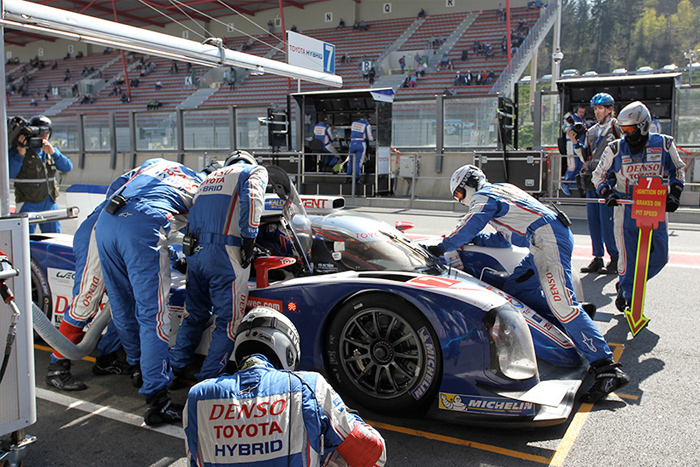 24 Hours of Le Mans

22-23 June 2013|Circuit de la Sarthe, France
No.
Driver
Race
Fastest lap
8
Anthony Davidson
Stéphane Sarrazin
Sébastien Buemi
2nd, 347 laps (+ 1lap), 30 pit stops
3min 25.151secs
No.
Driver
Race
Fastest lap
7
Alex Wurz
Nicolas Lapierre
Kazuki Nakajima
4th, 341 laps (+ 7laps), 29 pit stops
3min 25.718secs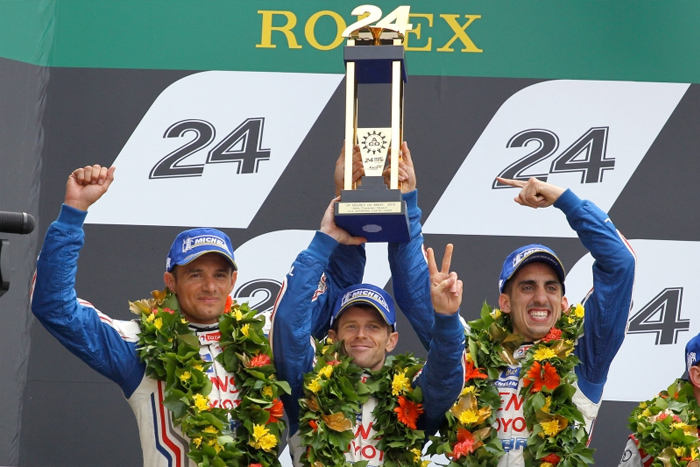 6 Hours of Sao Paulo

1 September 2013|Autodromo Jose Carlos Pace, Sao Paulo, Brazil
No.
Driver
Race
Fastest lap
8
Anthony Davidson
Stéphane Sarrazin
Sébastien Buemi
Did Not Finish, 25 laps, 0 pit stops
1min 22.545secs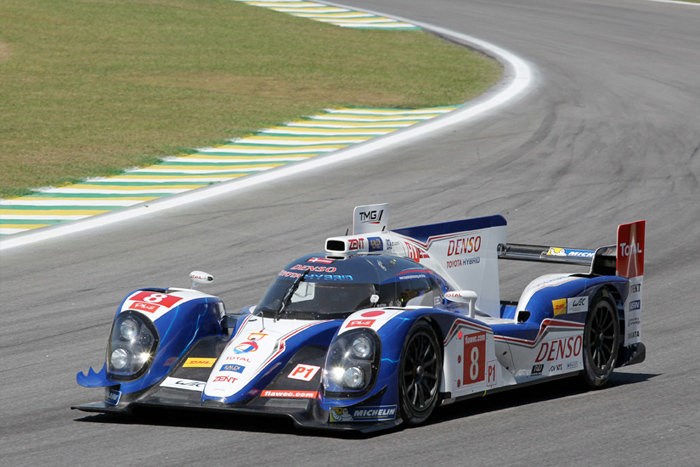 6 Hours of Austin

22 September 2013|Circuit of the Americas, Austin, United States
No.
Driver
Race
Fastest lap
8
Anthony Davidson
Stéphane Sarrazin
Sébastien Buemi
2nd, 187 laps (+23.617secs), 7 pit stops
1min 48.745secs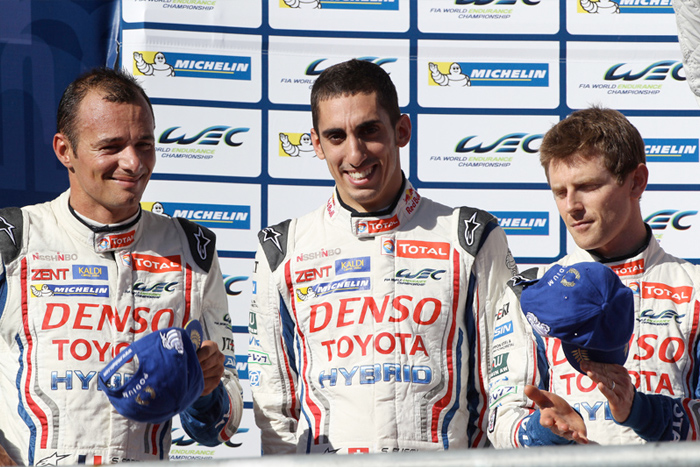 6 Hours of Fuji

20 October 2013|Fuji Speedway, Fuji, Japan
No.
Driver
Race
7
Alex Wurz
Nicolas Lapierre
Kazuki Nakajima
1st, 16 laps, 0 pit stops
No.
Driver
Race
8
Anthony Davidson
Stéphane Sarrazin
Sébastien Buemi
27th, 15 laps (+1 lap), 1 pit stop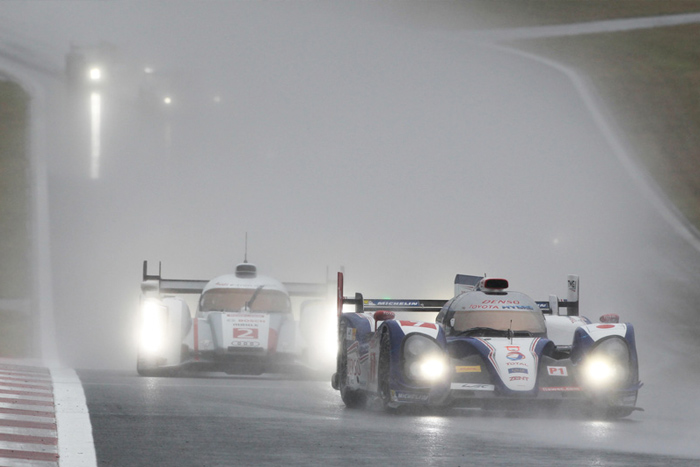 6 Hours of Shanghai

9 November 2013|Shanghai International Circuit, Shanghai, China
No.
Driver
Race
Fastest lap
7
Alex Wurz
Nicolas Lapierre
2nd, 190 laps (+15.374), 8 pit stops
1min 49.383secs
No.
Driver
Race
Fastest lap
8
Anthony Davidson
Stéphane Sarrazin
Sébastien Buemi
Did Not Finish, 143 laps, 6 pit stops
1min 49.106secs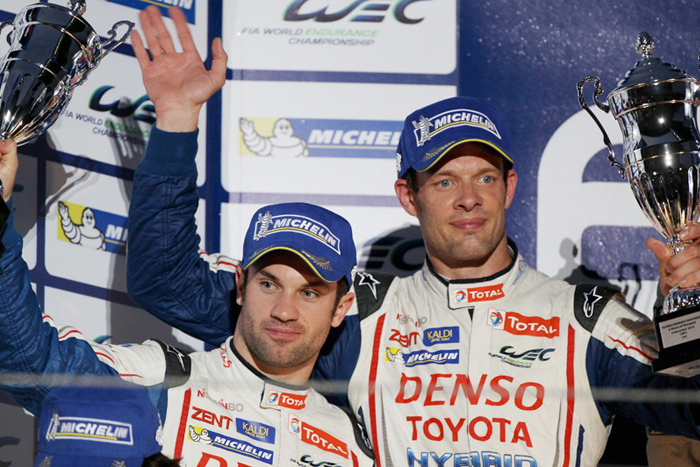 6 Hours of Bahrain

30 November 2013|Bahrain International Circuit, Bahrain
No.
Driver
Race
Fastest lap
8
Anthony Davidson
Stéphane Sarrazin
Sébastien Buemi
1st, 199 laps, 7 pit stops
1min 44.323secs
No.
Driver
Race
Fastest lap
7
Alex Wurz
Nicolas Lapierre
Kazuki Nakajima
Did Not Finish, 64 laps, 2 pit stops
1min 44.440secs