6 HOURS OF SILVERSTONE
Course:Silverstone Circuit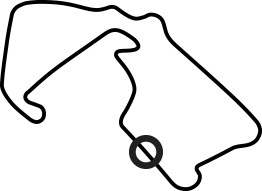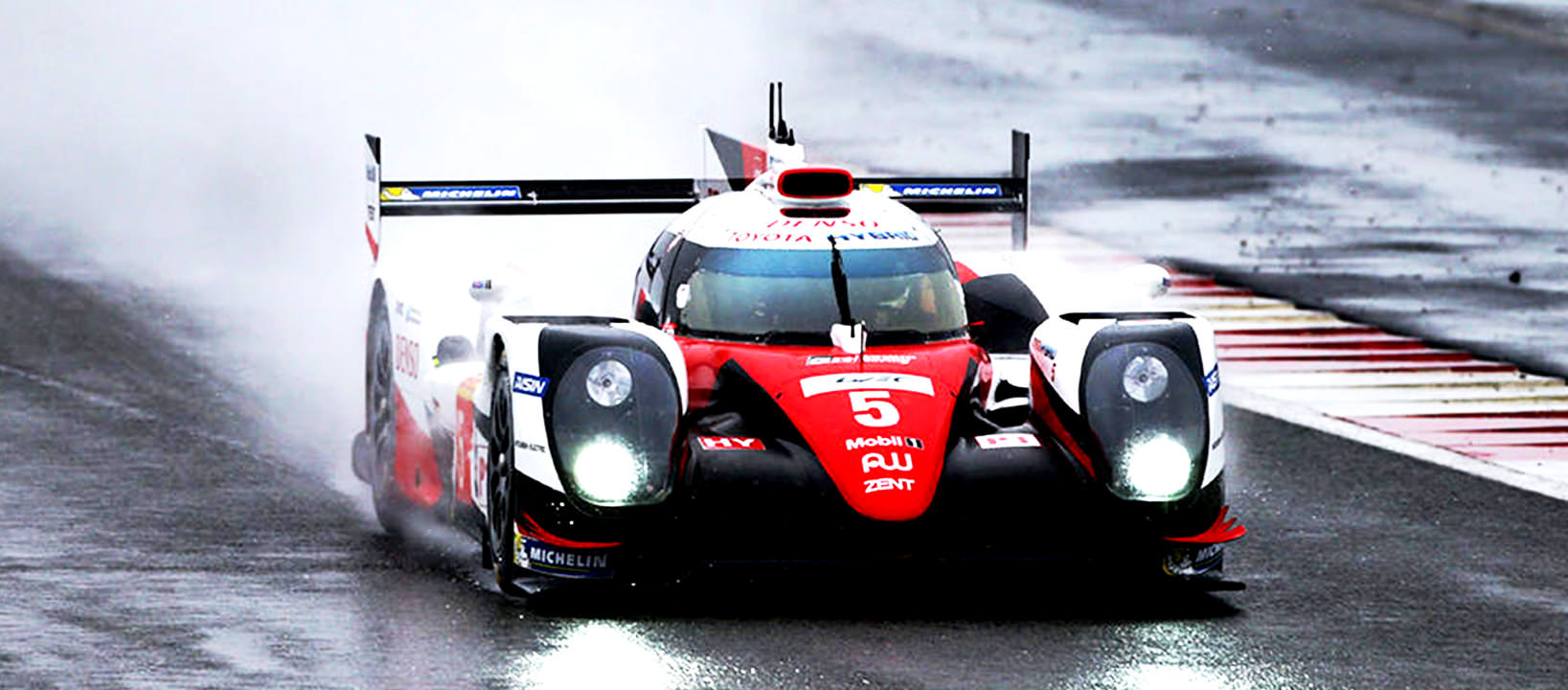 Qualifying
SILVERSTONE SLIP-UP
TOYOTA GAZOO Racing suffered a hugely frustrating qualifying for the 6 Hours of Silverstone, the opening round of the 2016 FIA World Endurance Championship. Unsuitable control settings on the TS050 HYBRID for the conditions left the drivers with no chance to be competitive in the 20-minute qualifying session, which took place on a wet track.
Car set-up proved to be out of the required operating window as Stéphane Sarrazin and Mike Conway, who drive the #6 alongside Kamui Kobayashi, qualified fifth. Anthony Davidson and Kazuki Nakajima were sixth in the #5 TS050 HYBRID they share with Sébastien Buemi. But the gap to the competition told a more complete story, with the two cars respectively 4.996secs and 6.905secs away from pole position.
TOYOTA GAZOO Racing will urgently seek to address the issues which caused that deficit and aim to compete strongly in tomorrow's race when the weather is expected to improve.
TS050 HYBRID #5 (Anthony Davidson, Sébastien Buemi, Kazuki Nakajima)
Free practice 3: No lap time. 1 lap.
Qualifying: 6th (2min 00.109secs average)
Anthony Davidson
"It has been a challenging day weather-wise and that has put us a bit out of synch with the settings of our car, which are very complex. We are running in conditions that we simply haven't experienced before with the TS050 HYBRID and therefore have run into some problems. We need to go away and learn from days like this; these experiences make us stronger."
Kazuki Nakajima
"The team made some improvements for my stint but the car was not perfect, so we need to look into the data and find out what went wrong. We need to see how much we still need to improve. The car felt okay to drive and tomorrow should be a dry race so hopefully the situation will be totally different."
TS050 HYBRID #6 (Stéphane Sarrazin, Mike Conway, Kamui Kobayashi)
Free practice 3: No lap time. 1 lap.
Qualifying: 5th (1min 58.200secs average)
Stéphane Sarrazin
"It has been a challenging day weather-wise and that has put us a bit out of synch with the settings of our car, which are very complex. We are running in conditions that we simply haven't experienced before with the TS050 HYBRID and therefore have run into some problems. We need to go away and learn from days like this; these experiences make us stronger."
Mike Conway
"I could already feel a problem leaving the pit lane; something wasn't right. It just felt like we were completely underpowered all the way through the session, due to the settings we chose. I am not sure exactly what went wrong. It's a different day tomorrow and it looks like being dry so hopefully we can have a good race and battle with the cars ahead of us."
QUALIFYING RESULTS -LMP CLASS
| Pos | N° | Cat | Driver | Car | T | Driver 1 | Driver 2 | Laps | Average | Gap |
| --- | --- | --- | --- | --- | --- | --- | --- | --- | --- | --- |
| 1 | 7 | LMP1 | Marcel FÄSSLER, André LOTTERER, Benoît TRÉLUYER | Audi R18 | M | 1:53.201 | 1:53.207 | 2 | 1'53.204 | |
| 2 | 8 | LMP1 | Lucas DI GRASSI, Loïc DUVAL, Oliver JARVIS | Audi R18 | M | 1:53.705 | 1:52.911 | 2 | 1'53.308 | +0.104 |
| 3 | 1 | LMP1 | Timo BERNHARD, Mark WEBBER, Brendon HARTLEY | Porsche 919 Hybrid | M | 1:54.635 | 1:53.666 | 2 | 1'54.150 | +0.946 |
| 4 | 2 | LMP1 | Romain DUMAS, Neel JANI, Marc LIEB | Porsche 919 Hybrid | M | 1:54.258 | 1:54.274 | 2 | 1'54.266 | +1.062 |
| 5 | 6 | LMP1 | Stéphane SARRAZIN, Mike CONWAY, Kamui KOBAYASHI | Toyota TS050 - Hybrid | M | 1:58.815 | 1:57.586 | 2 | 1'58.200 | +4.996 |
| 6 | 5 | LMP1 | Anthony DAVIDSON, Sébastien BUEMI, Kazuki NAKAJIMA | Toyota TS050 - Hybrid | M | 2:03.360 | 1:56.859 | 2 | 2'00.109 | +6.905 |
| 7 | 4 | LMP1 | Simon TRUMMER, Oliver WEBB, James ROSSITER | CLM P1/01 - AER | D | 2:07.513 | 2:09.151 | 2 | 2'08.332 | +15.128 |
| 8 | 26 | LMP2 | Roman RUSINOV, Nathanaël BERTHON, René RAST | Oreca 05 - Nissan | D | 2:09.584 | 2:07.374 | 2 | 2'08.479 | +15.275 |
| 9 | 31 | LMP2 | Ryan DALZIEL, Luis Felipe DERANI, Christopher CUMMING | LIGIER JS P2 - Nissan | D | 2:07.315 | 2:11.949 | 2 | 2'09.632 | +16.428 |
| 10 | 43 | LMP2 | Ricardo GONZALEZ, Filipe ALBUQUERQUE, Bruno SENNA | LIGIER JS P2 - Nissan | D | 2:08.576 | 2:12.015 | 2 | 2'10.295 | +17.091 |
| 11 | 27 | LMP2 | Nicolas MINASSIAN, Maurizio MEDIANI, | BR01 - Nissan | D | 2:10.164 | 2:11.091 | 2 | 2'10.627 | +17.423 |
| 12 | 37 | LMP2 | Vitaly PETROV, Kirill LADYGIN, Victor SHAYTAR | BR01 - Nissan | D | 2:11.507 | 2:10.540 | 2 | 2'11.023 | +17.819 |
| 13 | 45 | LMP2 | Matthew RAO, Richard BRADLEY, Roberto MERHI | Oreca 05 - Nissan | D | 2:13.097 | 2:10.689 | 2 | 2'11.893 | +18.689 |
| 14 | 36 | LMP2 | Gustavo MENEZES, Nicolas LAPIERRE, Stéphane RICHELMI | Alpine A460 - Nissan | D | 2:12.141 | 2:12.302 | 2 | 2'12.221 | +19.017 |
| 15 | 44 | LMP2 | Tor GRAVES, Will STEVENS, James JAKES | Oreca 05 - Nissan | D | 2:13.901 | 2:12.309 | 2 | 2'13.105 | +19.901 |
| 16 | 42 | LMP2 | Nick LEVENTIS, Danny WATTS, Jonny KANE | Gibson 015S - Nissan | D | 2:09.931 | 2:17.527 | 2 | 2'13.729 | +20.525 |
| 17 | 35 | LMP2 | David CHENG, Ho-Pin TUNG, Nelson PANCIATICI | Alpine A460 - Nissan | D | 2:10.517 | 2:19.210 | 2 | 2'14.863 | +21.659 |
| 18 | 30 | LMP2 | Scott SHARP, Ed BROWN, Johannes VAN OVERBEEK | LIGIER JS P2 - Nissan | D | 2:11.832 | 2:28.988 | 2 | 2'20.410 | +27.206 |
| 19 | 12 | LMP1 | Nicolas PROST, Nelson PIQUET JR, Nick HEIDFELD | Rebellion R-One - AER | D | 2:07.841 | | 1 | 2'07.841 | +14.637 |
GET THE COMPLETE RACE RESULTS AND CHRONO
QUALIFYING RESULTS -LMGTE CLASS
| Pos | N° | Cat | Driver | Car | T | Driver 1 | Driver 2 | Laps | Average | Gap |
| --- | --- | --- | --- | --- | --- | --- | --- | --- | --- | --- |
| 1 | 71 | LMGTE Pro | Davide RIGON, Sam BIRD, | Ferrari 488 GTE | M | 2:11.900 | 2:12.981 | 2 | 2'12.440 | |
| 2 | 77 | LMGTE Pro | Richard LIETZ, Michael CHRISTENSEN, | Porsche 911 RSR (2016) | M | 2:13.475 | 2:14.170 | 2 | 2'13.822 | +1.382 |
| 3 | 66 | LMGTE Pro | Billy JOHNSON, Stefan MÜCKE, Olivier PLA | Ford GT | M | 2:14.791 | 2:14.160 | 2 | 2'14.475 | +2.035 |
| 4 | 88 | LMGTE Am | Khaled AL QUBAISI, David HEINEMEIER HANSSON, Klaus BACHLER | Porsche 911 RSR | M | 2:14.639 | 2:15.566 | 2 | 2'15.102 | +2.662 |
| 5 | 67 | LMGTE Pro | Marino FRANCHITTI, Andy PRIAULX, Harry TINCKNELL | Ford GT | M | 2:17.072 | 2:17.663 | 2 | 2'17.367 | +4.927 |
| 6 | 78 | LMGTE Am | Christian RIED, Wolf HENZLER, Joël CAMATHIAS | Porsche 911 RSR | M | 2:15.510 | 2:19.288 | 2 | 2'17.399 | +4.959 |
| 7 | 50 | LMGTE Am | Yutaka YAMAGISHI, Pierre RAGUES, Paolo RUBERTI | Chevrolet Corvette C7 | M | 2:14.044 | 2:22.644 | 2 | 2'18.344 | +5.904 |
| 8 | 86 | LMGTE Am | Michael WAINWRIGHT, Adam CARROLL, Ben BARKER | Porsche 911 RSR | M | 2:15.944 | 2:22.225 | 2 | 2'19.084 | +6.644 |
| 9 | 83 | LMGTE Am | François PERRODO, Emmanuel COLLARD, Rui AGUAS | Ferrari F458 Italia | M | 2:19.064 | 2:21.199 | 2 | 2'20.131 | +7.691 |
| 10 | 97 | LMGTE Pro | Richie STANAWAY, Fernando REES, | Aston Martin Vantage V8 | D | 2:19.683 | 2:22.499 | 2 | 2'21.091 | +8.651 |
| 11 | 95 | LMGTE Pro | Nicki THIIM, Marco SØRENSEN, Darren TURNER | Aston Martin Vantage V8 | D | 2:22.362 | 2:22.142 | 2 | 2'22.252 | +9.812 |
| 12 | 98 | LMGTE Am | Paul DALLA LANA, Pedro LAMY, Mathias LAUDA | Aston Martin Vantage V8 | D | 2:22.148 | 2:23.862 | 2 | 2'23.005 | +10.565 |
| 13 | 51 | LMGTE Pro | Gianmaria BRUNI, James CALADO, | Ferrari 488 GTE | M | 2:11.589 | | 1 | 2'11.589 | -0.851 |