Fernando Alonso
From Oviedo, Asturias, Spain. Age 36.
A two-time world champion Formula One driver.
Before Fernando's first attempt at the 24 Hours of Le Mans, one of the world's three great races, we asked him about how the FIA World Endurance Championship(WEC) differs from the Formula One World Championship (F1), about its difficulties, his childhood dream, and his new racing comrades, TOYOTA GAZOO Racing.
Learning about Toyota through a national hero
A world champion has come to TOYOTA GAZOO Racing.
On January 30th, 2018, TOYOTA GAZOO Racing announced that two-time winner of the Formula One World Championship (F1), Spanish driver Fernando Alonso, would drive for the team during the 2018-19 season of the WEC, which includes the 24 Hours of Le Mans.
I am very excited to participate in the Le Mans 24 Hours for the first time. It is a race which I have followed closely for a long time and it has always been an ambition of mine to participate. Endurance racing is a different discipline compared to single-seaters and I enjoyed my first taste of it at Daytona. I am looking forward to working together with, and learning from, Sebastien and Kazuki, who are both very experienced endurance drivers. It will be a steep learning curve for me but I am ready for this challenge and I can't wait to get started.
Fernando has raced with several automakers including Renault, McLaren, Ferrari, and Honda, but this is his first time to compete in a race with TOYOTA GAZOO Racing.
Alonso first became aware of Toyota when he was a child.
It was the Toyota Celica driven in the FIA World Rally Championship (WRC) by the national hero of Spain, Fernando's country.
WRC CELICA GT-FOUR ST165 (1990)
As a Spaniard and a motorsport fan, I remember very well Carlos Sainz driving a Toyota in WRC and winning World Championships. That is my first memory of Toyota.
Carlos Sainz won the WRC twice with Toyota Celica.
He was the first Spanish World Rally Champion.
Carlos Sainz won fame as the first Spaniard to be crowned World Rally Champion.
More than a quarter of a century later, Fernando's dream of driving at the Le Mans is coming true as a member of Toyota team which his national hero became a world champion.
I'm grateful to President Akio Toyoda. I'd like to meet and talk with him soon!
Welcoming Fernando in the TOYOTA GAZOO Racing,'Morizo' otherwise known as Akio Toyoda, president of Toyota Motor Corporation, sent message to him.
"I want to drive an LMP1 car..."
"I want to race in Le Mans..."
"I want to win..."

To Fernando Alonso, I say thank you so much for choosing Toyota as a partner for making your Le Mans dream come true.

I am extremely thrilled that Fernando, who has battled it out in numerous races and seen things that nobody on our team has ever experienced, will be driving for TOYOTA GAZOO Racing.

I believe that having Fernando get behind the wheel for our team will only make our cars better.

I am looking forward to seeing how much TOYOTA GAZOO Racing will grow when our drivers and all team members take what they have learned thus far in endurance racing and add to it what they will gain from Fernando's experience. The entire team is excited about this opportunity for growth.
Honor and gratitude. Those are the words that came to mind when Fernando received this message. He looks forward the day he finally meet Toyoda, and share the passion for cars and racing with him.
It was a great honour to read this but I have to say thank you to him for allowing me to join the Toyota team to compete at Le Mans. I hope I will soon be able to meet Mr. Toyoda. I heard he is a racing driver himself so I am sure we will find many things to talk about.
Morizo, Toyota Motor Corporation president Akio Toyoda, visits Circuit de la Sarthe for the first time in 2017.
Dreaming of the Le Mans since childhood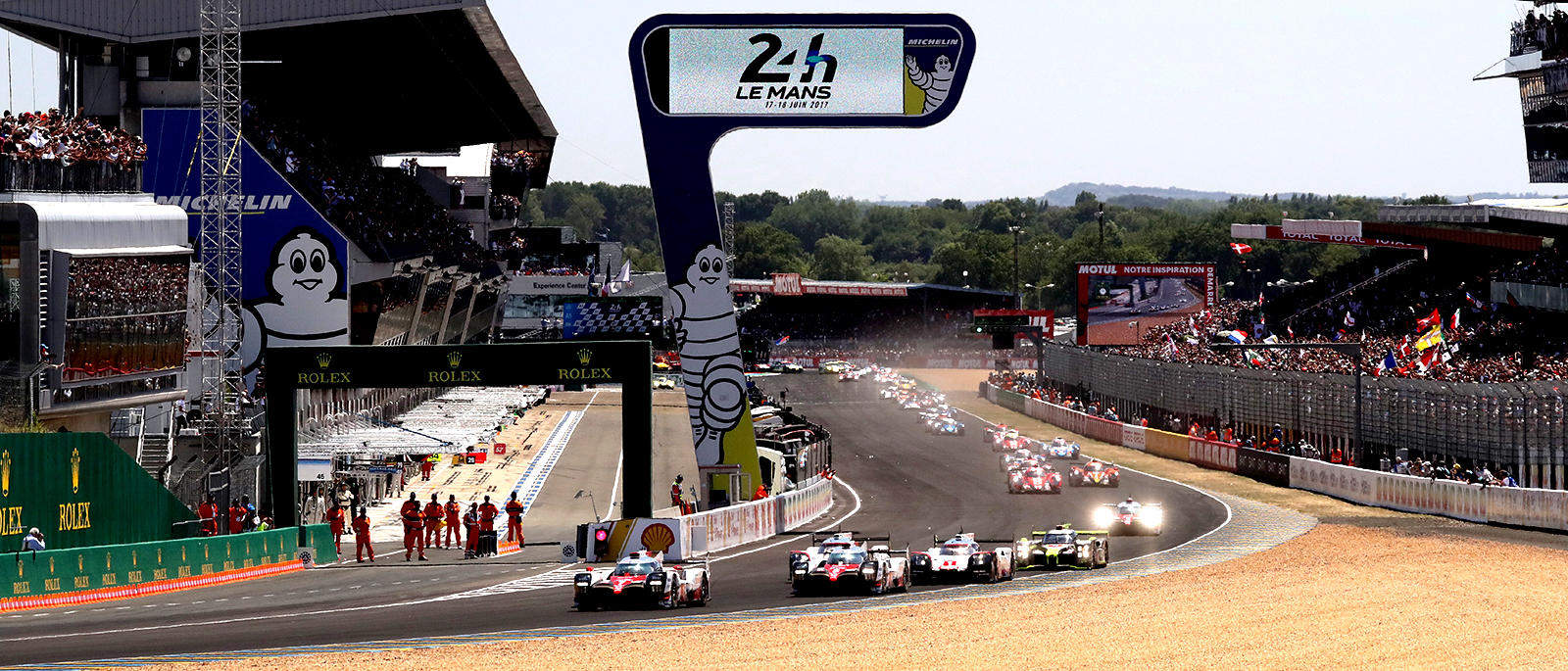 "My dream of driving in the 24 Hours of Le Mans seems to be realised."
Driving in the 24-hour race at Le Mans has been Fernando's dream since childhood, long before he drove in F1.
It's obviously a very important race in the world. In Spain we consider Le Mans one of those races that we see as kids; we grow up watching this big race.
Fernando visited Le Mans in 2014 and waved the starting flag for the 24-hour race. It was around this time that he began to think about actually driving in the race.
I have wanted to race at Le Mans for a few years now. When I was at Ferrari I visited the Le Mans and I waved the flag. I was very close to competing at Le Mans on a couple of occasions when I was at Ferrari but they were not keen on sharing with other brands. At the end of last year I thought there could be a possibility and I spoke with TOYOTA GAZOO Racing.
The difference between F1 and WEC
F1 is a sprint race.
WEC is an endurance race.
These are the major features of the two categories.
In the eyes of Fernando, who from this season has driven in both, what are likely to be the differences between the two race categories?
F1 is all about attacking and finding every millisecond. In WEC it is about efficiency and driving to economy to get to the end of the race in good shape.

The level of sophistication is higher in LMP1-H because the regulations allow you to do more things, like traction control and four-wheel drive. These cars are very sophisticated so the difference is clear because a lot of this technology is not allowed in Formula 1.
At the beginning of this year, Fernando raced in the Rolex 24 At DAYTONA, one of the legendary North American IMSA WTSC races. So he has already experienced a 24-hour endurance race. At DAYTONA, he already felt how difficult an endurance race is.
In F1 you normally run continuously in the same conditions. In endurance, maybe one lap you find two GT cars, one lap is at night, one lap is 30°C. Every lap is different so you have to adapt. This is a very demanding challenge.
To become the second person in the world to pull off a major accomplishment
In recent years, probably no other driver has traveled around the world entering as many races as Fernando.
Of the 52 weeks this year, he will be racing for more than half of them, for 27 weeks.
He just likes racing.
And the ultimate goal ahead is to win the world's Triple Crown of motor racing which is made up of three races:
F1 Monaco Grand Prix
Indy 500
24 Hours of Le Mans
The challenge is a feat that only one driver *1 has ever achieved in history. He has already won the F1 Monaco Grand Prix (in 2006 and 2007) and competed in his first Indy 500 last year. This year, Fernando will take on the 24 Hours of Le Mans for the first time, taking a new step towards that amazing accomplishment.
*1 Graham Hill, a British driver who was active in the 1960s and 1970s, is the only person to have won the world's Triple Crown of motor racing.