Over 100 years since the birth of the automobile, the entire car industry is facing an era of major change.
In such a cataclysmic era of electrification and automation, why does TOYOTA GAZOO Racing continue to participate in the WEC?
Looking ahead to the next 100 years, TOYOTA GAZOO Racing's answer is here.
Why do you continue to participate in the WEC?
On December 19, 2017, TOYOTA GAZOO Racing announced that they will continue to participate in the FIA World Endurance Championship (WEC) in the 2018-19 season.
The WEC is an endurance racing world championship that takes place in various venues around the world, centering on the 24 Hours of Le Mans, which has more than 90 years of its history and tradition.
TOYOTA GAZOO Racing participates in the LMP1-H class, in which manufacturer teams have competed for rankings in hybrid cars since 2012.
However, Audi withdrew from the WEC in 2016 and Porsche followed in 2017.
This means that in the new season starting in 2018, TOYOTA GAZOO Racing will become the only manufacturer in the LMP1-H class.
"Is there any point in continuing to participate in the WEC without competitors?"
That's what some people out there said.
However, TOYOTA GAZOO Racing decided to continue participating in the WEC.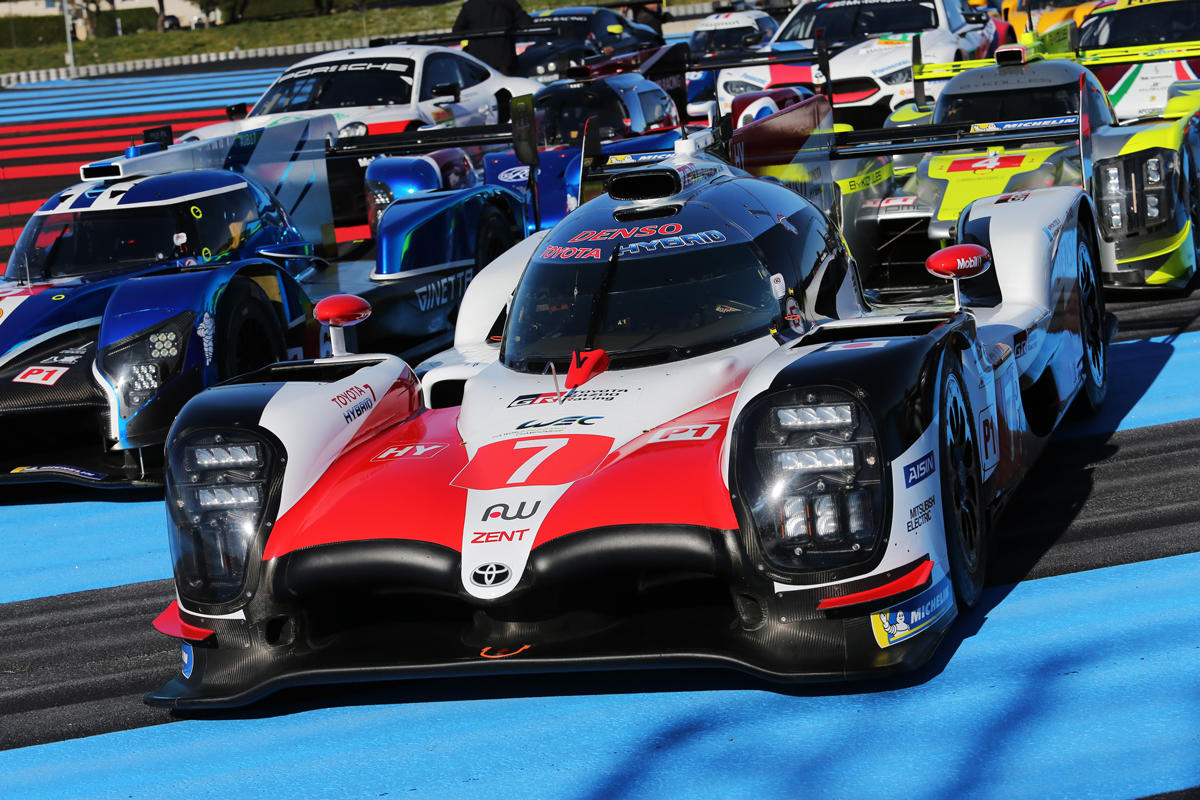 More than 100 years have passed since the birth of the automobile. As we approach times of tremendous change represented by electrification, automation and other developments, I am strongly determined to make sure that cars will be fun for the next 100 years.

This year, our cars were extremely fast on the roads of Le Mans. But they were not able to combine speed with the strength needed to keep at it for 24 hours. While wanting to provide cars that our customers will want to ride in and drive, I keenly realized that we have a long way to go.

It is highly regrettable that our rival in honing technologies on the roads of Le Mans has left. Yet the World Endurance Championship, in which cars of different categories race at the same time, and particularly Le Mans, where the battle goes on for 24 hours, including on public roads, still represent the optimal proving ground for achieving the goal of making cars fun for the next 100 years.
This is part of the comment made by 'Morizo', otherwise known as Toyota Motor Corporation President, Akio Toyoda, when TOYOTA GAZOO Racing announced the team's continued participation.
TOYOTA GAZOO Racing is not only fighting to win the WEC.
An important mission of TOYOTA GAZOO Racing is to refine the technologies through the tough battles of the WEC and to deliver to our customers cars that they will enjoy driving and want to drive more.
That is why TOYOTA GAZOO Racing will take on the WEC challenge again this season.
"Won't you produce a hybrid sports car?"
Toyota has participated in the WEC with a racing hybrid car since 2012 and has taken part in a total of 48 races, including six times in the 24 Hours of Le Mans until last year.
The electrification technology forged through participation in the WEC is definitely being reproduced in cars that Toyota currently sells, and in cars to be sold in the future.
However, there has not yet been a flagship model that could be called "the car that takes the cutting-edge hybrid systems, electric vehicle systems and fuel economy technologies horned in the WEC in one package"
"Won't you produce a hybrid sports car?"
Akio Toyoda said he heard this from a lot of people when he visited Le Mans for the first time last year.
Last year, I went to Le Mans for the first time and heard people cheering for Toyota. I also heard many people saying that they would like to see Toyota come out with a hybrid sports car like our cars in the race.

I, too, would like us to produce just such a car, and I think it would be one that would help make cars fun for the next 100 years.
This feeling of Toyoda's has been embodied in a single concept car - GR Super Sport Concept. It first revealed at the 2018 Tokyo Auto Salon in January, this next-generation hyper car incorporates hybrid electric technology honed through Toyota's participation in the WEC.
New challenge of creating a sports car from a racing car
Toyota is now embarking on a new challenge. It is an effort to make a sports car from an active racing car.
Rather than developing production cars into sports cars, we aim to work out how to incorporate the know-how developed through races and rallies into production cars amid various restrictions, and this is how competing contributes to TOYOTA GAZOO Racing's efforts toward making ever-better cars. Thus, this is the starting point for Toyota's completely new challenge to develop sports cars from active race cars.
Born from that new initiative, the GR Super Sport Concept is powered by a V6 twin turbocharger and the Toyota Hybrid System-Racing (THS-R), delivering a combined output of 1,000 DIN hp, which it shares with the TS050 Hybrid LMP1 race car.
And, as the second step, the GR Supra Racing Concept was also announced at the Geneva Motor Show.
It is a modern racing concept that signals Toyota's commitment to bring back its most iconic sports car.
The Supra has captivated many fans in the world of motor sports, winning the GT500 class of the SUPER GT championship four times and participating in the 24 Hours of Le Mans.
Showing the racing version before the commercial one reveals the strong will of TOYOTA GAZOO Racing.
Although our challenge to make 'cars that will be fun' for the next 100 years has just begun, TOYOTA GAZOO Racing aims to continue making exciting cars to bring smiles to our customers' faces and to contribute to the future of the automobile industry. We look forward to your continued support in achieving this aim.
No matter how electronics and digital technology continue to transform cars, cars will never become just another commodity. For TOYOTA GAZOO Racing, the next hundred years of the automobile are only just beginning.