INTRODUCING THE YARIS WRC.
PACKING 380 HORSEPOWER,
THE NEW YARIS WRC IS BUILT TO WIN
The Toyota Yaris WRC is a new generation rally car tuned to near perfection in compliance with the 2017 FIA World Rally Car Technical Regulations. Under the hood, its 1.6-liter direct injection turbo engine growls with 380 horsepower plus.
The World Rally Car is a WRC top category vehicle designed for rally competition. Although extensive modifications have been made to maximize the rally performance, the body is based on that of a production vehicle. Essentially derived from a production vehicle, the car even has a number plate to allow driving on public roads.
World Rally Car regulations were introduced to the WRC in 1997, and cars were initially fitted with 2.0-liter turbo engines. However, with technological advances resulting in engines that were able to produce the same performance with smaller displacements, from 2011 rally cars have been limited to 1.6-liter direct-injection turbo engines. In 2017, World Rally Car regulations were significantly revised with the goal of further improving performance; air restrictors, which limit engine air-intake, increased in size from 33 millimeters to 36 millimeters, leading to a boost in maximum output from 320 horsepower plus to 380 horsepower plus. This massive amount of power is effectively transmitted to each of the car's four wheels through a full-time four-wheel drive system featuring active center differential. In addition, the revised 2017 regulations permit aerodynamic parts to be fitted with greater freedom, and WRC cars have evolved to feature bold, aerodynamically efficient exterior designs.
The Yaris WRC incorporates the 2017 new World Rally Car regulations, and its high engine performance, intelligent 4WD system, and finely-tuned aerodynamics enable it to be driven safely and quickly on the world's diverse roads. While based on the previous year's vehicle, the 2019 specification Yaris WRC features improved each of its functions.
By applying what we learned from competing throughout two seasons since Yaris WRC returned to the race in 2017, we have been able to thoroughly enhance the vehicle's overall performance and reliability.
Three kinds of tires to match road conditions
In racing, ideal tire size depends on whether the car is driving on gravel or on tarmac. Generally, 15-inch tires are used for gravel while 18-inch tires are used for tarmac. The number of tires that can be used for each championship event is regulated by the event, and the question of when to change tires is a key racing strategy.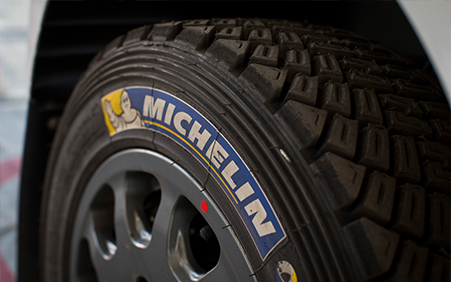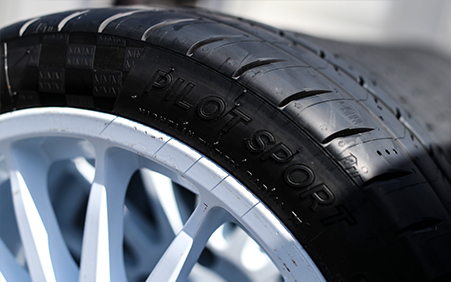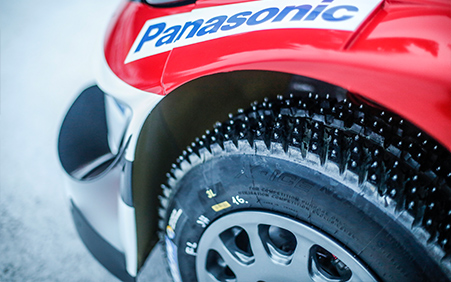 Specifications and equipment differ depending on the specific competition or special stage
Vehicle specifications and settings change for every competition. Depending on whether the rally is held on gravel, snow, or tarmac, not only the tires but also parts such as the brakes and suspension need to be changed. For rallies held on smooth tarmac, the vehicle height should be kept to a minimum, however on rough gravel rally roads, the car should be higher to avoid contact with the road surface. Also, to accommodate changing road conditions including rain, settings such as the suspension and power train are adjusted as needed. For night driving, visibility is enhanced by installing an auxiliary light source on the hood called a light pod.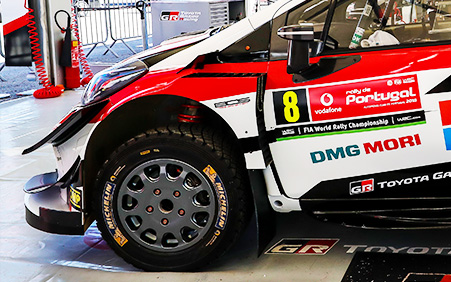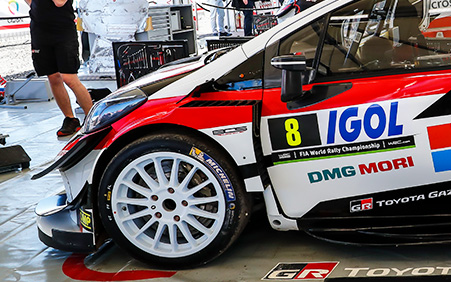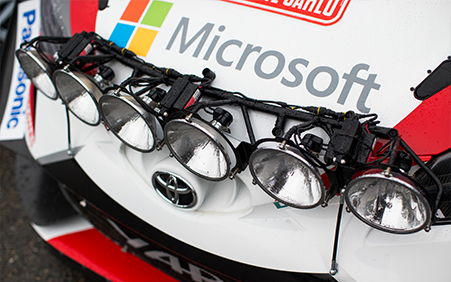 Work at the service park is a battle against time
While circuit races have pit stops, at rallies servicing and repairs are performed at the service park. Once the competition begins, the time allotted for servicing is limited to just 15 minutes in the morning prior to the race, 30 minutes during the day, and 45 minutes at night. In Spain, rallies include both gravel and tarmac roads. Because major adjustments are required to change the car's specifications from gravel to tarmac, a special 75-minute period is allowed for the nighttime service slot. Once a vehicle has been serviced at night, it is parked in a garage called the "Parc Fermé," where no further servicing is permitted until the next morning.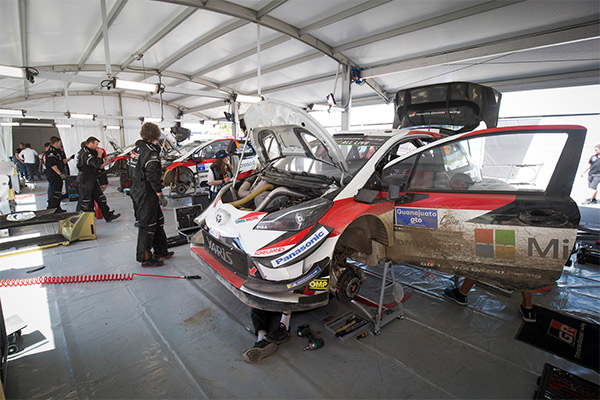 VEHICLE SPECS
Engine
Engine type
In-line 4-cylinder turbo, direct injection
Engine displacement
1600 cc
Maximum power
Over 380 PS
Maximum torque
Over 425 Nm
Bore / stroke
83.8 mm / 72.5 mm
Air restrictor
36 mm, following FIA regulations
Transmission
Gearbox
6 Speed hydraulic shift
Gearbox final drive
4 wheel drive, 2 x mechanical differentials, active center differential with torque split options.
Clutch
Double Plate Sintered Clutch
Chassis / suspension
Front / rear
Macpherson
Suspension travel
Classified
Steering
Hydraulic Rack and Pinion
Braking system
Gravel 300 mm air and liquid cooled, Tarmac 370 mm air and liquid cooled
Dimension and weight
Length / width / height
4085 mm (inc. aero device) / 1875 mm / adjustable
Track width
Adjustable
Wheelbase
2511 mm
Minimum weight
1190 kg
Performance
Acceleration
Classified
Top speed
201 kph (Ratio Specific)