The Toyota GR YARIS Rally1 leads on its debut at Rallye Monte-Carlo after winning the first two stages of the FIA World Rally Championship's thrilling new hybrid era in the hands of reigning champion Sébastien Ogier. Elfyn Evans is third overall to make it two cars inside the top three for the TOYOTA GAZOO Racing World Rally Team.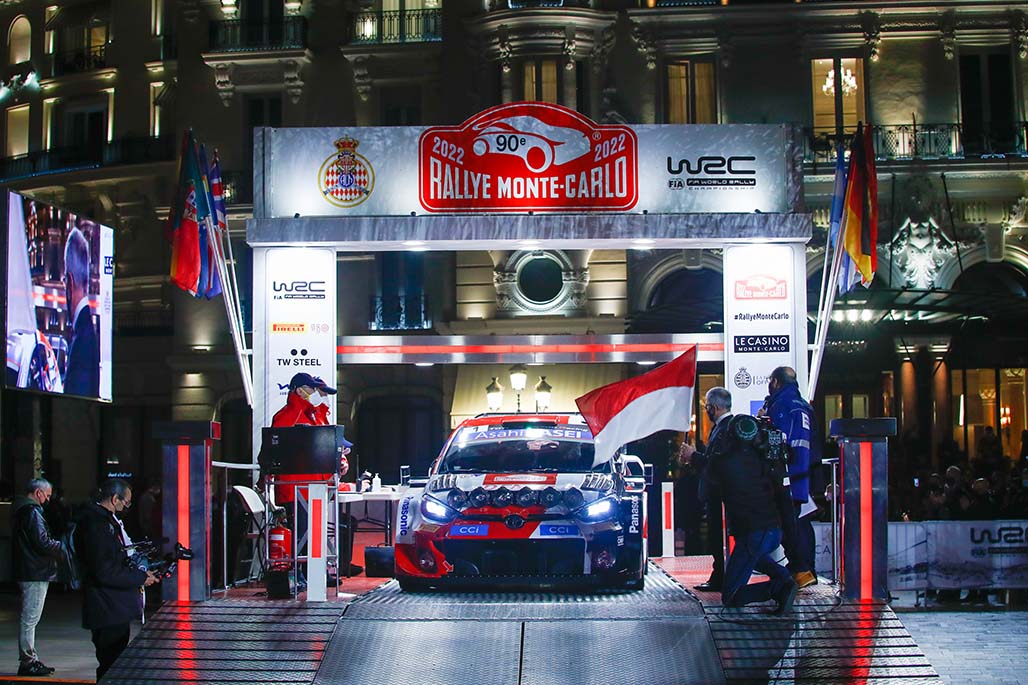 Thursday began with the pre-event shakedown and the first chance to see all the new-generation Rally1 cars in action along the same section of road. Ogier, joined by new co-driver Benjamin Veillas as he begins a partial schedule of rallies this season, posted the fastest time after three runs along the stage.
After the traditional rally start in Monaco's famous Casino Square, the crews headed into the Alps for a pair of night-time stages and a demanding introduction with their new cars. Ogier won the first stage by 5.4 seconds and the second by 1.3s to lead by 6.7s overall. Evans was close behind in both stages and is 11.2s away from the lead heading into the first full day of competitive action.
Kalle Rovanperä lost some time with a small spin in the opening stage and lies 12th overall. Takamoto Katsuta, registered to score points for the new TGR WRT Next Generation squad, is ninth overall.
Quotes:
Jari-Matti Latvala (Team Principal)
"We have to be pleased tonight to be leading the rally and have two cars inside the top three. Generally we're happy because it shows that our performance level is high, and when we started this evening we didn't exactly know where we are. But we can see that there is strong competition and a nice fight going on and this is good for the rally. For Kalle it was a more difficult start but he had a spin early on and I know how it is driving in the darkness if you don't have the confidence, and I'm sure things will improve for him in the daylight tomorrow."
Sébastien Ogier (Driver car 1)
"I was a bit surprised to see I was fastest in stage one because to be honest I didn't really have a great feeling in the car, but the time was good so I cannot complain. On the other hand stage two felt a bit better in the car. The cars are very different from last year and I think everybody's trying to adapt at the moment and there are many parameters which can be improved. The times are still quite close with the competition, so it already looks like it's going to be a tight and exciting fight for the first time with these cars."
Elfyn Evans (Driver car 33)
"Honestly I didn't feel like tonight's opening loop was fantastic, especially the first stage, but it's nice to be back in Monaco and in a good position. The feeling in the car is maybe a bit better than what I expected because my feeling in the test was not amazing. It still feels very new so it's not so easy at the moment. I felt I could have done a bit more in most cases so I'm not fully satisfied. It's difficult to focus on driving really well with all the other distractions of driving in the dark for the first time with these cars. There's quite a lot going on but plenty to work on for tomorrow."
Kalle Rovanperä (Driver car 69)
"I was expecting it to be quite difficult tonight and unfortunately it turned out that way for us. I already knew from shakedown that I was not really so happy and comfortable with the balance in the car. Then in the first stage I had a small spin and had to reverse a bit. The time gap is quite big but we always try to make the car better all the time, so let's see what we can find from the setup side overnight and I will try to manage my driving better as well."
End of day one (Thursday):
1 Sébastien Ogier/Benjamin Veillas (Toyota GR YARIS Rally1) 25m48.4s
2 Sébastien Loeb/Isabelle Galmiche (Ford Puma Rally1) +6.7s
3 Elfyn Evans/Scott Martin (Toyota GR YARIS Rally1) +11.2s
4 Adrien Fourmaux/Alexandre Coria (Ford Puma Rally1) +17.9s
5 Gus Greensmith/Jonas Andersson (Ford Puma Rally1) +21.9s
6 Thierry Neuville/Martijn Wydaeghe (Hyundai i20 N Rally1) +28.5s
7 Craig Breen/Paul Nagle (Ford Puma Rally1) +29.2s
8 Ott Tänak/Martin Järveoja (Hyundai i20 N Rally1) +41.1s
9 Takamoto Katsuta/Aaron Johnston (Toyota GR YARIS Rally1) +48.2s
10 Oliver Solberg/Elliott Edmondson (Hyundai i20 N Rally1) +58.8s
12 Kalle Rovanperä/Jonne Halttunen (Toyota GR YARIS Rally1) +1m08.8s
(Results as of 22:30 on Thursday, for the latest results please visit www.wrc.com)
What's next?
Friday is the longest day of the rally with 97.86 competitive kilometres to be taken on across two loops of three stages. There will be no mid-day service between the crews leaving Monaco in the morning and returning at the end of the day, only a tyre fitting zone in Puget-Théniers between the two loops. While the first two stages of the loop were last used in 2006, the ending of the final stage into Entrevaux is more familiar from recent years.