The TOYOTA GAZOO Racing World Rally Team won every stage on Saturday at Rallye Monte-Carlo with its new GR YARIS Rally1 as Sébastien Ogier took back the overall lead with one day remaining.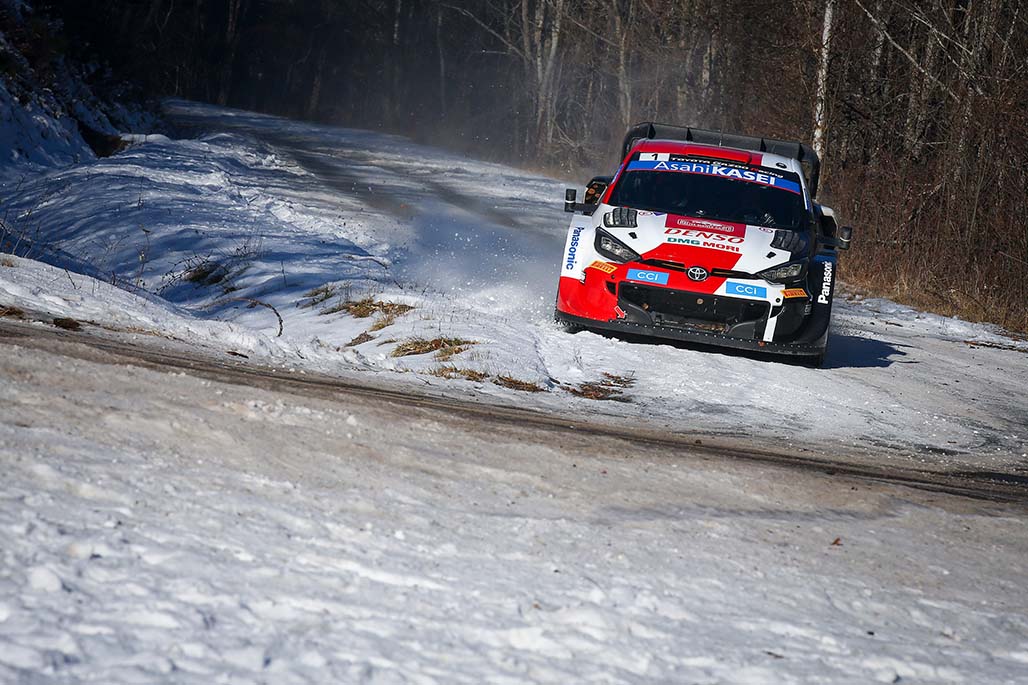 During the day the crews faced a total of five stages located further west in the mountains around Digne-Les-Bains, which hosted the mid-day tyre fitting zone. It included two passes of a shortened version of the famous Sisteron stage (from Saint-Geniez to Thoard) and the most difficult conditions experienced on this year's event with several kilometres covered in snow and ice.
The team's drivers locked out the top three positions on each of the day's first two stages, which were won by Elfyn Evans and Ogier respectively, with the latter moving into the joint rally lead. Ogier then opened up a 5.4-second advantage by winning the tricky SS11, the final stage of the morning loop. Holding third overall, Evans meanwhile set a great pace over the most slippery section of the stage only to be caught out on the fast descent and go off the road. With the help of spectators he was eventually able to rejoin and continue but lost around 20 minutes.
Ogier went on to extend his advantage in the repeat of the Sisteron stage, the final test of the day, after following his nearest rival's selection of four soft tyres before the stage and producing a stage time that was 16.1s faster. His lead stands at 21.1s with four stages remaining.
Kalle Rovanperä also became a stage winner in the GR YARIS Rally1 as he showed considerably improved confidence and speed after changes made to his car setup overnight. He won both afternoon stages ahead of vastly more experienced competitors, and gained five positions during the day to end it in fourth overall, 37.8s away from a podium place.
Driving for TGR WRT Next Generation, Takamoto Katsuta was running in fifth overall before he slid wide into a ditch on an icy corner in SS13. He is now 13th overall.
Quotes:
Jari-Matti Latvala (Team Principal)
"Today we have seen a really strong performance from the GR YARIS Rally1. I think the drivers are getting more comfortable with the car now and are able to push closer to the limit. The conditions in the Sisteron stage were tricky and it was a nice drive from Seb on the second pass to give himself a bigger gap for the final day. It was also a very encouraging day from Kalle, who had been struggling in the beginning and was now able to show a great performance with two stage wins. Unfortunately Elfyn did a small mistake and paid a big penalty in terms of time, a pity because he had done a very good job on the most difficult part of the stage. But hopefully we can hold on to the lead tomorrow, as it will be a positive start for the season."
Sébastien Ogier (Driver car 1)
"It has been a good day for us and a positive step forward compared to yesterday. Generally I felt better in the car today. In the first stage this morning I struggled to use the hybrid system in the way I wanted, but it's something new for everyone and I try to adapt my driving style to make it work. We managed to make a bit of a gap tonight with a slightly crazy tyre choice in the last stage. It has been such a close battle all weekend with Sébastien [Loeb] and knowing him after all these years, I guessed he would try something. I wanted to have a straight fight with the same tyres and see who was faster, even though it was not the best choice for the conditions. It was a bit challenging in the snow but it felt really good on the dry roads and I had a really good stage. But tomorrow is still long and still with the potential for tricky conditions."
Elfyn Evans (Driver car 33)
"It is obviously frustrating what happened today. It was going pretty well up until then with a good morning overall and it was going well in SS11 as well. I'd made it out of the difficult part of the stage but then I just got caught out on a tricky right-hander. I had some information in my pace-notes but it seemed to spring out of nowhere and I just braked too late. The car was in a difficult position so thanks to the fans for all their help, they were really good. We got it back on the stage and got going again but we had lost so much time. After that it felt like a bit of a long afternoon. We didn't want to do anything to jeopardise the Power Stage tomorrow when we will try to get some points."
Kalle Rovanperä (Driver car 69)
"We changed the car quite a lot from yesterday and the balance is much better for my driving style, it's much easier to drive. We have done a bit of everything on the setup, a lot of small steps which are finally paying off. It felt really nice to win two stages, and the last stage was particularly good for us. At the beginning of the rally it was hard to look at the stage times, but now it's nice to start enjoying the driving. I am happy to have made such a big step and now we'll try to see what more we can do. It always helps when you finally get a positive feeling in the car because it gives you the confidence to drive a bit better and everything gets easier."
End of day three (Saturday):
1 Sébastien Ogier/Benjamin Veillas (Toyota GR YARIS Rally1) 2h19.43.1s
2 Sébastien Loeb/Isabelle Galmiche (Ford Puma Rally1) +21.1s
3 Craig Breen/Paul Nagle (Ford Puma Rally1) +1m26.0s
4 Kalle Rovanperä/Jonne Halttunen (Toyota GR YARIS Rally1) +2m03.8s
5 Gus Greensmith/Jonas Andersson (Ford Puma Rally1) +6m33.8s
6 Thierry Neuville/Martijn Wydaeghe (Hyundai i20 N Rally1) +7m44.1s
7 Andreas Mikkelsen/Torstein Eriksen (Škoda Fabia Rally2 evo) +9m37.2s
8 Erik Cais/Petr Těšínský (Ford Fiesta Rally2) +9m59.6s
9 Grégoire Munster/Louis Louka (Hyundai i20 N Rally2) +10m44.1s
10 Yohan Rossel/Benjamin Boulloud (Citroën C3 Rally2) +11m14.2s
26 Elfyn Evans/Scott Martin (Toyota GR YARIS Rally1) +20m39.3s
(Results as of 17:00 on Saturday, for the latest results please visit www.wrc.com)
What's next?
The final day of the rally on Sunday is made up of two stages each run twice. The opening test from La Penne to Collongues is new in this configuration, while the latter stage from Briançonnet to Entrevaux is the only one that is identical to 2021 and will also serve as the rally-ending Power Stage with bonus points on offer.