Kalle Rovanperä is up into a podium position for TOYOTA GAZOO Racing World Rally Team after a tough and eventful Saturday at Rally Italia Sardegna.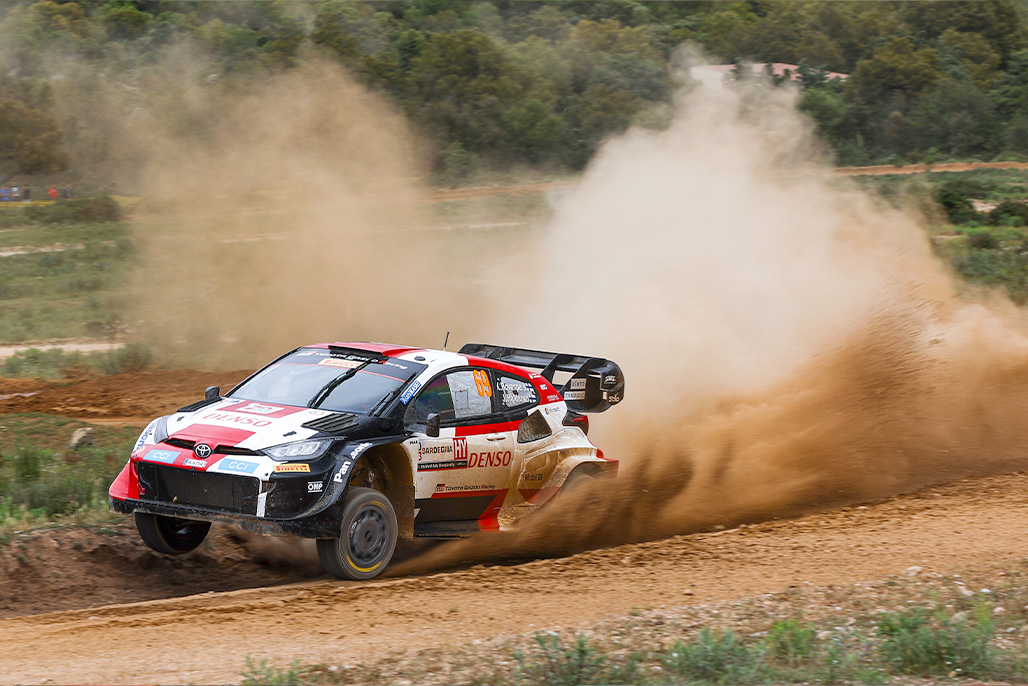 Sébastien Ogier began the day just 0.1 seconds away from the lead and swapped first position twice with rival Esapekka Lappi (Hyundai) across the first two stages of the morning. He was then quickest of all in the day's longest stage, Erula – Tula, to create a gap over the competition and completed the morning loop of four tests with a lead of 18.2s.
In the afternoon, a heavy impact for Ogier in a deep watersplash on the first stage cost some time, but he was still in the lead by 4.3s as the crews returned to Erula – Tula for the second time. By now, heavy rain had hit the stages in a continuation of the unusually mixed weather that has marked the event, and the muddy and slippery conditions would lead Ogier to slide off the road on a left-hand bend. Unable to get back onto the stage, he was forced to end his day early; the team will look to prepare the car to restart tomorrow morning.
Starting the day in fourth place, Rovanperä benefitted from Ogier's misfortune to move up into third position overall. The championship leader had a solid day, staying out of trouble in the tricky conditions.
Elfyn Evans is one place behind Rovanperä in fourth overall despite losing more than two minutes in the morning when he damaged the front of the car in another deep watersplash on SS10. He managed to nurse the car back to mid-day service, where the team repaired it ready for the afternoon.
Takamoto Katsuta began the day fifth overall after a strong Friday in his TGR WRC Challenge Program-supported entry. He was forced to stop with damage from a strong hit in the watersplash at the end of SS8, but will restart tomorrow.
Quotes:
Jari-Matti Latvala (Team Principal)
"It's been a difficult day with some extremely difficult conditions. At lunchtime, things were looking quite good for us, but this is rallying and things can change rapidly and we saw that with the weather this afternoon. We have had rain on this rally in the past but not every day like this. As a result the watersplashes are maybe deeper than ever before, and Seb had a bit of a problem in one and lost a bit of time, but he was still in a good position. Then he unfortunately slid off the road: I know that it's an easy mistake to make in conditions like this. From that, Kalle has now inherited a podium place and if he can keep that tomorrow it would be very good for him. For the team it's important that both Kalle and Elfyn make it to the end, and we hope for some good Power Stage points too."
Kalle Rovanperä (Driver car 69)
"It's been a good day and a really smart one from us I think. This morning we could show some pace when we needed to. We had a better road position than yesterday and it was going quite well; then with some others dropping out we ended up having to do some road cleaning again. The afternoon was really tricky. We had some tyres that were already well-used so we just did the best that we could. We tried to stay out of trouble, have a clean afternoon and we could also gain one position – but it's never nice to gain it when a team-mate has issues. Hopefully our tyre package will be better for tomorrow and let's see what we can do."
Elfyn Evans (Driver car 33)
"It's been a long and challenging day. In the morning we were caught by surprise by a watersplash that was deeper than I was expecting. That did quite a lot of damage at the front end which we then had to try and manage to get back to service – where the team did a great job to fix the car. This afternoon we had some very difficult conditions and were just taking it easy to try and get the car through. We're a bit lucky to be fourth tonight with the issues we've had but there's still a decent way to go tomorrow, so we just have to try and stay clean and see what's possible on the Power Stage."
Sébastien Ogier (Driver car 17)
"We were missing a bit of pace in the first two stages this morning but we managed to react in the longest and probably most difficult stage. I fought hard to make this time and it was nice to build a bit of a lead after that. Unfortunately it was then an eventful afternoon for us. It started with the issue in a watersplash where we damaged the front of the car. It was a big fight to try and fix that and carry on. Then we had to change a tyre right at the last minute before the third stage, in the mud. And when I hit the brake pedal, my foot slipped and we couldn't make the corner. We have been quite unlucky today, but that's rallying and we need to put it behind us and look forward."
End of day three (Saturday):
1 Thierry Neuville/Martijn Wydaeghe (Hyundai i20 N Rally1 HYBRID) 3h10m36.9s
2 Esapekka Lappi/Janne Ferm (Hyundai i20 N Rally1 HYBRID) +36.4s
3 Kalle Rovanperä/Jonne Halttunen (Toyota GR YARIS Rally1 HYBRID) +1m50.7s
4 Elfyn Evans/Scott Martin (Toyota GR YARIS Rally1 HYBRID) +5m36.5s
5 Dani Sordo/Cándido Carrera (Hyundai i20 N Rally1 HYBRID) +6m27.9s
6 Adrien Fourmaux/Alexandre Coria (Ford Fiesta Rally2) +8m11.7s
7 Andreas Mikkelsen/Torstein Eriksen (Škoda Fabia RS Rally2) +8m37.4s
8 Teemu Suninen/Mikko Markkula (Hyundai i20 Rally2) +10m46.4s
9 Emil Lindholm/Reeta Hämäläinen (Škoda Fabia RS Rally2) +11m08.3s
10 Kajetan Kajetanowicz/Maciej Szczepaniak (Škoda Fabia RS Rally2) +11m40.5s
18 Sébastien Ogier/Vincent Landais (Toyota GR YARIS Rally1 HYBRID) +19m46.9s
(Results as of 19:30 on Saturday, for the latest results please visit www.wrc.com)
What's next?
The route for the final day on Sunday is the same as in 2021 when the rally was last based in Olbia, taking the action to the island's northernmost tip around the popular Costa Smeralda. A pair of stages are run twice, totalling 46.02 competitive kilometres, with the latter Sardegna test hosting the rally-ending Power Stage.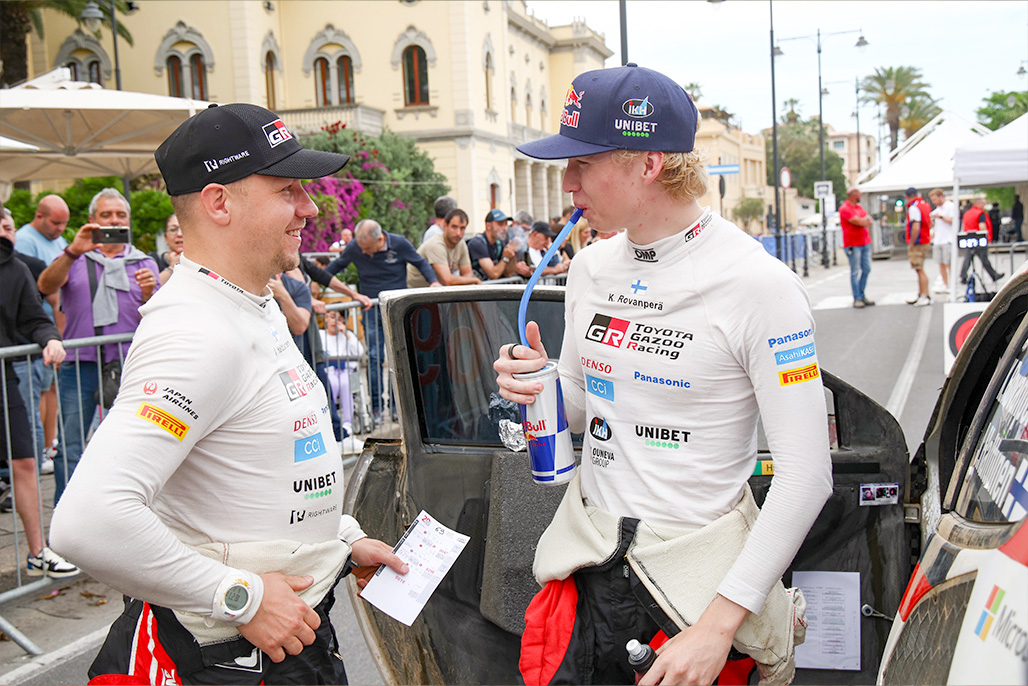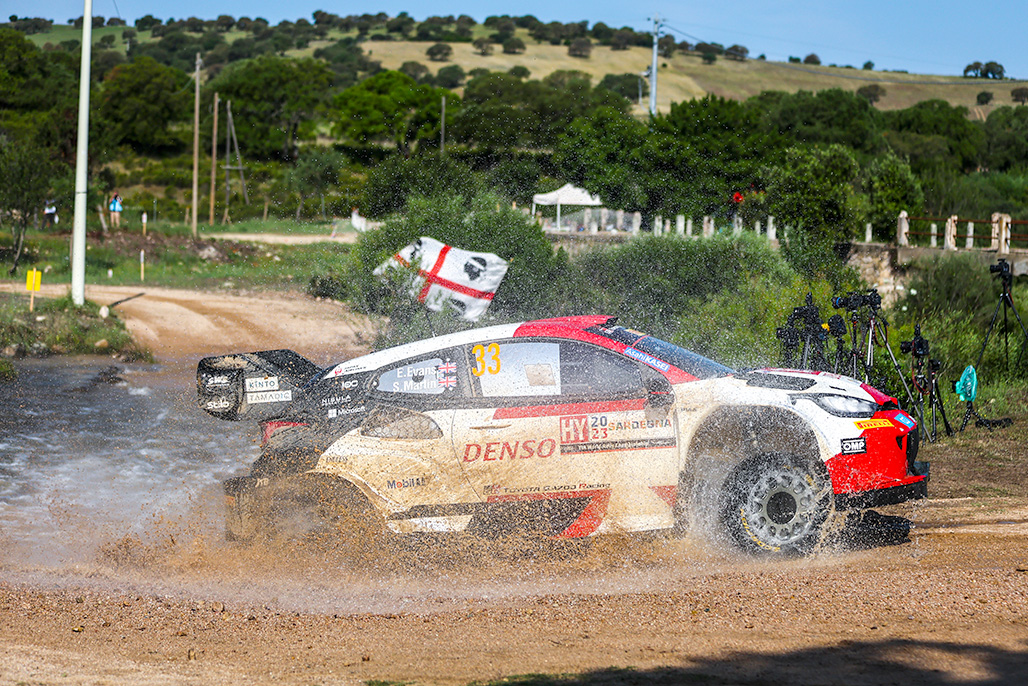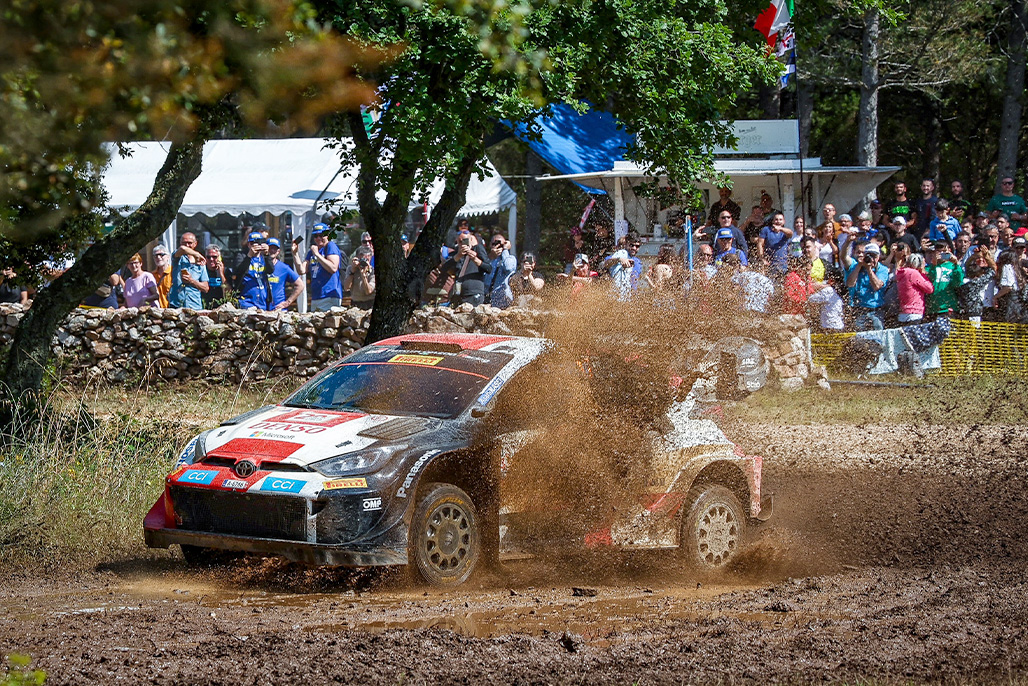 Rd.6 Rally Italia Sardegna
TOYOTA GAZOO Racing WRC 2023 Official Partners