TOYOTA GAZOO Racing World Rally Team has started Rally Finland in front of enthusiastic support on the streets of its home city Jyväskylä, where the opening stage has taken place on Thursday evening before the action moves to the nearby forests tomorrow.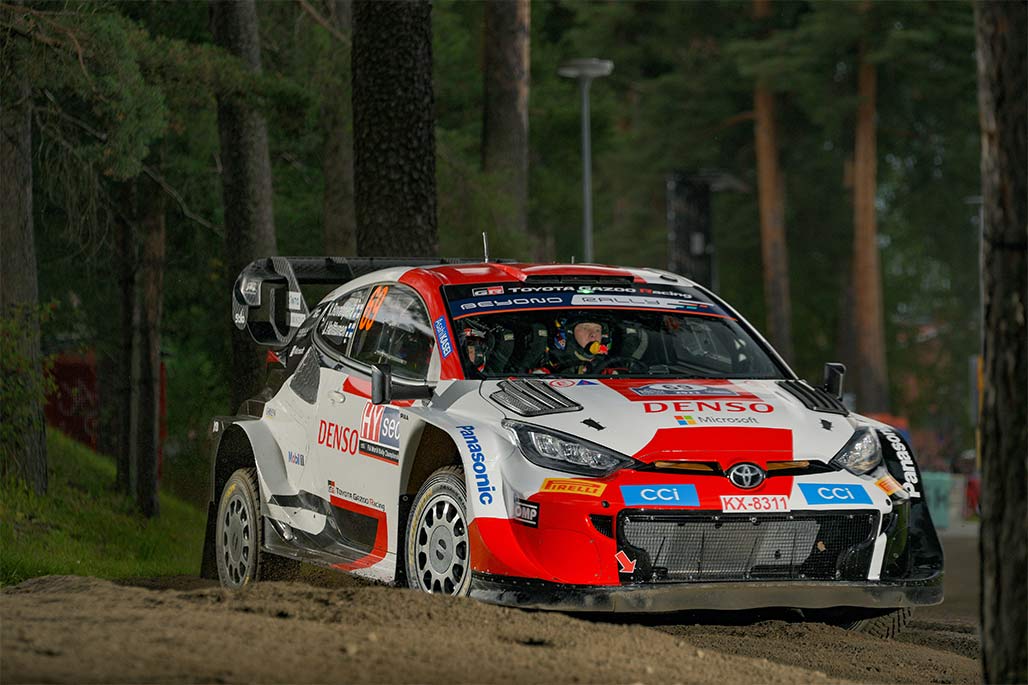 Rain showers have characterised the build-up to the fastest rally of the FIA World Rally Championship season. Thursday started off dry for the pre-event shakedown, but a slippery surface still provided teams and drivers with a chance to refine their setups for a rally that could bring different challenges to previous years. Preparing for his own home event, Kalle Rovanperä set the fastest time after making four runs over the Rannankylä stage, with team-mate Elfyn Evans second-quickest.
The rain held off for the opening Harju super special meaning there was nothing that could dampen the enthusiasm of the fans who lined the mixed-surface stage. Jyväskylä-born Rovanperä attracted the greatest support of all, as the first reigning world champion from Finland for 20 years, and set the third-fastest time in the stage, just 0.7s from the early lead. Evans was fifth and local resident Takamoto Katsuta seventh, with Jari-Matti Latvala ninth as he started his home rally for the first time in four years driving an additional GR YARIS Rally1 HYBRID.
Quotes:
Akio Toyoda (TGR-WRT Chairman)
"Rally Finland is a special rally for our team, which we started here in Jyväsyklä where the rally also started with the first stage tonight. Of course, among our drivers we also have Kalle, a world champion from Finland, and for this weekend especially, Jari-Matti, who is also driving on home roads. So all of the spectators are cheering for them, but not only for them: also for Elfyn, who won here two years ago, and Takamoto, who calls this his second home rally. I always feel that the rally fans in Finland are very warm and always cheering and that gives me a lot of energy. Here this weekend, I believe my role is to try and keep our drivers relaxed. I know they are great drivers and I will try to help them to show their performance as much as they can."
Kalle Rovanperä (Driver car 69)
"It's been a really busy week so far but it's always really cool to start Rally Finland with the Harju stage in the middle of my hometown. The amount of people every year is crazy and the atmosphere is great so it's exciting to drive this stage – I could almost hear the cheers from inside the car! It was nice to go flat-out already in shakedown this morning, although we had quite slick conditions to start with as first car on the road. It felt quite slippery and we tried to find a few things on the setup to help with that. Tomorrow seems like it could be pretty tricky overall opening the road: we're hoping for a bit more rain to help us out."
Elfyn Evans (Driver car 33)
"I always look forward to starting Rally Finland as it's such an incredible event. This opening stage is a tricky one to start with like these city centre super specials usually are, but it's also really well-attended with a great atmosphere so it's a nice way to begin the weekend. In shakedown we had quite difficult conditions after rain overnight so the grip was quite low, but we made some adjustments and the feeling was pretty OK. We know the weather could continue to be rather changeable which could help us starting second on the road tomorrow, but hopefully it's not too extreme and we can still enjoy the feeling of driving these roads."
Takamoto Katsuta (Driver car 18)
"It's really nice to start Rally Finland with this typical opening stage in Jyväskylä. I like it quite a lot, and I'm glad it wasn't raining because then it's pretty tricky. In shakedown this morning we made some small adjustments and in the end, the car was working very well and I felt a really good feeling. We know that tomorrow the conditions could be a bit different with the chance for a lot of rain, so let's see how it goes there. This is one of my favourite rallies but also one of the most challenging in terms of the speed and commitment. I will try to find the right rhythm as quickly as possible."
Jari-Matti Latvala (Driver car 97)
"It's great to be starting another Rally Finland as a driver. It's magnificent to see so many people out there cheering for us. For me this is the rally with the best atmosphere in the WRC, so this is a unique situation and a fantastic opportunity to experience our Rally1 car on home ground. Harju is always a special way to start this rally, as well. You have to be a bit careful in some tricky places, but it's a classic stage of this event with a great atmosphere and we had good fun in the car. I had a good feeling in our test on Monday and in shakedown today, when we managed to improve with every run, so we are ready for tomorrow."
End of day one (Thursday):
1 Ott Tänak/Martin Järveoja (Ford Puma Rally1 HYBRID) 2m39.0s
2 Thierry Neuville/Martijn Wydaeghe (Hyundai i20 N Rally1 HYBRID) +0.6s
3 Kalle Rovanperä/Jonne Halttunen (Toyota GR YARIS Rally1 HYBRID) +0.7s
4 Esapekka Lappi/Janne Ferm (Hyundai i20 N Rally1 HYBRID) +1.8s
5 Elfyn Evans/Scott Martin (Toyota GR YARIS Rally1 HYBRID) +1.9s
6 Pierre-Louis Loubet/Nicolas Gilsoul (Ford Puma Rally1 HYBRID) +2.2s
7 Takamoto Katsuta/Aaron Johnston (Toyota GR YARIS Rally1 HYBRID) +3.1s
8 Teemu Suninen/Mikko Markkula (Hyundai i20 N Rally1 HYBRID) +4.6s
9 Jari-Matti Latvala/Juho Hänninen (Toyota GR YARIS Rally1 HYBRID) +8.1s
10 Jari Huttunen/Antti Haapala (Škoda Fabia RS Rally2) +8.3s
(Results as of 21:00 on Thursday, for the latest results please visit www.wrc.com)
What's next?
Most of Friday's action takes place to the north-east of Jyväskylä, where a loop of four stages is run twice either side of mid-day service. Classic stages Laukaa and Lankamaa are heavily revised, while the legendary Myhinpää returns for the first time since 2015 and Halttula was last visited in 1995. Harju is revisited at the end of the day.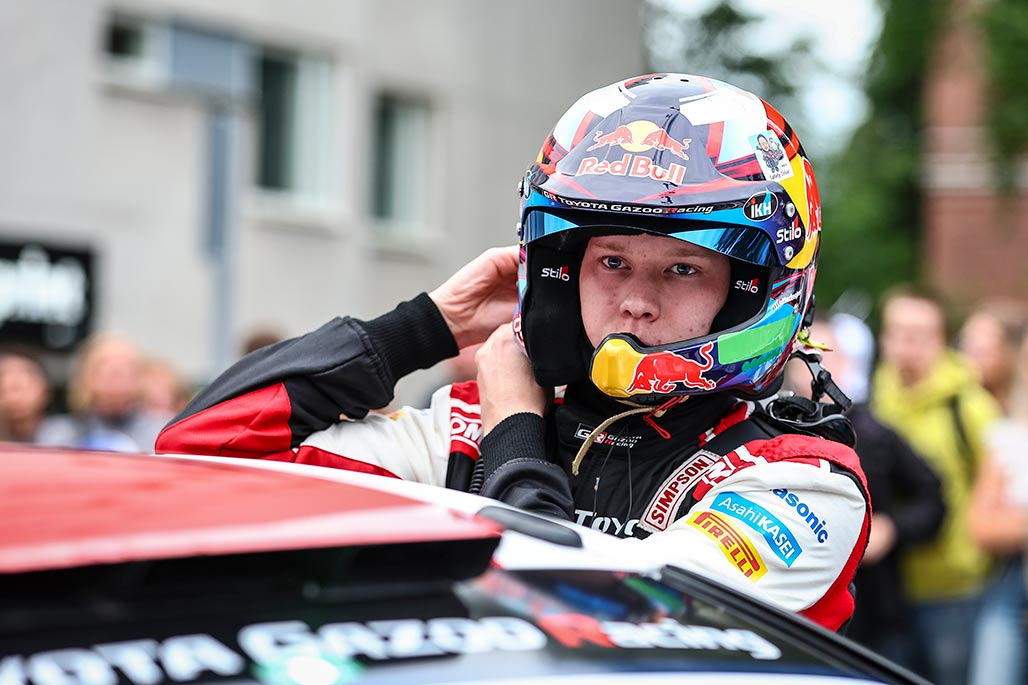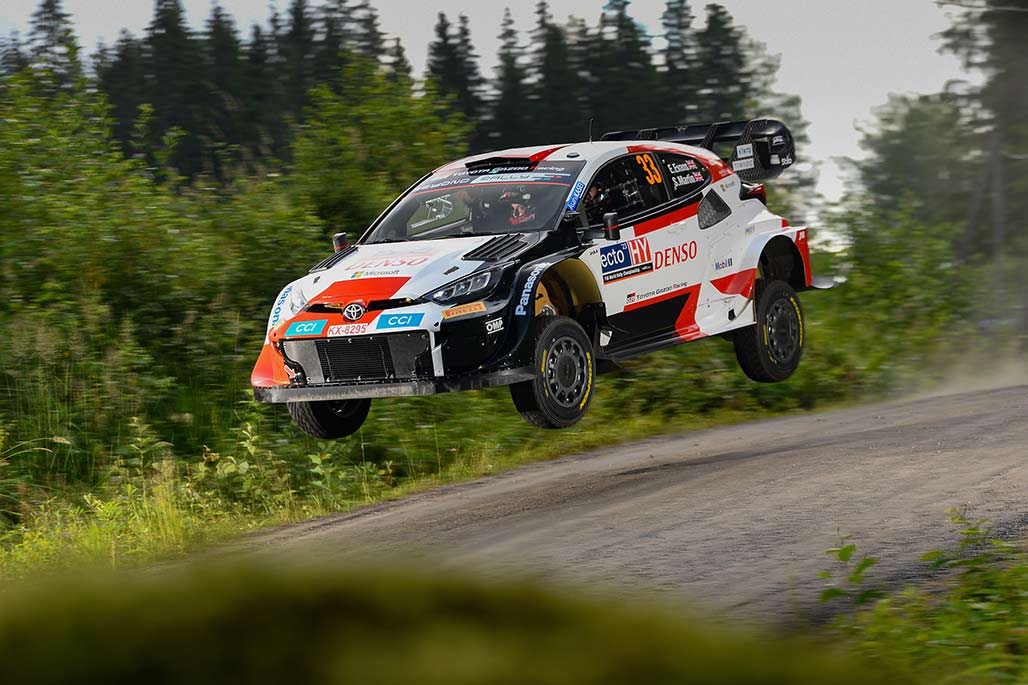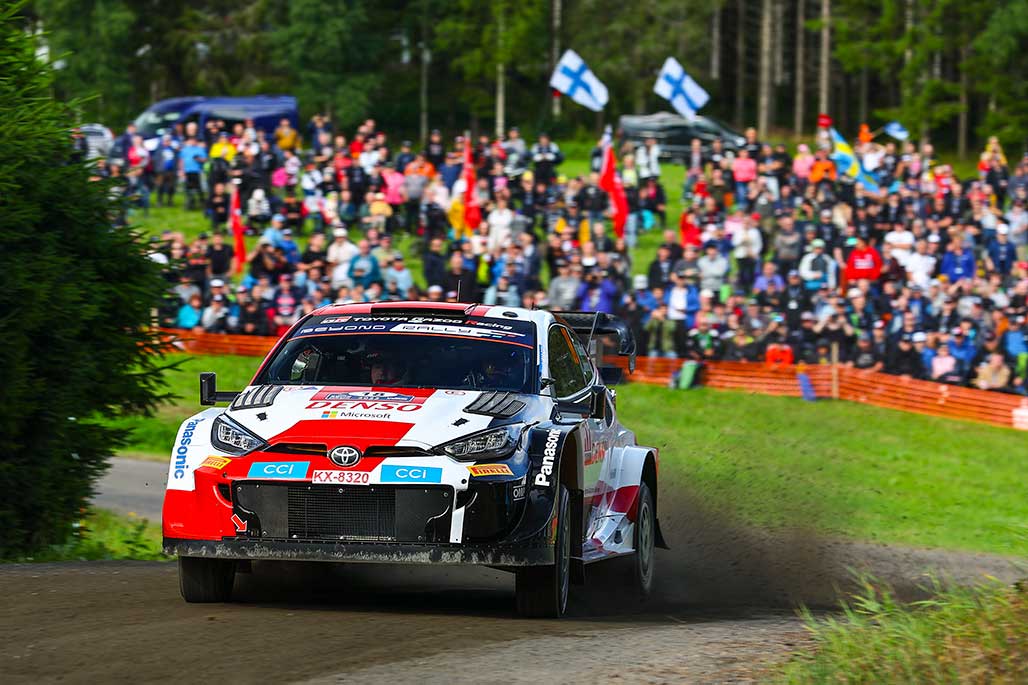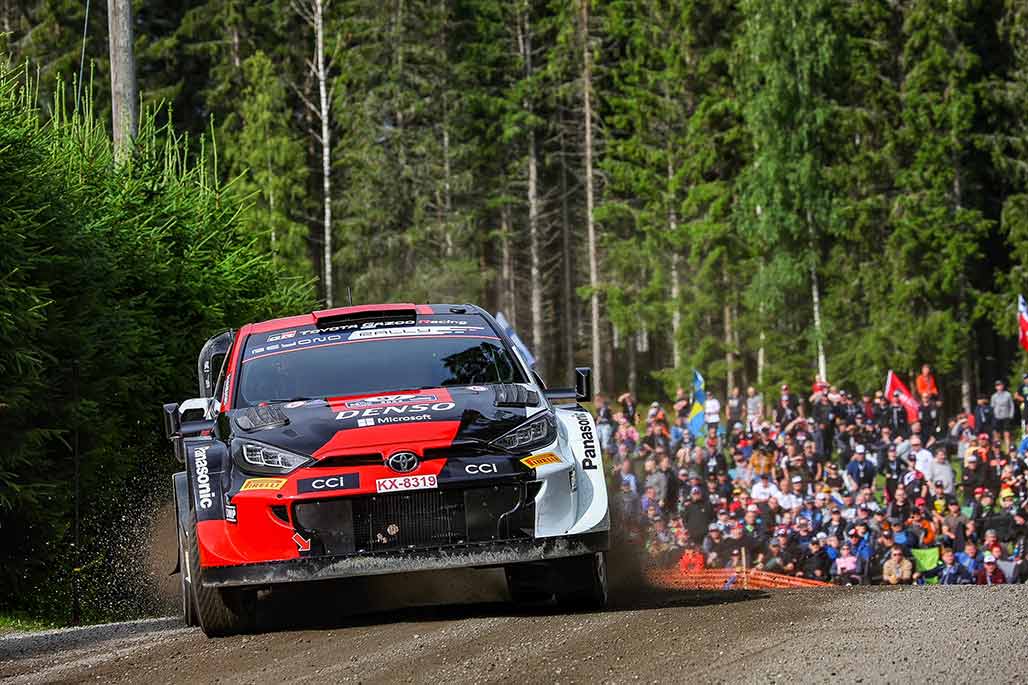 TOYOTA GAZOO Racing WRC 2023 Official Partners