Kalle Rovanperä and co-driver Jonne Halttunen have secured their second consecutive FIA World Rally Championship titles* with TOYOTA GAZOO Racing World Rally Team after finishing in second place on the penultimate round of the 2023 season, the Central European Rally.
After being crowned the youngest-ever World Rally Champion in 2022 driving the GR YARIS Rally1 HYBRID, 23-year-old Rovanperä has now become the sixth driver to achieve back-to-back titles in the history of the WRC.
It's the fifth year in a row that a TGR-WRT crew has won the drivers' and co-drivers' crowns, and also completes a third straight hat-trick of titles for the team after it clinched the manufacturers' championship on the previous rally in Chile.
The team entered the inaugural cross-border Central European Rally in the knowledge that only Rovanperä or his team-mate Elfyn Evans could become this year's drivers' champion. With 31 points between them, Rovanperä had to avoid being outscored by Evans to ensure the title with a round to spare, and made a strong start on the first full day of the rally on Friday. He won four out of six stages on demanding wet asphalt roads in the Czech Republic to lead by 36.4 seconds at the end of the day.
Conditions remained challenging as the rally moved into Austria on Saturday morning, and Rovanperä suffered a spin but was able to continue with a reduced lead. Running in third overall, Evans would not be as fortunate, going off the road in SS11 and sustaining damage that stopped he and co-driver Scott Martin from going further.
Evans would restart on Sunday with the chance to still score points in the rally-ending Power Stage, but Rovanperä now only required a solid points finish to clinch the title. Considering the situation and the treacherous conditions, the Finn adopted a more cautious approach after SS11, conceding the rally lead to Thierry Neuville (Hyundai) but remaining in a comfortable second place which he also managed carefully through the final day.
The result is his seventh podium of the season, one in which he has taken three victories so far and crucially finished in the top four in all but one of the 12 rounds held.
Sébastien Ogier finished in fourth overall, fighting back with four stage wins following an early setback in Friday's opening test. Evans scored his fourth stage win of the weekend after giving his all in the Power Stage.
Takamoto Katsuta took fifth after showing progress with his speed during the event in a fourth entry supported by the TGR WRC Challenge Program
Quotes:
Akio Toyoda (TGR-WRT Chairman)
"Kalle, Jonne, congratulations on winning your second consecutive drivers' and co-drivers' championship titles! As the youngest defending champion, Kalle seemed to be struggling a bit in the first half of the season. But he steadily accumulated points and started to lead the drivers' standings from the middle of the season, showing us what a strong champion is like. However, there is one thing they haven't achieved yet. That is to stand on the podium together with me. I'm looking forward to it in Japan.
I also would like to thank Elfyn a lot for his aggressive driving and for not giving up until the end. His driving with the strong desire to win was impressive. The 2023 season is not over yet. Elfyn and Scott missed something in Japan last year. I hope they will collect it this year and let me stand on the podium next month.
And actually the team missed one more thing. Seb and Vincent showed us their strong performance in Rally Japan last year, but it didn't lead to a result. I'm hoping for good luck for them this year. And of course I also want to see Takamoto and Aaron on the podium in Japan following last year, possibly looking down on me from an even higher place. Unfortunately, it is not possible for all four crews to stand on the podium as it can take only six people so I really hope I can celebrate together with any of our three crews. I'm sure Jari-Matti and his team will make it come true!"
Jari-Matti Latvala (Team Principal)
"I'm delighted and really proud of Kalle and Jonne: they really deserve this second championship. Kalle has been amazingly consistent during the season. This title has been tougher for him to win than last year, and Elfyn has been doing a good job to keep the pressure on, but Kalle was able to get it done at the end. I would say his approach has been more like Juha Kankkunen, calculating and thinking about the points you need rather than going for every victory. Elfyn has also done a very nice season. He needed to outscore Kalle here to keep it alive. Unfortunately it didn't work out for him, but he did all that he could in that situation. Now we have all three titles secured, we will go back to Rally Japan without any championship pressure and ask our drivers to push for the victory there."
Kalle Rovanperä (Driver car 69)
"It feels really good right now. I'm really relieved, because it's always a big burden on your shoulders when you're fighting for a title. I think this year, it was tougher and more of a challenge than last year. The competition was tighter but we did a really good job. I'm really proud of the season that we did and I think I'm going to enjoy this one more than the first one. This was a difficult event with some of the trickiest conditions we've had for a long time, but we kept our cool and stuck to our plan. We had to make use of our starting position on Friday, which we did, but once Elfyn went out, it was clear we didn't need to fight for the win anymore because there was a bigger goal we were aiming for. A big thanks to Jonne and the whole team, and to everybody who is supporting us. Now I'm going to enjoy Rally Japan."
Elfyn Evans (Driver car 33)
"I want to say a huge congratulations to Kalle and Jonne – as well as the whole team – for winning these titles. They've worked hard and done an incredible job and they deserve the title. From our side, there's disappointment of course but we knew it was a long shot coming into the weekend and we had to give it a go. In fairness to Kalle, he was very strong on Friday and we didn't have the pace to follow him. After that we continued to try, it didn't work out this time, but sometimes that's the way it goes and we'll try again next year. We managed to get a few points from the Power Stage and now we can look forward to Rally Japan."
Sébastien Ogier (Driver car 17)
"This rally was not my strongest and I think there was not much we could do with our start position in these conditions even without our issue on Friday morning. But towards the end of the weekend, the conditions were more enjoyable with some dry sections where we could push a bit and have fun in the car. So at least we have some fast times we can take from this weekend. Congratulations to Kalle and Jonne: they did another impressive season and I'm sure this will not be the last one. At the same time, I feel sorry for Elfyn because he made a good fight with Kalle this season. Now we'll try to finish the year on a high at Rally Japan."
PROVISIONAL FINAL CLASSIFICATION, CENTRAL EUROPEAN RALLY
1 Thierry Neuville/Martijn Wydaeghe (Hyundai i20 N Rally1 HYBRID) 2h52m39.9s
2 Kalle Rovanperä/Jonne Halttunen (Toyota GR YARIS Rally1 HYBRID) +57.6s
3 Ott Tänak/Martin Järveoja (Ford Puma Rally1 HYBRID) +1m52.8s
4 Sébastien Ogier/Vincent Landais (Toyota GR YARIS Rally1 HYBRID) +2m08.6s
5 Takamoto Katsuta/Aaron Johnston (Toyota GR YARIS Rally1 HYBRID) +2m48.3s
6 Teemu Suninen/Mikko Markkula (Hyundai i20 N Rally1 HYBRID) +3m06.3s
7 Grégoire Munster/Louis Louka (Ford Puma Rally1 HYBRID) +4m22.3s
8 Adrien Fourmaux/Alexandre Coria (Ford Fiesta Rally2) +11m35.8s
9 Nicolas Ciamin/Yannick Roche (Škoda Fabia RS Rally2) +11m53.1s
10 Pierre-Louis Loubet/Benjamin Veillas (Ford Puma Rally1 HYBRID) +12m04.3s
31 Elfyn Evans/Scott Martin (Toyota GR YARIS Rally1 HYBRID) +39m58.2s
(Results as of 16:00 on Sunday, for the latest results please visit www.wrc.com)
* Subject to the official publication of the results by the FIA
What's next?
The 2023 season will conclude on home roads for TGR at Rally Japan on November 16-19. The event returned to the WRC calendar last year on demanding asphalt roads in the mountains of the Aichi and Gifu prefectures, around the service park in Toyota City near Nagoya.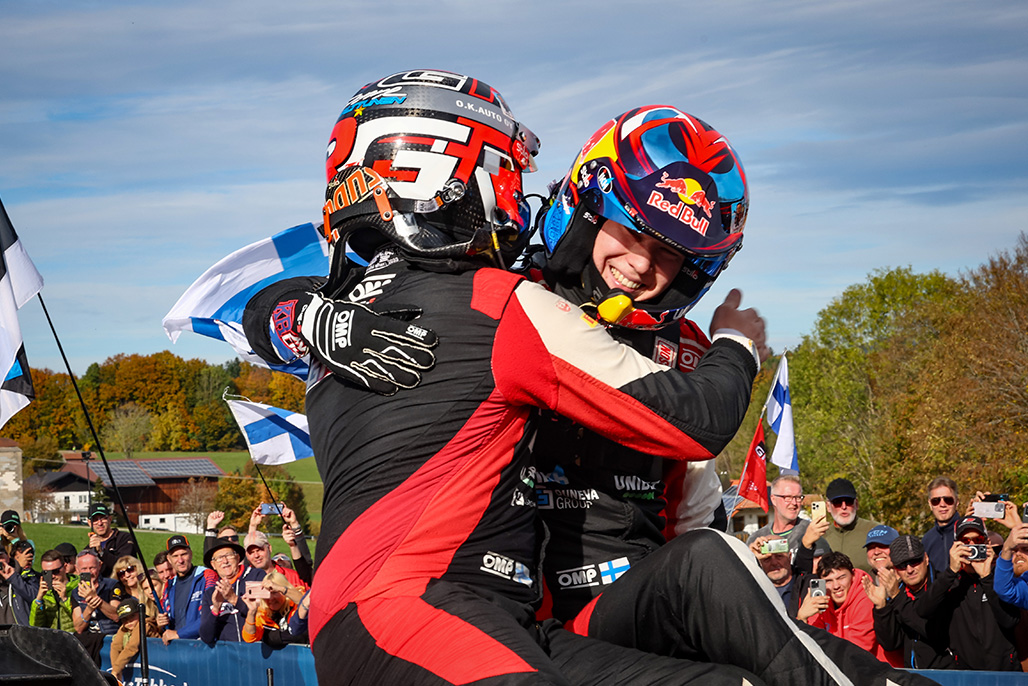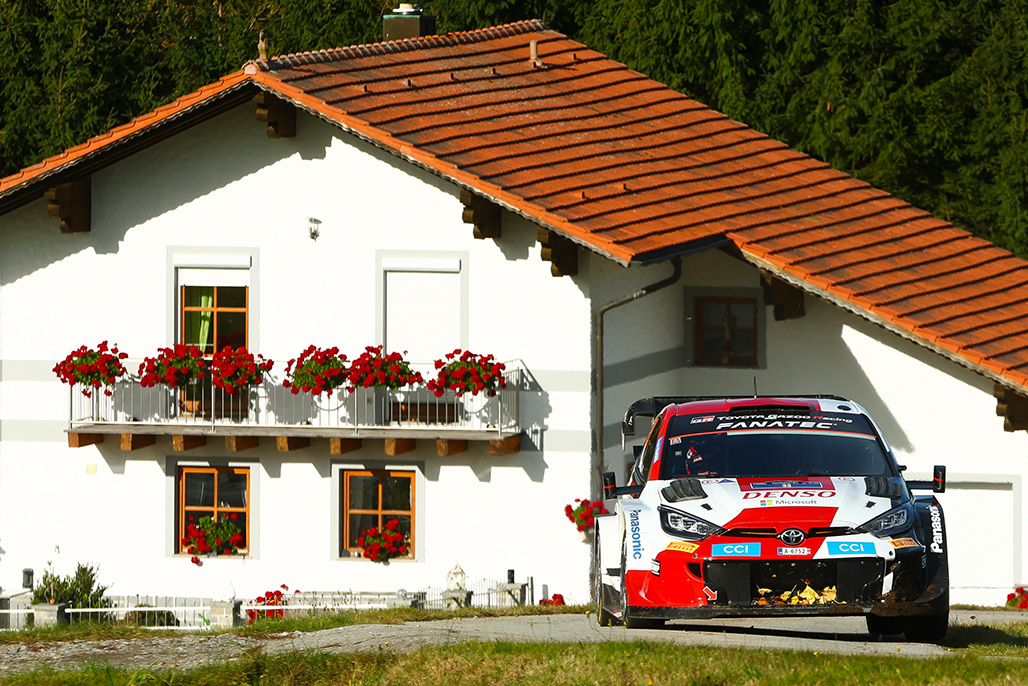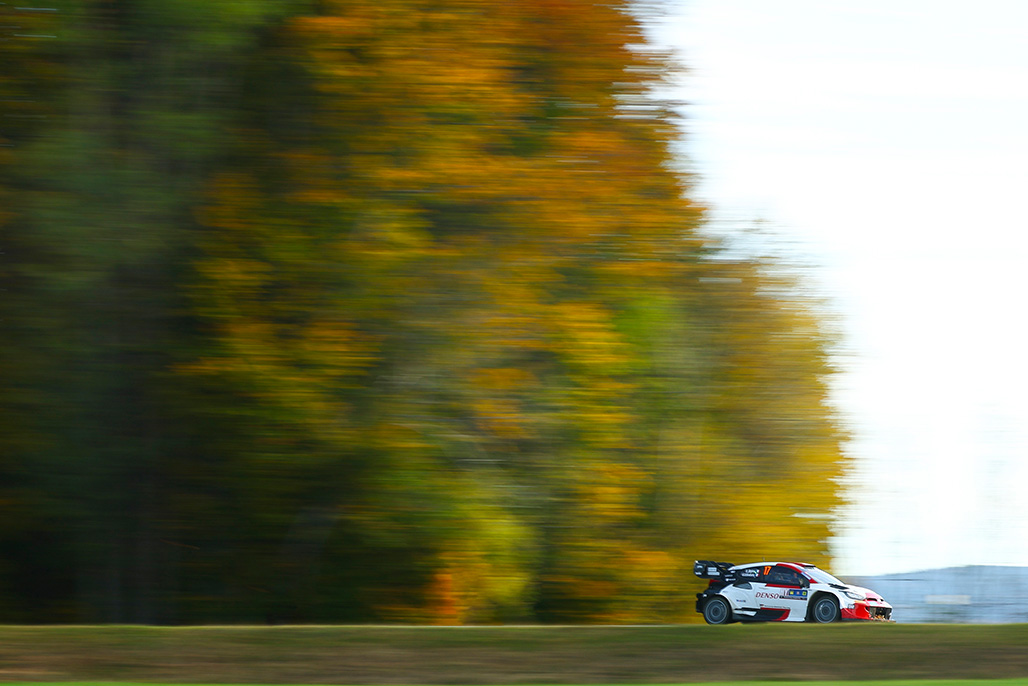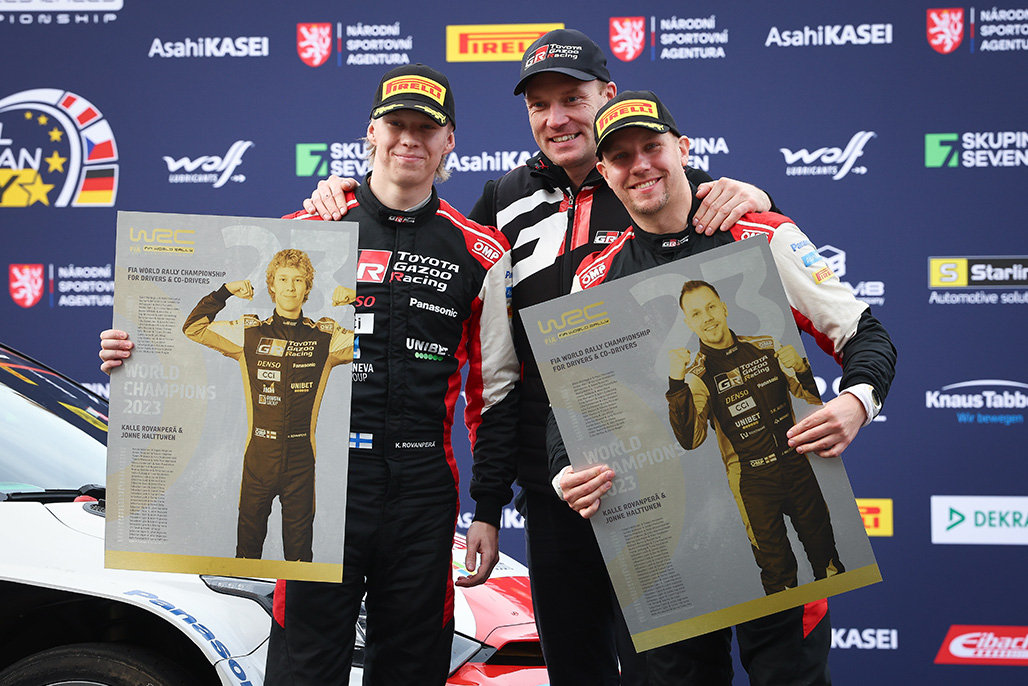 Rd.12 Central European Rally
TOYOTA GAZOO Racing WRC 2023 Official Partners