TOYOTA GAZOO Racing World Rally Team occupies the top three positions after Friday on home roads at Rally Japan, with Elfyn Evans leading team-mates Sébastien Ogier and Kalle Rovanperä after excelling in extremely wet conditions.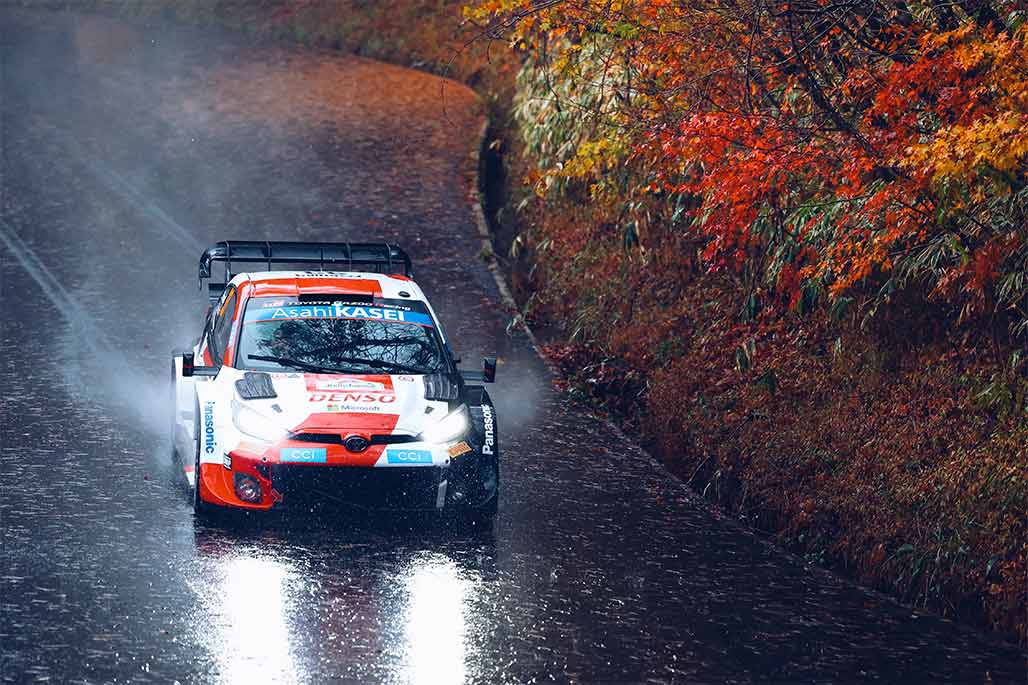 The first full day of the rally was also the longest, with 133.26 competitive kilometres on the schedule. Most of this would be driven in two loops of three stages in the mountains of Aichi prefecture, north east of the service park in Toyota City. These incredibly demanding and twisting roads were made more treacherous by heavy rain during the morning which created standing water and affected visibility.
Evans adapted best to the conditions, winning the morning's opening stage Isegami's Tunnel (also the longest of the weekend at 23.67 km) and the subsequent Inabu Dam test to open up a lead of 26 seconds. The third stage of the morning loop, Shitara Town, was cancelled due to the conditions.
Evans maintained a strong pace in the afternoon, and with nearest rival Thierry Neuville (Hyundai) retiring in SS6, he returned to Toyota Stadium after SS7 with a lead of 50.9s over Ogier.
Ogier had been just four seconds slower than Evans in SS2 but did drop over 30 seconds in SS3 as all of the leading drivers struggled with visibility to varying degrees. An impact against a barrier in SS5 also cost around 10s, and while the team was able to fix the resultant damage during the evening service, a one-minute penalty was incurred after the 45-minute window was exceeded.
Evans therefore leads by 1m49.9s tonight over Ogier who is in turn 16.7s ahead of Rovanperä. The Finn climbed from seventh place to third in the afternoon having had to sweep a cleaner line for his rivals during the morning loop in particular.
On his home event, Takamoto Katsuta demonstrated great pace in his TGR WRC Challenge Program-supported entry. He was fastest on the split times in SS2 before a spin in a particularly wet corner that would also catch out other drivers. He was able to continue and bring the car back to service where it was repaired, and then impressively won all three mountain stages in the afternoon as he recovered to ninth overall.
Quotes:
Jari-Matti Latvala (Team Principal)
"Our feeling is of course really good tonight. We could not have imagined that we would be in this strong a position with a 1-2-3 after Friday. It was a very demanding day as we expected. We knew that the weather was going to be difficult and we anticipated that drama will happen, but there was maybe more of it than we had predicted. We had some incidents ourself, and we had some luck on our side that Seb and Taka were able to continue. With Taka, it was so good to see the speed that he had after we were able to get the car fixed in service. Overall I think all of our drivers were clever today and we're in a very good situation now, but there are still two days to go. Tomorrow morning the roads will probably be damp so there's still some tough conditions ahead of the drivers."
Kalle Rovanperä (Driver car 69)
"This morning was definitely very tricky. When the rain came down it was massive, and it was some of the most difficult conditions I have ever seen with so much standing water everywhere. It was also a big challenge for us starting first on the road, as we had to clear the road of leaves and pine needles, so we just tried to stay on the road. This afternoon the roads were a bit cleaner and it was more enjoyable, as we could drive with our own pace and do better times. I hope it will dry up a bit more tomorrow and then it should be cleaner and hopefully a bit more straightforward."
Elfyn Evans (Driver car 33)
"I'm happy to be here tonnight and in the lead of the rally. We had very difficult conditions this morning especially with a lot of standing water and a lot of surprises. We just tried to pick our way through it, but it felt quite slow at times, particularly in the first stage this morning. It's really difficult to judge the grip in those conditions, and on these stages you have very little room to go anywhere if you misjudge it. This afternoon the grip was a lot better and I didn't make full use of that in the first stage after service, but it got a bit better after that. It's been a good day but there's still a long way to go."
Sébastien Ogier (Driver car 17)
"I'm happy to make it to the end of this very challenging day. Like expected, it has been very tricky. This morning it was more about surviving and getting through those conditions. It was very difficult to enjoy the driving but I'm glad that we made it through. This afternoon, conditions were better and we could have a bit more fun in the car, but it was still challenging and we had quite a moment in SS5 when I hit the barrier. That gave a bit of an extra job to my mechanics tonight, and the most important thing is that they could fix it and we can continue in the rally. The gaps are quite big now but it's a positive position for the team and we will try to maintain this."
End of day two (Friday):
1 Elfyn Evans/Scott Martin (Toyota GR YARIS Rally1 HYBRID) 1h25m22.7s
2 Sébastien Ogier/Vincent Landais (Toyota GR YARIS Rally1 HYBRID) +1m49.9s
3 Kalle Rovanperä/Jonne Halttunen (Toyota GR YARIS Rally1 HYBRID) +2m06.6s
4 Andreas Mikkelsen/Torstein Eriksen (Škoda Fabia RS Rally2) +3m00.2s
5 Grégoire Munster/Louis Louka (Ford Fiesta Rally2) +3m05.0s
6 Nikolay Gryazin/Konstantin Aleksandrov (Škoda Fabia RS Rally2) +3m29.6s
7 Esapekka Lappi/Janne Ferm (Hyundai i20 N Rally1 HYBRID) +3m44.3s
8 Ott Tänak/Martin Järveoja (Ford Puma Rally1 HYBRID) +4m42.8s
9 Takamoto Katsuta/Aaron Johnston (Toyota GR YARIS Rally1 HYBRID) +5m07.9s
10 Heikki Kovalainen/Sae Kitagawa (Škoda Fabia RS Rally2) +5m56.0s
(Results as of 20:10 on Friday, for the latest results please visit www.wrc.com)
What's next?
Saturday takes the action south to the area around Okazaki, where two passes of a super special will be run prior to a mid-day tyre fitting zone. The morning's opening two mountain tests, Nukata Forest and Lake Mikawako, are repeated in the afternoon before a further stage near Shinshiro and a return to service and the Toyota Stadium super special.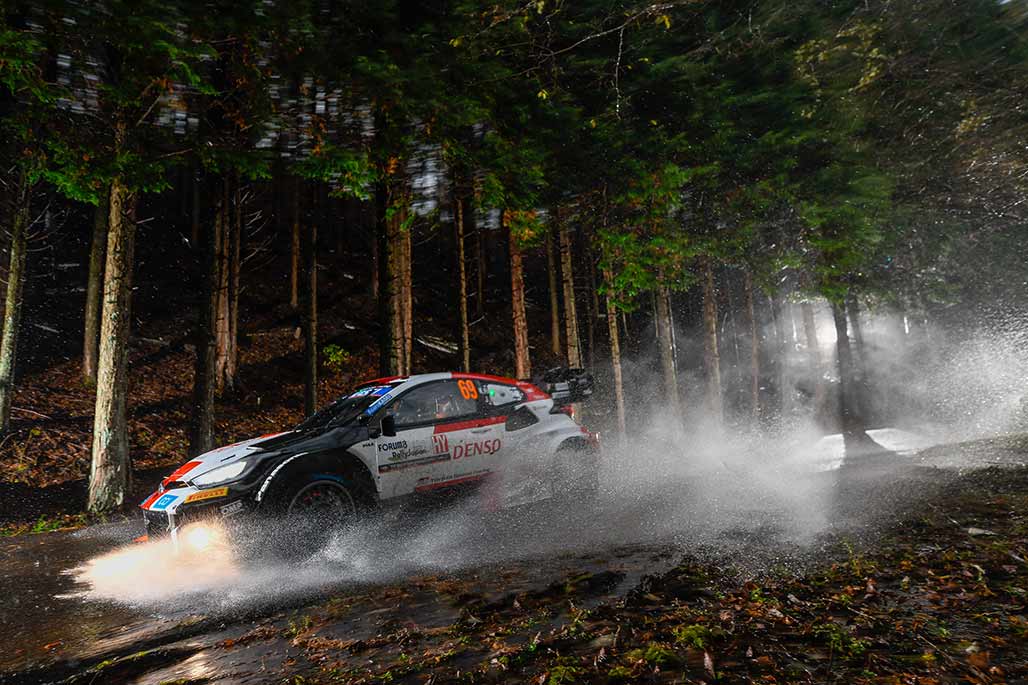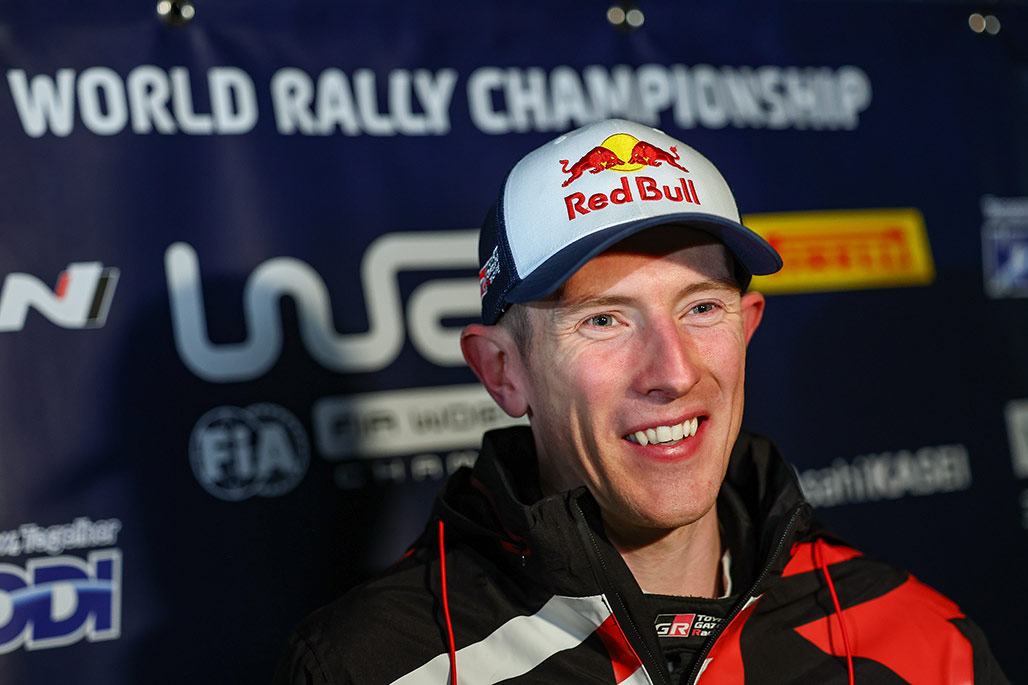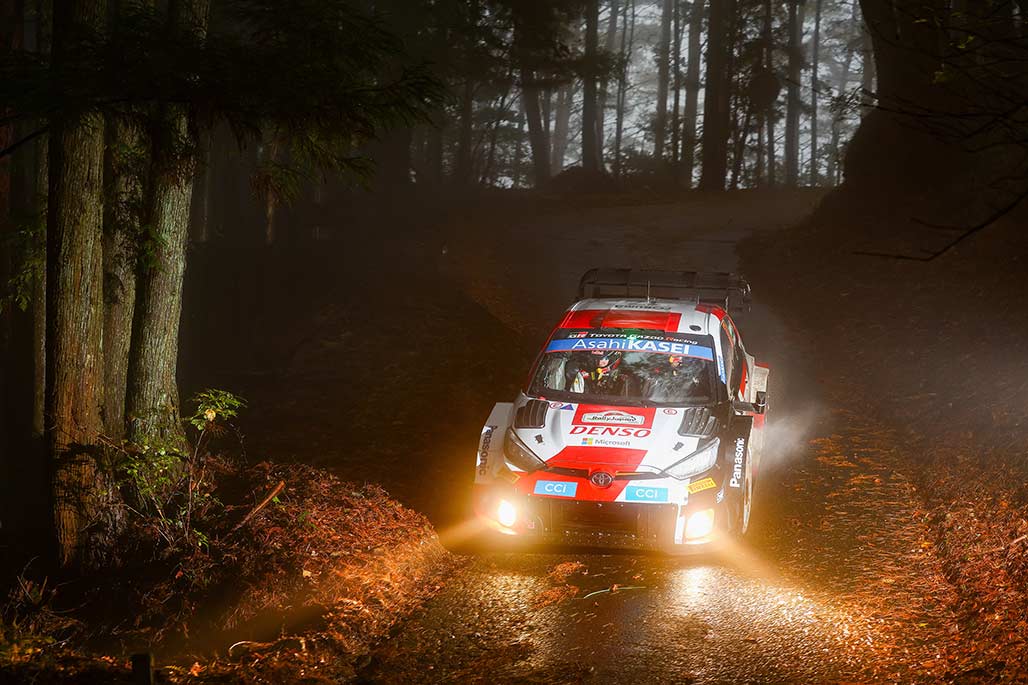 TOYOTA GAZOO Racing WRC 2023 Official Partners