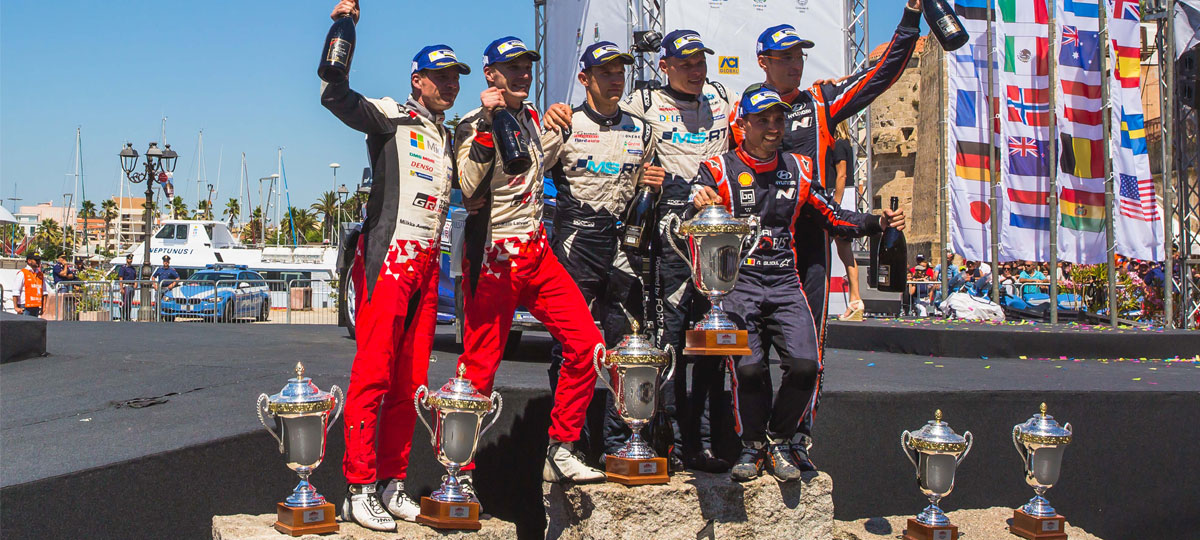 Race
The Yaris WRC, which continues to improve round by round, offers further proof of its progress at a scorchingly hot gravel rally
Tommi Mäkinen, team principal of the TOYOTA GAZOO Racing World Rally Team, commented on Rally Italia Sardegna, Round Seven of the FIA World Rally Championship: "It's not easy to complete the rally without incident. Neither the tires nor the cars are able to endure a full attack on each stage. Depending on the course conditions, it will be necessary to run at a significantly reduced speed. Identifying the state of the course is particularly difficult at this rally."
Rally Italia Sardegna, which winds its way around the island of Sardinia, is the fourth gravel rally of the 2017 season. However, the difficulties it presents are different to those of other gravel rallies. A single stage can contain both soft, sandy soil and hard bedrock, and sharp stones often lie hidden in the sand. The rally route largely consists of narrow, twisting roads, with occasional wide, high-speed corners. For this reason, drivers are compelled to adjust their driving rhythm, and must be flexible and responsive to meet the demands of the course.
Latvala overcomes a disadvantageous starting position to compete with the leaders
The true gravel stages commenced on Day 2, and Jari-Matti Latvala, who came to Italy in third place in the drivers' standings, was the third driver to start. In dry conditions, the course surface is covered by what is termed "loose gravel"—a combination of sand and gravel. Early starters suffer from a lack of grip due to this loose gravel, and invariably incur significant time deficits. However, this loose gravel is gradually swept away as more and more rally cars run the course, leading to increased tire grip. Drivers at the top of the championship standings who start early are therefore at a serious disadvantage. Latvala was handicapped for this very reason during the early stages, but he nevertheless ended Day 2 just 9.8 seconds off the top in fourth place.
Lappi records the fastest stage time despite being unable to use second gear
Juho Hänninen and Esapekka Lappi were among the last of the drivers to start, and they used their advantage to record a series of strong results—Hänninen scoring one and Lappi three fastest times. Hänninen even led the rally for a time, and was in second place until he spun into a wall on the final stage of Day 1. Meanwhile Lappi, who was competing in only his second rally in the Yaris WRC, clocked three fastest stage times in a row; his powerful performances belied his relative lack of experience, and he proved that the speed he had shown at the Rally de Portugal in Round Six was no illusion.
The highlight of the rally was Lappi's drive in SS5. Lappi had lost use of second gear—one of the most frequently used of his six gears—in SS2 and consequently performed poorly in SS3 and SS4. However, in SS5 he recorded his fastest stage time. This extraordinary result led the calm and collected Lappi to joke: "maybe we only need five gears to win stages!"
After continuous improvements, the Yaris WRC finally overcomes its weaknesses
The three drivers managed to perform to the best of their abilities under differing conditions, and they were ably supported by the Yaris WRC. The weather was sunny for the duration of this year's Rally Italia Sardegna, and temperatures were extremely high. In addition, the course was full of low-speed, twisting corners; this meant that little wind passed through the radiator so the temperature of the engine was prone to rising. The team had encountered temperature issues at the season's first gravel rally—Rally México in Round Three—and had come up with various countermeasures since then. As a consequence, the team had gradually managed to overcome the problem, and no issues were reported in the scorching heat of Rally Italia Sardegna. The hard work of the team's engineers and mechanics had finally paid off, and the drivers were able to continue attacking without worrying about engine temperatures. After spinning into a wall, Hänninen damaged the front section of his vehicle and cooling fluid spilled out of his car's radiator. Even in this condition, however, the engine persevered and the team was once again able to confirm its durability.
Times and results offer proof of the team's improvements in gravel rallies
This season's Rally Italia Sardegna was characterized by high temperatures and road surface conditions that were particularly severe on tires. Many drivers were forced to retire due to accidents or mechanical issues. Despite this, Latvala, Hänninen and Lappi skillfully overcame any difficulties and entered the final day of the rally in strong positions. Latvala coolly struck the ideal balance between risk and reward, continuing to attack while safeguarding his second place position. With driving that combined power and youth, Lappi increased his total stage best times to six. He demonstrated exceptional speed to win the final Power Stage, earning bonus championship points in the process, and completed the rally in a career-high fourth position. Hänninen dropped time as a result of power steering issues, but managed to minimize his losses to finish in sixth. All three drivers recorded better results than in Portugal, demonstrating how both they and the Yaris WRC have developed.
RESULT
| Pos | Driver | Co-Driver | Vehicle | Time |
| --- | --- | --- | --- | --- |
| 1 | Ott Tanak | Martin Jarveoja | Ford Fiesta WRC | 3h25m15.1s |
| 2 | Jari-Matti Latvala | Miikka Anttila | Toyota Yaris WRC | +12.3s |
| 3 | Thierry Neuville | Nicolas Gilsoul | Hyundai i20 Coupe WRC | +1m07.7s |
| 4 | Esapekka Lappi | Janne Ferm | Toyota Yaris WRC | +2m12.9s |
| 5 | Sebastien Ogier | Julien Ingrassia | Ford Fiesta WRC | +3m25.3s |
| 6 | Juho Hänninen | Kaj Lindström | Toyota Yaris WRC | +3m38.5s |
| 7 | Mads Ostberg | Ola Floene | Ford Fiesta WRC | +6m31.8s |
| 8 | Andreas Mikkelsen | Anders Jaeger | Citroen C3 WRC | +8m07.8s |
| 9 | Eric Camilli | Benjamin Veillas | Ford Fiesta R5 | +11m15.8s |
| 10 | Jan Kopecky | Pavel Dresler | Skoda Fabia R5 | +11m21.4s |