RALLY

ITALIA
SARDEGNA
WRC 2019 ROUND 8 RALLY ITALIA SARDEGNA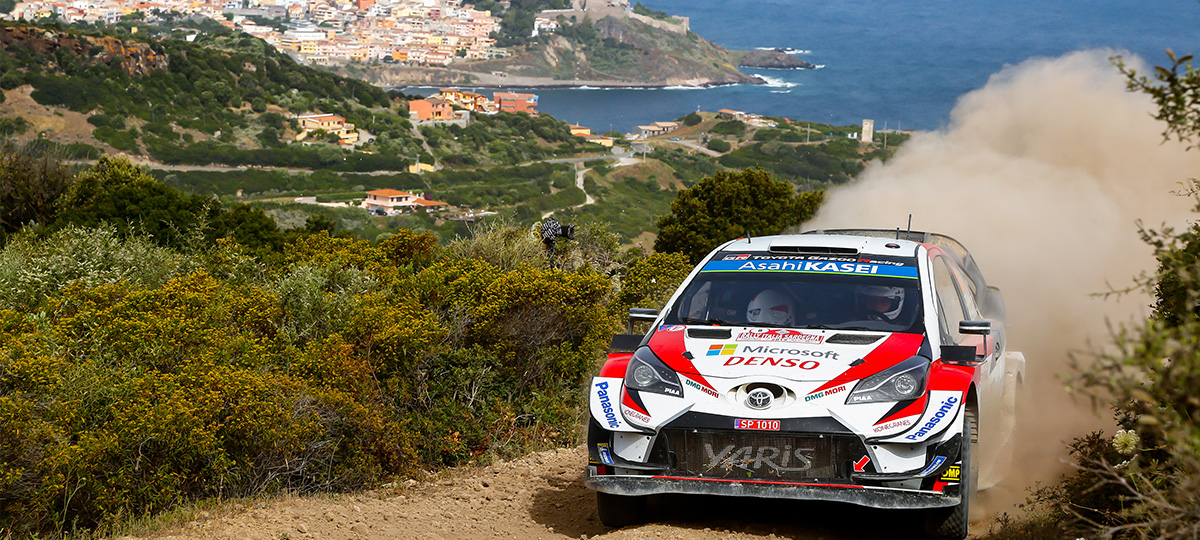 SUMMARY REPORT
Ott Tänak had won two rallies in a row at Round Six, Rally Chile, and Round Seven, Rally de Portugal; as a result, the TOYOTA GAZOO Racing World Rally Team had ended the first half of the season in extremely good shape. The team therefore lined up at Round Eight, Rally Italia Sardegna, with great expectations. While the event marked the first rally of the second half of the season, there was only a single week's interval after Portugal; during this time, the engineers and mechanics carried out a variety of maintenance work on the team cars. Similar to Rally Chile and Rally Argentina, which take place just a week apart, Portugal and Sardegna also form a set of "linked rallies." For this reason, the team transported the cars that had competed at Portugal directly to Spain, and carried out maintenance work there. This enabled the team to save the time it would have taken to return to its maintenance base in Estonia and then travel, from there, on to Spain; this, in turn, gave the staff time to take a momentary break from its maintenance work.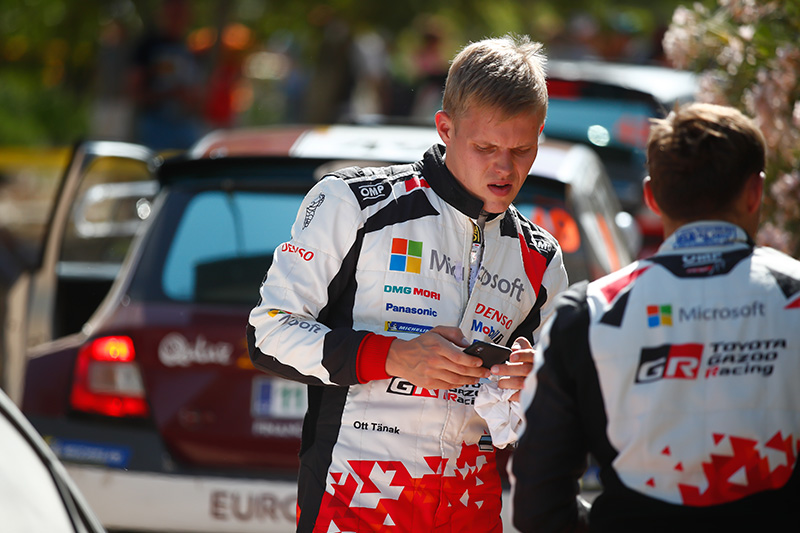 There was, however, one serious issue that the team needed to resolve in the week between the rallies—the damper troubles that afflicted Tänak and Jari-Matti Latvala's cars in Portugal. Tänak had managed to overcome the trouble and clinch victory, but Latvala was delayed significantly and lost the chance to fight for a podium finish. Since the issue had occurred on the rough road surfaces of Portugal, there was every chance that it could resurface on the similarly rough surfaces of Sardegna. The team had implemented provisional measures during Rally de Portugal; but in order to be certain that the issue had been resolved, it made improvements to the dampers of all its Yaris WRCs in the lead up to Rally Italia Sardegna.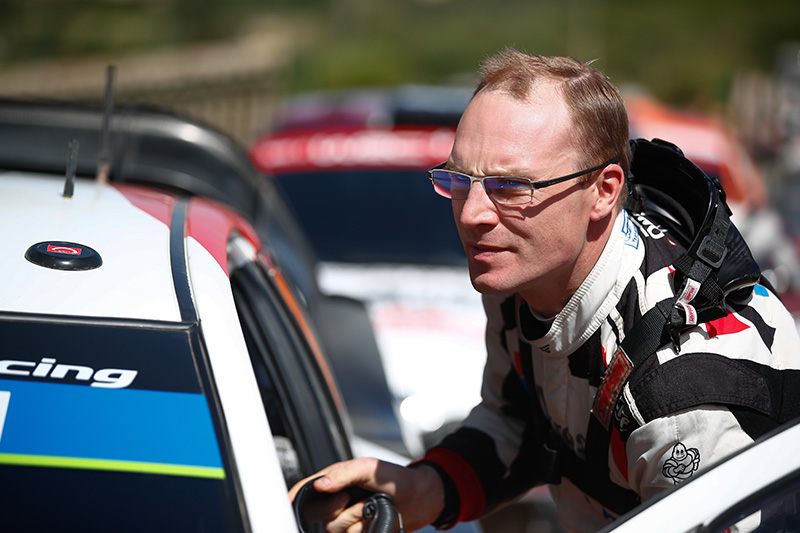 The weather was excellent throughout the weekend at this year's Rally Italia Sardegna, and temperatures were even higher than last year; indeed, maximum temperatures throughout the week were forecast to exceed 35 degrees. Sardegna's Special Stages incorporate a number of low-speed sections, and this lack of speed means that the cars cannot depend on natural cooling for their engines. This means that Rally Italia Sardegna is one of the rallies that places the greatest stress on the cars' cooling systems. However, the Yaris WRC's cooling system, which had undergone numerous improvements thanks to the cooperation of DENSO, one of TOYOTA GAZOO Racing's partner companies, functioned in the scorching heat of Sardegna with zero issues; the team drivers did not have to worry about engine temperatures at all, and were able to fully attack each stage.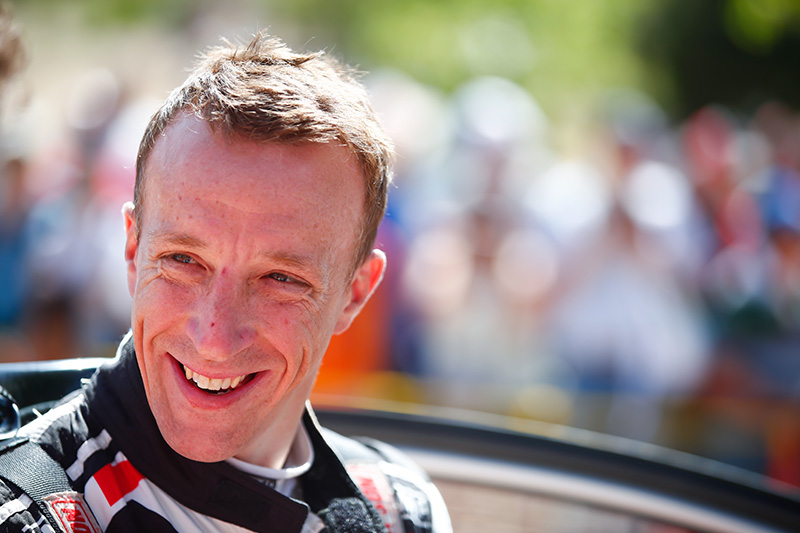 The first real gravel Special Stages took place on Friday June 14. Just as at Portugal in the previous round, Tänak was second in the running order for the morning's stages, and so at a disadvantageous compared to later starters. Loose gravel had accumulated on Sardegna's hard, rocky road surfaces, making it extremely slippery for drivers starting earlier in the running order. Despite starting second, Tänak recorded the fastest time on SS4 and the second-fastest time on SS5—indeed, the starting order appeared to have little impact on his pace. When the driver before him in the running order retired for the day, Tänak was forced to start first of all—and was therefore at an even greater disadvantage—in the afternoon's repeat stages. Nevertheless, Tänak was not much slower and ended the day in third place overall, 11.2 seconds off the lead.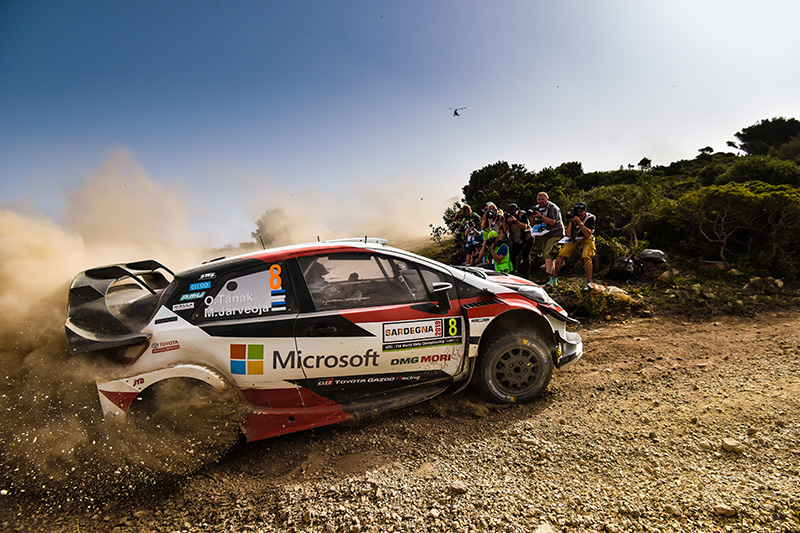 On Saturday, the running order was inverted, so that the drivers leading the rally standings went last; Tänak therefore started the stages in ninth position. Finally faced with clean surfaces, Tänak immediately increased his pace and won all six of the day's Special Stages. This took him into the rally lead, and he succeeded in establishing a substantial gap of 25.9 seconds to the driver in second place.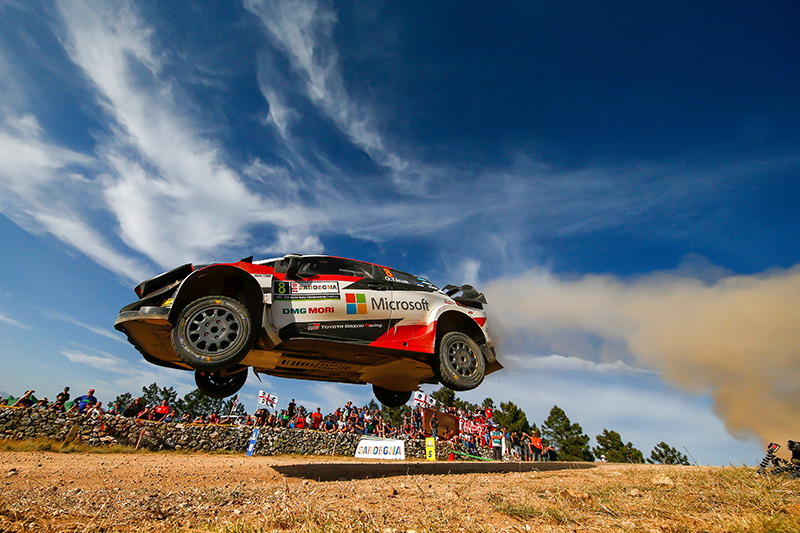 The final day of the rally had just four stages, with a total length of just 41.9 kilometers. But Tänak remained fully focused: "The distances may be short, but they are all difficult stages. I have to continue to concentrate and fight to the very end." Since Tänak had built a solid lead, there was no need for him to attack the stages excessively; he completed the stages with a series of error-free drives, and entered the final Power Stage with a gap of 26.7 seconds to second place. The final section of the stage, which ran from Sassari to Argentiera, took the drivers along a scenic coastline; it was here that, in 2017, Tänak had claimed his initial WRC victory. This year's Rally Italia Sardegna was also Tänak's 100th WRC rally, and he should have commemorated this landmark event with his 10th victory.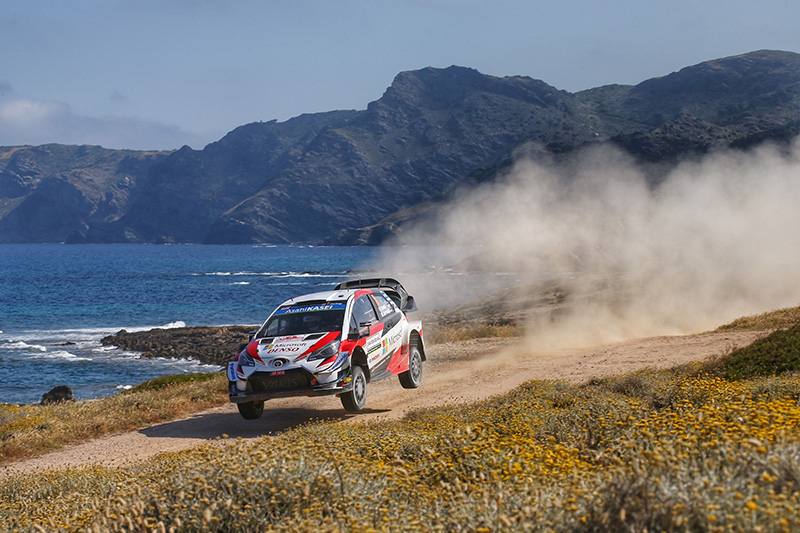 Yet immediately after starting the stage, Tänak felt something was wrong with his steering. The power assist was unstable, and the steering suddenly became heavy. The problem steadily grew worse, and soon the car stopped responding reliably to Tänak's input. Tänak spun, and lost a significant amount of time. He somehow managed to regain control of the car and resume, but he was forced to slow his pace. Despite the stage being just 6.89 kilometers in length, Tänak lost more than two minutes to his rivals. The lead he had accumulated up to that point was wiped out, and Tänak finished Rally Italia Sardegna in fifth place overall. Since his championship rivals finished lower down the rally rankings, Tänak now actually leads the drivers' championship. However, his lead at the top of the championship should be greater—the victory and the points Tänak was forced to give up were a huge blow.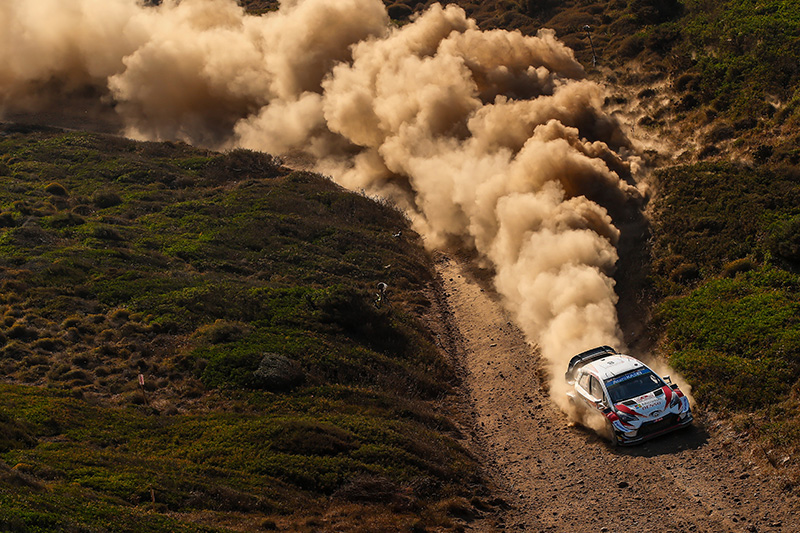 It was a steering system issue that prevented Tänak from securing his fourth victory of the season. In fact, a similar problem had struck Latvala's Yaris WRC on Friday, causing him to lose control, leave the course, and ultimately retire for the day. The team immediately set about investigating the cause and implementing countermeasures; it not only replaced the steering system on Latvala's car, it also installed new parts in Tänak's car in preparation for Saturday, even though it had not yet shown any signs of trouble. But steering issues ended up affecting Tänak's Yaris WRC anyway.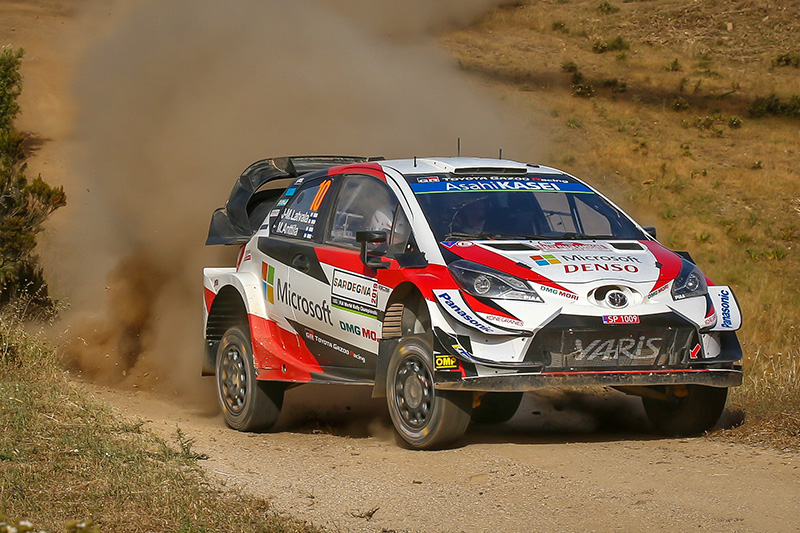 The team was shocked, since this was an issue that had not arisen before; having said that, it was the drivers who were most frustrated. This was particularly true of Tänak, who practically had the rally win in his hands but lost it at the very, very end; he returned to the service area with a complex mix of emotions—of anger and disappointment. Nevertheless, he firmly embraced each of the mechanics who had worked so hard to maintain his car, and expressed his gratitude to them. Tänak was of course not the only person disappointed—the staff who had fought alongside him shared his frustrations. Seeing Tänak hurting so badly and trying desperately to keep control of his emotions, the engineers made a silent vow: "We will make sure that no issues occur at Rally Finland."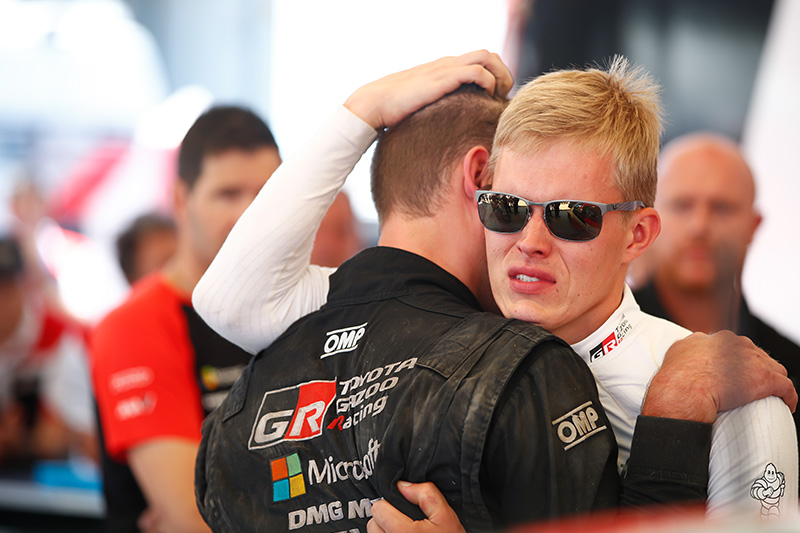 The Yaris WRC has plenty of speed. The team has also steadily resolved reliability issues related to high temperatures and the electrical system. And yet, at Rally Italia Sardegna, the car was struck by a different problem. The team once again experienced first-hand that improvements are never-ending. There is approximately one month until the next round in Finland, and the team intends to do everything in its power to improve the reliability of the Yaris WRC.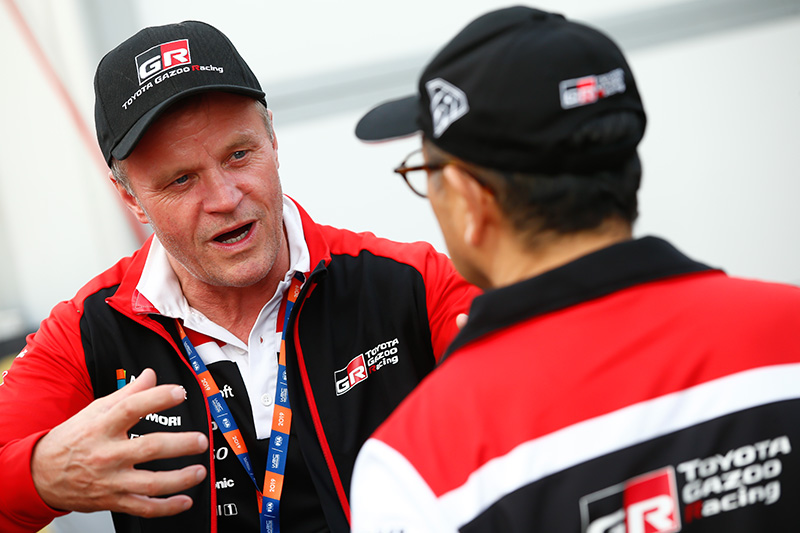 Akio Toyoda had rushed to the rally immediately after Toyota Motor Corporation's Ordinary General Shareholders' Meeting; as team chairman, he put himself on the frontline of the battle, and he was overcome with emotion. With victory in sight, Tänak was forced to slow down due to mechanical issues. Toyoda faced up to Tänak and Martin Järveoja's unbearable disappointment. He expressed his feelings and determination in a post-rally message: "I am truly sorry that our car didn't allow you to drive trouble-free to the end of the rally. My deepest desire is to make sure Ott and everyone involved with the No.8 Yaris WRC become champions. What I can do right now is make the Yaris more powerful, and perform with greater stability. Together with Tommi Mäkinen, I will do everything in my power."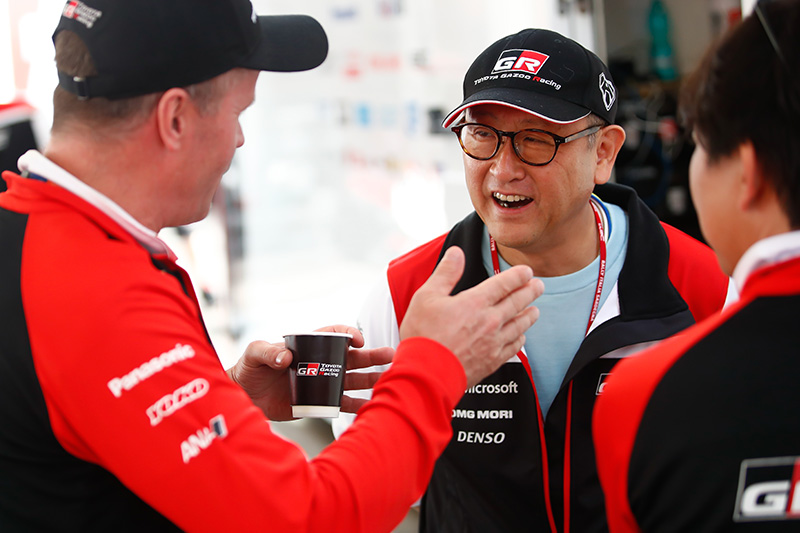 Latvala had started to rediscover his true speed over the last few rallies, and he started Friday's morning stages with great pace; he racked up a series of top times including a best time, and at SS4 he gained the rally lead. At this point, he had every chance of competing for victory. However, in the afternoon stages, he made a minor error and rolled his car at a hairpin. Together with co-driver Miikka Anttila, Latvala somehow managed to get the car going again and completed the stage, but he lost approximately eight minutes as a result. Then, on Friday's last stage, he suffered a problem with his steering system, lost control of his car, and drove off course, forcing him to retire for the day. He resumed the following day and managed to complete the rally, but finished in 19th position overall.

Meanwhile, Kris Meeke, who had not participated much at Rally Italia Sardegna in recent years, struggled during the early stages in part due to a lack of experience. Nevertheless, he drove dependably and looked set to compete for fourth position until he lost two minutes replacing a tire on one of Saturday's stages. As a result, Meeke finished in eighth place overall.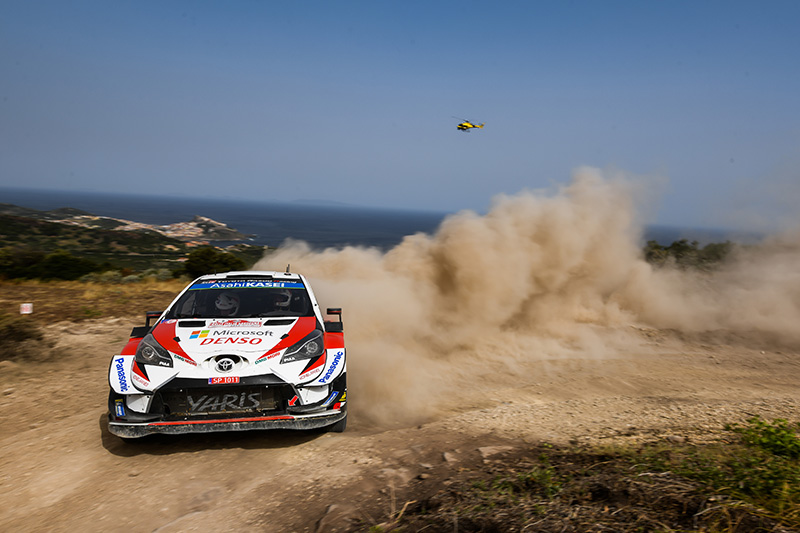 At this year's Rally Italia Sardegna, a fourth Yaris WRC took part. Veteran rally driver Juho Hänninen, who now works as a TOYOTA GAZOO Racing WRT development driver, took the wheel at a WRC rally for the first time in almost two years. Accompanied by a new co-driver, the veteran Tomi Tuominen, Hänninen took part as a private entrant with Tommi Mäkinen Racing His goals were twofold: first, to advance development of the Yaris WRC through actual competition; second, to maintain his outstanding competitive edge as a driver, and thereby refine his senses for making ever-better cars. Hänninen last appeared in a WRC rally at Rally GB in October 2017. Since then, he has supported the evolution of the Yaris WRC unseen as a development driver. There can be little doubt that, without Hänninen's contributions, the Yaris WRC would not have achieved its present level of performance.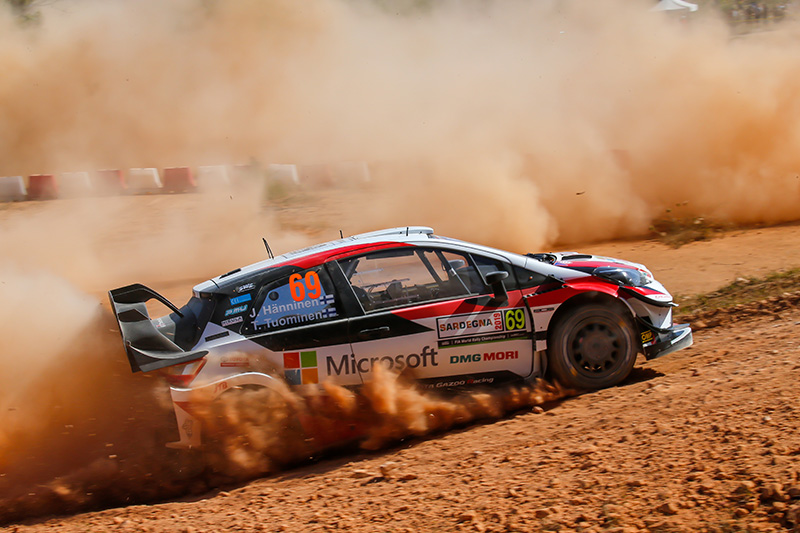 Although Hänninen had been absent from competitive rallying for some time, he drove expertly and in a reliable manner. As he racked up stage after stage, he gradually increased his speed and carried out a variety of development tests. He was particularly focused on the car's suspension, and made steady progress regarding setups for the rough gravel rallies in the second half of the season. The TOYOTA GAZOO Racing WRT is base in Finland, where the surfaces of the gravel roads are mostly smooth—this makes it difficult to carry out rough gravel tests. For this reason, the team chose to conduct in-rally testing on the rough roads of Sardegna, and gave the wheel of one of its Yaris WRCs to Hänninen. Even during standard tests, Hänninen provides extremely accurate and easy-to-understand feedback; from an engineer's perspective, he is a truly dependable development driver. He demonstrated the exact same talents at Sardegna, and gathered a large amount of profitable data for the team. Hänninen fully achieved the goals he had been set, and he returned to his customary role as development driver, satisfied at having driven the Yaris WRC in an actual rally again.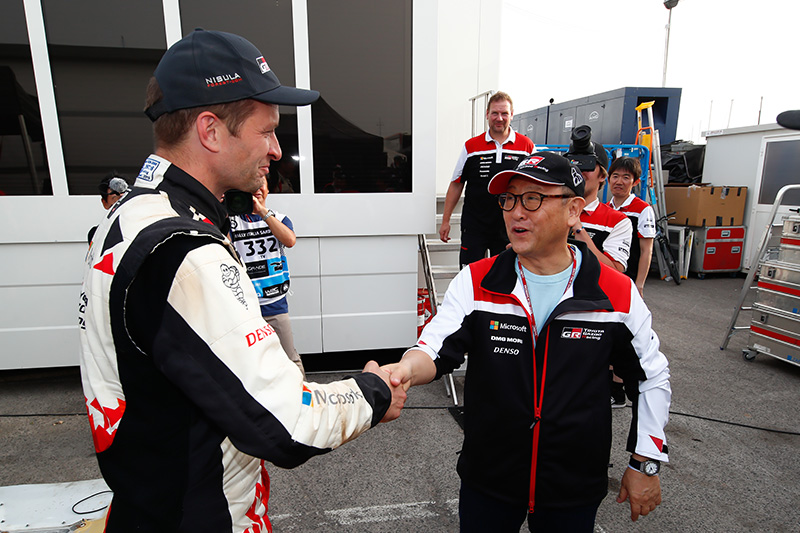 RESULT
Pos
Driver
Co-Driver
Vehicle
Time
1
Dani Sordo
Carlos del Barrio
Hyundai i20 Coupe WRC
3h32m27.2s
2
Teemu Suninen
Jarmo Lehtinen
Ford Fiesta WRC
+13.7s
3
Andreas Mikkelsen
Anders Jaeger-Amland
Hyundai i20 Coupe WRC
+32.6s
4
Elfyn Evans
Scott Martin
Ford Fiesta WRC
+33.5s
5
Ott Tänak
Martin Järveoja
Toyota Yaris WRC
+1m30.1s
6
Thierry Neuville
Nicolas Gilsoul
Hyundai i20 Coupe WRC
+2m16.7s
7
Esapekka Lappi
Janne Ferm
Citroën C3 WRC
+2m59.6s
8
Kris Meeke
Seb Marshall
Toyota Yaris WRC
+4m40.1s
9
Kalle Rovanperä
Jonne Halttunen
Skoda Fabia R5
+8m24.6s
10
Jan Kopecky
Pavel Dresler
Skoda Fabia R5
+8m49.2s
19
Jari-Matti Latvala
Miikka Anttila
Toyota Yaris WRC
+20m36.0s