SECTION1

Forestry Technology Developed in Country where Rally and Nature Coexist Peacefully

For the TOYOTA GAZOO Racing World Rally Team that is based in this country, Finland is their "2nd home" after Japan. Rallying are traditionally very popular in Finland and can be called their national sports. Additionally, as evident from Finland's nickname, "the land of a thousand lakes and forests", forests are a part of the lives of the people and the forestry industry is flourishing.And the machine that plays an important role in Finland's forestry industry is TOYOTA GAZOO Racing World Rally Team's partner, NISULA, the forestry machinery brand from Nisula Forest OY. In particular, their best-selling product series called "Harvester Heads" are sophisticated machines capable of grabbing whole trees and uprooting them, immediately trimming off the branches and cutting them into logs, and even loading them up onto trucks. Northern Europe's forestry mechanization is very advanced and machines like the "Harvester heads" are used in forestry industries all over the world, making them one of the top exports of the Nordic countries.
WRC Neste Rally Finland 2019
When asked about the significance of forests to the Finnish people, NISULA's Kalle Mattsson (Director, Sales & Marketing) responded as follows.

"75% of the total land area of Finland is covered in forests. The forest feels magical and the Finnish people always have a spiritual connection with the forest. Green is a comforting color while the gentle rustles of the trees and leaves are like music. During summer, we go hiking, and during winter, we go cross country skiing, gather berries or mushrooms, and have a walk in the forest. The forests are an indispensable part of Finnish life."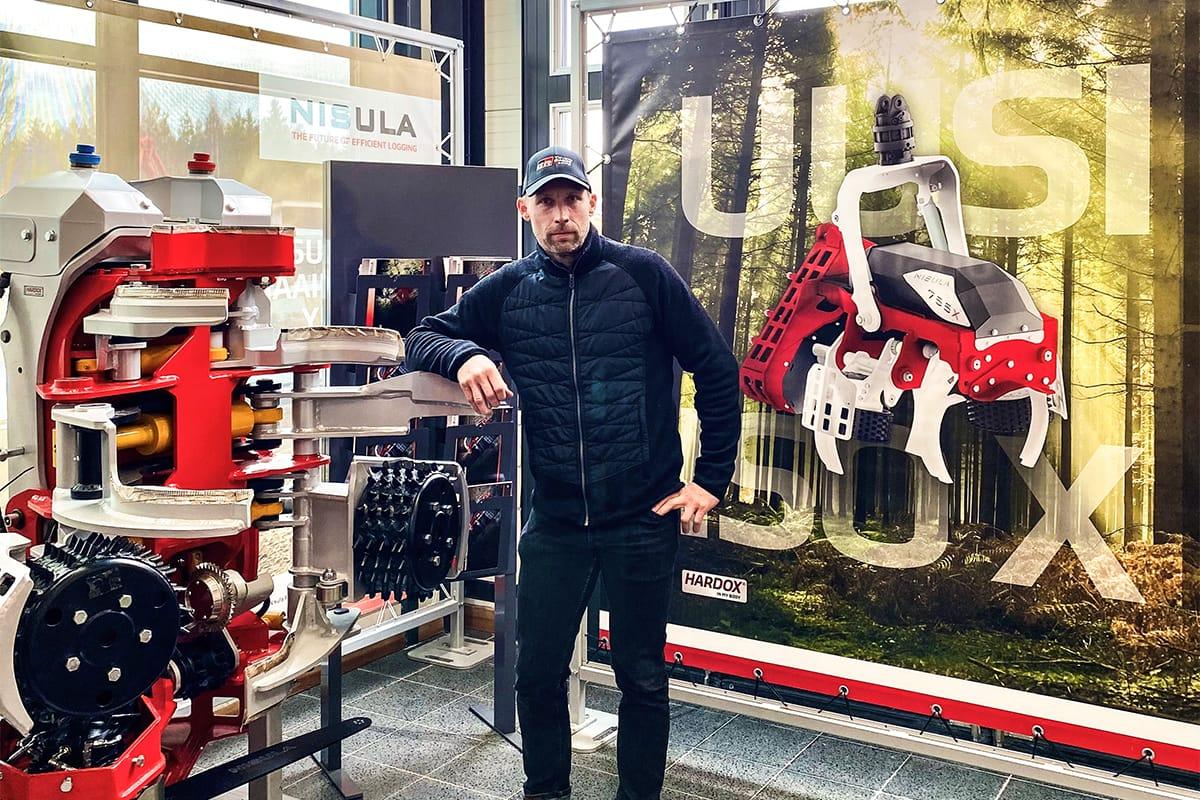 Kalle Mattsson (Director, Sales & Marketing at Nisula Forest Oy) [photo by NISULA]
Not to mention, the forest trails also serve as venues for rally events. Forests can be maintained in good conditions by implementing controlled timber harvesting, but cutting trees down one by one using chainsaws is not very efficient apart from being dangerous. Additionally, trimming them into logs is also laborious, so using the Harvester Heads to take care of the whole process greatly reduces energy expenditure. Thus, the countries of Northern Europe treasure high-performance forestry machinery like the Harvester Heads, and many companies compete in terms of functionality and market share.
[photo by NISULA]

[photo by NISULA]
"Both forestry machinery and rally cars are high-tech products that require special technical knowledge to design and manufacture. To advance in the world of business, it is necessary to build up brand recognition in addition to producing high-quality products. So, we started by supporting the Finnish driver, Juho Hänninen, in 2016 and formed a partnership with the TOYOTA GAZOO Racing World Rally Team when he became their test driver at the end of 2017. We believed that this is one of the best ways to propel the NISULA brand onto the world stage.
Juho Hänninen, WRC Neste Rally Finland 2017

[photo by NISULA]
SECTION2

Our Bond with Finland, facilitated by the TGR World Rally Team

NISULA's headquarters is located in a city called Jämsä, around 80km southwest of Jyväskylä in central Finland where the team is based. Jämsä is surrounded by many WRC Rally Finland circuits and the Ouninpohja stage in particular which is home to the 50m-high big jump is one of the symbols of Rally Finland. Surely, many people now recognize the shiny "NISULA" logo put on the Yaris WRC body racing at high speed through the forests, improving their trust in the brand.
WRC Neste Rally Finland 2017

Yaris WRC 2021 edition
"Our collaboration with the team led by Tommi Mäkinen has been extremely successful in recent years and we are very grateful for it. We strongly believe that our excellent and frank collaborative relationship will continue with Jari-Matti Latvala, who will take over from Tommi to lead the team. Recently, we have also started supporting the talented Finnish rallyist Mikko Heikkilä, who was the co-driver for the Yaris WRC when Juho was test driving it, so we can say that he is a part of the TGR family."
SECTION3

Desire to Contribute to Japan's Evolving Forestry Industry

As the bond between NISULA and the team continues to deepen, more fans and members of the forestry industry in Japan will find out about NISULA's products through Yaris WRC. Japan's forestry industry is currently in the process of evolving to the next stage through mechanization. This trend will surely attract attention to NISULA's technology and machines. How do you plan to expand your business in Japan going forward?
[photo by NISULA]

[photo by NISULA]
"Japan has a huge market for the Harvester Heads. While we have already started doing business in Japan, we are currently focusing our efforts on finding new importers for our company's products to reinforce our business in Japan for the near future.

We believe the Rally Japan holding in the forests in Aichi and Gifu this year will be great promotion opportunities for NISULA. In the near future, you may see more forestry machinery with NISULA's logo in Japan's forests.