Interview Driver
HERWIG DAENENS
Belgium
Experience the TOYOTA philosophy
at the 24 Hours race
Q.What kind of race is the Nürburgring 24 Hours race for TOYOTA?

For TOYOTA it's like, as for everybody, an iconic race. So the 24 Hours race, what makes it iconic, is the environment, and in particular the section of the Nordschleife which puts harsh pressure on drivers and cars. And this is also the environment where we develop our cars, so all this together makes it quite a special event.
Q.What is the purpose of the TOYOTA 24 Hours race?

The purpose is to allow us to make better cars and continue the GAZOO Racing story. It's to embody the TOYOTA philosophy. It is not only about the race. The purpose is shared by the development members, employees, engineers, and technicians. In this aspect, I see myself as a driver who will do the task of driving on this project.
Q.I heard the 24 Hours race for TOYOTA is more like training people, developing not just cars but also people as well. Could you talk about it more?

It's not just about racing but also we can grow in this extreme environment.
Q.Does that mean the ranking doesn't matter?

Oh yes sure, we also care about ranking because if I just started to drive around, there would be no goal. The goal is of course to have a good ranking and to make everybody recognize their role and be focused. This is the learning point. If I just come here only for racing, there will be no focus on having good results. So the ranking is also important.
Q.How did you feel when you drove the NEW GR Supra?

I have been working on the development of the NEW GR Supra from early stage, which means the car performance was what I expected to some extent. But of course everything was done at a higher level. Currently, we are adjusting car performance to a higher level by using slick tires and optimizing the suspension and brakes for the race.
Q.Is NEW GR Supra easy to drive?

Yes for sure, to be honest it's easy to drive. During the development for the car this has always been our team goal. We want to make a sports car that allows you to drive long distance as well. So we aim for a sports car that is easy to drive in 15 minutes and for everyday life.
Q.Even though it is an everyday sports car, is it still also for professional drivers?

Yes of course, it is not a family car, it is for the person who has enthusiasm for driving. We imagine the scene of users to be the people who like exciting driving but also in the evening could take their wife to a restaurant by driving the same car. The car should be able to drive demanding road surface in hour and half to the south of France on holiday.
Q.You mentioned that you started development of the car several years ago. Can you tell us more about how you were involved?

I was involved from development phase. I think everybody knows that NEW GR Supra was made in cooperation with BMW. We started discussion from the base architecture at first. For example, whether we stick the gearbox with the engine or put the gearbox in the rear? Do we put the engine in the front or in the rear? For success, these kind of discussion were necessary. In the early stage, we felt that BMW's goal was a little bit different from ours. They were aiming to make a "sporty" car, but we wanted to make "sports car". It is a small difference but it leads to a difference in approach. It took some time to align both sides recognition, finally we reached the same page for making very important architectural decisions like vehicle height, gravity height, body agility. These kind of decisions really depends on the early concept direction.
Q.Are you quite satisfied with the results?

Of course, I'm really happy with the results and it was also very exciting for me to be there from the very beginning. I participated from concepts discussions where we decided things. Once these were decided, we cannot make any changes. Therefore, the starting phase is very important. Tada san, chief engineer was very keen on specifications and took a long time to make sure BMW was on the same page for the goal we were aiming for.
I learned a lot from Mr. Naruse (previous master driver)
during the development.
Q.So I guess you are familiar with old Supra, can you tell us what the difference is?

The NEW GR Supra, of course everything has leveled up. The old Supra is still good car but with the NEW GR Supra, everything is at a higher level from usability, power and handling. Everything has evolved in these 20 years. The old Supra for me is also a special car, because this is the vehicle were I learned from Mr. Naruse, the previous master driver in TOYOTA. He taught me many things for example, suspension changes, parts stiffness, vehicle setup to change the driving characteristics.
Q.How long have you been working at the Nürburgring?

I started to work in TME from 2000. This the time I met Mr. Naruse when he came for testing car every week at the Nürburgring and we started to work together. He had a certain vision to what he was aiming for and took on very important role in the company. Sometimes we had some opinions or discussions about vehicle direction or specific tuning aspects but finally we could always find some common direction. I could learn a lot from him.
Q.Do you have any particular things that Mr. Naruse taught you?

Yes, I think there's one sentence which I will always remember. Mr. Naruse said to me, "it's the roads that make the car". This is also one of the reasons why TOYOTA develop cars at the Nürburgring. If we set up the suspension for smooth and flat surface like the Grand Prix course and driving it on Nürburgring, the car can become a terrible condition. Therefore the knowledge I learned from his words, "It's the road that makes the car".
Q.So the words from Mr. Naruse were quite important to you?

Yes, his words were very simple but it contains wisdom that you need to have knowledge for suspension set up or car development.
Q.And do you think that word is reflected in the NEW GR Supra?

Yes. Of course, almost 90% of developing NEW GR Supra process was done on public roads. Because, we think it is important to test in the same situation where customers will drive it. Besides this, we tested it in certain conditions. For example, loading it with luggage and driving along with a passenger. We tested various situation like those in developing process, and of course, we tested it at the Nürburgring.
Q.How many times have you tested the development of NEW GR Supra at the Nürburgring?

We started development several years ago and tested every year. Including this year, for years & years. During the development stage, we started to test from pre-final body or sometimes the final body. Looking back over the past years, total development work time was more than 50 weeks. In these 50 weeks, we tested Monday to Friday. Also, we checked the car in various aspects during this period. Not only the suspension settings, but also tested differential control systems and the power train. All these aspects and components are checked, developed and fine-tuned at Nürburgring.
Q.Is 50 weeks considered a lot or normal?

think it's quite extensive. Because the Nürburgring is available for 16 weeks per year for testing activities. In the vehicle development we have to share the schedule between different departments and I think an average of 5 to 6 weeks a year is quite a lot. We do not take this time for all vehicles. Sports cars require this amount of time though. For normal cars, it only takes 2 to 4 weeks. That means we already tested double.
Supra is an iconic vehicle, it carries the brand and it has to meet customer's expectation. It's not only for the market but also important for the company. It is a symbolic car for TOYOTA. We spent quite a lot of time developing Supra in the Nürburgring.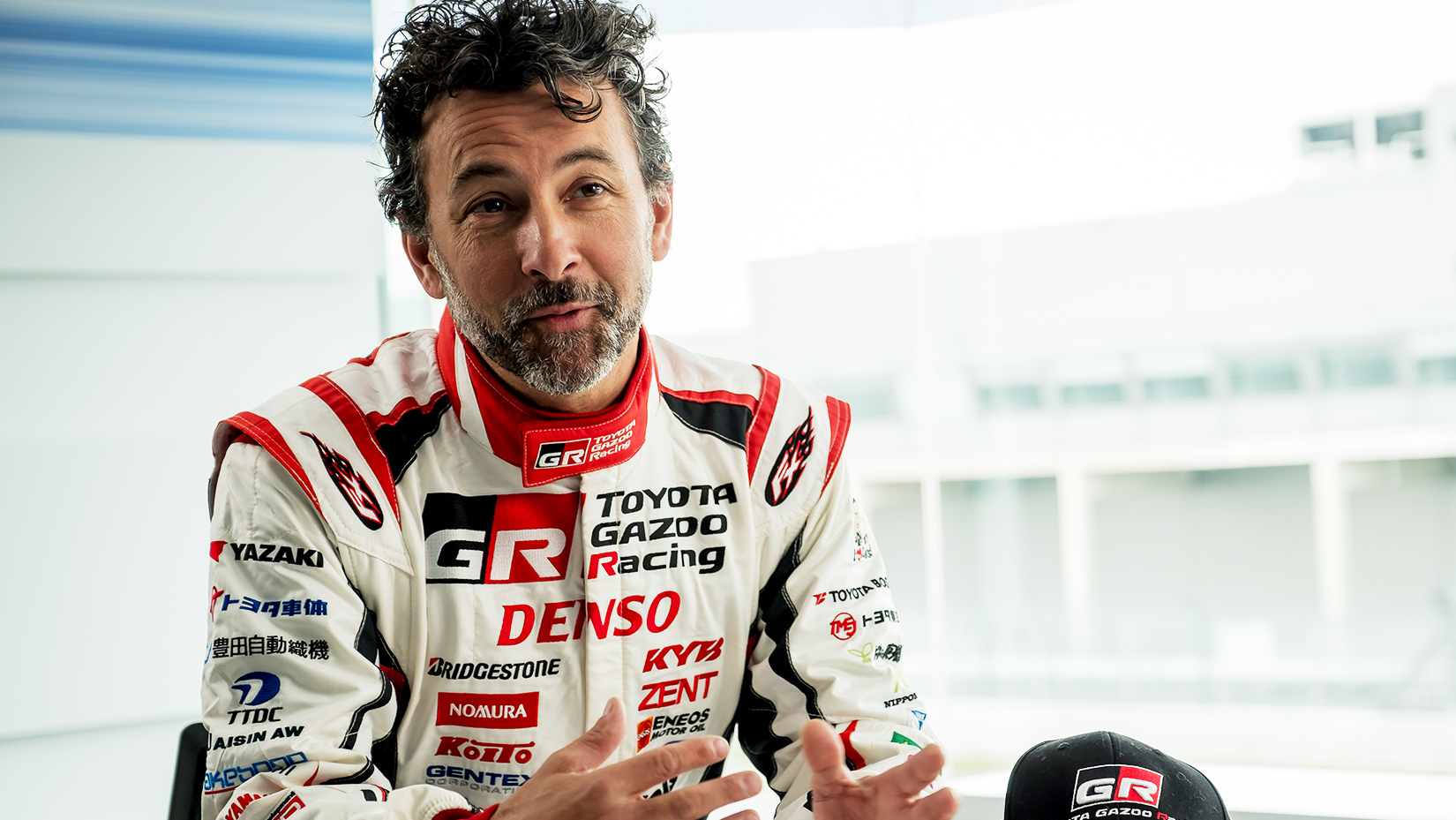 The 24 Hours race is end of the development phase 1.
But also the beginning of next stage
Q.For Supra, the 24 Hours race considered the final stage of development, or like a graduation?

It's both. It is the final stage of the development but we keep developing. We are always looking at improvements or areas where we can improve. It is the end of the development phase 1 for Supra, but also the beginning of the next stage. Developing means to continue, it never ends.
Q.For the viewers, which part of NEW GR Supra do you want them to see in the 24 Hours race?

I would like them to see the perfect dimensions and architecture. They will see the low vehicle height, wide body and wide wheelbase. They will get compact and powerful image.
Q.Do you think only racers could understand the attraction of NEW GR Supra or viewers also feel it?

Of course viewers could understand. Supra stands out. There were few automotive brands which make cars similar to Supra in the past few years so far. There are many race cars which were derived from road cars or multi-seaters, but Supra has the concept of a sports car.
For instance, Porsche has 911 but this has been in the market for a long time so people are already used to it. We are developing something similar but which has the looks and architecture of a pure sports car.
Q.What is a good car for you?

It depends on what kind of car you want have. A good sports car is a car that makes you want to drive long time like Supra. If you have a regular car, you might think "Okay I will always take the shortest way home". But for a good car, it makes you think, "Okay today I will take an alternative route". It makes you choose the mountain roads, not flat roads and not just going from A to B, but sometimes from A to B to C. For me, the definition of a good car is the car which makes you to choose long distance.
Q.Participating in the 24 Hours race is also a test for entering GT4, what kind of influence do you assume it has?

The 24 Hours race is good opportunity to check specific parts, settings, and component's performance. So for these aspects, it is quite an important race for entering GT4 in the future.
Q.What are your thoughts towards the 24 Hours race now? What would you like to achieve?

First of all, I would like to contribute my role. My role is to drive Supra as fast as I could without failure. This is my responsibility in the development team. Also, I have to finish the race safely.
It would be easy to set a personal goal for getting the fastest lap time, but this is not the goal. The goal is to finish the race, this is a must. I have to drive as fast as possible without destroying it. I will complete my task and I won't let anybody down.