Chiba, Japan, January 14, 2022―TOYOTA GAZOO Racing (TGR) premiered the "GRMN*1 Yaris" *2 at Tokyo Auto Salon 2022*3 on January 14. Sales of a 500-unit limited edition model are expected to begin at GR Garages nationwide around summer 2022. The GRMN Yaris is a fully tuned model of the GR Yaris that has gone through rigorous refinement with professional drivers. In addition, a new program is to be activated that will deliver to customers the type of daily vehicle evolution and driver-tailored customization that takes place in motorsports.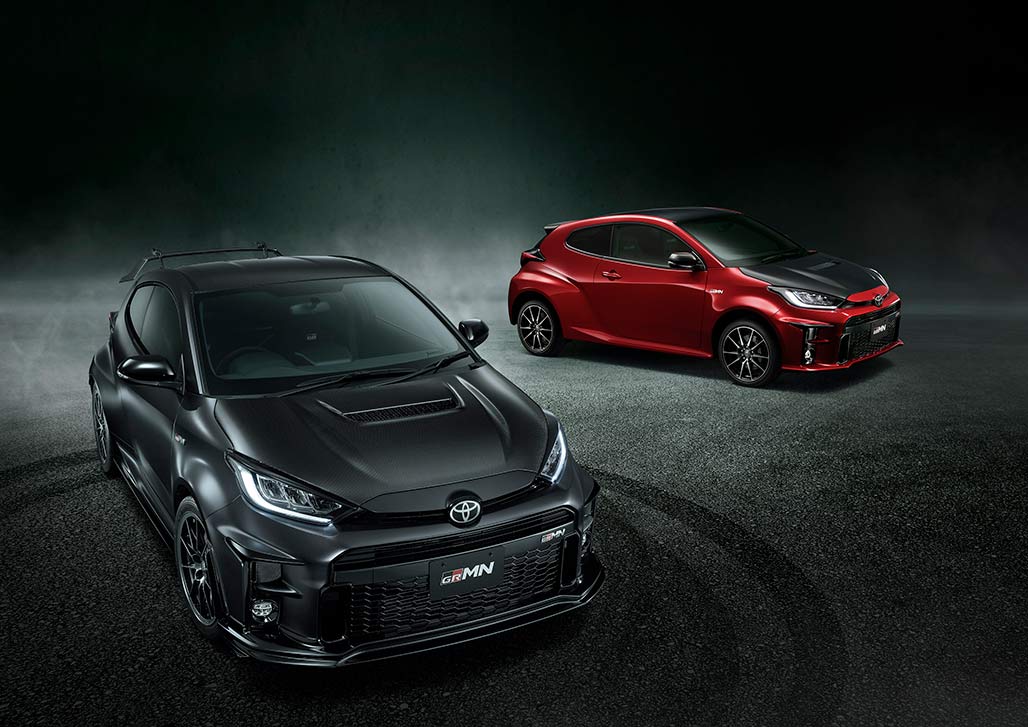 Since its launch in September in 2020, the GR Yaris has been involved in various motorsports, such as the Super Taikyu Series*4 where President Toyoda got behind the wheel as Morizo and participated with ROOKIE Racing, and the Japanese Rally Championship*5, where it won the season championship.
The GR Yaris has been refined through "driver first" car development. Issues under extreme use conditions are identified through driver feedback and quickly resolved. Each car can be tailored to the driver to evolve into a safe and easy-to-drive vehicle.
The development of the GRMN Yaris began from Morizo's desire to "deliver cars to customers that evolve quickly and can be tailored to individuals like in the field of motorsports." Using lessons learned from motorsports competition, body rigidity has been enhanced, weight has been reduced by approximately 20kg*6, overall width has been increased by 10mm*6 for aerodynamic improvement, and vehicle height has been reduced by 10mm*6 for a lower center of gravity. Also, it uses mechanical LSD, a close-ratio gear transmission, and a low final gear set, which has been improved through repeated "breaking and fixing". The GR Yaris has evolved into a car that can be driven faster and with more peace of mind, with improved braking force, grip, cornering and following performance based on feedback from professional drivers.
Additionally, through the two Update Program and Personalization Program services, we will provide customers with "cars that evolve quickly and can be tailored to individuals" just like they are in motorsports. The GRMN Yaris offers the enjoyment of race-car like ongoing progress by achieving real-time car evolution for each race with the Update Program and driving experiences that that bring out performance through tailoring the car to the driver with the Personalization Program.
Provision Method
Content
Update Program*7
Conducted as necessary at GR Garage

Technology refined in the field of motorsports will be provided using additional parts and software updates.
Engine strengthening, driving control improvement, etc.

Personalization Program*7
Driving data is analyzed at designated venues, such as circuits nationwide, and customization is done at the GR Garage

Individually tailored customization conducted by analyzing customer driving data. Car tailored to be a partner, moving as naturally as the driver's hands and feet.
In addition to software like steering control, engine control, and drive distribution, hardware including shock absorber damping force, spring rate and aerodynamic components will be carefully optimized.
The reservation lottery for the GRMN Yaris will start today on the TGR Website, and cars will be sold at GR Garages nationwide around summer 2022. In addition to the basic grade, a Circuit Package focused on road performance based on feedback from the Super Taikyu will also be available. The Circuit Package is available in a special Matte Steel*8 exterior color and will be sold as a 50-unit limited edition.
In addition, as a special dealer-installed option that can be added to the base grade, a Rally Package consisting of parts to enhance driving performance on all road surfaces, based on feedback from the All Japan Rally, will be available.
Manufacturer's Suggested Retail Prices
Price range: 7,317,000 yen to 8,467,000 yen*9
Main Additional Parts
Type
Price
(Japanese yen)
GRMN Yaris
None
-
7,317,000
Circuit Package

BBS GRMN dedicated 18-inch wheels
18-inch brakes
Bilstein® shock absorber with adjustable damping force
Carbon (twill weave CFRP) Rear spoiler
Side skirt
Lip spoiler
(Please see the product website for details)

Manufacturer's option
8,467,000
Rally Package*10

GR shock absorber & short stabilizer link set
GR under guard set
GR roll bar (with side bar)

Dealer option (Individual parts can be selected at time of purchase)
8,378,764*11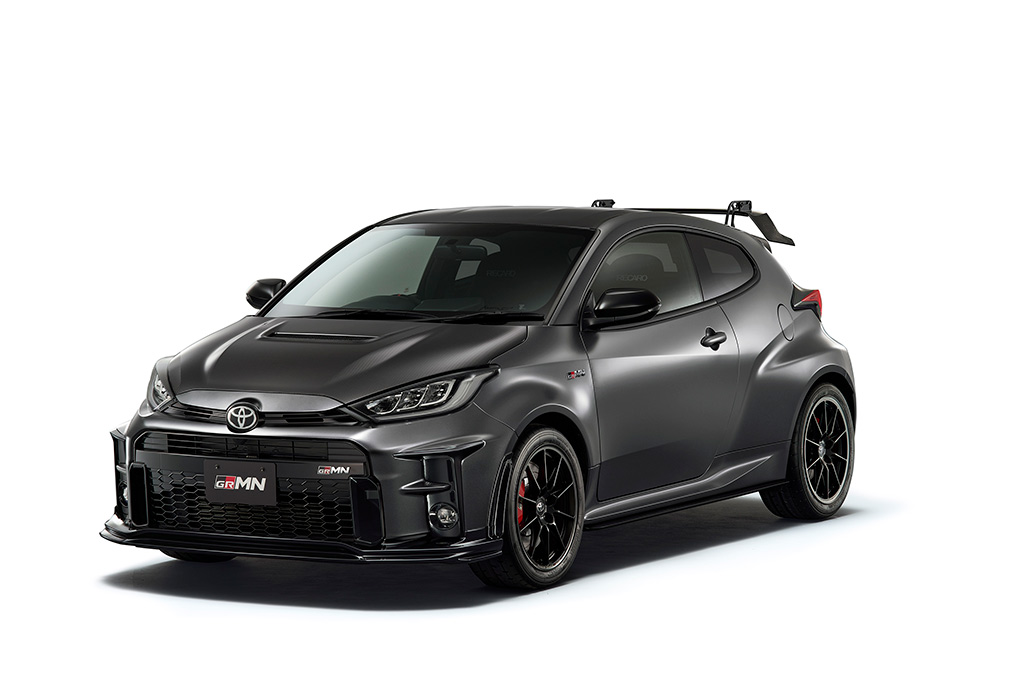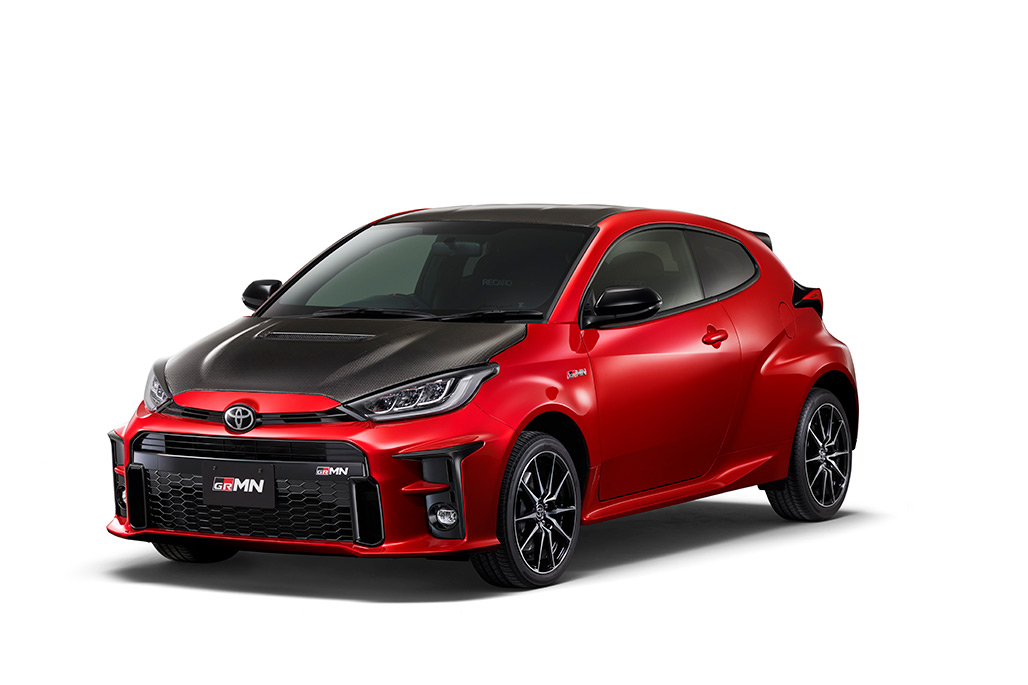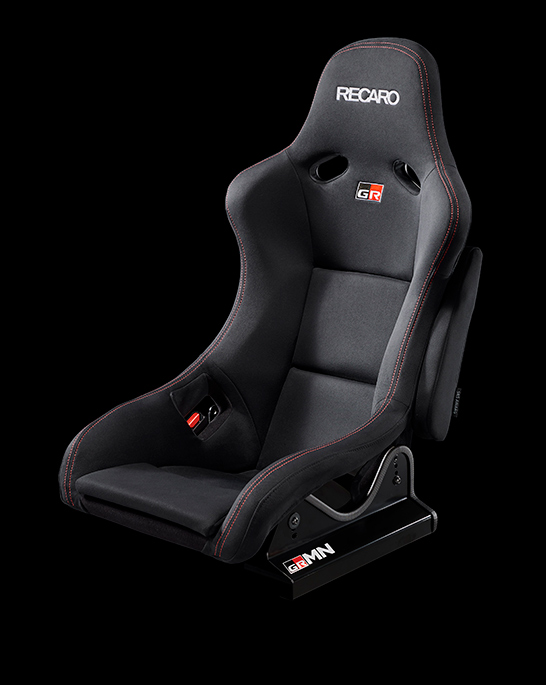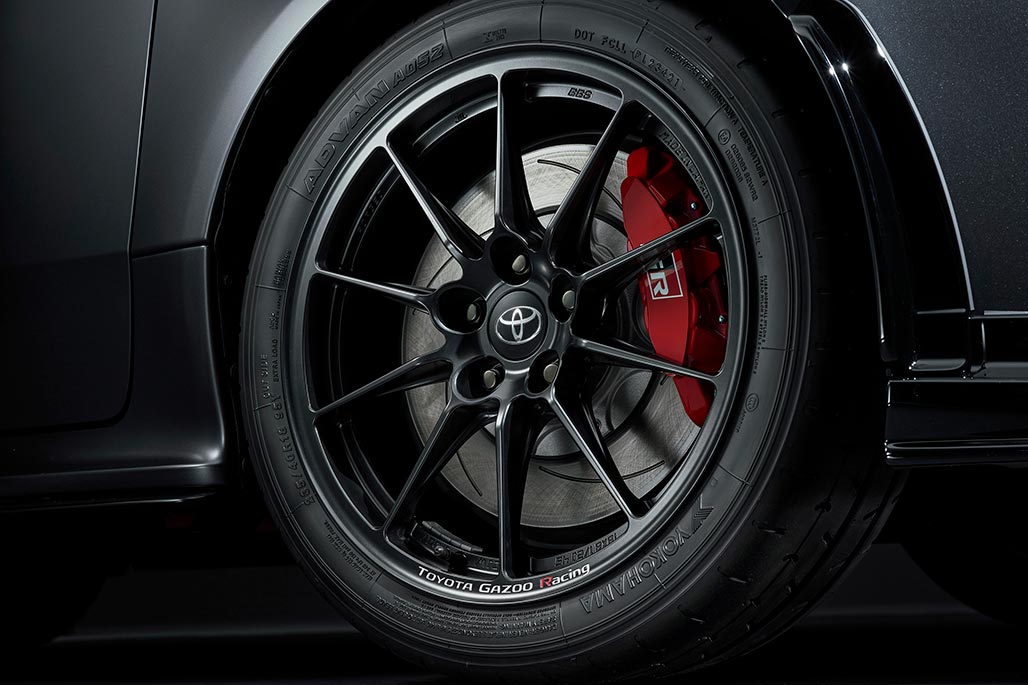 <Web Lottery Application ~ Vehicle Delivery Flow Example*>
Jan. 14 - Feb. 28
Web Application
(Reservation)
➡
⬇
Mar.9
Winners Contacted
➡
⬇
Around Spring
Sale Discussions
(Orders Received)
➡
⬇
Spring - Mid-Year
Personalization Program Trial for Customers who Signed Contracts
➡
⬇
Vehicle Delivery
Web Lottery URL: https://toyotagazooracing.com/jp/form/grmnyaris_agreement/ (Only in Japanese)
*Personalization timing will vary based on when the contract is signed
For those who have already purchased a GR Yaris, GR parts that allow customers to experience some of the GRMN Yaris performance will be added around Fall 2022 in order to deliver cars "that evolve quickly and can be tailored to individuals" like in motorsports.
Please check the following URL for more information about GRMN Yaris and GR parts
URL: https://toyotagazooracing.com/jp/grmn/yaris/ (Only in Japanese)
Vehicle Outline
Based on the GR Yaris, the GRMN Yaris has achieved the ultimate in lightweight sports 4WD by applying a wide range of technologies and parts developed through motorsports to focus on weight reduction and enhanced body rigidity.
It features a close-ratio gear transmission and a low final gear set that has been refined in the field of motorsports. For gear ratios, close-ratio 1st to 4th gears make efficient use of the engine power band, and low final gears for optimized driving force have been combined. To improve reliability during endurance races and other situations, SNCM material was used and shot processing was added to 1st, 3rd, 4th, 5th, and final gears, significantly improving shock torque and fatigue strength.
In addition to the lightweight high-rigidity carbon (twill weave CFRP) used for the hood, roof, and rear spoiler, removing the rear seats to make it a two-person car, has achieved weight reduction of approximately 20 kg*6 compared to the GR Yaris.

Carbon (twill weave CFRP) Parts

Reinforcement brace for body of vehicle

The number of spot welds has increased by 545*6 compared to the GR Yaris, and body rigidity has been further enhanced by applying 12-m*6 longer structural adhesive. This gives more direct response to driver's input.
As with the GR Yaris, production will be carried out on a dedicated production line at Toyota's Motomachi Plant, and plans are for assembly to be carried out by

takumi

(master craftsperson) team members.
Comparison between GRMN Yaris and GR Yaris RZ "High Performance"*12
"Circuit package"
GRMN Yaris
"Rally package"
RZ "High performance"
Size
Length
(mm)
4,030
3,995
←
Width
(mm)
1,815
1,805
←
Height
(mm)
1,475
1,455
←
W/B
(mm)
2,560
←
Tread (Front/Rear)
(mm)
1,535/1,570
1,540/1,570
1,535/1,565
Minimum ground clearance
(mm)
120
130
←
Occupancy
(passengers)
2
4
Vehicle weight
(kg)
1,260
1,250
Depends on selected DOP
1,280
Minimum turning radius
(m)
5.7
6.0
5.3
Engine
Type
In-line three-cylinder intercooler turbo
←
Displacement
(liters)
1.618
←
Maximum output kW (PS)/r.p.m.
200(272)/6,500
←
Maximum torque N・m (kgf・m)/r.p.m.
390(39.8)/3,200~4,000
370(37.7)/3,000~4,600
Fuel tank capacity
(liters)
50
←
Mechanism
Transmission
6-speed manual transmission (iMT)/Close-ratio gears + low geared final
6-speed manual transmission (iMT)
Gear ratio 1/2/3/4/5/6/Reverse/final
3.214/2.238/1.592/1.162/1.081/0.902/3.557/4.250
3.538/2.238/1.535/1.162/1.081/0.902/3.831/3.941
Clutch
9.5-inch dual-mass flywheel reinforced metal clutch
9.5-inch dual-mass flywheel
Driveline
Four-wheel drive
←
Limited slip differential
Mechanical (front/back)
Torsen (front/back)
*1

General name for limited-quantity models at the top of TGR's GR sports car series

*2

"GRMN Yaris" is used for marketing purposes; the name used in vehicle registration, etc. is "GR Yaris GRMN"

*3

A customized car event held at the Makuhari Messe in Chiba from January 14 to January 16, 2022 (with a trade/media day on January 14 and public days on January 15 and 16)

*4

ROOKIE Racing GR Yaris, based on the GR Yaris, competed in ROOKIE Racing from the 2020 season to the second race of the 2021 season

*5

GR YARIS GR4 Rally based on the GR Yaris competed from the 2021 season

*6

Comparison GR Yaris RZ "High Performance". The changes of overall width and vehicle height only apply to "Circuit Package". Vehicle height: The overall height not including rear spoiler

*7

Fee (to be announced). Program offered only to those who wish to participate

*8

An option price of 352,000 yen (including consumption tax) is required

*9

Only available in paid colors. The price of the selected exterior color will be added to the above price.

*10

The Rally Package is a dealer option and does not fall under manufacturer's warranty.

*11

The price of 8,378,764 yen includes all parts in the Rally Package. The price will vary if parts are selected individually. Furthermore, labor charges at individual dealers will be incurred separately.

*12

On-site registration as it is a modified vehicle