TOYOTA GAZOO Racing Rally Challenge drivers rack up the stage wins in France
TOYOTA GAZOO Racing Rally Challenge driver Takamoto Katsuta, co-driven by Marko Salminen, was unlucky to miss out on a class victory at the Lyon-Charbonnières–Rhône Rally in France, eventually finishing sixth in the R2 category. His team mate Hiroki Arai also put in a strong performance, concluding the rally eighth in class.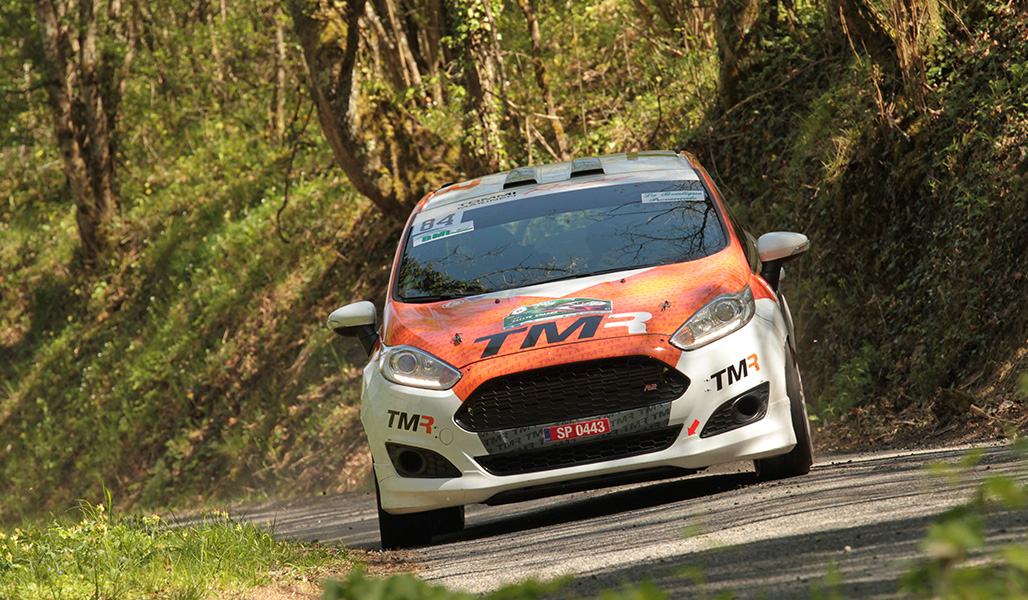 Katsuta's prospects took a blow on only the second stage of the event, when he picked up a slow puncture that deflated the tyre with four kilometres left to go on the stage. He drove slowly to the finish, but the incident cost a minute and a half. He went on to set five fastest stage times and finish sixth: without the incident, he would have been challenging for the class win.
Arai also drove consistently from start to finish, although he and co-driver Glenn Macneall felt that their pace notes could have better under the specialised circumstances. They also experienced a damper problem in the closing stages of the rally, which meant that they were not able to drive to their full potential. Nonetheless, Arai was pleased with his personal progress: finishing just two-tenths of a second behind the seventh-placed driver.
Both drivers were in a Ford Fiesta R2, the car they are using to gain experience of asphalt stages. Despite their relative unfamiliarity with this tricky surface, they were able to go faster than many local experts in similar machinery, who have in-depth knowledge of the roads.
Lyon-Charbonnières is one of the most established rallies in France, which is quite different to the two asphalt events on the Italian Rally Championship (Ciocco and Sanremo) that the Japanese Toyota youngsters have entered up to now this year. The stages on the Lyon- Charbonnières are extremely varied, but tend to major on fast and wide roads, slightly similar in style to a racing circuit. At the same time, there are also some extremely narrow sections and plenty of gravel on the road from corner-cutting, making it a big technical challenge.
The French championship round proved to be extremely popular, with 139 cars taking the start for two days, 13 stages, and 226.78 competitive kilometres of action. Conditions remained warm and sunny throughout the event, with temperatures of about 20 degrees centigrade. Despite the length and complexity of the event, the final margins were extremely close, with the top six in the R2 class separated by less than a minute and a half.
Quotes:
Takamoto Katsuta
"It's a pity that we had the puncture that cost us all that time at the beginning, but overall it was a very positive rally for us: definitely the best asphalt rally I have ever driven. The puncture was very strange: we didn't hit anything at all, so I guess it must have been just a stone on the road somewhere that caused it: these things happen. We were really fast on all the other stages and we would have been fighting for the rally win, but that's actually not the priority: instead the learning experience is much more important. And we were able to learn a lot over the weekend, in a big mix of conditions. Thank you to the team for again giving us a perfect car."
Hiroki Arai
"One of the big difficulties of this rally was the changes of rhythm, with fast sections going into slower sections, which was a big challenge for us. In particular, getting the braking point right was quite difficult, but we have found some ways to make the pace notes more specific, which will help us for the future. That's especially important in an R2 car, where it's hard to regain momentum if you lose it. All three asphalt rallies went well for us and we learned a lot, which was our main objective."
Jouni Ampuja (TOYOTA GAZOO Racing Rally Challenge Program instructor)
"Another very solid job for the team and the drivers, which show that we are getting ever-closer to our objective of winning some of these events. The challenge we are setting our crews is a really big one, as these national rallies are so competitive with a huge number of drivers who know the stages very well, but both drivers followed the tactics we had planned perfectly. Taka's puncture was just bad luck, because that's very unusual, although he was able to recover very well afterwards. Hiroki had a couple of issues with pace notes that meant that he wasn't able to drive as quickly as he is capable of, but we've already identified some areas for improvement and we will implement those even for the next rally in Portugal."
Final Results (R2 category):
1 Efren Llarene/Sara Fernandez (Peugeot 208 R2) 2h13m38.2s
2 Laurent Pellier /Gigot B.Neyet (Peugeot 208 R2) +8.2s
3 Patrick Marnou/Benoit Manzo (Peugeo t208 R2) +31.3s
4 K.Pinherio /Le Floch F. (Peugeo t208 R2) +1m02.5s
5 Brandon Maisano/Pierre Pebeyre (Peugeot 208 R2) +1m16.9s
6 Takamoto Katsuta/Marko Salminen(Ford Fiesta R2T) +1m26.4s
8 Hiroki Arai/Glenn Macneal (Ford Fiesta R2T) +1m34.5s
What's next?:
Katsuta and Arai will contest the Amarante Rally in Portugal from May 5-6: this takes place two weeks before the World Rally Championship round in Portugal, which they will also enter. On both occasions, they will be back in the more powerful Ford Fiesta R5, on gravel. The idea behind doing the Amarante Rally, which covers 76.47 kilometres over 12 stages, is to accustom the drivers back to gravel and the R5 car as a warm-up for Rally Portugal.