Rally Portugal: Day 2

A twist at the end of Friday on a demanding Rally Portugal

Friday's final gravel stage on Rally Portugal provided a cruel surprise for Jari-Matti Latvala, who lost second place after a roll in tricky conditions that also caught out many other drivers. Nonetheless, all three Yaris WRCs are still in strong contention with Juho Hänninen seventh, Esapekka Lappi eighth, and Jari-Matti 13th despite his problems.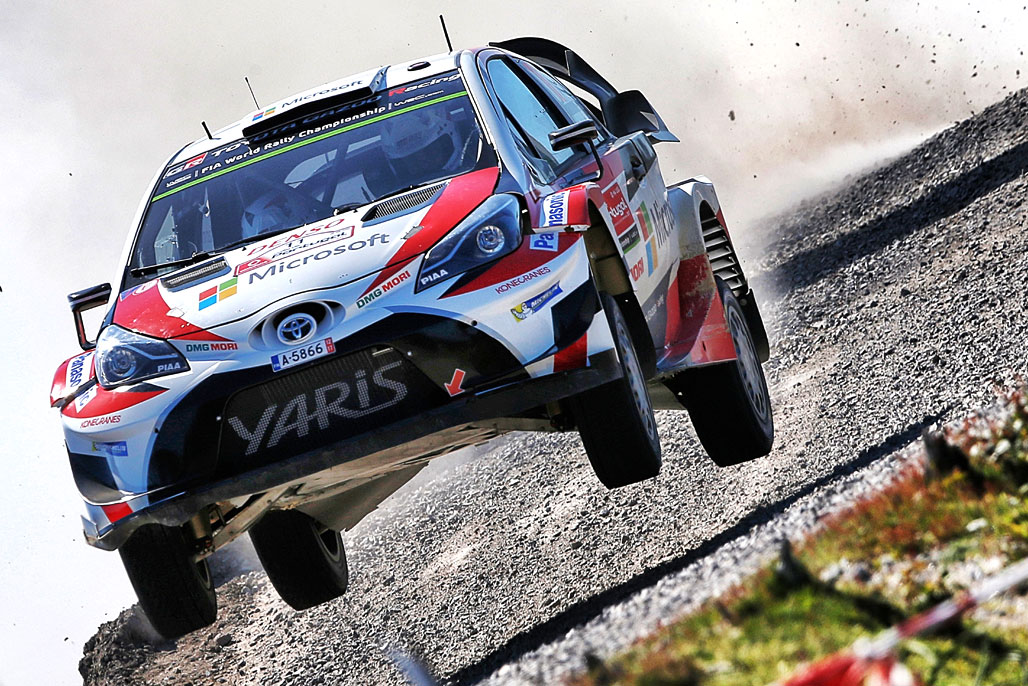 Prior to the afternoon, it had been a straightforward run for the TOYOTA GAZOO Racing World Rally Team, with Jari-Matti even leading the rally in the morning. Esapekka was slowed by a blocked intercooler on the penultimate stage, while Juho was the only Yaris WRC driver to enjoy a largely clean run over the day's eight demanding stages.
Quotes:
Tommi Mäkinen (Team Principal)
"Today certainly showed the extent of the challenge that Portugal gave us! From the start it was clear that the roads were going to be very rough: already on the first run through the stages in the morning the roads were degrading, so it seemed that there were no big advantages in terms of road position. Jari-Matti made the most of this to move into the lead, and he was unlucky to be caught out by the even rougher conditions in the afternoon. Under the circumstances, a great job from Juho to stay out of trouble and end the day as our leading driver, while Esapekka made a perfect start as a Yaris WRC driver, carrying out exactly what was asked of him. Tomorrow is expected to be hotter than today so we expect to face even more challenges, which however always help us to improve as a team."
Jari-Matti Latvala (Driver car 10)
"I was able to push hard today, even though the roads were even rougher than I expected. To be leading the rally was quite surprising. On the final gravel stage of the day, which was very rough, I had a strange feeling with the car, like it was skidding. I didn't manage to get it stopped on time, so we hit the bank, went up onto two wheels and rolled, losing a lot of time. There was some damage to the car but we managed to get it to back to service, which is the most important thing and tomorrow is a new day. We will fight to get back in the points, as we have already shown today that with our Toyota Yaris WRC we can fight for victory"
Juho Hänninen (Driver car 11)
"Compared to lots of other people I had quite a good day today, not so many big problems. In the morning I felt I was quite careful, maybe a little bit too careful, but that's always better than not being careful enough. We made some changes to the car for the afternoon to help it cope with the rougher terrain even better, but it was still very difficult. We picked up a bit of a damage, with the front wing coming off, but not enough to affect us too much. We've seen that the car is fast and strong, so there are lots of reasons to be happy as we go into tomorrow."
Esapekka Lappi (Driver car 12)
"It was a good day for me, even though we lost some time with a hole in the intercooler in the afternoon, which affected the amount of power. Apart from that I'm quite happy: I tried not to take any risks and play my way into it gradually. Today was all about building up confidence, especially as the roads were more slippery and softer than I expected. I think we are OK in the slow corners; in the fast corners, I feel we can go quicker, but for now I'm not quite brave enough!"
End of day two:
1 Ott Tanak/Martin Jarveoja (Ford Fiesta WRC) 1h37m18.5s
2 Dani Sordo/Marc Marti (Hyundai i20 Coupe WRC) +4.6s
3 Sebastien Ogier/Julien Ingrassia (Ford Fiesta WRC) +5.0s
4 Craig Breen/Scott Martin (Citroen C3 WRC) +12.9s
5 Elfyn Evans/Daniel Barritt (Ford Fiesta WRC) +18.3s
6 Thierry Neuville/Nicolas Gilsoul (Hyundai i20 Coupe WRC) +22.7s
7 Juho Hänninen/Kaj Lindström (Toyota Yaris WRC) +52.0s
8 Esapekka Lappi/Janne Ferm (Toyota Yaris WRC) +1m12.3s
9 Andreas Mikkelsen/Anders Jaeger (Skoda Fabia R5) +3m17.8s
10 Mads Ostberg/Ola Floene (Ford Fiesta WRC) +3m50.0s
13 Jari-Matti Latvala/Miikka Anttila (Toyota Yaris WRC) +4m51.2s
(Results as of 21:00 on Friday, for the latest results please visit www.wrc.com)

Topics:
Rally Portugal is where one of the most successful drivers in Toyota's rallying history made an astonishing debut, exactly 30 years ago. Carlos Sainz – a two-time champion with Toyota in 1990 and 1992 – began his WRC career on the 1987 Rally Portugal, and incredibly he won the first special stage that he ever contested, in Estoril, before retiring his Ford Sierra with mechanical problems. This great achievement was echoed by current World Rally Championship leader Sebastien Ogier 21 years later, who won the opening stage of Rally Great Britain on his debut in a World Rally Car.
What's next?
Tomorrow contains the longest competitive distance of the whole rally, with 154.56 kilometres. The drivers will tackle six stages in total, split into two loops of three with one service halt between the loops back in Matosinhos Exponor. Each loop contains the longest stage of the rally: Amarante, at 37.55 kilometres.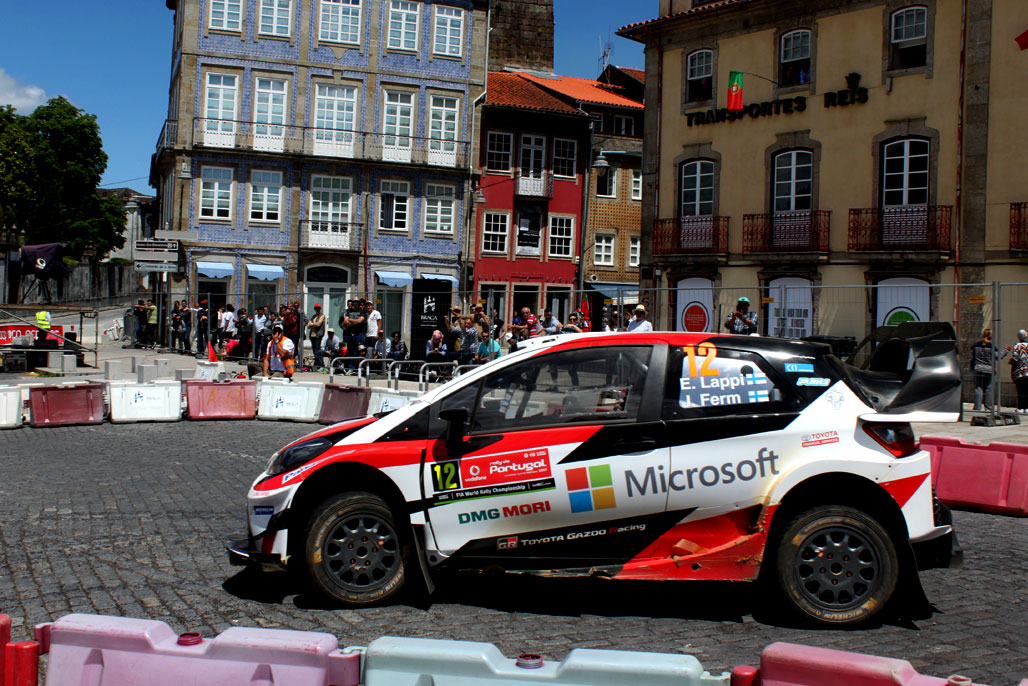 PICTURES WILL BE UPLOADED HERE DURING THE EVENT
URL: https://www.tgrwrt.com/
<NOTE>
- The content is password protected only for media.
- To request access, please send an email to tgr_pr@rights-apartment.com(TOYOTA GAZOO Racing PR Office)
Follow us!
Follow TOYOTA GAZOO Racing WRT:
Facebook: https://www.facebook.com/TOYOTAGAZOORacingWRC
Twitter: https://www.twitter.com/TGR_WRC (@TGR_WRC)
Instagram: https://www.instagram.com/tgr_wrc/ (@TGR_WRC)
YouTube: https://www.youtube.com/channel/UCCtALHup92q5xIFb7n9UXVg