Rallye Deutschland: Day 2

Tricky asphalt tests TOYOTA GAZOO Racing trio

The first full day of competition on Rallye Deutschland was dominated by challenging weather conditions, with changing grip levels during the morning stages and heavy rain in the afternoon. Juho Hänninen ended the day holding sixth overall for the TOYOTA GAZOO Racing World Rally Team, two places ahead of Jari-Matti Latvala.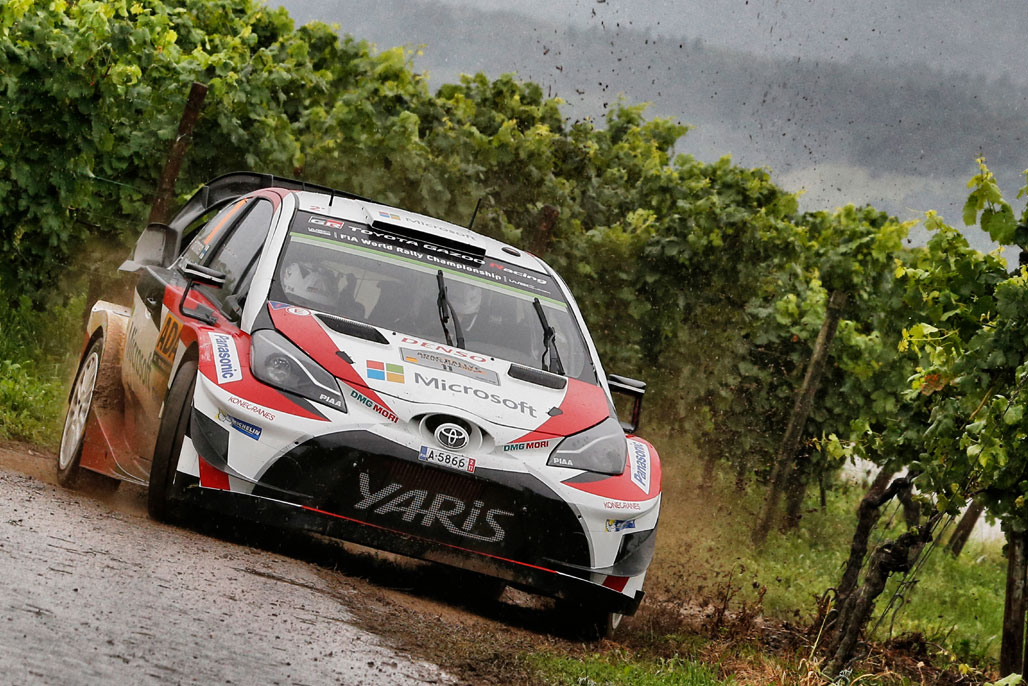 Latvala was running in the top five before he was slowed by an issue on the final stage of the morning loop. The Toyota mechanics replaced the ignition system during the mid-day service to allow Latvala and his Yaris WRC to run at full speed again in the afternoon, and he won the last stage of the day. Hänninen meanwhile recovered well from going off the road in the second stage of the day to move into the top six on the day's final stage. Rally Finland winner Esapekka Lappi was second-quickest on the first run of the Grafschaft stage, but on the repeat pass he hit a patch of mud and slid wide, damaging his suspension. He was forced to retire from the day, but plans to return to action on Saturday.
Quotes:
Tommi Mäkinen (Team principal)
"Today was a difficult day for all the crews with the weather conditions. When it is like this it is really easy to make a mistake on these roads. Unfortunately, that is what happened to Esapekka, who was again doing a good job before then. Jari-Matti's car had a problem relating to the ignition, although we still need to fully investigate it. Juho has driven really well today on a rally that he doesn't know very well. In conditions like these the drivers really have to be clever. Tomorrow will be a big day and hopefully it can be a good one for us."
Jari-Matti Latvala (Driver car 10)
"This morning the conditions were difficult, because some parts of the road were dry and some parts were damp, and the grip levels were changing all the time. Despite this, we had quite a good consistent run and I was looking forward to improving after service. But then before stage five we had the problem with the ignition. The team resolved this for the afternoon, when the stages were very wet and very muddy and it was difficult to get a good feeling with the driving. Tomorrow is going to be important; hopefully we can gain some more places."
Juho Hänninen (Driver car 11)
"Today was quite OK. In the morning, the rain was not heavy but it was enough to make it slippery, and on one corner I went wide into the vineyards and damaged the front of the car. Luckily, we were able to continue. The afternoon was tricky because of the rain and I was a bit too careful, but we did gain some places. I haven't been here for a few years, so because I don't know the stages, it's difficult to have a more aggressive approach. It's so easy to make a mistake here, but the car was working really, really well today."
Esapekka Lappi (Driver car 12)
"It was a left-right combination and a lot of mud in the cut and also over the road, and I was just too fast over that and slid into the wall on the exit. That broke the suspension and we had to retire from today. Before that it was going pretty well. It was difficult to make the right tyre choice, but we set some good stage times. It should be possible to restart tomorrow so that we can gain some more mileage here, which is the key thing for learning."
End of Day 2 (Friday):
1 Ott Tanak/Martin Jarveoja (Ford Fiesta WRC) 1h07m23.0s
2 Andreas Mikkelsen/Anders Jaeger (Citroen C3 WRC) +5.7s
3 Thierry Neuville/Nicolas Gilsoul (Hyundai i20 Coupe WRC) +28.2s
4 Sebastien Ogier/Julien Ingrassia (Ford Fiesta WRC) +30.6s
5 Elfyn Evans/Daniel Barritt (Ford Fiesta WRC) +52.1s
6 Juho Hänninen/Kaj Lindström (Toyota Yaris WRC) +1m14.7s
7 Craig Breen/Scott Martin (Citroen C3 WRC): +1m24.5s
8 Jari-Matti Latvala/Miikka Anttila (Toyota Yaris WRC) +1m54.7s
9 Hayden Paddon/Seb Marshall (Hyundai i20 Coupe WRC) +2m29.5s
10 Jan Kopecky/Pavel Dresler (Skoda Fabia R5) +3m36.2s
40 Esapekka Lappi/Janne Ferm (Toyota Yaris WRC) +14m30.1s
(Results as of 21:00 on Friday, for the latest results please visit www.wrc.com)

Topics:
The most recent winner of Rallye Deutschland in a Toyota was Denmark's Henrik Lundgaard in 2000, when it was a round of the European Rally Championship rather than the World Rally Championship. Lundgaard, driving a Corolla WRC, went on to become European Rally Champion that year. Another former Toyota winner of Rallye Deutschland (before it joined the World Rally Championship in 2002) was Mathias Kahle, again in a Corolla WRC, who became German Rally Champion with the Japanese manufacturer in 1997: exactly 20 years ago.
What's next?
Tomorrow the focus is on the stages on the notorious Baumholder military grounds. After the first car leaves service at 08:15, there is the first of three runs over the short Arena Panzerplatte super special stage, before the hugely challenging Panzerplatte stage itself, which is 41.97 kilometres long. There are also two stages further to the south, Freisen and Romerstrasse, which like the Panzerplatte test will be run twice either side of mid-day service at Bostalsee.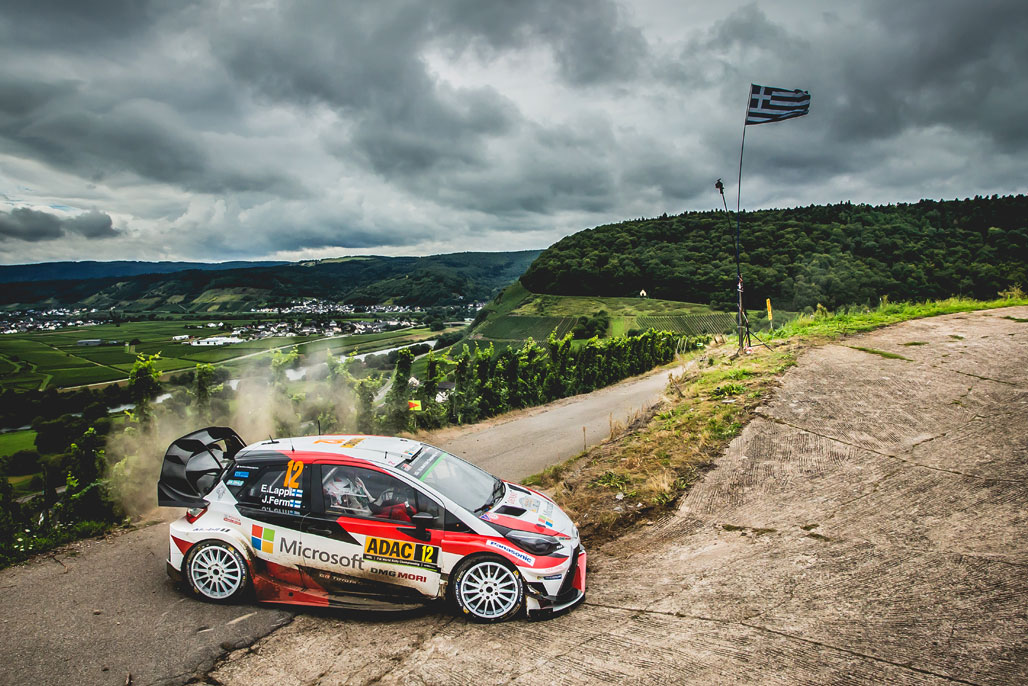 PICTURES WILL BE UPLOADED HERE DURING THE EVENT
URL: https://www.tgrwrt.com/
<NOTE>
- The content is password protected only for media.
- To request access, please send an email to tgr_pr@rights-apartment.com(TOYOTA GAZOO Racing PR Office)
Follow us!
Follow TOYOTA GAZOO Racing WRT:
Facebook: https://www.facebook.com/TOYOTAGAZOORacingWRC
Twitter: https://www.twitter.com/TGR_WRC (@TGR_WRC)
Instagram: https://www.instagram.com/tgr_wrc/ (@TGR_WRC)
YouTube: https://www.youtube.com/channel/UCCtALHup92q5xIFb7n9UXVg