Rally GB: DAY3

Latvala and the Yaris WRC in strong contention going into the final day

Jari-Matti Latvala goes into the final day of Wales Rally GB within touching distance of the podium positions after a long day of stages in which the performance improved throughout for the TOYOTA GAZOO Racing World Rally Team. After taking a stage win in foggy and dark conditions, Latvala climbed to fourth place overall, while Esapekka Lappi also made progress to ninth. Sadly, Juho Hänninen was forced to retire following contact, having also posted stronger times.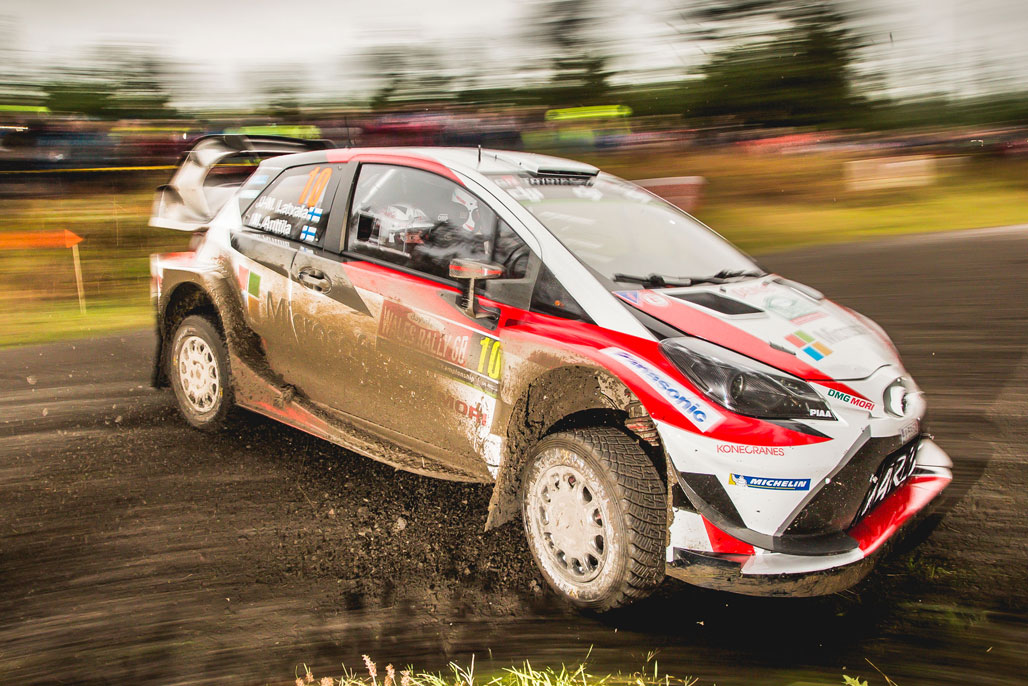 The day's itinerary featured nine stages and a total of 16 hours from start to finish, ending with two stages held in darkness. Having felt increasingly happy with the feeling of his Yaris WRC during the day, it was here where Latvala excelled, taking a stage win in dense fog on Aberhirnant to climb two places to fourth overall. He ended the day only 4.6 seconds away from second place.
Lappi also had a strong finish to the day, with three consecutive top-five stage times and his best performance of the weekend so far in the night's final test, having moved into ninth overall. Like his team-mates, Hänninen enjoyed a stronger performance during the morning, achieving the second-fastest time on the day's longest stage, Dyfi. His rally ended however when he clipped a hay bale on the asphalt Cholmondeley Castle stage, damaging his car's suspension.
Quotes:
Tommi Mäkinen (Team Principal)
"The performance looks much better now that we had the chance to make some changes to the car. I think that our pre-event test took place in conditions that were too warm, and we made some mistakes with the setup because of this. Unfortunately, yesterday and today there were a lot of kilometres before we could get the cars back to service and make changes: only last night and then very late this afternoon. Now we have improved things and everything is looking better. Jari-Matti did an absolutely brilliant attacking drive in the fog in the first night stage, and I'm sure he will fight for the podium tomorrow. Esapekka also seems to now have a good feeling with the car. We are sad for what happened to Juho on his last event. It can happen so easily: a little mistake that had big consequences. I know the feeling and it's not nice, but I would like to thank him for all his hard work this season."
Jari-Matti Latvala (Driver car 10)
"Things started a bit slowly in the first stage this morning but they just kept improving after that. We had much better traction than we did on Friday, and although we have still been struggling with understeer, we kept playing with the dampers during the day and this helped the car to feel better and better, and the stage times became quicker. Tonight in the dark and the fog I was quite happy with the performance. Sometimes you have to attack when the conditions are trickiest. The grip was quite good and the feeling with the car was good. I'm looking forward to tomorrow now."
Juho Hänninen (Driver car 11)
"Things were better this morning than they were yesterday. We made some changes with the car that helped us compensate for all the mud that we are collecting on stages, so the rear was not sitting down so much meaning we could have better traction at the front. Unfortunately on the Cholmondeley stage I braked a bit too late and hit a hay bale, broke a front damper and had to retire. There is also some damage to the chassis so we won't be able to restart tomorrow."
Esapekka Lappi (Driver car 12)
"Today was certainly better than yesterday. It helped that we were the third car on the road. We made some big changes in service last night and the car started to feel good. I was still struggling for confidence but it has been a bit more enjoyable today. We made more changes in service before the night stages and I think these helped, as the grip felt better than on the previous stages."
End of Day 3(Saturday):
1 Elfyn Evans/Daniel Barritt (Ford Fiesta WRC) 2h32m39.2s
2 Sebastien Ogier/Julien Ingrassia (Ford Fiesta WRC) +53.1s
3 Thierry Neuville/Nicolas Gilsoul (Hyundai i20 Coupe WRC) +53.6s
4 Jari-Matti Latvala/Miikka Anttila (Toyota Yaris WRC) +57.7s
5 Andreas Mikkelsen/Anders Jaeger (Hyundai i20 Coupe WRC) +1m03.6s
6 Ott Tanak/Martin Jarveoja (Ford Fiesta WRC) +1m06.1s
7 Kris Meeke/Paul Nagle (Citroen C3 WRC): +1m27.6s
8 Hayden Paddon/Seb Marshall (Hyundai i20 Coupe WRC) +2m04.0s
9 Esapekka Lappi/Janne Ferm (Toyota Yaris WRC) +2m41.0s
10 Dani Sordo/Marc Marti (Hyundai i20 Coupe WRC) +3m35.8s
Ret Juho Hänninen/Kaj Lindström (Toyota Yaris WRC)
(Results as of 22:00 on Saturday, for the latest results please visit www.wrc.com)

Topics:
Jari-Matti Latvala recently drove a classic Toyota from the past at Rallyday, an event held in England at Castle Combe circuit. Latvala got behind the wheel of a Toyota Celica ST185: exactly the same car that won the 1994 Portugal Rally with Latvala's compatriot Juha Kankkunen and Welsh co-driver Nicky Grist – who is now the owner of the car. The ST185 was driven to three WRC drivers' titles between 1992 and 1994 by Carlos Sainz, Kankkunen and Didier Auriol, and also delivered two manufacturers' titles for Toyota.
What's next?
The rally concludes with five relatively short stages tomorrow. The Alwen and Brenig stages will be run twice, separated by a single visit to Gwydir. The second pass of the lakeside Brenig test will count as the rally-ending Power Stage, before the finish in Llandudno at 13:35.
PICTURES WILL BE UPLOADED HERE DURING THE EVENT
URL: https://www.tgrwrt.com/
<NOTE>
- The content is password protected only for media.
- To request access, please send an email to tgr_pr@rights-apartment.com(TOYOTA GAZOO Racing PR Office)
Follow us!
Follow TOYOTA GAZOO Racing WRT:
Facebook: https://www.facebook.com/TOYOTAGAZOORacingWRC
Twitter: https://www.twitter.com/TGR_WRC (@TGR_WRC)
Instagram: https://www.instagram.com/tgr_wrc/ (@TGR_WRC)
YouTube: https://www.youtube.com/channel/UCCtALHup92q5xIFb7n9UXVg