2018-19 WEC Round 4 6 Hours of Fuji: Race

FANTASTIC FUJI ONE-TWO FOR TOYOTA GAZOO Racing

TOYOTA GAZOO Racing delighted an enthusiastic home crowd by earning a one-two victory in the 6 Hours of Fuji, the fourth round of the 2018-19 FIA World Endurance Championship (WEC).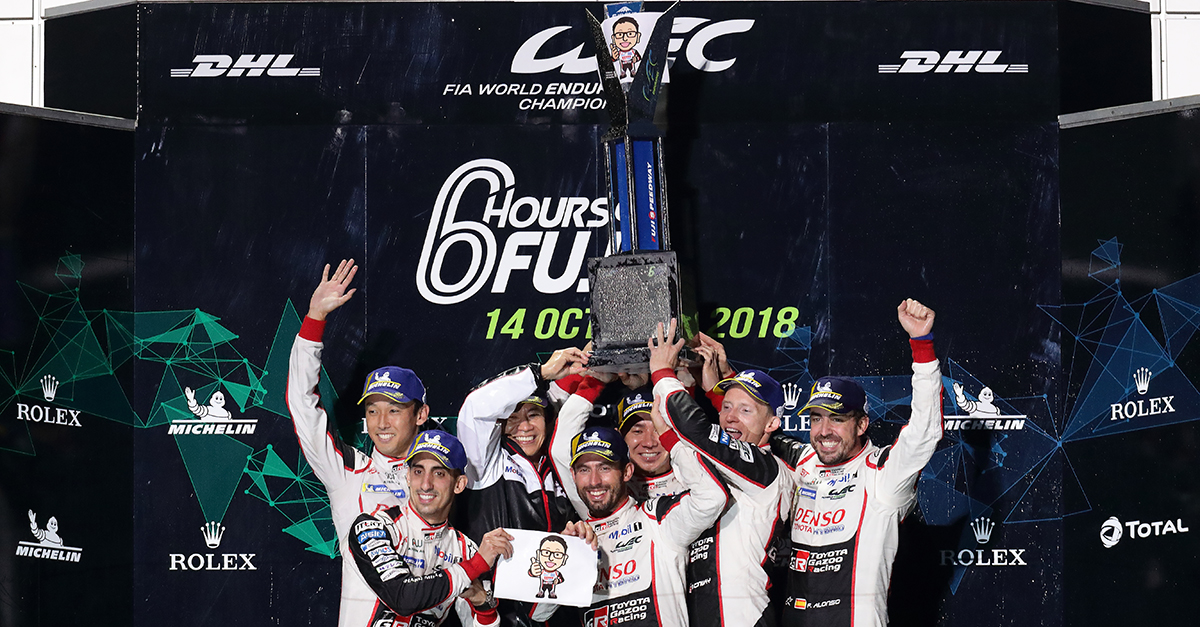 A compelling race saw the #7 TS050 HYBRID of Mike Conway, Kamui Kobayashi and José María López cross the line in front, just 11.440secs ahead of team-mates Sébastien Buemi, Kazuki Nakajima and Fernando Alonso in the #8 car, for their first win of the season despite starting eighth.
That marked Toyota's sixth win from seven WEC races at its home circuit, while for Mike and Kamui it is their first victory since a memorable triumph at Fuji in 2016. It was a particularly special race for José, who set the fastest lap and earned his first-ever WEC win, having joined the team last season.
The result extends TOYOTA GAZOO Racing's lead in the teams' World Championship to 14 points over Rebellion Racing. Sébastien, Kazuki and Fernando stretched their advantage in the drivers' standings, with Mike, Kamui and José moving up to second, 13 points behind.
An action-packed start on a wet track saw Kazuki in the pole position #8 hold the advantage while Kamui put on an overtaking show in the #7, exploiting the advantage of four-wheel drive in the difficult conditions to move from eighth on the grid to second by lap two.
The excitement continued throughout a fascinating first hour. Kamui pitted early to switch to heavy wet tyres before a safety car period eliminated Kazuki's lead of over one minute. Soon after, the #8 switched to hybrid intermediate tyres, leaving the #11 SMP in the lead.
Changing weather added to the drama, with bright sunshine drying the track towards the end of the safety car period. That left Kamui on inappropriate tyres for the conditions so he was the first to pit for slick tyres after the 30-minute interruption and he took advantage by immediately setting very quick lap times.
Kazuki and the other LMP1 cars did likewise soon after and when the running order stabilised early in the second hour, Kamui led in the #7 with Kazuki close behind and both TS050 HYBRIDs steadily building a gap to the third-placed #1 Rebellion.
When Kazuki handed over to Sébastien after two intense hours, the #8 was around 10 seconds behind its sister car, but with newer tyres Sébastien began to close the gap on a fully dry track. The #8 took over the lead when Kamui brought his epic two-and-a-half-hour stint to an end, with Mike taking the wheel.
The momentum swung between the two cars, depending on who had the newer tyres. After a full course yellow with two hours remaining, José in the #7 led by around 20 seconds from Fernando in the #8 and the pair pushed each other hard.
José set what turned out to be the fastest lap of the race on lap 153 and he kept a stable gap at the front until handing the lead to Kamui with just over 30 minutes remaining. Kamui had the honour of taking the chequered flag in the #7, with Kazuki bring the #8 home second for a perfect team result.
The team is determined to repeat that result when WEC heads to China for the final race in 2018 and the fifth of eight races this season, the 6 Hours of Shanghai on Sunday 18 November.
Hisatake Murata, Team President:
"I'm really happy with this perfect result and I am also pleased we could put on such a great spectacle for the fans here at Fuji Speedway. All week they have given us fantastic support so I hope they enjoyed watching this exciting race. As our home race, Fuji is a very important event for us and the target was always to earn another one-two victory in front of our fans and colleagues. We could achieve that because the team worked hard and performed well, even when faced with difficult weather conditions early in the race, so I am proud of their effort."
TS050 HYBRID #7
Race: 1st, 230 laps, 8 pit stops. Grid: 8th. Fastest lap: 1min 25.603secs
Mike Conway (TS050 HYBRID #7):
"I am really pleased with this result; to get a one-two in Toyota's home race is a nice feeling. It was not an easy race, especially starting from eighth but our car performed really well and my team-mates did a fantastic job as usual; they were solid and consistent which was exactly what we needed. It's great to get another win after coming so close for the last two years and to get it now at the home race is obviously great. "
Kamui Kobayashi (TS050 HYBRID #7):
"It's amazing to win my home race for the second time. The team has done a great job all weekend and they really deserve this. We were disappointed after qualifying but we came back in the best way possible with a victory. We have waited a long time on car #7 for this; finally we are in the centre of the podium again. I think this can be a turning point for us for the rest of the season but now we need to celebrate this moment."
José María López (TS050 HYBRID #7):
"After the disappointment from qualifying it feels so good to achieve the first win with Toyota. It's also a fantastic feeling to win for the first time in WEC. The most important thing is to thank everyone in Higashi-Fuji and Cologne who make it all possible as well as Mike and Kamui; it is a privilege to share a car with these guys. Together we have bounced back in a very important race for us and I cannot describe how happy I am."
TS050 HYBRID #8
Race: 2nd, 230 laps, 8 pit stops. Grid: 1st. Fastest lap: 1min 26.043secs
Sébastien Buemi (TS050 HYBRID #8):
"Congratulations to the #7 guys, they did a great job and deserve this victory. On our car we were strong but the #7 was just a tiny bit quicker than us most of the race. Congratulations as well to the team for a perfect result in our home event; I'm happy we could achieve a one-two and I hope everyone enjoyed the race."
Kazuki Nakajima (TS050 HYBRID #8):
"It was a great result for the team to get a one-two here at Fuji Speedway; it is a special moment. For our car it was a difficult race today because the #7 had better pace in the dry conditions and we were a bit unlucky with the safety car. But no complaints; that's racing. Today we finished second but we did a great job as a team for both World Championships."
Fernando Alonso (TS050 HYBRID #8):
"It was a good race. We were a bit unlucky with the safety car - we were one minute 20 seconds in front and all that advantage was neutralised, but these things happen in motorsport. We were not quite quick enough to battle the #7 today; congratulations to them. They deserved it because they have been very fast all weekend. It has been a positive day for the championship; we have extended the lead in both so overall it's a very good weekend. "
Akio Toyoda, Toyota Motor Corporation President:
"We have achieved an excellent result of finishing the FIA World Endurance Championship 6 Hours of Fuji with a 1-2 finish. I would like to express our appreciation to all the fans supported us. The 6 Hours of Fuji this year meant a lot to us; a triumphant home return following the Le Mans 24 Hours, a chance to race again after the disappointment of the previous race and the home race of TOYOTA GAZOO Racing. Many fans, partners and suppliers who support our activities came to Fuji. In order to convey gratitude to them, I really wanted to be there but unfortunately I could not make it. I believe the best way to show them our gratitude as TOYOTA GAZOO Racing is to have a great race and I especially really wanted them to see a one-two finish like at Le Mans on our home circuit. What I could do for this purpose was to send a message to the drivers before the race: "Please drive out and enjoy the battle to the finish line!" And prior to the race, they replied to me: "We are going to race hard!" They really drove six hours like that. I think such a race could show TOYOTA GAZOO Racing's passion to those who supported us and I would like to thank all the drivers for this. Although I could not be on site, I felt the feelings of everyone in the team from the TV screen and I was able to fight with them as one team. Thank you very much to the all team members for this one-two finish, and congratulations on the long-awaited win for all on car #7! And for the fans who always support us, thank you very much. We appreciate your continued support."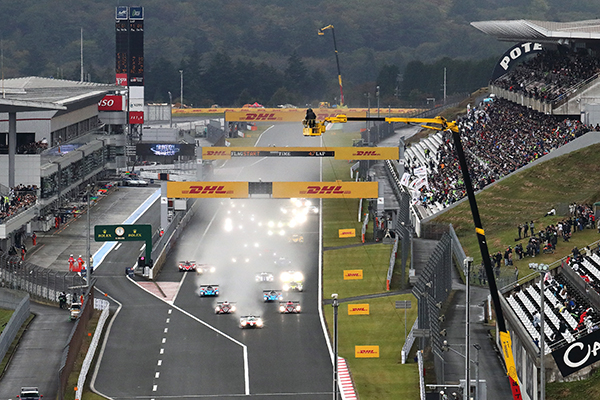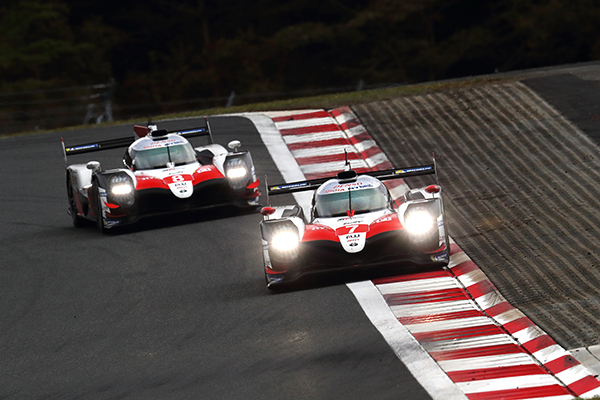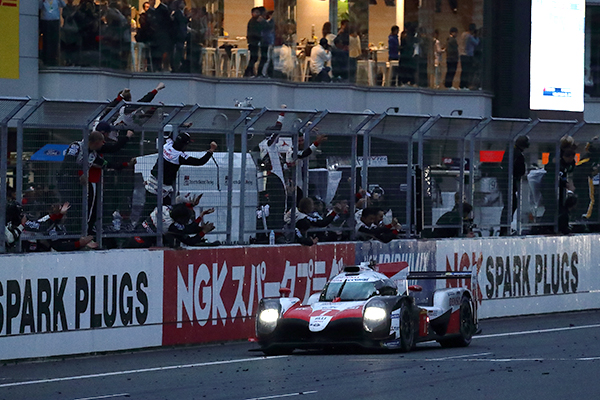 6 Hours of Fuji results:
1st#7 TOYOTA GAZOO Racing230 laps

2nd#8 TOYOTA GAZOO Racing+11.440secs

3rd #1 Rebellion (Jani/Lotterer/Senna)+4 laps

4th#11 SMP (Aleshin/Petrov/Button)+11 laps
5th#4 ByKolles (Webb/ Dillmann/Rossiter) +11 laps
6th #37 Jackie Chan (Jaafar/Tan/Jeffri)+13 laps
Pictures will be uploaded here during the event
URL: https://www.tgr-dam.com
*In order to access the new media site, please register your ID and password through above URL.
<NOTE>
- The content is password protected only for media.