Katsuta makes impressive progress in Corsica
TOYOTA GAZOO Racing Rally Challenge Program driver Takamoto Katsuta showed great progress on the always-challenging Tour de Corse, finishing a fine fourth in the WRC2 class after improving his performance throughout the event and avoiding major trouble.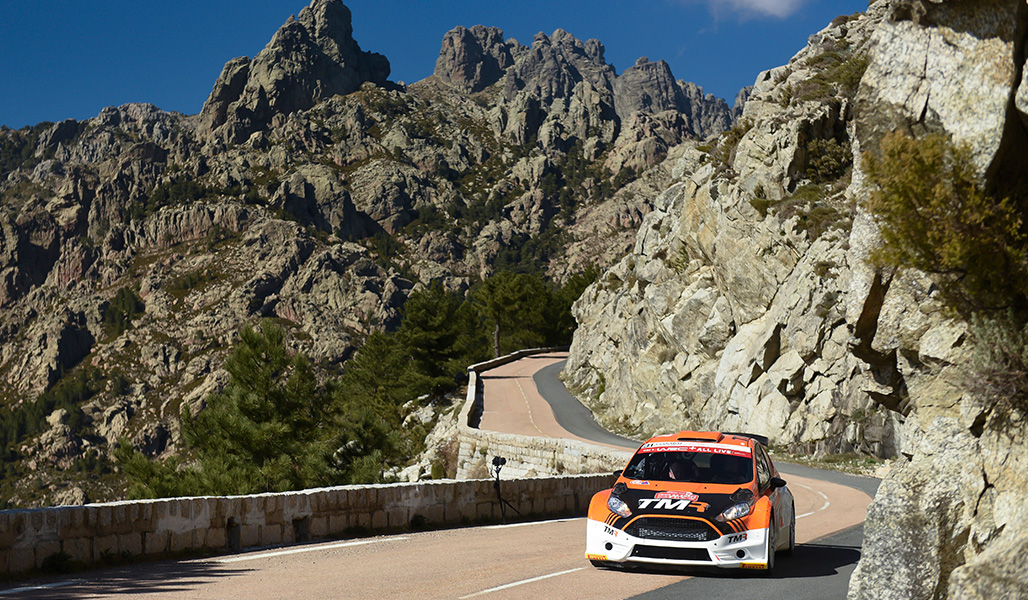 Taking place on the French island of Corsica, the event is known as the 'Rally of 10,000 Corners' because of its twisting and narrow asphalt stages. With the creation and delivery of accurate pace-notes being crucial, Katsuta (making his second appearance on the event after a challenging debut there in 2018) could rely on the experience of his co-driver Dan Barritt, who has previously finished second overall on the rally.
Driving stages that were completely new to him in the south of the island, Katsuta made a solid start to the event on Friday in his Ford Fiesta R5, climbing from 12th to ninth in his class. On Saturday, which included more familiar stages in the north of Corsica, Katsuta made superb progress, improving his stage times throughout the day to go second-fastest on the penultimate test. His speed, combined with incidents for other drivers on the demanding stages, brought him up to fifth in WRC2, before gaining one more place on Sunday morning.
Quotes:
Takamoto Katsuta
"This was not an easy rally, but I enjoyed it a lot. I learned a lot last year, both here and in Spain, about asphalt driving and now my performance is getting better. If I compare to last year, it's a big improvement, both with my driving and with the pace-notes. Every stage was tricky with a different kind of character. On some stages we were able to set good times and show our speed, while on the trickier stages our strategy was to stay on the road and not push too much. I'm happy that we could follow this strategy. Rallies like this are about gaining experience, so I don't expect too much in terms of a result. I'm therefore quite happy to finish fourth. Thank you to the team and also to Dan, he helped me a lot here."
Juho Hänninen (TOYOTA GAZOO Racing Rally Challenge Program coach)
"I am really happy that Taka drove steadily through the rally and was able to improve his asphalt driving. He didn't make any big mistakes, and also showed good speed. It's clear that he has learned and improved a lot since he did this same event last year. That he set a second-fastest stage time on Saturday is a really promising sign for the future, when hopefully he can build on that performance."
WRC2 Results:
1 Fabio Andolfi/Simone Scattolin (Skoda Fabia R5) 3h34m08.6s
2 Nikolay Gryazin/Yaroslav Federov (Skoda Fabia R5) +3.9s
3 Kajetan Kajetanowicz/Maciek Szczepaniak (Volkswagen Polo GTI R5) +2m53.3s
4 Takamoto Katsuta/Daniel Barritt (Ford Fiesta R5) +3m51.9s
5 Rhys Yates/James Morgan (Skoda Fabia R5) +3m58.5s
What's next?
Katsuta will compete in an FIA World Rally Championship round outside of Europe for the first time when he takes part in Rally Argentina (April 25-28) in the Fiesta R5. The event features a mixture of sandy and rocky gravel stages.
Pictures will be uploaded here during the event
URL: https://www.tgr-dam.com
*In order to access the new media site, please register your ID and password through above URL.
<NOTE>
- The content is password protected only for media.
TOYOTA GAZOO Racing Rally Challenge Program is supported by Otsuka Pharmaceutical.