TOYOTA GAZOO Racing Rally Challenge Program
An early end to Rally Finland for Katsuta
Takamoto Katsuta had to retire from Rally Finland before the halfway point, as a tough event behind the wheel of a new car for the TOYOTA GAZOO Racing Rally Challenge Program driver ended with damage on the first stage on Saturday.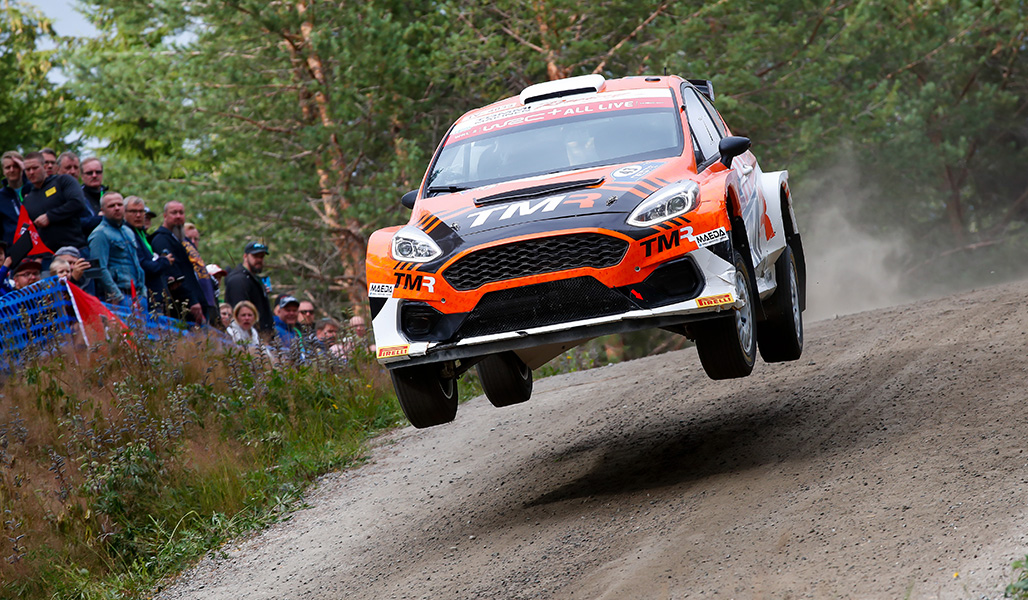 Katsuta was taking part in Rally Finland for the fourth time, and is familiar with its high-speed gravel stages having also contested a number of other rallies in the country during his development. He was driving an unfamiliar car though, in the form of the brand new Ford Fiesta R5, making its FIA World Rally Championship debut on this event. Katsuta had driven the car in the recent Rally Estonia, but only completed three stages, meaning he was still limited on time in the car.
Despite that, Katsuta and his co-driver Daniel Barritt had a positive start to the rally, avoiding mistakes during Friday to move into a podium position in the WRC 2 category, ahead of the only other new-specification car. Katsuta's rally came to an end however on the first corner of Saturday's opening test, when he hit a concrete block that was hidden behind a stage marker on the outside of the bend: the damage to the car was too much for a restart on Sunday.
Quotes:
Takamoto Katsuta:
"We had a lot to learn about the new car because we couldn't drive so much in Estonia. It was a difficult situation, needing to develop the car, but I tried to push on each stage and on some of them on Friday we could set pretty good times, very close to the leaders. Overall, I was happy with my performance on Friday, and I was going to try the same approach on Saturday. But on the first corner of the first stage there was a big concrete block hidden behind a marker flag: I thought it was just the flag there and I kept to my line, but then suddenly there was a big hit. It was a small mistake, but it ended our rally. It was a big disappointment for me, but I will learn from this and look forward to my next challenge."
Jarkko Miettinen (TOYOTA GAZOO Racing Rally Challenge Program instructor):
"I felt sorry for Taka and Dan that had to retire because of such a small mistake. Friday was good for them and Taka drove well and showed strong performance with an unfamiliar car. It would have been important to drive through all the stages with competitive speed for the future, but unfortunately it ended like this. But that's why rallying is such a thrilling sport – it can end in the first or last corner of the event."
WRC 2 Results:
1 Nikolay Gryazin/Yaroslav Federov (Skoda Fabia R5) 2h41m09.0s
2 Jari Huttunen/Mikko Lukka (Hyundai i20 R5) +14.0s
3 Johan Kristoffersson/Stig Rune Skjaermoen (Volkswagen Polo R5) +2m03.8s
4 Pierre-Louis Loubet/Vincent Landais (Skoda Fabia R5 Evo) +6m44.5s
5 Henning Solberg/Ilkor Minor (Skoda Fabia R5 Evo) +10m46.8s
Retired Takamoto Katsuta/Daniel Barritt (Ford Fiesta R5)
What's next?
For the first time, Katsuta will drive a World Rally Car on a FIA World Rally Championship event when he contests Rallye Deutschland on August 22-25 in a Toyota Yaris WRC: his first asphalt rally in the car.
Pictures will be uploaded here during the event
URL: https://www.tgr-dam.com
*In order to access the media site, please register your ID and password through above URL.
<NOTE>
- The content is password protected only for media.
TOYOTA GAZOO Racing Rally Challenge Program is supported by following partners.