TOYOTA GAZOO Racing will be part of another chapter in Le Mans 24 Hours legend when it takes on a record Hypercar field in front of a sell-out crowd for the centenary edition of the world's most famous endurance race on 10-11 June.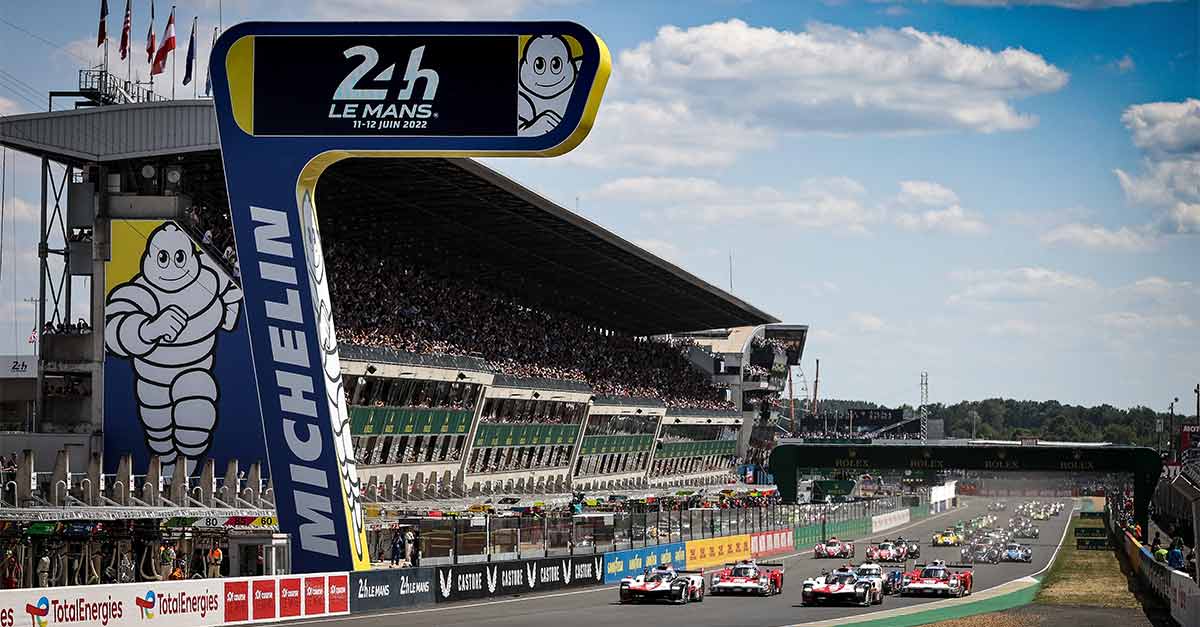 After five consecutive victories since 2018, TOYOTA GAZOO Racing targets a double hat-trick of wins against a 62-car field, including 16 Hypercars from other legendary marques such as Cadillac, Ferrari, Peugeot and Porsche. Only two other manufacturers have won for six straight years at Le Mans; Ferrari from 1960 to 1965 and Porsche from 1981 to 1987.

This year's race is more prestigious than ever, with 300,000 fans expected for the 100th anniversary edition of an event which began back in 1923 as a showcase for the latest automotive technology and has pioneered road-relevant innovations ever since.

TOYOTA GAZOO Racing has made a superb start to the 2023 FIA Endurance Championship thanks to three wins from the opening three races, most recently a one-two in the 6 Hours of Spa-Francorchamps. With double points on offer, the team can take a major step towards a fifth consecutive world title at Le Mans.

Mike Conway, Kamui Kobayashi and José María López, in the #7 GR010 HYBRID, came out on top at Spa in April. That was perfect preparation for Le Mans, where they go in search of a second victory together, following their win in 2021 at the beginning of the Hypercar era.

Sébastien Buemi, Brendon Hartley and Ryo Hirakawa won Le Mans a year ago in the #8 GR010 HYBRID and they go into the centenary edition as World Championship leaders after fighting back to finish second at Spa, despite starting from the back of the grid.

Sébastien is the team's most successful driver at La Sarthe, with four victories to his name, while Kamui's five pole positions have contributed to the team's record-equalling six consecutive poles since 2017.

This year marks Toyota's 25th participation at Le Mans since its debut in 1985, and its 12th with Hybrid power, highlighting its dedication to enhancing hybrid technology in endurance racing, creating ever-better cars for its customers through motorsport.

Although the GR010 HYBRID made its Le Mans debut two years ago, the car has evolved continuously since it became the first Hypercar winner and arrives in La Sarthe following further adjustments over the winter.

The high-performance Racing Hybrid powertrain, which consists of 520kW (707PS) 3.5litre engine and 200kW (272PS) electric motor, underwent changes to reduce weight and enhance reliability, exploiting the unique knowledge gained from more than a decade of experience with hybrid powertrains at Le Mans.

The 2023-specification GR010 HYBRID, which is powered by 100% renewable bio fuel, features aerodynamic adjustments and other detail changes to enhance drivability and aerodynamic consistency.

Those updates have already been validated in competition during the first three WEC races of 2023, but the latest evolution of the GR010 HYBRID will turn its first laps of the Circuit de la Sarthe on Sunday, during the traditional test day.

Official sessions begin next week with two practice sessions on Wednesday either side of first qualifying, when the fastest eight cars from each class will progress to Thursday's 30-minute Hyperpole shoot-out, which takes place at 8pm CEST. Two further practice sessions complete the track action on Thursday.

The team will spend Friday rebuilding and preparing its cars before the 91st running of the Le Mans 24 Hours begins on Saturday 10 June at 4pm CEST. It concludes 24 hours later when another page will be added to the illustrious history of endurance racing's most prestigious event.
Kamui Kobayashi (Team Principal and driver, car #7):
"Le Mans is the highlight of our season and the race we want to win most of all. The team in Higashi-Fuji and Cologne, plus all our suppliers and partners, work intensely for a whole year with a big focus on this race. Thank you to everyone, including our colleagues at Toyota Motor Corporation and Gazoo Racing Company whose support is so important to us, for their huge effort to start the WEC season with three wins. This puts us in a strong position but the first three races don't count for anything at Le Mans. We need to start from the beginning and prepare our car perfectly, find the best set-ups and once again show our great team spirit because our competition is getting stronger all the time. Le Mans can create many surprises, so we will be prepared for everything. The 100th anniversary of this great race, with so many fans there to enjoy it, will be a very special occasion and we cannot wait to be part of it."
Mike Conway (Driver, car #7):
"Le Mans is the big one, the race everyone wants to win. I feel like the #7 car has been on top of our game there for the past few years but too many times something has happened and we've missed out. But that's the nature of Le Mans; it's a very difficult race to win. This year I think we have all the ingredients in place to challenge for the win again, and I know we are capable of fighting at the front. It's going to be a huge challenge for the whole team; it's always a tough, exhausting week, but we know the job ahead of us. This team knows how to win Le Mans and we are determined to bring it home again."
José María López (Driver, car #7):
"I have been looking forward to this Le Mans for a long time and it is a pleasure to be part of this team taking part in such an historic event. I love the race, and I love the track too. Driving our GR010 HYBRID at Le Mans is an amazing experience; you can really feel that our car was built for this track. It's exciting to hear there will be 300,000 fans at the race and I can understand why because it will be unique. Not only is it the centenary race, but some of the biggest manufacturers are competing against each other. We are pushing hard to be at the front; the target is always to win."
Sébastien Buemi (Driver, car #8):
"It is always exciting to compete at Le Mans, with its atmosphere and history, but this year it is even more special. Le Mans is the ultimate test of endurance, and it's an honour to be a part of this unique edition. This will be my 12th time there with the team. We have been on a great journey together and experienced so many emotions, particularly at Le Mans where it all began together back in 2012. Back then, I couldn't have dreamed of winning the race four times and being part of this story for so long. We will need all our experience to meet a strong challenge this year, but I am confident we will be ready."
Brendon Hartley (Driver, car #8):
"It's going to be a really special occasion and it's a big honour to be on the grid for the 100th anniversary of Le Mans, especially when you look back at the history of this race. Le Mans is always a huge challenge and that's truer than ever this year with so many Hypercars. Even though we started the season with three wins, we have seen the new teams are getting to grips with their cars and, like us, I am sure they have put a huge effort into Le Mans. So we expect a big fight, with no margin for error. It's going to be a great spectacle for the fans, but a lot of hard work for the teams and drivers. I can't wait."
Ryo Hirakawa (Driver, car #8):
"Le Mans last year was incredible; to win was a dream come true. It was an intense week, flat-out on the track and off it, and I put so much energy into doing my best, it was not easy. Now I have been in the team, driving alongside Sébastien and Brendon, for another year, everything feels more comfortable. I know what to expect at Le Mans and how to prepare myself so I will be in even better shape this year. We have proven that our car is competitive, and the team has so much experience now in endurance racing. We are quite confident, but we will keep pushing and always improving our car."