TOYOTA GAZOO Racing defends its remarkable home record in the 6 Hours of Fuji this weekend in the penultimate race of the 2023 the FIA World Endurance Championship (WEC) season.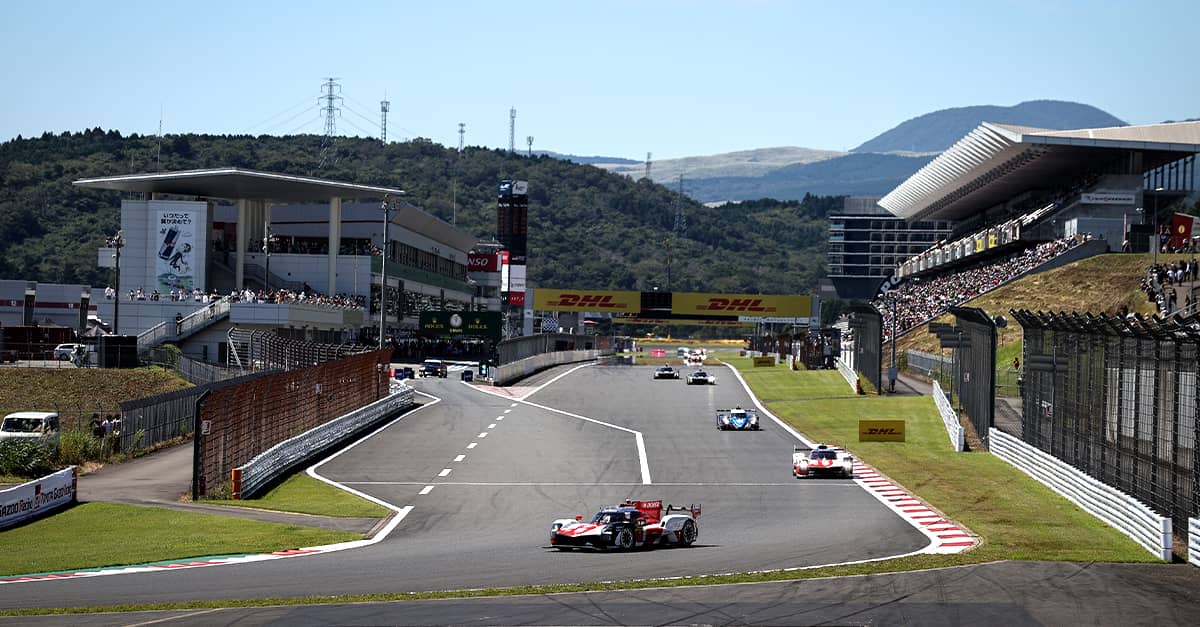 The reigning World Champions have won eight of the nine WEC races in Japan since returning to top-level endurance racing in 2012, including a run of five consecutive victories since 2016, making Fuji Speedway the team's most successful circuit.

The historic racetrack, located 100km west of Tokyo, is very much a home race for TOYOTA GAZOO Racing and the GR010 HYBRID, whose hybrid powertrain is designed, developed and built at the nearby Higashi-Fuji Technical Center,

TOYOTA GAZOO Racing aims for a fifth victory in 2023, which could secure the manufacturers' World Championship for a fifth consecutive season. The team leads Hypercar rivals Ferrari by 26 points and will secure the crown if it outscores the Italian marque by 13 points in Fuji.

An exciting four-way battle for the drivers' World Championship between both TOYOTA GAZOO Racing and Ferrari crews will go down to the wire in Bahrain on 4 November, regardless of the result in Japan.

Victory last time out at Monza for Mike Conway, Kamui Kobayashi and José María López in the #7 GR010 HYBRID put them back in a three-way World Championship battle. They are second in the standings heading to Fuji, 23 points behind Sébastien Buemi, Brendon Hartley and Ryo Hirakawa in the #8 GR010 HYBRID.

Another enthusiastic Japanese crowd is expected to cheer on a 12-car Hypercar field, featuring competitors from Cadillac, Ferrari, Peugeot and Porsche as part of the biggest grid of top-class prototypes at the 6 Hours of Fuji in the modern WEC era.

Fans will get the first chance to see the Hypercars in action around the 4.563km track, which is the shortest on the WEC calendar despite its 1.5km start-finish straight, on Friday when free practice begins with two 90-minute sessions. A final one-hour practice on Saturday morning sets the scene for the grid-defining qualifying, before the 6 Hours of Fuji begins at 11am local time, 4am CEST, on Sunday 10 September.
Kamui Kobayashi (Team Principal and driver, car #7):
"Everyone in the team is looking forward to our home race and the chance to compete in front of our Japanese fans, as well as our Toyota colleagues and partners who contribute so much. After Le Mans, winning at Fuji is our next priority and we have a very strong record there. So our target is to extend our run of victories, despite the very close competition amongst the Hypercar. It will be a big fight between a lot of manufacturers which is what all the fans want to see. We won on Ferrari's home ground in Monza in the last race, so I am sure they will want to get their revenge this weekend. We need to get everything right, avoid any mistakes, and keep pushing to stay in front. With only two races to go in the season, this is a critical race for the World Championship so we will be giving everything."
Mike Conway (Driver, car #7):
"Our home race is always special and a real highlight of the season. We have a lot of experience of Fuji, unlike some of our competitors, so we should hit the ground running on Friday. In the past the weather has been a big factor at Fuji but we're there a little earlier than normal this year, so hopefully that means we'll have a dry weekend. After the win in Monza, our car is back in the World Championship fight so we're looking to keep that momentum going in Fuji."
José María López (Driver, car #7):
"It's great to race in Japan. Everyone knows how passionate the Japanese fans are; they make it an incredible experience for all the drivers, and particularly for us as TOYOTA GAZOO Racing drivers. Over the years, the team has had great success at Fuji Speedway and it's obviously a big priority for us to win our home race, so we will be giving everything this weekend. Our car should suit Fuji pretty well but we know the fight is incredibly close in Hypercar so it should be another exciting battle."
Sébastien Buemi (Driver, car #8):
"The 6 Hours of Fuji is a race we look forward to every year, and one that I personally enjoy a lot. I've won four times at Fuji Speedway so I have some great memories there. It's a special place for us because we get to meet our Japanese fans, and also the powertrain engineers and Toyota executives who support our project from a distance. For many of them, it's the only chance to see the GR010 HYBRID in action so the everyone in the team is motivated to give them a good performance."
Brendon Hartley (Driver, car #8):
"It's great to go to Fuji Speedway for our home race at the top of both World Championships, and we are focused on tightening our grip with a strong result this weekend. We saw in Monza how close the competition is, and how a small mistake here or there can have a big impact on the result, so we need to be on the top of our game. I'm sure it will be another great battle, particularly with Ferrari who have looked very quick all year, but that's what we all want and we're ready for the challenge."
Ryo Hirakawa (Driver, car #8):
"Fuji Speedway is the home race for the team, and for me personally, so I am extra motivated to fight for the victory on Sunday. It will be my third race of 2023 at Fuji, and I hope it will be third time lucky because in the other two races, in Super Formula, I did not stand on top of the podium. Last year it was a great feeling to win in front of my home crowd on one of my favourite circuits, and I hope to experience that again. It's always great to show our GR010 HYBRID to our Japanese fans and I am looking forward to a lot of support as usual this weekend. I am sure we will give everyone a race to remember."