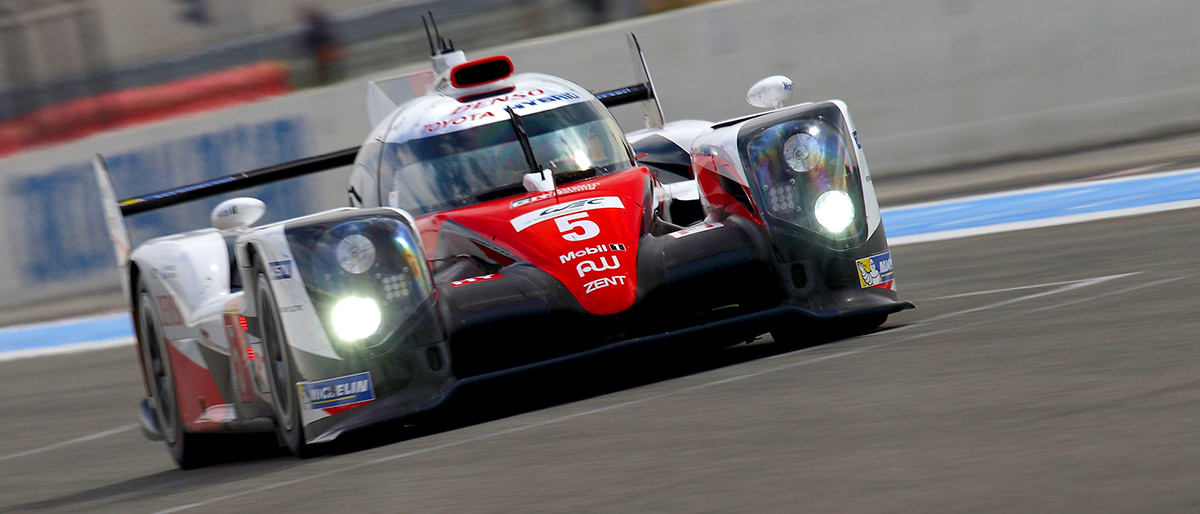 Test Report
THE FIA WORLD ENDURANCE CHAMPIONSHIP'S OFFICIAL PRE-SEASON TEST
TOYOTA GAZOO Racing's preparations for the new FIA World Endurance Championship season moved up a gear with the all-new TS050 HYBRID making its public debut at Paul Ricard in southern France today.
The Prologue test sees all WEC teams come together in the south of France for a two-day group test and free entry meant a large crowd on a sunny day to see the 2016-specification cars in action for the first time.
To optimise its busy pre-season testing and development schedule, TOYOTA entered one TS050 HYBRID in the Prologue and this was shared by all six race drivers over the course of the two days.
On Friday it was the turn of the #5 crew, with Anthony Davidson, Sébastien Buemi and Kazuki Nakajima putting the new car through its paces, using the low-downforce aerodynamic package which is designed specifically for Le Mans.
They handed over to the #6 drivers, Stéphane Sarrazin, Mike Conway and Kamui Kobayashi, for Saturday when the high-downforce specification was used.
Important analysis was carried out to understand the different characteristics of each aerodynamic package, giving the team back in Cologne plenty of data upon which to fine-tune the TS050 HYBRID.
With plenty of work to do before the season starts next month at Silverstone, it was a busy two days for the team, with tyre behaviour and validation of the various FIA timing and monitoring systems also on the agenda.
Outright fastest lap times in testing do not necessarily give a complete picture of relative performance, so the team will now analyse the data to understand the various lap times and stints in more detail.
Toshio Sato, Team President
"It was a pleasure to see so many fans here at Paul Ricard today, but I have been even more satisfied to see our TS050 HYBRID on track with our competitors for the first time. It has been a very intense period of preparation so I would like to thank everyone in the team for their hard work to get us to this point. The first race of the season is getting closer and our preparations are almost complete. The Prologue was an important milestone and we achieved our main targets in this test, which were to understand our different aerodynamic packages and continue our intense preparations for the start of the season. I am content with how the two days have gone, and particularly happy to see our strong team spirit. We will see at Silverstone where everyone stands; we still have work to do and we are flat-out to put ourselves in the strongest possible position to start the season."
Timing Results
Pos
N°
Driver
Team
Time
Gap
Session
1
1
T. BERNHARD / M. WEBBER / B. HARTLEY
Porsche Team
LMP1 H
1:37.445
Afternoon Session Day 2
2
2
R. DUMAS / N. JANI / M. LIEB
Porsche Team
LMP1 H
1:37.487
0.042
0.042
Night Session Day 1
3
5
S. SARRAZIN / M. CONWAY / K. KOBAYASHI
TOYOTA GAZOO Racing
LMP1 H
1:38.273
0.828
0.786
Morning Session Day 2
4
7
M. FÄSSLER / A. LOTTERER / B. TRÉLUYER
Audi Sport Team Joest
LMP1 H
1:38.827
1.382
0.554
Afternoon Session Day 2
5
13
M. TUSCHER / D. KRAIHAMER / A. IMPERATORI
Rebellion Racing
LMP1
1:41.733
4.288
2.906
Afternoon Session Day 2
6
12
N. PROST / N. PIQUET JR / N. HEIDFELD
Rebellion Racing
LMP1
1:42.147
4.702
0.414
Night Session Day 1
7
4
O. WEBB
Bykolles Racing Team
LMP1
1:43.236
5.791
1.089
Afternoon Session Day 1
8
36
G. MENEZES / N. LAPIERRE / S. RICHELMI
Signatech Alpine
LMP2
1:46.974
9.529
3.738
Morning Session Day 2
9
42
N. LEVENTIS / D. WATTS / J. KANE
Strakka Racing
LMP2
1:46.976
9.531
0.002
Afternoon Session Day 1
10
26
R. RUSINOV / N. BERTHON / R. RAST
G-Drive Racing
LMP2
1:47.024
9.579
0.048
Afternoon Session Day 2
11
35
D. CHENG / H. TUNG / N. PANCIATICI
Baxi DC Racing Alpine
LMP2
1:47.340
9.895
0.316
Morning Session Day 1
12
43
R. GONZALEZ / F. ALBUQUERQUE / B. SENNA
RGR Sport by Morand
LMP2
1:47.569
10.124
0.229
Afternoon Session Day 1
13
44
T. GRAVES / M. RAO / W. STEVENS / J. JAKES
Manor
LMP2
1:47.696
10.251
0.127
Afternoon Session Day 2
14
31
R. DALZIEL / L. DERANI
Extreme Speed Motorsports
LMP2
1:47.858
10.413
0.162
Night Session Day 1
15
37
V. PETROV / K. LADYGIN / V. SHAYTAR
SMP Racing
LMP2
1:47.987
10.542
0.129
Night Session Day 1
16
27
N. MINASSIAN / M. MEDIANI / D. MARKOZOV
SMP Racing
LMP2
1:48.345
10.900
0.358
Afternoon Session Day 1
17
30
E. BROWN / J. VAN OVERBEEK
Extreme Speed Motorsports
LMP2
1:48.619
11.174
0.274
Morning Session Day 2
18
51
G. BRUNI / J. CALADO
AF Corse
LMGTE Pro
1:57.808
20.363
9.189
Morning Session Day 1
19
71
D. RIGON / S. BIRD
AF Corse
LMGTE Pro
1:58.083
20.638
0.275
Morning Session Day 2
20
50
Y. YAMAGISHI / P. RAGUES / P. RUBERTI
Larbre Competition
LMGTE Am
1:58.268
20.823
0.185
Morning Session Day 1
21
66
W. JOHNSON / S. MÜCKE / O. PLA
Ford Chip Ganassi Team UK
LMGTE Pro
1:58.525
21.080
0.257
Morning Session Day 1
22
67
M. FRANCHITTI / A. PRIAULX / H. TINCKNELL
Ford Chip Ganassi Team UK
LMGTE Pro
1:58.697
21.252
0.172
Afternoon Session Day 1
23
86
M. WAINWRIGHT / A. CARROLL / B. BARKER
Gulf Racing
LMGTE Am
1:58.818
21.373
0.121
Morning Session Day 2
24
83
F. PERRODO / E. COLLARD / R. AGUAS
AF Corse
LMGTE Am
1:59.113
21.668
0.295
Afternoon Session Day 1
25
97
M. SØRENSEN / F. REES / J. ADAM
Aston Martin Racing
LMGTE Pro
2:00.298
22.853
1.185
Morning Session Day 2
26
78
C. RIED / J. CAMATHIAS
KCMG
LMGTE Am
2:00.373
22.928
0.075
Afternoon Session Day 2
27
88
K. AL QUBAISI
Abu Dhabi-Proton Racing
LMGTE Am
2:00.503
23.058
0.130
Morning Session Day 2
28
98
P. DALLA LANA / P. LAMY
Aston Martin Racing
LMGTE Am
2:01.508
24.063
1.005
Afternoon Session Day 2
29
77
C. RIED
Dempsey - Proton Racing
LMGTE Pro
2:04.305
26.860
2.797
Afternoon Session Day 2
GET THE COMPLETE RACE RESULTS AND CHRONO