TOYOTA GAZOO Racing WRC Challenge Program driver Takamoto Katsuta was narrowly denied a second career podium finish in the FIA World Rally Championship after a very strong performance at the Rally de Portugal.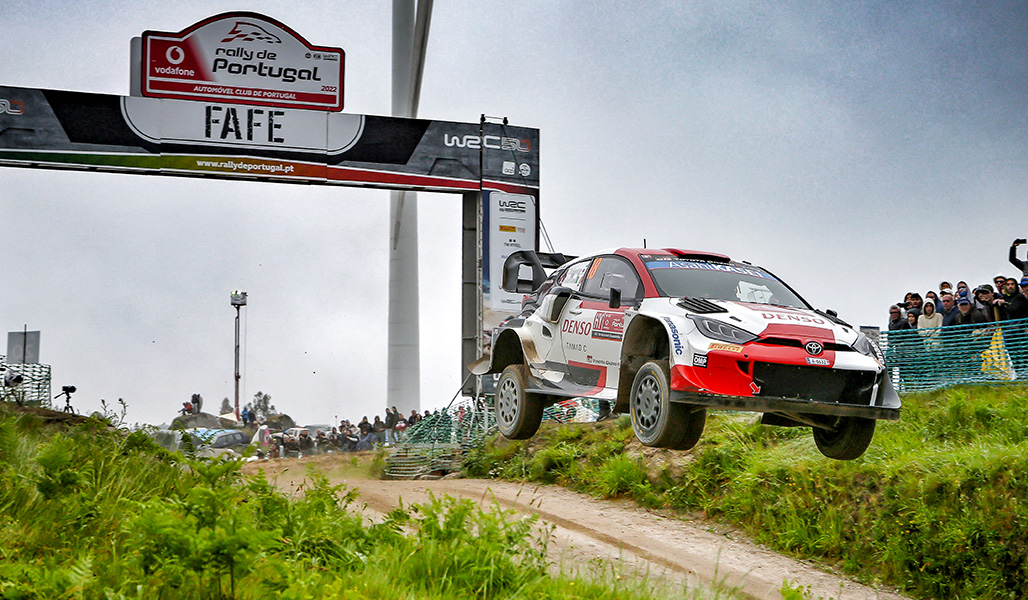 Based around the city of Porto, the rally was the first gravel event of the 2022 season and therefore the first for the drivers with the new generation of hybrid-powered Rally1 cars. The conditions during the weekend proved to be very demanding, especially during the Friday afternoon loop of stages which were said to be among the roughest seen on the event for many years.
Many drivers hit trouble as a result but Katsuta – co-driven by Aaron Johnston – avoided major issues aside from a brief spin on SS6 to end Friday in fourth position overall in his GR YARIS Rally1. He set four top-three fastest stage times during the first full day and then built upon that form on Saturday, when he frequently joined team-mates Kalle Rovanperä and Elfyn Evans at the top of the stage results.
Saturday included the longest stage of the season so far, the 37.24-kilometre Amarante, and it was in the first pass of this stage that Katsuta moved into third place overall ahead of Dani Sordo. After a rain-hit second pass of Amarante, he had stretched his advantage to 14.6 seconds, but the gap was reduced again to 5.7s on the subsequent super special that rounded out the day. This was held on damp cobbled streets and with the grip level improving significantly with each passing car, Katsuta was at a disadvantage against his rival.
On Sunday's final leg, Katsuta did well to keep his vastly experienced competitor at bay through the first four stages. But Sordo managed to increase his pace on the deciding Power Stage and Katsuta was not able to respond, meaning a 2.2s advantage became a 2.1s deficit at the finish. Katsuta was understandably disappointed, but his fourth place still allows him to move up to third position in the drivers' championship, as well as scoring important teams' points with TGR WRT Next Generation.
Quotes:
Takamoto Katsuta:"Portugal is always a tough rally, but the conditions on Friday were even tougher than I expected and I was happy to just get through. On Saturday I felt very comfortable and confident, the car was feeling really good. I enjoyed the battle with Dani a lot, and on Sunday morning I managed to stay ahead. Unfortunately, in the last stage, Dani pushed very well and I couldn't match his time and lost the position. Congratulations to him, and I'm really sorry for the team. I have very mixed feelings, because this weekend was so much better than the last rally in Croatia, where I was very far away from this kind of result and performance. But I want to improve my pace compared to Kalle and Elfyn, so I will work hard to try to be better. The next rally is coming very soon so now I will try to move forward and take some confidence to Sardinia."
Juho Hänninen (TOYOTA GAZOO Racing WRC Challenge Program instructor):"Taka drove a really, really good rally. The final result was disappointing for him for sure, but what he did this weekend is really positive for the future. To spend two days fighting with a driver like Dani Sordo for third place in Portugal is really valuable experience. It was really equal between them and Taka was unlucky in the super special on Saturday evening, which changed things a lot because it was drying up and this took away most of the gap he had built up during the day. But he seems really happy with the car on the gravel, which is very promising for the coming rallies, and he was able to drive fast without making mistakes. When you're in a fight like this you need to push but be consistent and he was able to do that, so I'm really happy about that. And after a difficult time in Croatia, it looks a lot more positive now going to Sardinia."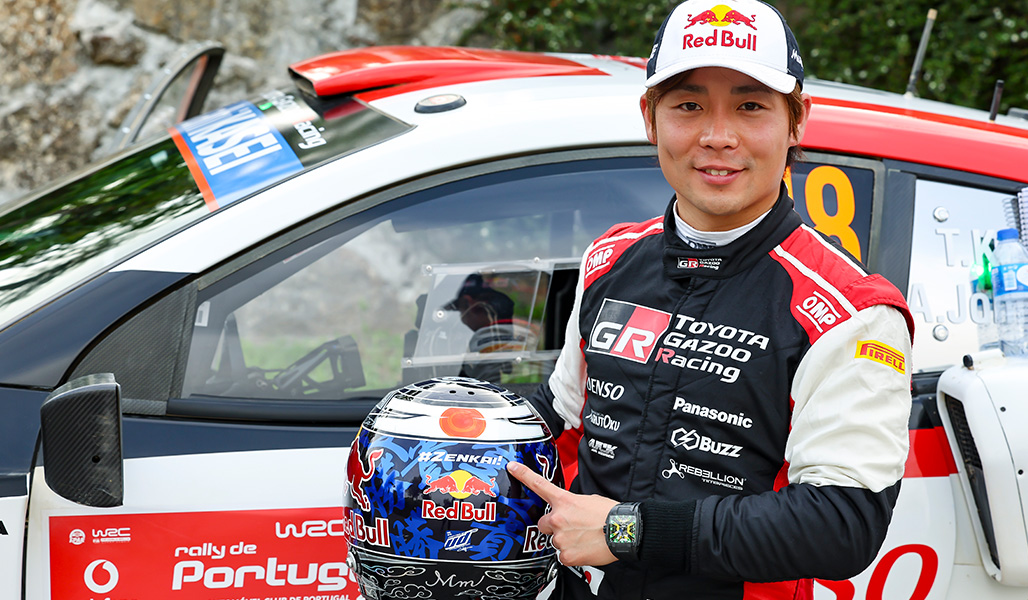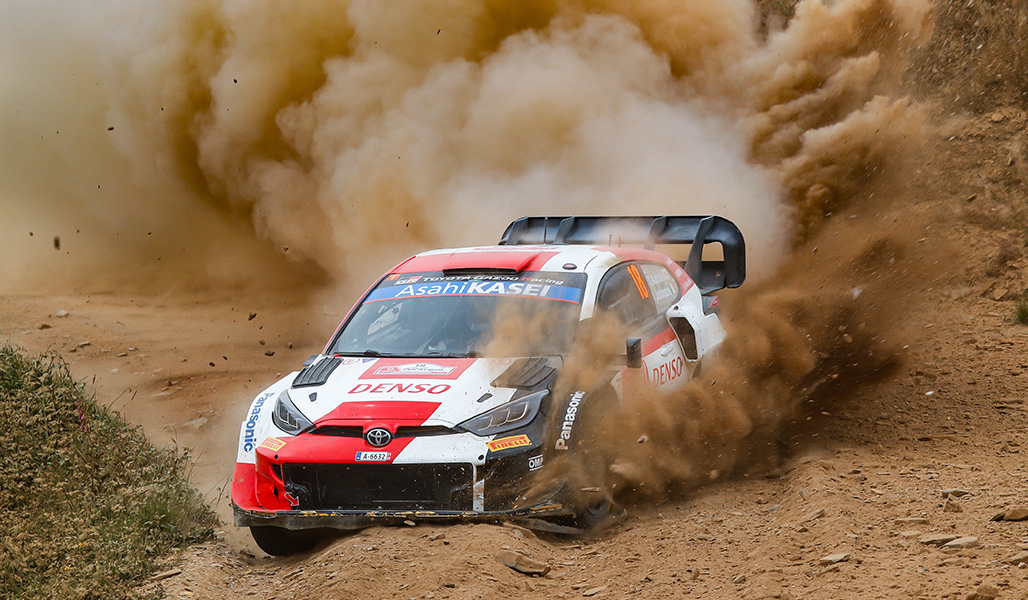 Results
1 Kalle Rovanperä/Jonne Halttunen (Toyota GR YARIS Rally1)

3h44m19.2s

2 Elfyn Evans/Scott Martin (Toyota GR YARIS Rally1)

+15.2s

3 Dani Sordo/Cándido Carrera (Hyundai i20 N Rally1)

+2m17.3s

4 Takamoto Katsuta/Aaron Johnston (Toyota GR YARIS Rally1)

+2m19.4s

5 Thierry Neuville/Martijn Wydaeghe (Hyundai i20 N Rally1)

+2m37.8s

6 Ott Tänak/Martin Järveoja (Hyundai i20 N Rally1)

+4m45.7s
What's next
Rally Italia Sardegna (June 2-5) features fast but narrow gravel stages, with exposed rocks as well as trees at the side of the road that can catch out the unwary. High temperatures combined with the abrasive surface places high stresses on the cars and tyres.
TOYOTA GAZOO Racing WRC Challenge Program is supported by following partners.