THE 2018 RALLY
Beginning on January 6th in Lima and finishing January 20th in Córdoba, the rally takes place across 3 countries, Peru, Argentina and Bolivia.
The stage schedule is as follows: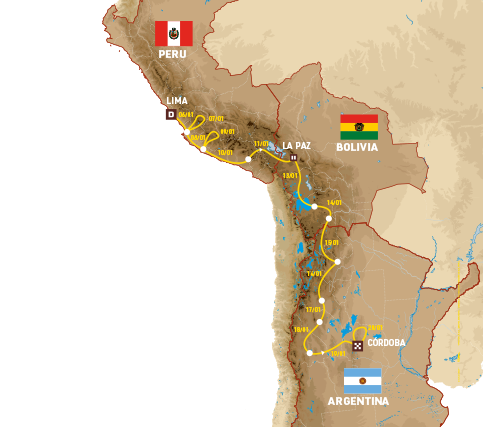 06/01 Start podium in Lima, stage to Pisco (Peru)

07/01 Stage 2: Pisco to Pisco looped stage (Peru)

08/01 Stage 3: Pisco to San Juan de Marcona (Peru)

09/01 Stage 4: San Juan de Marcona to San Juan de Marcona looped stage (Peru)

10/01 Stage 5: San Juan de Marcona to Arequipa (Peru)

11/01 Stage 6: Arequipa to La Paz (Bolivia)

12/01 Rest Day
13/01 Stage 7: La Paz to Uyuni (Bolivia)

14/01 Stage 8: Uyuni to Tupiza (Bolivia)

15/01 Stage 9: Tupiza to Salta (Argentina)

16/01 Stage 10: Salta to Belén (Argentina)

17/01 Stage 11: Belén to Chilecito (Argentina)

18/01 Stage 12: Chilecito to San Juan (Argentina)

19/01 Stage 13: San Juan to Córdoba (Argentina)

20/01 Stage 14: Córdoba to Finish looped stage (Argentina)
The 2018 rally promises to be as just as physically challenging as the years before with five days in a row amidst the Peruvian sand dunes followed by long stretches of racing over 3,500m and days reaching 900km of racing.
VEHICLE CATEGORIES
Various vehicles take part and compete in the rally, with the majority of competitors being divided into five categories:
CATEGORY
GROUP (Division)
CLASS

Car

4-wheeled vehicles that are split into two groups:

Super Production

converted commercial gasoline, diesel, racing vehicles and prototypes.

Production

non-converted commercial gasoline or diesel vehicles.

SxS

Side by Side UTV, Experimental sidecars.

Quads

4-wheeled ATVs.

Camion

Trucks.

Bike

2-wheeled vehicles and motorcycles.