TOYOTA GAZOO Racing (TGR) has announced details of the TOYOTA GAZOO Racing GT Cup (TGR GT Cup) 2021, a new series in "Gran Turismo SPORT" for PlayStation®4*1 (PS4®).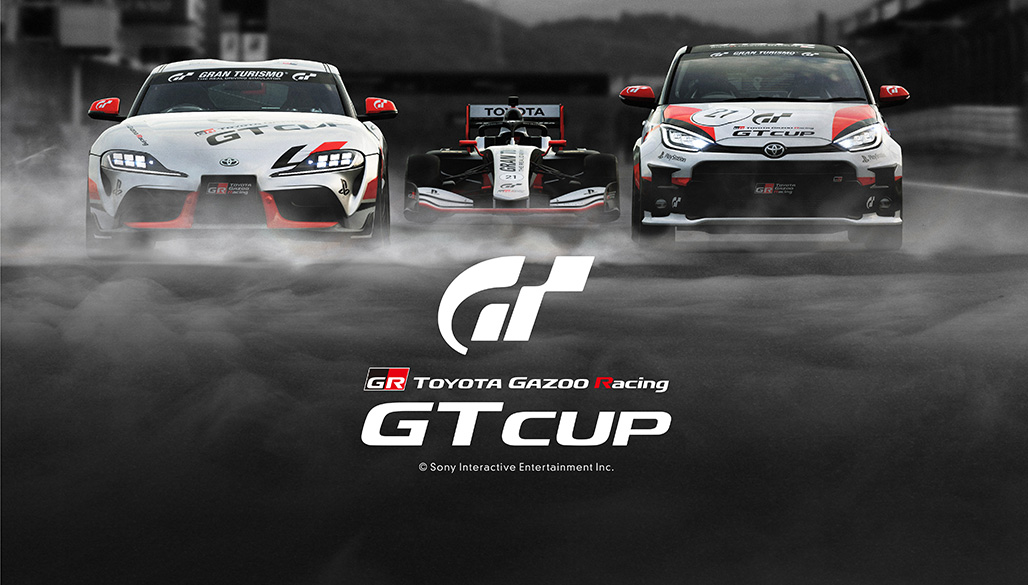 The TGR GT Cup is a new global series in which the GR lineup, including GR road vehicles and dedicated racing cars, will participate in competitive racing throughout a season. In addition to the GR Supra and GR Yaris, the recently-announced GR 86 is scheduled for introduction in the middle of the year. By varying the car models for each round, players can enjoy virtual racing with a variety of cars, something that is difficult in real-life motorsports.
Partly because of the effects of COVID-19, 2020 was a year in which people paid more attention to e-Motorsports than ever, as exemplified by the hosting of the Virtual 24 Hours of Le Mans. Many players from all over the world also participated in the GR Supra GT Cup and the GR Yaris Time Trial, hosted by TGR. In addition, after being featured in Gran Turismo SPORT, approximately 1.30 million GR Supra and 530,000 GR Yaris vehicles were purchased, indicating that many players all over the world enjoy the GR models.
TGR plans to continue an active engagement in e-Motorsports so that motorsports and sports cars will become more familiar to people all over the world and be enjoyed by many generations to come.
*1 "PlayStation", "PS5", and "PS4" are registered trademarks of Sony Interactive Entertainment Inc.
© 2019 Sony Interactive Entertainment Inc. Developed by Polyphony Digital Inc. "Gran Turismo" logos are registered trademarks or trademarks of Sony Interactive Entertainment Inc.
Outline of TGR GT Cup 2021
Race Name
TOYOTA GAZOO Racing GT Cup 2021
Event Period
April – December, 2021
Event Location
Qualifying: Online, across the world (Seven rounds)
Final: Online final to be held in conjunction with the FIA GT Championship in December (planned)
Participation Requirement
Owner of "Gran Turismo SPORT" for PS4® or PS5™ with software within Gran Turismo. Participants must be six years old or older*2
*2 Under the laws of the participating countries or regions, even if participants are in the top qualifying rounds online, they may not be able to participate in the final.
Schedule
Round
Date
Car
Course
Qualifying
Rd.1
April 25
GR Supra'20
Weather Tech Raceway Laguna Seca (USA)
Rd.2
May 23
GR Yaris
Fuji International Speedway (Japan)
Rd.3
May 30
SF19
Suzuka Circuit(Japan)
Rd.4
June 6
2000GT
The Nürburgring (Germany)
Rd.5
July 4
GR Supra RC
Autódromo José Carlos Pace (Brazil)
Rd.6
July 18
GR Yaris
Sardinia (Italy)
Rd.7
August 22
GR 86
Mount Panorama (Australia)
Final
Final Rd.
December
TBD
TBD
*Schedule and course are subject to change.
Start Time (differs according to the five regions below)
| Region | Start Time |
| --- | --- |
| Asia | 12:00, 13:30 (UTC) / 21:00, 22:30 (JST) |
| Oceania | 09:00, 10:30 (UTC) / 19:00, 20:30 (AEST) / 18:00, 19:30 (JST) |
| Europe, Middle east, Africa | 17:00, 18:30 (UTC) / 19:00, 20:30 (CEST) / Next day 2:00, 3:30 (JST) |
| North America | 25:00, 26:30 (UTC) / 18:00, 19:30 (PDT) / 21:00, 22:30 (EDT) / Next day 10:00, 11:30 (JST) |
| Latin America | 23:00, 24:30 (UTC) / 16:00, 17:30 (PDT) / 19:00, 20:30 (EDT) / Next day 08:00, 09:30 (JST) |
*Rd.4 will start 30 minutes before the above times. Start time is subject to change.
Outline of the TGR GT Cup Final
Date
December(planned)
Location
To be held online in conjunction with the FIA GT Championship (planned)
Race overview
The race will be carried out inviting the top 24 drivers from among those achieving the highest four scores in Rounds 1 – 7 of online races, from the five regions specified by the FIA GT Championship as well as the TGR allotment (regional finalists)*3.
Driver details
Region
Number of selected drivers (planned)
Europe, Middle East and Africa
9
North America
3
South and Central America
3
Asia
4
Oceania
1
TGR allotment*3
4
Total
24
*3 Drivers selected from TGR's regional finals
Detailed information including the circuits to be used in each round will be published in due course on the TGR GT Cup section of the TGR official website.
URL:https://toyotagazooracing.com/e-motorsports/
Also, entries for each race will open 15 minutes before the start of each race at "sports mode" of the "Gran Turismo SPORT".