TOYOTA GAZOO Racing completed its history-making Hypercar season in style with a one-two victory in the 8 Hours of Bahrain on a day of destiny for the 2021 FIA World Endurance Championship (WEC) drivers' crown.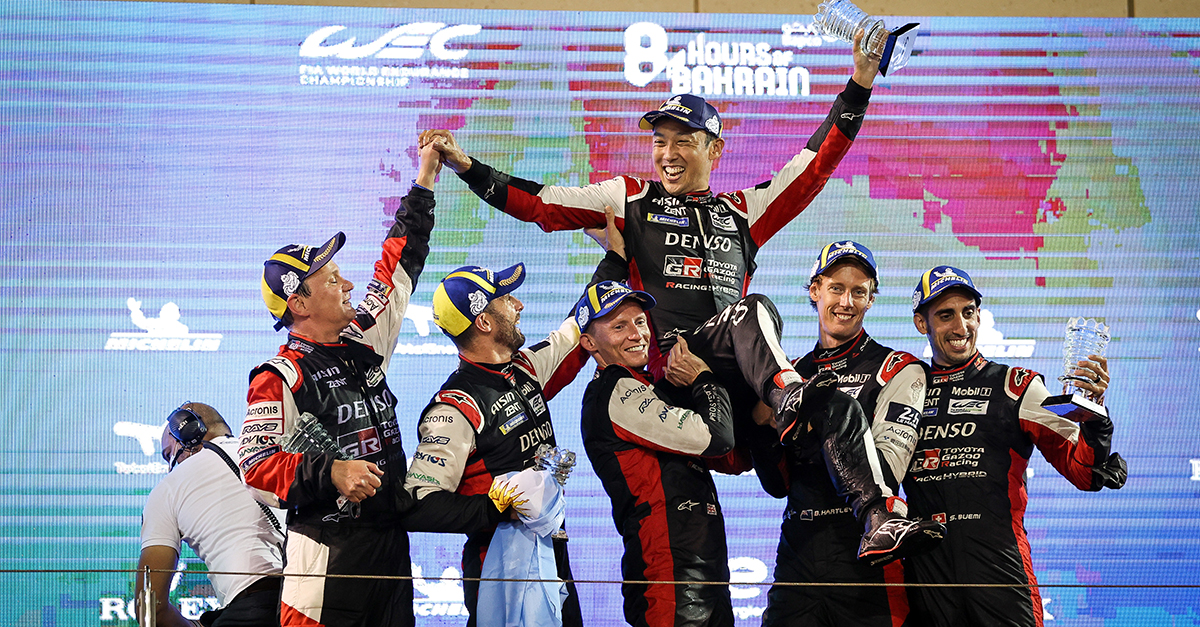 An emotional finale to the WEC season saw Kazuki Nakajima bring the curtain down on his glittering endurance career in fitting style with victory in the #8 GR010 HYBRID he shares with Sébastien Buemi and Brendon Hartley.
Le Mans winners Mike Conway, Kamui Kobayashi and José María López, in the #7 GR010 HYBRID, retained the drivers' title by finishing Saturday's race, the sixth and final round of the season, in second place.
Kamui is now Japan's first two-time World Champion on four wheels while José becomes only the second Argentinian to win five FIA World Championships, following in the footsteps of the great Juan Manuel Fangio.
Both GR010 HYBRIDs displayed a tribute to Kazuki, who has earned his status as an endurance racing legend by winning Le Mans three times. He took 17 victories from his 59 WEC races and won the 2018-2019 World Championship title alongside Sébastien and Fernando Alonso.
On a day of new milestones, TOYOTA GAZOO Racing became the first team to win every race in a WEC season. It extended its unprecedented winning run to nine, in its 70th event since entering the series in 2012. Last week's victory in Bahrain meant it had already secured its fourth teams' World Championship.
Despite clean sweeps in all sessions of the Bahrain double-header, the GR010 HYBRIDs played catch-up on the opening laps when the #36 Alpine stole an early lead. But some exciting wheel-to-wheel racing put the GR010 HYBRIDs back in front and they never looked back.
As the race moved into the night, the #8 car established an ever-stronger grip at the front, edging clear of the #7. In the sixth hour, the lead was reduced slightly when a replacement steering wheel was required for the #8, following occasional gearshift issues. That cost only a few seconds at a scheduled pit stop, which rectified the problem.
Kazuki took the wheel of the #8 car for the final stint, and his last laps in WEC. A journey which started with the roll-out of the TS030 HYBRID in January 2012, ended when Kazuki took the chequered flag to win by 7.351secs from José, whose second place delivered another world title to the #7 crew.
The racing season may have ended but the action in Bahrain continues on Sunday, when seven-time World Rally Champion Sébastien Ogier will drive a GR010 HYBRID for the first time in the WEC rookie test. Rising LMP2 star Charles Milesi will also test for the team.
Akio Toyoda, Team Founder
"Kamui, Mike, José, Kazuki, Séb, Brendon and everyone in the team. I didn't say it last week, but first of all, congratulations on the team championship! We won all six races in the first year of Hypercar. But I know they were no easy wins. I think that the GR010 HYBRID was never a "car that can be driven with peace of mind" or a "car that seems easy to drive" for the driver. The car which did not win the race continued to run with some trouble. At Le Mans, we had similar trouble that occurred in the previous race. We could not fix the problem in time, however, we were able to run through with the tremendous efforts of the drivers and team. I am really grateful that these two cars have become champion cars. Thanks guys.
Kamui, Mike and José. "Congratulations on winning Le Mans!" "Congratulations on the Drivers' Championship." I couldn't say both before, so I am relieved to say it now. It is very nice!
Let me say two more words of gratitude for the 2021 World Endurance Championship. One is thanks to the partners who supported the battle in the new Hypercar class and the fans who continued to support us. Thank you for fighting with us this season as well. The other is... Thanks to Kazuki, who will step out of the driver's seat in WEC after this victory in Bahrain. Kazuki has been helping this challenge since 2012. During those 10 years, around 30,000km have been raced. It may be a longer distance considering the 30-hour driving tests before the season. Thank you for continuing to train Toyota's hybrids on the really tough road of endurance racing. I think that the evolution of this hybrid has a great deal to do with the world today and the world from now on. Thank you for this 30,000km battle. And if you could drive 13.629km longer in 2016... I also remember that. However, I think it is also Kazuki who made us, Toyota, stronger, including at that time. Thank you so much for 10 years..
"From now on
"To make ever-better cars for Toyota"
"For motorsport"
"For the automobile industry"
I want you to fight together. Please continue to help us."

PS:
"I heard that Anthony, who was also unable to run 13.629km longer in 2016, will retire this season. When we won for the first time at Le Mans, he was not in the position of a driver, but he supported the team in the shadows and contributed to the victory. I would like to thank Anthony again."
Koji Sato, GAZOO Racing Company President
"Big congratulations to Mike, Kamui and José for becoming World Champions again, and thanks for an amazing season. They finally won Le Mans for the first time and now they are double World Champions, which is a deserved reward for their strong performances. Today was a perfect race and it was very emotional to see Kazuki on the top step of the podium for his last race. Everyone at TOYOTA GAZOO Racing is so grateful to him for his huge contribution to the WEC project over the last 10 years. Sébastien and Brendon fought hard alongside Kazuki all season and I am pleased they could celebrate after a hot and exhausting double-header event. To win every race in the first-ever Hypercar season is a big credit to the team, who overcame many challenges in 2021 by showing their team spirit. With this great result, the season is over, but we're ready for next year, when more fierce battles are expected. We will continue to work hard to make ever-better cars to show our fans a stronger team on track next year."
Mike Conway (GR010 HYBRID #7)
"It feels really good to join the club of double World Champions. To win the title two times in a row is an amazing feeling, and finally getting Le Mans this year really does top off the season. I'm proud to achieve this with Kamui and José who have done an amazing job all year, just like everyone on our crew. We were pushed as hard as ever by car #8 so well done to them today. It's always a pleasure to race with them and it's going to be strange not to have Kazuki behind the wheel of that car. It's been great fun working with him."
Kamui Kobayashi (GR010 HYBRID #7)
"I am really happy with this result. It's hard to compare the two World Championship wins but it feels great to win again with Mike and José. Thanks to everyone who helped us achieve this, particularly the big support we get from Japan. Car #8 did a great job this year and were always very difficult to beat. It has been a really close competition, but very fair. We respect each other and fight properly. Behind the scenes there is a lot of good team work to maximise the team performance. Kazuki did a brilliant job here in Bahrain; he stayed motivated and concentrated. I grew up with him in racing I am very happy he finished his WEC career with a win."
José María López (GR010 HYBRID #7)
"I want to congratulate the whole team, car #8 and everyone back in Higashi-Fuji and Cologne where there are many people working behind the scenes. I couldn't do this without them, and without Mike and Kamui. I honestly feel very humble because I am so lucky to be part of this group and achieve championships and wins together. It's a great privilege so thank you everyone who has been involved. We're going to miss Kazuki a lot; he is such a great guy and a fantastic driver. Séb, Kazuki and Brendon have been so competitive this season and they pushed us hard. They deserved the win today."
Sébastien Buemi (GR010 HYBRID #8)
"I am happy with this result to end the season. To celebrate a win with Kazuki in his last WEC race is very special and he deserves this moment. We did everything we could today. Our set-up was much kinder on the tyres compared to the first Bahrain race and we managed to save some energy to open up some possibilities on strategy. Then we had good pace and were just a little bit faster. Congratulations to car #7 for the title. They did a better job this year and are deserving champions."
Kazuki Nakajima (GR010 HYBRID #8)
"I am very happy to finish my WEC career like this and I am very lucky to have such great team-mates. As a team we fight very hard until the end and we never give up. In the final laps it was difficult to keep my emotions under control and focus on driving. But I managed to get to the chequered flag and it was a fantastic result; we won the race, #7 won the championship and TOYOTA GAZOO Racing won the teams' title. I am really happy and touched by the reaction. Big, big thanks to all my team-mates, everyone in TOYOTA GAZOO Racing and all those who supported me over the last years."
Brendon Hartley (GR010 HYBRID #8)
"It felt good to win the race today, particularly after a tough race here last week. We came back much stronger this week. I want to say massive congratulations to Mike, Kamui and José for winning the drivers' championship. It was hard fought all season between the two cars and they just came out on top. Also big congratulations to Kazuki for finishing his WEC career with a win and for everything he has achieved. I am sad that it is his last race for us but I'm so pleased for him to finish on a high, having been on such strong form these last two weeks." 
8 Hours of Bahrain results:
1st #8 TOYOTA GAZOO Racing 247 laps
2nd #7 TOYOTA GAZOO Racing +7.351secs
3rd #36 Alpine (Negrao/Lapierre/Vaxivierre) +6 lap
4th #31 Team WRT (Frijns/Habsburg/Milesi) +7 laps
5th #38 JOTA (Gonzalez/Da Costa/Davidson) +7 laps
6th #28 JOTA (Galael/Vandoorne/Blomqvist) +7 laps