TOYOTA HYBRID TECHNOLOGY TAKES
THE WORLD ENDURANCE CHAMPIONSHIP,
THANKS A MILLION FOR THE SUPPORT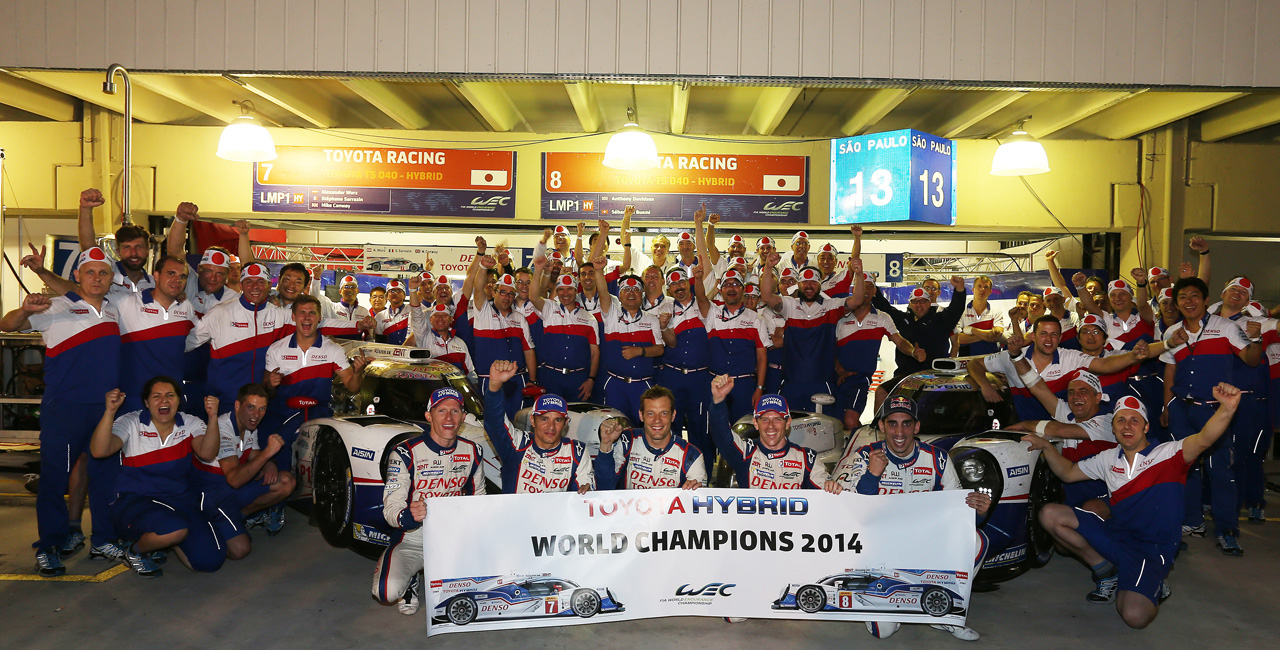 Toyota Racing won both the Manufacturers and the Drivers categories of the 2014 FIA World Endurance Championship (WEC), a series of eight endurance races, including the renowned Le Mans 24 Hours event, held on international road racing circuits.
Toyota Racing expresses sincere gratitude to our fans for their encouragement and our partners for their support.
The WEC is one of the five major classes of automotive competition sanctioned by the Federation International de l'Automobile (FIA).
After winning several WRC titles Toyota first entered the re-established WEC series in 2012, where the strong competition included Audi and, this year, Porsche. Having won five of the eight races in 2014 Toyota Racing secured the WEC Manufacturers and Drivers titles.
Toyota launched its first hybrid car, the Prius, in 1997, a pioneering venture that surprised the automobile industry with its unrivalled combination of exceptional fuel economy and high performance. Since the launch Toyota's Hybrid System has continued to evolve as a state-of-the-art, energy efficient yet powerful source of automotive propulsion.
Toyota's Hybrid System consists of a gasoline engine and an electric motor seamlessly mated together to provide energy efficiency and high performance in a reliable package. Uniquely, Toyota's environmentally-friendly production car features performance capabilities that make it enjoyable to drive.
To prepare for its entry in the WEC the Toyota Hybrid System Racing (THS-R) was mounted in the various cars and developed further in Japanese races. The decision to improve the technology through racing was in keeping with Toyota's philosophy of pursuing perfection through competition. Expectations and confidence were high but still had to pass the supreme test.
Toyota's crowning achievement in 2014 took place at the final race in Sao Paulo, Brazil. Since the championships were won using the same hybrid technology available in its production vehicles, the chief beneficiaries of the sporting success in the WEC are those who choose Toyotas for their personal transport.
Maximum power of 1000PS and
the most advanced hybrid technology in racing!
TOYOTA's newest hybrid powertrain system, featuring a 480 PS four-wheel-drive hybrid boost and a 520 PS 3.7-litre petrol engine, output a mind-boggling power of 1000 PS when combined together, delivering a superb acceleration performance to the new TS040 HYBRID race car. Game-changing innovations, honed through competitive racing and strict disciplines under the harshest conditions, expand the possibilities for TOYOTA to deliver even more exciting hybrid vehicles for tomorrow.
Point Ranking
2 November 2014
LMP1 Manufacturers'
World Championship Title

| | | |
| --- | --- | --- |
| 1 st | TOYOTA | 289 points |
| 2 nd | Audi | 244 points |
| 3 rd | Porshe | 193 points |

World Endurance Drivers
Prototype Championship Title

| | | |
| --- | --- | --- |
| 1 st | DAVIDSON A. and BUEMI S. | 166 points |
| 2 nd | LOTTERER A.,TRELUYER B. and FASSLER M. | 127 points |
| 3 rd | LIEB M.,JANI N. and DUMAS R. | 117 points |
| 4 th | DI GRASSI L. and KRISTENSEN T. | 117 points |
| 5 th | WURZ A. and SARRAZIN S. | 116 points |