TOYOTA GAZOO Racing World Rally Team has kick-started its Rally México return on the historic streets of Guanajuato at the event's traditional Thursday night opening spectacular. Kalle Rovanperä is second overall after the first two stages, with team-mates Sébastien Ogier and Elfyn Evans also inside the top six.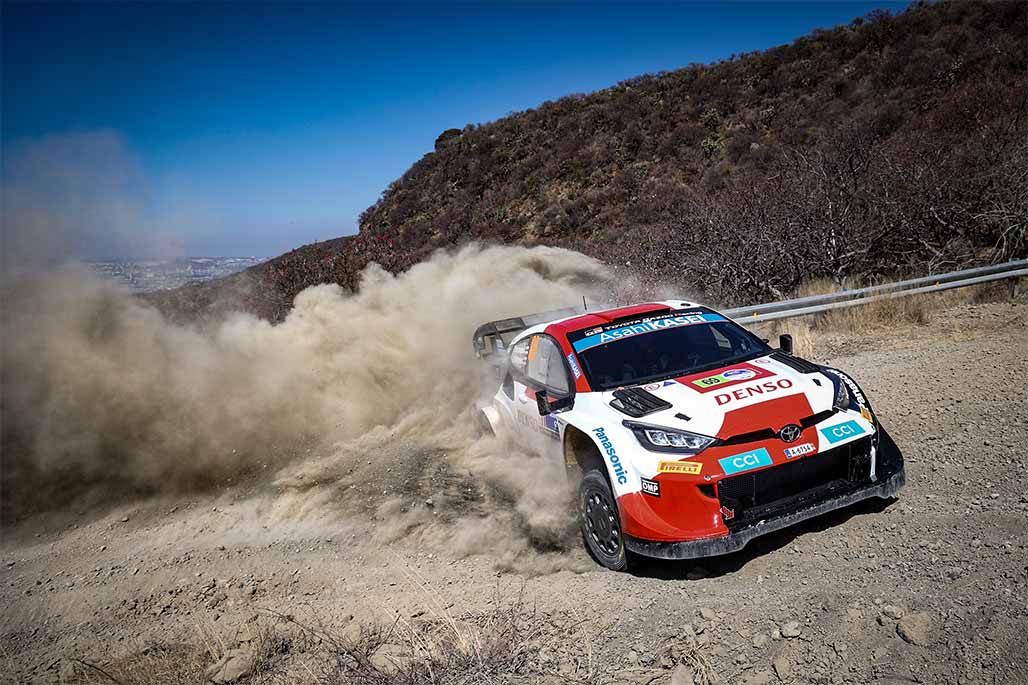 Mexico has provided a warm welcome back to the FIA World Rally Championship after two years away, for what is the first gravel round of the 2023 season. The event is also set to provide a major test for the new generation of hybrid-powered Rally1 cars introduced last year, with its high altitude, high temperatures and rocky roads.
Before the competitive action got underway, Thursday morning's shakedown in the hills above León provided the teams with an important chance to check the performance of their cars at over 2000 metres above sea level. After three runs over shakedown, Rovanperä recorded the joint fastest time with Ogier third quickest and Evans fifth.
The crews then headed to the colourful city of Guanajuato for the hugely-popular start ceremony and the opening stages of the rally, with each car tackling two runs over the cobbled streets and through the old mining tunnels.
Rovanperä had the second-fastest time in both passes and is 1.7 seconds from the lead overnight. Ogier is tied for fourth overall, 2.8s from first, with Evans just half a second further back in sixth.
Takamoto Katsuta is making his Rally México debut in a fourth GR YARIS Rally1 HYBRID through the TGR WRC Challenge Program, and is ninth overall, only 4.1s off the lead.
Quotes:
Jari-Matti Latvala (Team Principal)
"It is fantastic for us to be back here in Mexico and especially for this opening night of the rally in Guanajuato. It's always like a carnival feeling there, with a huge amount of people cheering and sharing the passion for our sport, which is incredible. It's not easy for the drivers to then start the stage, usually with cold tyres and straight into the tunnels, but all our guys did well to get through without any problems. Shakedown went well; the drivers had a good feeling and the times seemed promising. From the work the team has done in testing for these conditions, it looks like we have made some steps and we're feeling good for the rest of the weekend."
Kalle Rovanperä (Driver car 69)
"It's always special to start this rally in Guanajuato. There's always quite a crazy atmosphere there, with a lot of fans. The stage is not an easy one to begin with but we tried to get through it with some good times and tried to enjoy it. Shakedown was quite important this morning; being back on this kind of loose gravel is always a big challenge but it seems that the car has been moving in the right direction and we could have quite a good feeling this morning. But I think it's going to be a tough Friday, with only one line in front of us. We need to have a good day to be in the fight for the rest of the weekend."
Elfyn Evans (Driver car 33)
"Here in Mexico we have probably one of the best atmospheres for the start of a rally. The stage that follows immediately afterwards is maybe not the nicest one to drive, but it's a really electric atmosphere and you just have to enjoy it. We've missed this rally and its unique challenges and it's nice to be back. Shakedown was pretty tricky but it was good to get a first feeling of the car and everything was pretty much as expected, and all OK to start the rally for real tomorrow morning."
Sébastien Ogier (Driver car 17)
"It's great to be back in Mexico. It's a rally that I really enjoy and this start in Guanajuato is something very special, with the atmosphere in this very colourful city. It's always a bit of a challenge to focus quickly on the stage, with the cobblestones which are very slippery, so it's not a simple one to start the rally with. It was an important shakedown this morning, partly because I haven't done a rally on this kind of surface for a while so it was good to get some kilometres to settle in the car. It went smoothly for us and we hope we are ready for what's to come."
End of day one (Thursday):
1 Ott Tänak/Martin Järveoja (Ford Puma Rally1 HYBRID) 1m54.2s
2 Kalle Rovanperä/Jonne Halttunen (Toyota GR YARIS Rally1 HYBRID) +1.7s
3 Esapekka Lappi/Janne Ferm (Hyundai i20 N Rally1 HYBRID) +2.2s
4 Thierry Neuville/Martijn Wydaeghe (Hyundai i20 N Rally1 HYBRID) +2.8s
5 Sébastien Ogier/Vincent Landais (Toyota GR YARIS Rally1 HYBRID) +2.8s
6 Elfyn Evans/Scott Martin (Toyota GR YARIS Rally1 HYBRID) +3.3s
7 Dani Sordo/Cándido Carrera (Hyundai i20 N Rally1 HYBRID) +3.4s
8 Pierre-Louis Loubet/Nicolas Gilsoul (Ford Puma Rally1 HYBRID) +3.7s
9 Takamoto Katsuta/Aaron Johnston (Toyota GR YARIS Rally1 HYBRID) +4.1s
10 Emil Lindholm/Reeta Hämäläinen (Škoda Fabia Rally2 evo) +6.1s
(Results as of 21:00 on Thursday, for the latest results please visit www.wrc.com)
What's next?
The first full day of action takes place mostly in the mountains above Guanajuato, where a trio of stages will be run twice. The loop begins with the well-known El Chocolate test, also the longest of the day at 29.07 kilometres. The day concludes with two super specials on the way back to León: the all-new Las Dunas is followed by an extended stage next to the service park.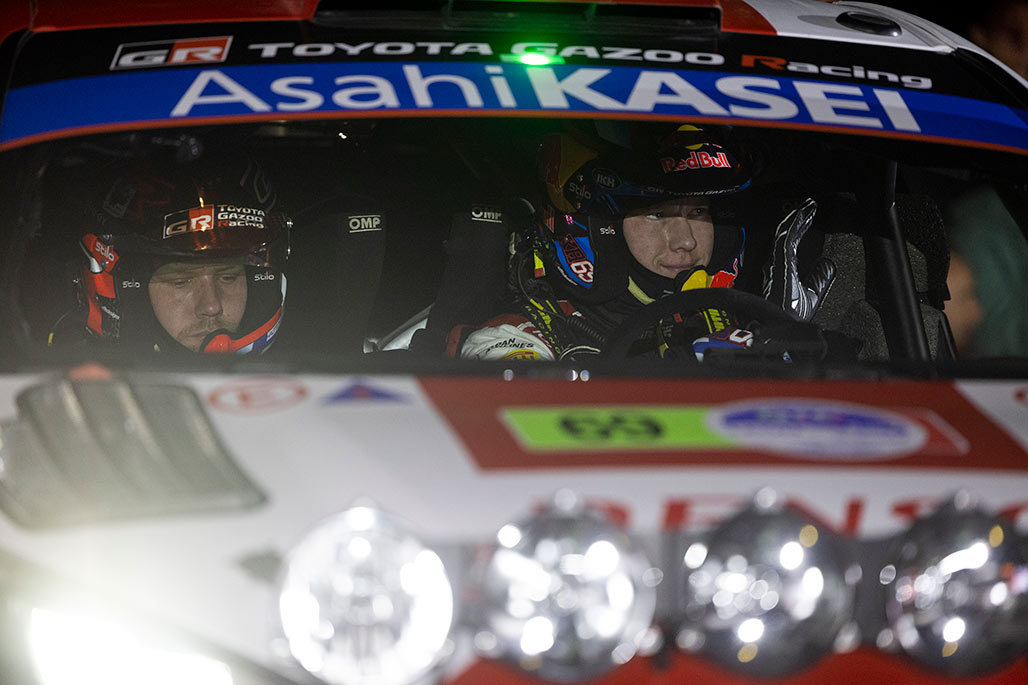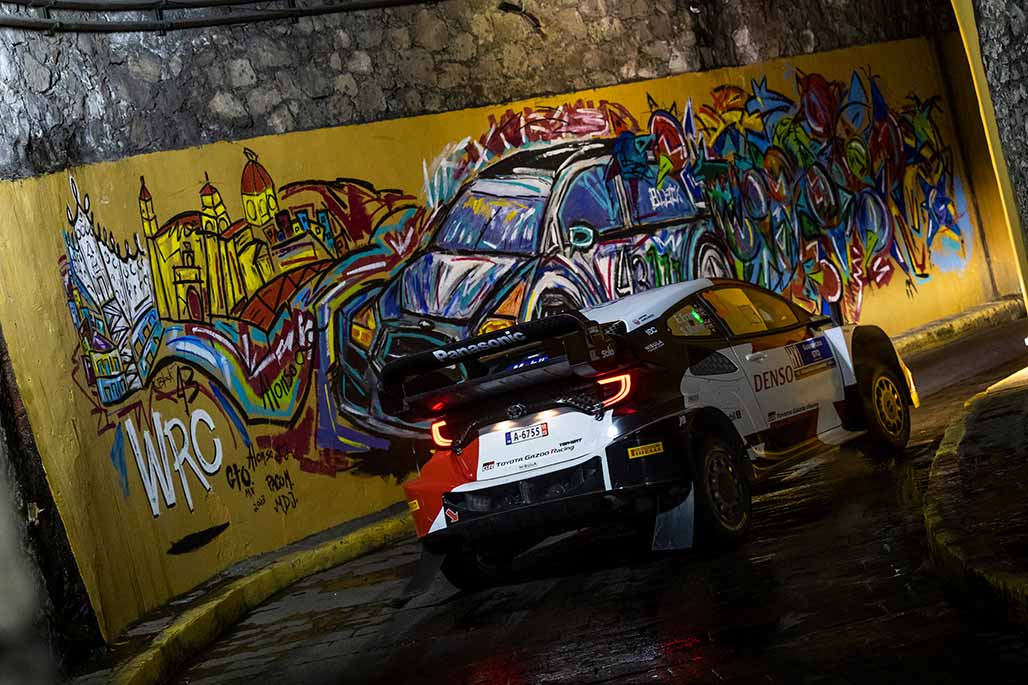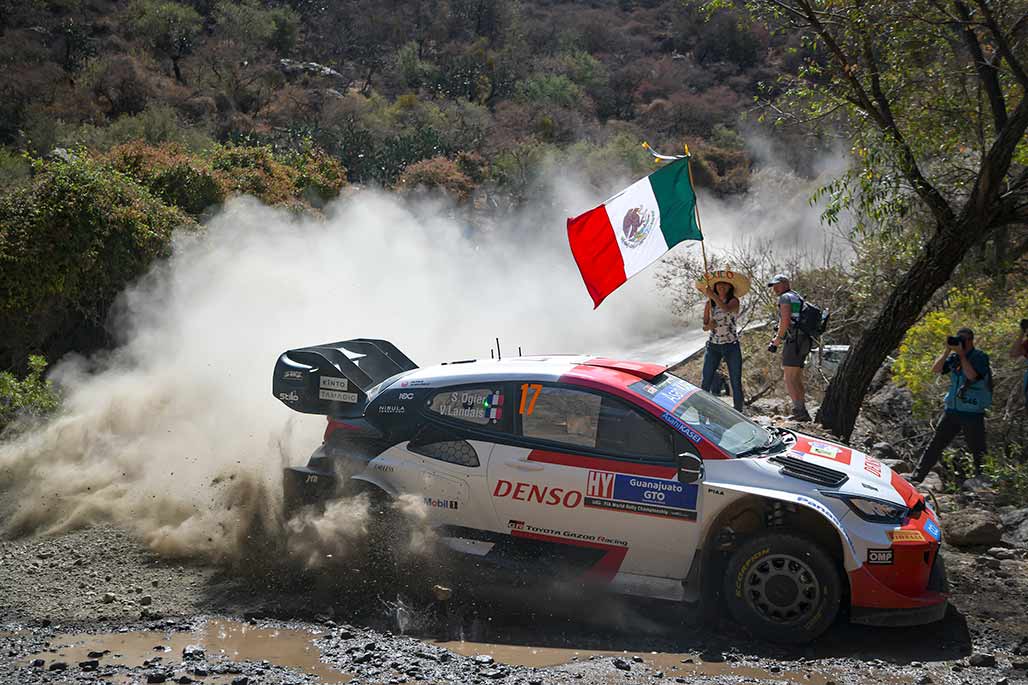 TOYOTA GAZOO Racing WRC 2023 Official Partners