WHAT IS THE DAKAR RALLY?
The toughest rally raid in the world, the Dakar Rally is famous for racing through a range of landscapes including deserts, muddy terrain and mountain passes. With daily racing reaching over 800km in intense heat, drivers and their vehicles face a huge challenge. During a demanding two weeks, the competitor's technique, mental and physical strength, mechanical skill, and navigational skills are all put to the limit. The world-famous rally is so difficult that it is said that "all drivers who complete the race are winners." With a race so tough, retirements are commonplace, in general, only half of the vehicles that begin the race, actually finish it. Competitors who take on the challenge come from all over the world and are watched by a combined 3 million spectators online, with 70 television networks broadcasting worldwide.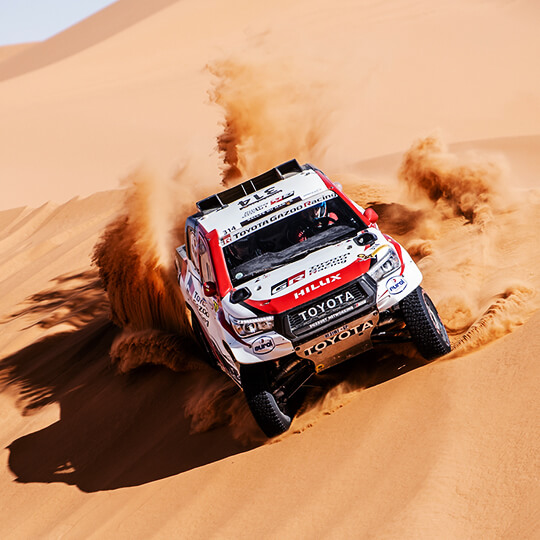 TOYOTA'S HISTORY
IN THE RACE
Since the beginning in 1979, when 13 of the 74 vehicles that finished were Toyotas, every Dakar Rally has had Toyota vehicles racing in them. Throughout the demanding race, Toyota's quality, durability, and reliability are evident for all to see. This is especially true in the Production category, as there are rigid rules and restrictions on modifications. With so few modifications available, the base performance alone must be enough for the competitors to cross the line. Due to its strength in the rally, Toyota remains a popular vehicle for privateer racers.

The official Toyota team, TOYOTA GAZOO Racing South Africa (TGRSA), first entered the Super Production class in 2012 with their Toyota Hilux, and since then the TGRSA Hilux has performed well, earning a spot in the Top 10 every year. Every year for the past 7 years, TGRSA has battled it out in the Dakar Rally as a local South Africa team. Starting in 2020, however, the team will continue to strive as it is restructured into a works team of TOYOTA GAZOO Racing.
HISTORY OF THE DAKAR RALLY
The very first Dakar Rally took place back in 1978 when motorcycle racer Thierry Sabine organized a race across the legendary Sahara Desert. Sabine got the idea for such a race when he found himself lost in a separate race in the previous year. The Rally became the more familiar format in 1979, when a three-week-long adventure was organized, racing from Paris and ending in the capital of Senegal, Dakar. By 1981 the rally was officially certified by the FIA (Fédération Internationale de l'Automobile) and with this became the true test for driving mettle.

The rally continued in this vein, racing through to West Africa for another 27 years until 2008 when the rally was canceled due to safety concerns. The next year the rally then battled through South America until 2020 when for the first time, it would be held in Saudi Arabia, marking its first entry into the Middle East. The location may have changed but the spirit of the African race remains.