The 2020 Dakar Rally: A whole new adventure
In just under a month, the 42nd Dakar Rally will race over 7,500km in a completely new land, Saudi Arabia. The drivers and their navigators will face two weeks of uncharted sands, exotic landscapes, and uncharted terrain. Toyota will once again make the fight.
An Arabian adventure
After 30 years of African adventures and 10 years of South American excitement, the Dakar Rally will be heading to a new country, Saudi Arabia, the Kingdom of Sand. Thanks to new roadbook rules, competitors will only be given the course information minutes before each timed sector, meaning that navigating this new land will be especially challenging. Drivers will have to be fully reliant on their navigators to get them through to the finale.

Throughout the two weeks, the competitors will cover 7,500km of the country, with 5,000km of that being timed racing. While this Arabian trek may not include some of the high-altitude racing of rallies past, the competitors will face rocks, unknown holes, endless sands of all types, and the powder-like dust known as fesh-fesh. As the rally will be taking place in winter, competitors will face temperatures of only around 29-degrees, rather than the scorching 40-degree summers of previous years.

Located at the gateway to the holy cities of Mecca and Medina, Jeddah will be the launchpad for competitors. Drivers will then race up the coast up to the city of Neom, down to the capital city of Riyadh and then into the area known as the "Empty Quarter". From here, the race heads back to Riyadh and ends on January 17th in Qiddiya, an entertainment megaproject city where the victors will climb onto the final podium to claim their Dakar glory.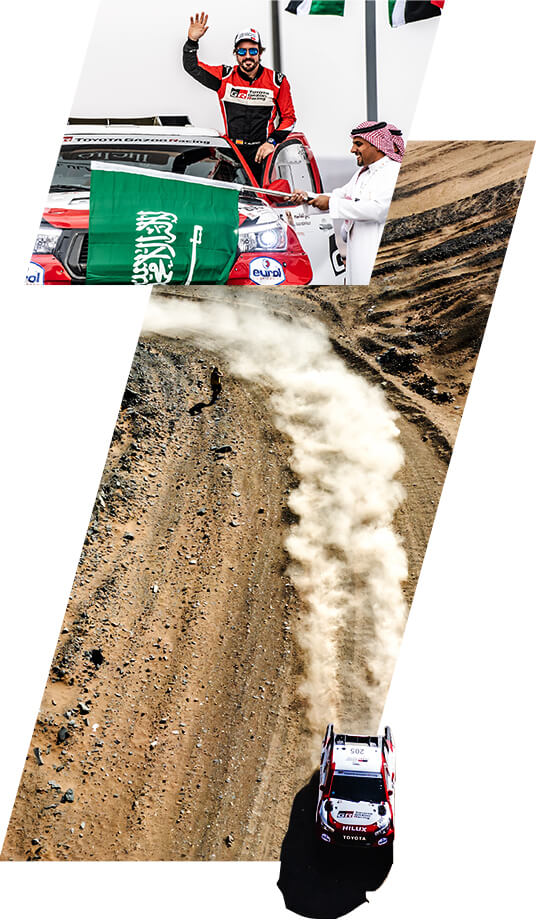 Alonso and the team have been hard at work
TOYOTA GAZOO Racing (TGR) will be fielding four teams for the 2020 Dakar Rally. Defending champions driver Nasser Al-Attiyah and navigator Matthieu Baumel will be in car #300, driver Giniel de Villiers and new navigator Alex Haro Bravo will be in car #304, driver Bernhard Ten Brinke will be reunited with navigator Tom Colsoul and will be in #307 and finally, driver Fernando Alonso and navigator Marc Coma will be joining the Dakar Rally for the first time in car #310.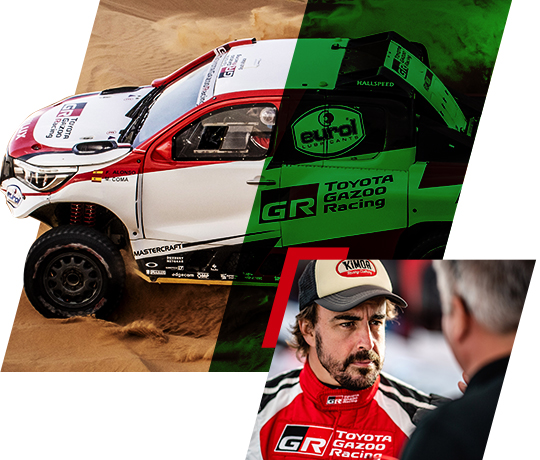 In preparation for his new racing discipline, Fernando Alonso has been hard at work since March of 2019 when he had a two-day evaluation in the Dakar-winning Toyota Hilux. Alonso then underwent an intensive training program including testing his racing skills in the deserts of southern Africa in August, followed by two days of training in Poland in early September. This training course featured a variety of tracks, made up of sand, and hard and soft soil. After this, he took part in a non-competitive outing at the 2019 Lichtenburg 400 in South Africa in September gaining invaluable rally raid experience. TGR Team Principal Glyn Hall stated that Alonso and Coma's determination for training was "nothing short of impressive."
All four TGR teams then took part in the 2019 Rally of Morocco, which brought a victory for the team of driver De Villiers and navigator Haro. "It is really nice to win again, here in Morocco," exclaimed De Villiers on his victory, while also praising his new navigator that he did a "great job in the car." Alonso and Coma came 26th overall, a great achievement in this new style of racing. The difficult rally provided all teams with some final preparations before they head to Saudi Arabia.

For Alonso, this was still not enough, as he immediately went for more training in rugged Tarragona, Spain. Then one week later, he headed to Saudi Arabia for his final test before the Dakar by taking part in the 2019 Al Ula-Neom Cross-Country Rally, a 5-day 765km sprint across Saudi Arabia. Though the race took place in a different region of the country, the terrain is very similar to what will be faced in just a few weeks. Alonso and Coma came third, an incredibly respectable result.

All eyes will be on the TGR teams in early January as the wealth of talent and experience on display will undoubtedly provide two weeks of excitement and white-knuckle racing.